播主印度美女Brain Chow先是比较了印度和尼日利亚,结果4比0完胜。
有印度网友如下抱怨说:
Don't even dare to compare india with Africa.
It's insulting
别把印度和非洲国家比,这是侮辱!
然后,播主Brain Chow这次比较印度和博茨瓦纳,结果印度0比4完败。
播主分别比较了两国的人均收入、识字率、性别平等和平均寿命等4个指标,博茨瓦纳均胜出。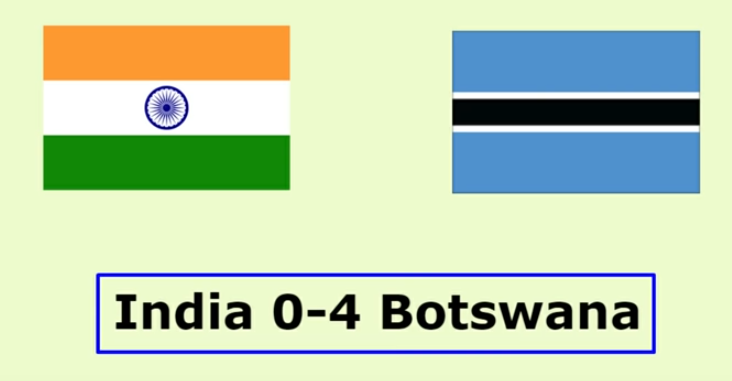 以下是youtube用户的评论:
https://www.youtube.com/watch?v=Fv0GcC2MYVk
Rahul Sahu
2 min silence for those still who think African countries are poor
in reality many of them are more developed and less polluted as compared to Asian countries like India
那些认为非洲国家仍然很穷的人,安静两分钟。
其实啊,很多非洲国家比印度等亚洲国家更发达,污染更少
Parteek Sharma
Rahul Sahu You are an Indian and you are still saying this
你是印度人,居然还这样说话!!!
Bobojane Spanere
Am from Botswana & Thank you for the video. I must say however I have a great respect for India & the Indian people, we have had many indian specialists/doctors/teachers/engineers who have made Botswana their second home. The problem with stereoty/generalization is in most cases the western media's portrayal of Africa and the develo world. We in Africa also have a very negative image of India of extreme poverty, dirty streets, beggars etc but with what I have seen online India seems to be a great country with Infrastructure but as any country has its low/negative side
我来自博茨瓦纳。谢谢分享这部视频
其实啊,我对印度和印度人民是颇为尊重的。
很多印度医生、教师和工程师把博茨瓦纳当做第二故乡。
人们对非洲的固有印象是西方媒体渲染的。
我们非洲人也觉得印度很穷很穷,街道脏兮兮的,到处是乞丐。
然而,我在网上看到的印度,是一个伟大的国家,基础设施齐全。不过任何一个国家,都有其负面之处吧
Land of pîss and pôôp
Everyone knows African countries are superior to India.
众所周知,非洲国家比印度更先进
Rajesh Acharya
@Land of pîss and pôôp don't compare us to stupid Africans, they have low IQ, we inventd chess, 0, google, modern medicine, trigernometry, wifi, USB and much much more. Africams still live in mud huts and hunt by spears
我们就别和非洲人比了。他们智商低,而我们呢。我们发明了国际象棋,发明了"0",建立了谷歌公司,创造了现代医学、,发明了USB等等。
对比之下,非洲人仍然生活在泥屋里,仍然用长矛捕猎
Oteng Olaetse
@Rajesh Acharya dude i would be embarrassed to have wre that. How do you feel?
楼上的老兄啊,我脸皮可没那么厚,这样说我会脸红的。你觉得呢?
Tswana People
@Rajesh Acharya LMAO Please who told you Africa's live in mud huts? Chess is believed to have come from either or India. Google was created by Larry Page and Sergey Brin while they were PhD students at Stanford University in 1995, Modern Medicine we all know is a western invention, Dr. John O'Sullivan, an Australian engineer, is credited with leading the team of inventors who developed WiFi technology. Early trigonometry actually started in Egypt & Greece and was later brought to India by Greeks. If Africans have a low IQ why are many other African countries considered more developed than India. CAT scan was invented in Africa, mobile money (Mpesa), call back, Cardiopad, Solarpowered hearing aid, Cybertracker, Quiet cellelur phone antenna, rapid Ebola Test Kit, Rapid FMD Test kit etc
谁说非洲人生活在泥屋里?据说,国际象棋可能起源于,也可能起源于非洲。
谷歌是拉里佩奇和塞吉•布林创立的,两人是斯坦福大学的博士生。
现代医学是西方建立的。
wifi技术是澳大利亚工程师约翰·奥沙利文率领团队研发出来的。
三角学是埃及和希腊的成果,后来传到印度的。
非洲人的智商要是真的那么低,为什么很多非洲国家比印度更发达。
Ajith Kumar
Unbiased video , Keep going
这样比较有失偏颇啊
Rashmi Birmole
You told us the reality. Thanks
你们告诉了我们真相,谢谢
gladys nyawira
Rashmi Birmole true indeed India could be the level of Japan and if the go nment rolls out reforms in fact it could even be a super power with good leadership
确实。如果印度也改革开放,经济就能达到日本和的水平,甚至可能成为超级大国
Tswana People
Botswana is not called the "Switzerland" of Africa for nothing, its the most prosperous, most peaceful and upper middle income economy. Mind you at independence Botswana was infact the 2nd poorest nation in the world. Today it provides free education up to tertiary, free healthcare to its citizens
博茨瓦纳被称为非洲的"瑞士"不是没理由的。
博茨瓦纳是非洲最繁荣的国家,最爱好和平,中等以上收入的经济体。
还记得,博茨瓦纳独立时还是世界第二穷国呢。
今天,这个国家为国民提供免费教育和免费医疗
Judgement Day
Great hard work mates. Love from Pakistan. I will surely visit your country one day. What are the tourists points in Botswana?
太棒了。我来自巴基斯坦。以后肯定要去你们国家参观下。
你们博茨瓦纳有什么旅游景点啊
Harshita Chennupati
Tswana Emperor that's great we as indians (most of us) respect Africa and I hope Africa as a whole will become a developed country till than good luck
我们印度人尊重非洲,希望非洲国家都发达起来。
Odysseus
Good video! For those who say that they should compare India to only countries similar in population, then that means they can only compare it to as every other country's population is far below.
有些人说印度只能和人口相当的国家比,也就是说只能和比,其他国家的人口比印度少多了
Raj kumar
Compare whole Africa with INDIA.
Because INDIA have more population. it is difficult to develop fast than those Country which have less populations
还是把整个非洲和印度比吧。
印度人口多,发展速度当然没有人口少的国家快啊
Bobojane Spanere
Then why is fast develo?
难道发展速度快是因为人少?
Raj kumar
@Bobojane Spanere because is the co unist country.
Goverment decision is final. this is not appropriate in republican country like india.
And has almost complet their infrastructure. That's why develo fast but GDP growth rate is lower than INDIA and India will bit to verysoon,..
是国家,政府拍板就行了,而在印度这样的共和国行不通
基础设施该修的都快修完了。发展速度快,但是GDP增速比印度低,印度很快会赶上来的
India is best
Till 2000 India and botzwana were superpower of beauty pageant!
印度和博茨瓦纳是选美比赛的霸主啊,频频夺魁
Jacobus Pretorius
As a white South African who has traversed Africa I can assure you Botswana is the Best country to live in Africa
我是南非的白人,走遍了非洲。可以这么说,博茨瓦纳是非洲最宜居的国家
Pan Centros
Botswana didn't call itself a superpower
博茨瓦纳不会自封"超级大国"
Deepak Malhotra
Really like your work, waiting for more comparison videos with more bigger countries
我喜欢看你制作的视频,期待更多与大国对比的视频
Atish Mane
Even Botswana is far better shit India I am from India
我来自印度,就连博茨瓦纳都比印度好多了
Shamik Bera
But don't worry, Not entire Africa is better than India there are alot of African countries that are way poorer than India in gdp. But Botswana and most other African countries are better than shit India.
别担心,并非整个非洲比印度更发达。还有很多穷到脱裤的非洲国家,比印度穷多了的那种。
对比之下,博茨瓦纳和其他大多数非洲国家,还是比印度更强
Shishir Sinha
Very good Botswana keep it up
博茨瓦纳表现很好,继续保持
ntsarao karri
Then why do you comparison directly tell winner is botswana , are you a botswanian
为什么不直接说博茨瓦纳胜呢。播主,你是博茨瓦纳人吗
murikipudi naga teja babu
is botswana has railways
博茨瓦纳有铁路吗?
AA ANIMATIONS
Who knows if comparing India to could be disrespectful for the people
把印度和比,会冒犯吗,谁知道的?
ngye HE
I remember many African countries develop fast.
没记错的话,很多非洲国家发展迅速
Veeresh
Good lesson for fans...!!!
给粉丝上了很好的一课!
Mahesh Mahesh
I think both the countries are superb
我觉得两个国家都很赞
Abhishek Aggarwal
We dont want your stupid comparision.. make reliable comparision
这样比不显得你很愚蠢吗,来点靠谱的比较
LAMAR Pi
not fair
不公平啊
ntsarao karri
Are you a botsvanian .you are not giving respect to your own country
你是博茨瓦纳人吗,你不尊重自己国家呢
xk y
She is giving respect by telling the truth.
她道出了真相,这就是尊重
Manisha Rockstar
India have to do better
印度必须做得更好
AA ANIMATIONS
Well Botswana is more developed than India , but Nigeria doesn't stand a chance in any comparison with india . If India and Nigeria were very similar in terms of development Nigerians won't be lining up for Indian Visa
好吧,博茨瓦纳是比印度更发达
不过,跟印度比的话,不管比什么,尼日利亚都没胜算。
印度和尼日利亚真要处于同一发展水平,尼日利亚人就不会排着队等印度发签证了
Pocki
Is your ego satisfied now?
这样说,你自己满意了吧
AJAY KHATWANI
How can India lose ?
印度怎么会输呢?
Nouty Niranjan
Plzz compare india vs Botswana in railways
请比一比印度铁路和博茨瓦纳的铁路
Rajesh Rawal
You are mad .fully
你疯了
The 8th Church
Wow! I love you very much dearly beloved for being honest. You didn't favor India even though you are probably an Indian living in Botswana.
哇塞,我太喜欢你了。
就喜欢你的诚实。你可能是生活在博茨瓦纳的印度人,不过你没有偏袒印度。
Rajesh Acharya
She is African, I found out from someone who wrk for her company brain chow. Its why she thinks African is better then india
她是非洲人啦。
H Gng
India is number one. No other country is as good as India.The author is anti-indian!
印度是第一。没有哪个国家比得过印度啦。作者居然反印
Moni Kumari
India is 3rd largest economy with 3rd largest GDP and the fastest growing economy while Botswana is a very weak economy with very less GDP while Botswana is develo very slow
印度是世界第三大经济体,GDP排第三,发展速度最快。
而博茨瓦纳是一个弱国,经济实力弱,GDP低多了,发展速度慢
Land of pîss and pôôp
Botswana have higher GDP per capita, Indians very poor and dirty.
博茨瓦纳的人均GDP高多了
印度人很穷很穷
Prashann Singh Baghel
This is not the way don't like it
结果不应该这样的啊,我不喜欢
Brain Chow
We can't be biased like some channels where they will make India win all comparisons. On our channel, India will win some and lose some. Sorry if this offends you but it's reality...
我们做视频,不偏袒任何一方。有些人制作视频,每次都是印度赢,我们不这样的。
我们做的对比,印度有时候赢,有时候输。如果冒犯到你,请见谅。