China expanding PLA's reach around world: US
美国:中国军队的触角延伸至世界各地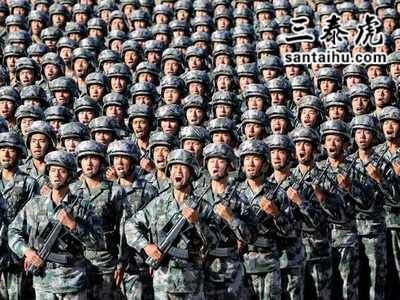 said the Pentagon, in its latest report presented to the US Congress on China's expanding military power.
五角大楼在提交给美国国会的最新报告中称,中国正在加强军事实力

印度时报读者的评论:
译文来源:三泰虎 http://www.santaihu.com/47552.html 译者:Jessica.Wu
外文:https://timesofindia.indiatimes.com
naveen saharan • 9 hours ago
In 1962, india was far ahead in millitry power, but because of Nehru policies we lost the war and 40000 sq. Km. Area. We had lost option of domination in Asia a long time back. A single person authority can create and develope better country.
1962年,印度军事实力遥遥领先,尼赫鲁决策失误,导致我们输掉了战争,损失了4万平方公里领土。我们早就失去了在亚洲称霸的机会。
naveen saharan • 40 mins ago
Will you keep crying for next 50 years? What has Feku done in last 5 years... a total failure and for each of Feku Failure, you would rather blame Nehru. Forget comparing yourselves with China as the latter is 1000 times stronger. When you guys get thrashed by a small country - Pakistan, you should not compare India with China, nor with Pakistan but countries like Bhutan and Ethiopia.
在过去5年里,莫迪做了什么?莫迪的每次失误,你们都责怪尼赫鲁。不要拿印度和中国比较,中国比印度强大1000倍呢。就连巴基斯坦这样的小国也能吊打印度,你们不应该拿印度和巴基斯坦比,更不应该拿印度和中国比,应该拿印度和不丹、埃塞俄比亚这样的国家作比较。
Sun Rise • 11 hours ago
India needs a credible thermonuclear triad to ward off Chinese threat.
为了应对中国威胁,印度需要建立可靠的核威慑
harat tonse • 8 hours ago
With the type of de acy India has, India is going nowhere. Look at our graph for the past 70 years.
看看我们过去70年的表现,印度这样搞皿煮,终将一事无成。
Anil Singh • Mackay • 9 hours ago
Hopefully India will have one party rule with BJP and Modi at the helm for the next 20 years.
希望未来20年里,印度由莫迪领导的人民党执政。
Desmond Harris • 8 hours ago
Donald is a White supremacist. Go figure.
唐纳德•特朗普是白人至上主义者。
ONE LINER Challenge • USA • 5 hours ago
Naradham Naraghtak modi, the Butcher of India -- India cannot afford another 5 years! It will collapse badly!!!
莫迪是印度的屠夫——印度承受不起再荒废5年了! 印度会垮掉!!
Think about it • Aryavart • 10 hours ago
If Modi comes back to power, India will also expand around world!
如果莫迪连任,印度也将向世界阔张!
T • USA • 5 hours ago
You mean more Indian labors and sl ves leaving the country?
你的意思是更多的印度劳工和努力离开这个国家,走向世界各地?
Think about it • 9 hours ago
What can one man PM Modi do. We still cannot control Kashmir, let alone get back POK and China occupied Kashmir. Pakistan is still keeping us engaged with time to time terrorists plots. For India to rise Pakistan should have been finished long time back, total control of Kashmir, and economic leaps and bounds. China is 14 Trillion. India 3 Trillion. Go figure.
光靠莫迪总理一个人能做什么? 我们仍然控制不了克什米尔,更不用说夺回巴控克什米尔了。印度要想崛起,早就该解决巴基斯坦了,全面控制克什米尔,并实现经济飞速增长。中国的经济规模达到14万亿美元了,而印度才3万亿美元,哎。
Dilip • 4 hours ago
China is trying to overtake USA and become a super power and control over the world
中国想要超越美国,成为一个超级大国
Dilip • 4 hours ago
It will overtake the economy by 2030, but the moment they overtake they will fall because the bubble is expected to break by that time.
China has humongous problems and bubble economy. Whereas our country will take the lead by 2050-60.
到2030年,中国经济将超过美国。然后就走下坡路。
中国经济存在泡沫,我们国家将在2050-60年领先中国
Bala Srinivasan • USA • 5 hours ago
Don''t even bother and waste your hard earned money and time to combate China. China is way out of league, out of your reach. And China is not bothered by dirt poor backward India. China has big fishes like the USA and Europe to fry. India, as it does, should focus on Pakistan!
不要去对抗中国,那是徒劳的。中国远远超出了印度的能力范围,不是印度能抗衡得了的。
中国并不在意印度。中国的目标是美国和欧洲。印度应该把重点放在对付巴基斯坦上!
Bala Srinivasan • Trivandrum • 6 hours ago
India lost to China in many way because of out past policies
我们过去的政策失误连连,结果印度很多方面输给了中国
chanakya • USA • 5 hours ago
Dirt poor big India cannot survive without China even for a day!
没有中国,贫穷的印度一天也活不下去!
Vinod Varma • Trivandrum • 4 hours ago
Well, we Indians have to pull up our socks and take action right away. It is late already. Hope all our politicians will do away with the mud slinging and put our country first.
我们印度人振作起来吧,赶紧采取行动。已经有些迟了,希望我们的政客都能把国家放在第一位。
Rajasekaran Subra • 9 hours ago
And we are happy importing all kind of stuff from China which destroys local indian industries and employment. First of all ban all Chinese products. Now it''s with economic power only, China is rapidly modernising it''s military posing danger to India and it''s friendly countries around the world for which we are indirectly helping by importing Chinese products
我们乐于从中国进口各种东西,这破坏了印度本土的工业,减少了就业岗位。首先,封杀中国货。中国有了经济实力,才能迅速实现军事现代化,这对印度和世界各国构成了威胁,通过进口中国产品,我们间接帮助了中国。
Rajasekaran Subra • Trivandrum • 6 hours ago
I think people must take a decision to avoid Chinese products
我认为人们应抵制中国货
Balachandran Nair • USA • 4 hours ago
Hahahahahaha....Please do so and kill China overnight!
哈哈,就这么做,一夜之间就能让中国垮掉哦
Pandey • 3 hours ago
India needs NaMo for another 10 years to counter China. He is the only person having vision to take the country forward in all spheres.
为了对抗中国,印度需要莫迪再执政10年。他是唯一有远见卓识并能带领国家全面向前发展的人。
smart Indians • smart Indians • USA • 11 hours ago
Only ONE purpose: to scare Indians to buy US arms. So far all India has bought from US are junks
这个报告只有一个目的:那就是吓吓印度人,让他们购买美国武器。到目前为止,印度从美国买的都是垃圾
Sachin K • 2 hours ago
if Bharat intends to stand tall against China, Modi & Like Modi needs to Rule country for next 15 years.
要对抗中国,印度需要莫迪继续执政15年。
Amarendra Ray • delhi • 3 hours ago
Stop putting restrictions and impose tariffs on India if US wants India as a force to contain Chinese juggernaut.
如果美国希望印度成为遏制中国的力量,那就停止对印度的限制,停止对印度商品征收关税。
Madhu As • Richardson, Texas • 6 hours ago
First stop buying chinese goods can we do
首先,抵制中国货,这是我们能做的。
Madhu As • USA • 5 hours ago
And starve to death!
然后等着饿死!
Da Da • India • 2 hours ago
China can be stopped its aggressiveness as well as expansionism specially in Asia if USA helps India in making our Armed Forces strong.
如果美国帮助印度建设强大的军队,就能遏制中国,特别是在亚洲。
Rahul Pal • Kolkata • 3 hours ago
India should go beyond them
印度应该超越中国
Raybond • 3 hours ago
India would have been in a better position by now if Congress would have not ruled for 55 years
如果没有国大党过去55年的统治,印度现在的处境会更有利