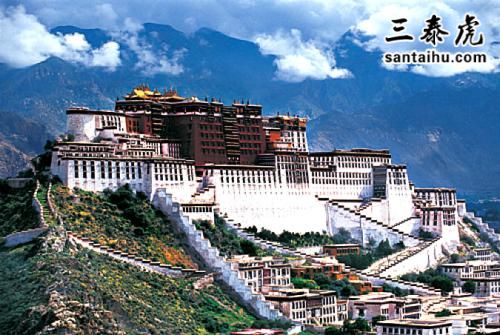 以下是youtube用户的评论:
dan john
I am a tiban~ welocome u guys come to my hometown~
我是西 藏人,欢迎你们来到我家乡
Descendant of Dragon
im from tib province of china
tib welcomes every tourist, except dirty indian
我来自中国西 藏省(自治区)。
除了不欢迎印度人,西 藏欢迎每一位游客。
Harmot
wow... I just came from Tib last month. I visited Lhasa, Shigatse, Gyante and Qomolangma base campe (Everest)... beautiful land.. People very friendly.
Tib is modern,... the city is very clean. good news is Tiban people still maintain their culture and speak their languange.
87
哇塞,我上个月刚从西 藏回来。
我去了拉萨、日喀则,去了珠峰大本营。
美丽的土地,人们非常友好
西 藏是现代化的,城市非常干净。
藏人仍然保持自己的文化,仍然说自己的语言
Vafa Anderson
+hendry tanwer wow you went deep into Tib! The people were so kind, the landscapes were stunning and it was an amazing experience! Thanks for your comment!
哇塞,楼上的,看来你深入了西 藏内地!
当地人非常友善,风景令人惊叹,给人留下了难忘的经历。
Peter Wang
Modern Tib, so clean, yet so beautiful...
现代化的西 藏,好干净,好美
qietingfengyin1973
Tib is rich
西 藏是富裕的
rooster park
clear city.awesome
城市好干净啊,棒极了
Ishor Rai
Tib is a beautiful place, china did good job for developing, I hope china also have to come to help Nepal for develop!
西 藏是一个美丽的地方。
中国大力发展了西 藏,做得很棒。
希望中国也来帮助尼泊尔发展!
译文来源:三泰虎网站
Hengky Prasetyo
Great Place.....Great Video... Thank you very much for the videos upload.
好地方啊好地方。
谢谢分享
migmar tsering
Woo god place
哇塞,好地方
Miyaan Bhai
I think it's OK to go with China if they are developing it's nothing wrong in it
既然中国在大力发展西 藏,那么西 藏作为中国的一部分就还好啦
Jesse Vad
I was there in 2014, seems to have changed even since then.
我2014年去过一次拉萨,看来拉萨变化很大啊
Soumyakanti Chakraborty
I as an Indian want China to annex India into China. At least then India will develop. Indian politicians are thieves and voters just vote on the basis of caste and religion. The politicians just give doles to voters and buy votes. Chinese political leadership alone can develop India. We can be one massive People's Republic and together be the largest nation in history.
我是印度人,我希望中国吞并我们印度。
这样的话,至少印度能发展起来。
印度政客都是江洋大盗。选民是看候选人代表什么种姓和代表什么宗教来投票的
而印度政客呢,给选民免费发放赠品,以此来收买选票
中国领导人有那个智慧来发展印度。
我们可以合并为一个大国,合并为人类历史上最大的一个国家
Ls Wills
China did it again. Changed a hell hole into a paradise
中国又成功了,把一个"地狱"建设成了天堂
fre m77
did you get headache from altitude?
会高原反应吗?
Hong
I just watched the video about life of the Tiban in India occupied north east. Omg what a difference. Those in India live in the hell
我刚看了藏人在印度生活的视频。哦天啊,反差好大,西 藏这边是天堂,在印度的藏人如同生活在地狱
Ngawang Thupten
Lhasa is my dream.
拉萨是我的梦想
Caitlyn's Comix
Oh my god. So clean . So beautiful. More cleaner than our India
哦天啊,好干净啊,好美啊,比我们印度干净多了
Mohamed Arman
lol everywhere is cleaner than india
哈哈哈,随便一个地方都比印度更干净啊
Miyaan Bhai
I never ever thought Tib can be so clean and beautiful I thought it's a poor co-try
我从来没想过西 藏居然如此干净,如此美丽,我以为xz是一个穷乡僻壤呢
MAM- mulla atanki madherchod
In ancient days the tibbat is a part of india..and this people are similar as indian people
古时候啊,西 藏是印度的一部分,这些人当时也是印度人。
Harshit Pandey
China's done great development
中国大力发展了拉萨
Pine Joi
Bravo, very clean and modern.
好极了,非常干净,非常现代化
Ganechandra Ningthoujam
North east India is dreaming like this for the past 70 years after occupied by India but nothing changes so far instead everything is leg behind from the development. Chinese go nment you doing great job
东北邦被印度占领70年。在这70年里,印度东北邦一直盼星星盼月亮啊,盼着着有拉萨这样的发展,然而至今无任何改变。
各方面都拖后腿了。
中国人啊,你们做得很棒哦。
karan kansal
China had double digit growth in three decades in contrast with india where india was facing growth declining and crises
过去30年来,中国一直保持两位数的发展增速,而印度经济发展衰退,面临危机
Auto Tuna
I have worked in China for a year, and the country is amazing in every single aspect. Very decent and honourable people, good and healthy food, good infrastructure, new paved roads without a single crack and especially the tidy and clean cities. China is going to be a better place to live than Europe or America in the next 10 years. Keep it up Chinese
我在中国工作了一年。这个国家啊,太不可思议了,每个方面都令人惊叹不已!
中国人非常正派,非常值得尊敬。
食物健康,基础设施发达,新铺设的公路没有一个裂缝,
城市特别特别干净!
10年后,中国会比欧洲和美国更宜居的。
Ankit Verma
Even better than Delhi and Mumbai
甚至比德里和孟买还好啊
cotedazur
why do you use even? India is a shithole
楼上的,为什么你用"甚至"这个词呢?印度就是个屎坑嘛
hp ph
india should give southtib back to china
印度应该把zang南还给中国
flyin' K
Tib is 10x better than any city in India
西 藏比印度任何一座城市都好10倍
Ar Chi
Compare Lhasa, Thimpu and Kathmandu.
比一比拉萨、廷布和加德满都吧
quantum entanglement
Many other small cities in Tib are like this too, new and modern
西 藏很多小城也是这样的,又新,又现代化
Yeshi D
Wow the streets of Lhasa r so clean
哇塞,拉萨的街道好干净啊
The Biggest Controversy
nice place
好地方
Christjohnny33
wow , can't believe what I saw ...
哇塞,真不敢相信自己眼睛看到的
Wanashu Garu
Love to visit that part of China again.
希望以后能再次造访中国这个地方
jacky tang
More clean than newdehli
比新德里更干净
Hahaha Lalala
I love Tib and I want to visit one day
我喜欢西 藏,希望有一天能去走一走
T.choenyi T.choenyi
Thank u v much ,i enjoyed and recalling my beautiful memories in lhasa
太感谢了,勾起了我对拉萨的美好回忆哦
Wanashu Garu
I am planing to visit this part of China again, may be sometime in 2019
我打算再次造访中国这个地方,也许是2019年吧
Brama Mörtsell
Oooooo my God it's so beautiful city ( downtown) , beautiful houses ( building ) ,it's so colourful,it's so clean, no traffics at all , it's so peaceful even a lots of people walked a round. I really do impress and just love it. I really do would like to go there someday
哦天啊,好美的一座城市啊,好美的房子,色彩缤纷,五颜六色的,好干净好干净。
好安详,人们走来走去。
看了后留下深刻印象,我喜欢。
希望以后有机会去走一走
Kaiue Gao
WELCOME TO LHASA,CHINA
欢迎来到中国拉萨
Yska Arvihide
Welcome to China!
欢迎来到中国
monique piat
beautiful .....I love Tib
好美啊,我喜欢西 藏
Shagufta
Wow .....everything natural, naive pure n sooooo beautiful
哇塞,一切都是那么自然,一切都那么美
chandan kumar
beautiful .....amazing,,, want to see this place before die
好美啊,美到不可思议,这辈子一定要去一次
Awdz123 A
I can`t stand some people`s arrongance and ignorance anymore, who make you represent tiban , I am tiban 100%, living in tib whole my life, and I love my country china, and who told you there is no humanright.... True, there is very few selfmolation, but I think those people were brainwashed by someone else I don`t wanna mention. Please before talk first come to tib and come to lhasa, look and research for yourself. Most of tiban have a much better life standard than average han chinese people, the average salary in tib is 6000yuan per month, me self graduate from college last year , the first year of wrok I have 5000 yuan per month, which means the GDP per capita in tib is 11000dollars per year, meanwhile the average chinese gdp is8000dollars, maybe this is very few to you western , but the gdp of tib is nearly 7 times higher than india(1617$) , and 15 times higher than the neple(751$), the data is from the list of gdp per capita for countries from the IMF, last month I bought a car which took me about 30000$, and I don`t need loan, my parents can support me, and my family`s economic level is average in tib. On the contrary, tiban who live in india and neple don`t have any preferential policies from go nment, and have a very difficult life. ...So you western please don`t worry about tiban, we live in very happy life, please worry the tiban in india, in my view, they have a very difficult life, and the indian governmet basically abandon them, I hope they can return our homeland as soon as possible. Tashidelek~~
我再也受不了一些人的傲慢和无知了,谁让你们代表藏人的。
我是100%的藏人,一辈子住在西 藏,我爱我的祖国中国。谁跟你们说我们没人全了。
没错,是有少数人自焚,不过那些是被洗脑的。 这些人,我提都懒得去提。
你们还是先来拉萨看看,然后再大放厥词吧。
大多数藏人的生活过得比汉人更好。
西 藏的人均工资是每月6000元。我去年大学毕业,一毕业的工资就有5000元。算一下,西 藏的人均GDP高达1.1万美元呢。
而中国全国人均GDP才8000美元,也许比西方少多了,不过xz人均GDP比印度人均GDP高7倍,比尼泊尔高15倍,数据来自IMF。
上个月,我花3万美元买了一辆车,没有贷款,父母支持的。
我家里的生活在西 藏处于平均水平吧。
对比之下,在印度和尼泊尔的藏人,过着相当艰苦的生活。
你们就别操心我们西 藏了,我们过得很幸福啦。
monique piat
beautiful ...
好美啊
trisoil
everything looks ok, much better than India
一切都挺好,比印度好多了
zaggy3110
China did a good job in destroying the feudal structures and sl very in Tib and
it still does a good job in modernization of Tib.
And to all Americans: Tib and its future is not your business.
Greetings from Germany
中国废除了西 藏的农奴制,又成功对西 藏进行了现代化建设,做得很棒
这里要对美国人说一句,西 藏不关你们的事,西 藏的未来也和你们无关。
请接受来自德国的问候
Theodor Popescu
I was there. A very interesting place.
我去过,一个非常有趣的地方
Michel Mishra
Tib belongs to India. All Tibans consider themselves as Indian
西 藏属于印度,所有西 藏人都自认为是印度人
Siddhis Dharmatva
I am from Tib but studying and working in CHONGQING for almost eight years. My second hometown in China.
我是西 藏人,在重庆读书工作了8年,重庆是我在中国的第二故乡。
TheGhostof HumanKindness
In your view is Tib part of China?
你觉得西 藏是中国的一部分吗?
Raul Gonzalez
@TheGhostof HumanKindness YES is part of china¡¡
当然是中国的一部分
Siddhis Dharmatva
You would better to shut up.
你们最好闭嘴!
Siddhis Dharmatva
@TheGhostof HumanKindness I was saying that Chongqing is my second hometown in China which also means my first hometown is under China's control, Chinese go nment cost a lot of budget on construction in Tib and really improved and accelerated the growth of Tiban economy, truly appreciate, Chinese go nment actually not really bother us leading a life in our own way.
我说重庆是我在中国的第二故乡,言下之意就是我的第一故乡也在中国啊。
中国花了很多钱在西 藏搞建设,极大推动了当地经济的发展,确实应该给个赞。
国家是不会干涉我们的生活的。

Siddhis Dharmatva
@Raul Gonzalez However, under China's control, we have a passport to prove we are Chinese citizen, but we identified us as Tiban ethnics in China, not the same ethnics and not share the same culture also languages.
我们有中国护照,当然是中国公民啊。
我们是中国的公民,文化不一样,语言也不一样就是了
Siddhis Dharmatva
@seabiscuit913 Food in Chongqing is fabulous, cannot resist~
重庆美食很赞,完全无法抗拒