Half of 11.7 lakh international students from China and India
117万名国际学生中,有一半来自中国和印度
NEW DELHI: Indian and Chinese citizens made up nearly half of the total 11.7 lakh international students in the United States as of March 2019. Other than the large numbers, though, students from the two countries share little in common, academics wise. Those from India dominated master's courses whereas a larger percentage of Chinese students had enrolled for bachelor's degrees.
新德里:截至2019年3月,在美国117万名国际学生中,印度学生和中国学生占了近一半。然而,除了人数众多外,两国学生几乎没有什么共同之处。来自印度的学生主要攻读硕士课程,而中国学生攻读学士学位的比例更高。
Collectively, the number of "active" students from these countries, at 5.8 lakh, comprised 49.5% of the total international students who hold an F visa or an M visa for academic and vocational studies, respectively.
来自两国的学生总数为58万,占持F签证或M签证参加学术或职业学习的国际学生总数的49.5%。
The data was released recently in its raw form by the US department of homeland security (DHS) and was based on SEVIS figures. SEVIS or the student and exchange visitor information system (SEVIS) is the database that the DHS uses to maintain and manage information on international students.
这些数据最近由美国国土安全部发布,基于学生和交流访问者信息系统(SEVIS)的数据。SEVIS是国土安全部用来维护和管理国际学生信息的数据库。
Nearly 75% or 1.6 lakh of the total 2 lakh active students from India had enrolled in master's courses. Of these, 11% were studying for a bachelor's degree and 10% were pursuing a doctorate.
来自印度的20万名学生中,有近75%(16万人)选择硕士课程。另外,11%攻读学士学位,10%攻读博士学位。
While the raw data does not dissect the numbers into study streams, various other studies and anecdotal references indicate that a significant number of students from India opt for the science, technology, engineering, and mathematics (STEM) stream.
虽然原始数据没有进行细分,不过其他研究表明,相当多的印度学生选择了科学、技术、工程和数学(STEM)专业。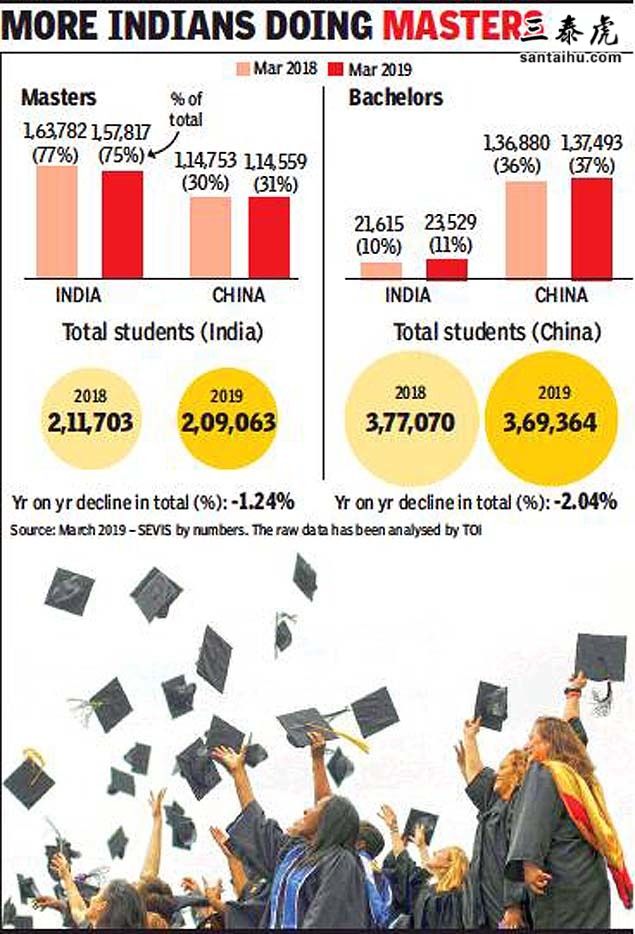 Typically, international students do seek to work in the host country for at least a few years. For those who aspire to work in the US, though, obtaining an H-1B work visa is challenging. Merely 85,000 such visas are issued annually with 20,000 reserved under the master's cap. Plus, the selection process involves a lottery.
一般来说,国际学生确实希望在当地至少工作几年。然而,对于那些渴望在美国工作的人来说,获得H-1B工作签证颇具挑战性。每年只签发8.5万份此类签证,其中2万份为硕士学位预留的。此外,遴选过程涉及抽签。
Surprisingly, while the number of active students from China, at 3.7 lakh, far exceeded Indian, merely 31% of them had enrolled for a master's course. Nearly 1.4 lakh or 37% had opted for bachelor's courses.
令人惊讶的是,尽管中国学生的数量(37万)远远超过印度,其中只有31%的学生选择硕士课程。近14万人(37%)选择了本科课程。
印度时报读者的评论:
译文来源:三泰虎 http://www.santaihu.com/47540.html 译者:Jessica.Wu
外文:https://timesofindia.indiatimes.com
Murali Subbarao - 15 hours ago -Follow
Mastears degree in the U.S. can be completed in around 1.5 years (3 semesters / 18 months), and the cost may be around $25k tuition (may be$75k), but a bachelors is 4 years and the cost is around 3 times that of M.S. and getting a job after only a bachelors for a foreign student in US is much harder. So, M.S. makes a lot of economic sense for Indian students who likely are less wealthier than students from China (on average). But, as India''s per capita income increases in the coming years, more indian students will enroll in the bachelors programs in the coming years.
在美国,完成硕士学位一般需要1.5年(3学期/ 18个月),学费约为2.5万美元(也有可能是7.万美元),
完成学士学位需要4年,成本大约是硕士学位的3倍, 而且持学士学位的留学生在美国找工作要困难得多。
因此,硕士学位对印度学生来说更划算,毕竟平均而言,印度学生可能不如中国学生有钱。但是,随着印度未来几年人均收入的增加,未来几年就读学士学位课程的印度学生会越来越多
andreasadler16 - Sydney - 13 hours ago -Follow
Why this craze to settle in US when India is really progressing so well??? Indians should first do something for their own country before entertaining this craze for foreign land.
印度发展得这么好,为什么还那么想移民到美国?印度人应该先为自己的国家做点什么,然后再考虑对异国他乡的狂热。
Ekdesi - USA - 14 hours ago -Follow
US masters degree is the only reliable path to getting H1B nowadays. So, it is the natural migration route.
美国硕士学位是目前获得H1B的唯一可靠途径,这是条移民路径。
Shail Kulk - 15 hours ago -Follow
Education is the key to enter US! Indians have lost faith and hopes in their country.
留学是进入美国的关键! 印度人已经对自己的国家失去了信心和希望。
Chowkidar Mukesh - 15 hours ago -Follow
They make huge income just by application fee (x million).
They need cheap, educated manpower to execute their academic projects.
3. They never recognize you as first citizen even if you become one.
4. Most immigrant Chinese and Indians do menial jobs, like pizza delivery, taxi driving, clerical job, or any under-employment that keeps them alive.
仅凭申请费(x百万美元),他们就能获得巨额收入。
他们需要受过教育的人来完成他们的学术项目。
即使你入了籍,他们也不承认你是美国公民。
大多数中国和印度移民做着卑微的工作,比如送披萨、开出租、文书工作,或者任何能让他们活下去的工作。
Indian - 9 hours ago -Follow
it's only an indication of how problematic the education system in these countries are.
这表明两国的教育体系都存在问题
Jagdish Madan - Vancouver BC - 10 hours ago -Follow
Indians are smart and hard working people. They are welcome with open arms all over the world.
印度人既聪明又勤奋,全世界都举双手欢迎他们。
Rene Fernandez - juffair - 5 hours ago -Follow
Since most Indians are doing their masters degree in the USA most of them will never come back to India as given the chance they would even beg to work in the USA and could also beg to get a green card by hook or by crook thanks to the failed policies of all our go nments where merit is never rewarded and appreciated .
大多数印度人在美国攻读硕士学位,他们中的大多数人永远不会回到印度,他们会乞求留在美国工作,会不择手段地乞求获得绿卡。
The only certificate that is important for Indians in India is their low or backward caste certificate which will ensure employment and a bright future
对印度人来说,唯一重要的证书是他们的低种姓或落后种姓证书,有了这些证书,就业就有保障,前途就一片光明
Mokkapati Prabhakara Rao - India - 7 hours ago -Follow
Indians are still poor compared to China , as only the rich Indians are doing "Bachelors degree " in US. Where as for master''s degree many are managing with loans / scholarships , for a better qualification / jobs.Also there is a limit in seats for Masters degree in India and the Bachelors degree in India is cheap .If the fee is reduced many will do Bachelors degree also in US.
和中国相比,印度人仍然很穷,只有富裕的印度人才能在美国攻读"学士学位"。至于硕士学位,许多人是靠贷款/奖学金来完成学业。此外,印度硕士学位的名额是有限制的,而学士学位在印度很廉价。如果学费降低,很多人也会在美国攻读学士学位。
Jotendra Kumar - 8 hours ago -Follow
Innovation funding is more in USA and hence more job opportunities and China is catching up on innovation manufacturing on a mass scale. Chinese go mainly to know the American system of management and innovation as they can eventually buy out American companies or have them shift manufacturing bases to China and emulate their products and manufacturer them on large scale and dominate world trade at all levels. Indians on other hand either go for jobs majorly or opt to explore small business opportunities for their family business or explore startups
美国的创新资金更多,就业机会也更多,中国正在大规模追赶。中国人主要是去了解美国的管理和创新体系,他们最终可以买下美国公司的股份,或者让他们把制造基地转移到中国,模仿他们的产品,然后进行大规模生产,并在各个层面主宰世界贸易。另一方面,印度人要么主要去找工作,要么选择为他们的家族企业寻找商业机会。
Kiran - Here - 9 hours ago -Follow
Why is this a surprise? Half the worlds population is in these 2 countries
有什么好惊讶的?这两个国家的人口占世界总人口的一半。
Chakradhara Behera - 5 hours ago -Follow
Bottom line is that we have quite good undergraduate educational institutes (like IITs, NIITs, AIIMS) but we don''t have good post graduate institute with right kind of research facility..
我们有相当出色的本科教育机构,比如印度理工学院、印度国家信息技术学院和印度管理学院,但缺乏一流的研究生学院。
Ravi Ingle - Pune - 6 hours ago -Follow
if you scraps these quotas then migrations will be stopped and India become USA....ha ha ha ha ha
如果废除预留制,那大家都不会去移民,印度就能发展成美国。
Bystandar - Byander - 6 hours ago -Follow
They are there mostly for immigration than education?
他们主要是为了移民,而不是深造
Sudhansu Sekhar Das - 8 hours ago -Follow
India people invest heavily on education so also Chinese.
印度人在教育上投入巨资,中国人也是如此。
Anil Misquith - Mangalore - 8 hours ago -Follow
I love my India.
我爱印度
Mahesh - Kashipur, Uttarakhand - 9 hours ago -Follow
These are not something for which we proud.We must build such a reputable educational institutions that students from foreign countries may came in India and the headlines of article is"50 percent of students are from America who applied for Indian Education Visa."
这并不是值得我们引以为豪的事情。我们应建立声誉良好的教育机构,这样外国学生可能会来到印度,文章的标题可能就是"申请印度留学签证的学生中,50%来自美国"。
Ram - 11 hours ago -Follow
US is the next Bihar or UP
美国将成为下一个比哈尔邦或北方邦
Francis - Dubai - 6 hours ago -Follow
Huge numbers of Chinese students in US Canada russia and even Europe.
在美国,加拿大,俄罗斯,甚至欧洲也有大量中国留学生。