China spends four times more than India on defence: SIPRI
中国的国防开支为印度的四倍
NEW DELHI: China's military expenditure is almost four times that of India, with the latter's armed forces also getting hobbled by a ballooning revenue expenditure and pension bill. The US, of course, is the world's largest spender on defence, with a military expenditure almost equal to the next eight countries combined.
新德里: 中国的军费开支几乎是印度的四倍,印度军队也受到不断增长的财政支出和养老金账单的拖累。美国是全球最大的国防支出国,其军费支出几乎相当于排在其后的8个国家的总和。
Latest data released by global think-tank Stockholm International Peace Research Institute (SIPRI) show the total world military expenditure rose by 2.6% to $1,822 billion in 2018. "The five biggest spenders in 2018 were the US ($649 billion), China ($250 billion), Saudi Arabia ($67.6 billion), India ($66.5 billion) and France ($63.8 billion), which together accounted for 60% of the global military spending," it said.
全球智库斯德哥尔摩国际和平研究所(SIPRI)发布的最新数据显示,2018年全球军费支出总额增长2.6%,达到1.822万亿美元。2018年军费支出最多的5个国家分别是美国(6490亿美元)、中国(2500亿美元)、沙特阿拉伯(676亿美元)、印度(665亿美元)和法国(638亿美元),这些国家的军费支出占全球军费支出的60%。
Though SIPRI does not go into details, the $66.5 billion (Rs 4.6 lakh crore) military expenditure figure for India includes defence pensions, which amount to one-fourth of the total. Of the remaining, two-thirds go in for the day-to-day running costs, salaries and the like for maintaining the almost 15-lakh strong Indian armed forces.
尽管SIPRI未作详细说明,然而印度665亿美元(46000万亿卢比)的军费开支包括国防养老金,占总开支的四分之一。剩下的部分有三分之二用于维持印度近150万军队的日常运营、发放工资等。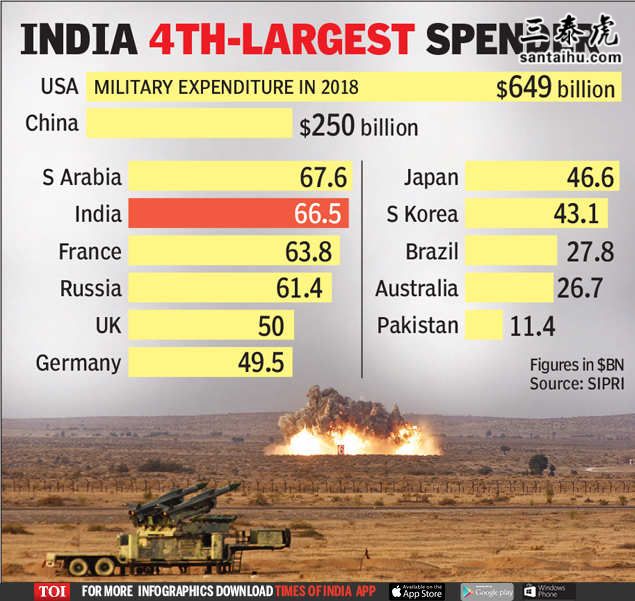 以下是印度时报读者的评论:
译文来源:三泰虎 http://www.santaihu.com/47525.html
外文:https://timesofindia.indiatimes.com
Abhishiek Ghosh • Bangalore • 2 hours ago
Indias defence budget 2013 - 2.1 lakh crores budget 2019 - 3 lakh crores.
印度2013年国防预算为2.1万亿卢比.,2019年国防预算为3万亿卢比。
agb• 5089 • Agb • 9 hours ago
In india we spend on the security of pappu gandhi and tukde gang members..
印度把钱花在用于保障拉胡尔·甘地及其团伙成员的安全上。
agb • Bangalore, India • 6 hours ago
Feku''s security is also a cause of concern
为了保护莫迪的安全,也费了不少开支
BE INDIAN• 4697 • agb • 4 hours ago
We are led by a FEKU.
我们的领导人是个骗子
Md Tanvir Khan • 9 hours ago
in comparing with China which is almost 7 times larger to Indian economy.
相比之下,中国经济规模几乎是印度的7倍。
Sun RiseMd Tanvir Khan • 7 hours ago
India only needs to invest in a credible thermonuclear triad deterrent. Missile development including hypersonic and MIRV. No need to waste a lot of money on expensive war planes that can easily be shot down. Good intelligence on enemy military and industrial assets.
印度只需建立可靠的核三位一体威慑力,没必要投入巨额资金研发容易被击落的战机
Kally Seng • Timbuctu • 7 hours ago
.during last 10 years of UPA under MMS, not a single fighter plane was purchased. Why..?? Because Vadra was not able to get commission out of this deal..!!
曼莫汉辛格执政10年,一架战斗机都没买。为什么? ? 拿不到回扣啊!!
Pradip Kumar Shome • Chennai • 6 hours ago
UPA go nment wasted 10 years on Rafale procurement and still now attempting to brake it''s procurement y many means. Political parties must have ''India first'' attitude.
国大党政府之前采购阵风战机,花了10年都没买到,现在又来阻止本届政府采购阵风战机。各个政党必须有"印度优先"的意识。
Vijay Naidu • Location • 6 hours ago
China makes 40 times more money than India and spends no money on vote bank freebies.
中国的收入是印度的40倍
DarthVader • 9 hours ago
stupid article!!! china''s GDP is 4 times india''s
中国的GDP是印度GDP的4倍
DarthVader • 4 hours ago
Which itself is a problem.More importantly their per capita income is almost thrice that of India which means their citizens are on average better off
中国的人均收入几乎是印度的三倍,这意味着他们的国民更为富裕
Jayaraman Theeyarath • 1 hour ago
yes, wait for Pappu with his Nyay, there will be no army left!!!!
如果拉胡尔上台后实施"最低收入保障计划",那就没有钱养军队了
Mohit • Mumbai • 7 hours ago
we spent double of that on election rallies
印度花在选举上的开支是国防开支的两倍
Dravidian • 8 hours ago
india spends on cows
印度的钱都花在牛身上了。
Not A • FarmLand • 6 hours ago
China had 3 or 4 decades of ''one-child policy''. It prevented 400 Million births.In India poor are breeding like rabbits. India is bankrupt morally and financially. China is THE world super power.
中国实行了三四十年的"独生子女政策",少生了4亿人。在印度,穷人像兔子一样繁殖。印度人道德败坏了,财政也要破产了,而中国是世界超级大国。
Krishna • 6 hours ago
India though spending less than. It's neighbours China it has powerful deals done with France Rafeil and Russian S-400 missile defence system. Apart from it DRDO development of Bramhos indegineosly is capable to take on Chinese defence capabilities
"Make in India" initiative of the Government of India, by promoting indigenous. design, development and manufacturing of UAV is a boost .
印度的国防开支是比中国更低,但我们购买了法国"阵风"和俄罗斯S-400导弹防御系统。另外,印度国防研究组织研发的布拉莫斯导弹,有能力突破中国的防御哦

Krishna Mn • Mackay • 5 hours ago
Moscow sold and delivered S 400 air defence missile systems to China''s Rocket Forces in July last year - 10 months ago - and China will deploy the S 400 to destroy any Rafales that enter Chinese air space. The much vaunted BrahMos travels at supersonic speeds of MACH 2.8 to 3.0 ( (3,400–3,700 km/h) .China is leading the world in hypersonic technology with their Mach 10 (7,680 mph (12,360 km/h; 3,430 m/s)).
去年7月——也就是10个月前——莫斯科向中国出售并交付了S400防空导弹系统,中国的S400能击落任何来犯的阵风战机。印度引以为豪的布拉莫斯导弹以2.8到3.0马赫(3,400-3,700公里/小时)的速度飞行,而中国导弹以10马赫的速度独步全球
Vijay Banga • new delhi • 5 hours ago
I must have said 100 times, China is 100 years ahead of India but Modi in 2014 had said we will overtake China, with what, wind, gas or words, all failed miserably, fell or crashed on face
我已经说过100次了,中国领先印度100年,而莫迪在2014年说过我们会超过中国。
Chowkidhaar • Vadnagar • 3 hours ago
China does indigenous development. In india Modi is LOOTING all the money. He bought Rafale Jets for FOUR TIMES the money negotiated by UPA Govt. Just 36 Rafale Jets for the price of 129 jets. CORRUPTION to the core.
中国坚持自主研发。而印度靠买。莫迪购买"阵风"战机的价格是国大党政府谈好价格的四倍,买了36架,而这笔钱本来可以买到129架的。太附败了。
Mudi • Gujriot • 3 hours ago
Nothing better expected under Modi. All talk and no show. China is still way ahead of us and he keeps giving speeches only. Useless PM.
在莫迪的领导下,没什么好指望的。中国仍然遥遥领先于我们,莫迪只会夸夸其谈,一无是处。
Ratna Joshi • 3 hours ago
poverty breeds co ption
贫穷滋生附败
Abhishek Wagke
We spend more than that on elections
我们花在选举上的钱比这还多
Alpesh • 5 hours ago
Obviously, China's economy is 4 times bigger than India so they can spend 4 times more. just a common sense.
中国的经济规模是印度的4倍,国防开支是我们的四倍,这很正常。