Lucknow: Man pours petrol on self, girlfriend sets him ablaze
勒克瑙: 印度男子把汽油倒在自己身上,女友将其点燃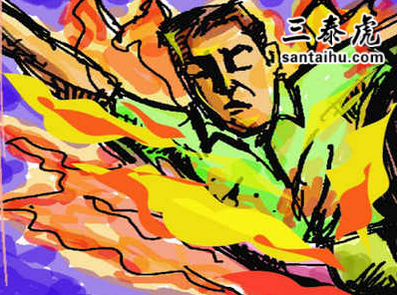 LUCKNOW: A man who started pouring petrol over himself to convince a girl about his love ended up sustaining 60% burns, after the latter threw a burning matchstick at the youth, under Hasanganj police station. The 20-year-old youth, Arvind Nishad, is a resi nt of Khadra area and is in a critical condition at Civil Hospital.
勒克瑙: 一名印度男子为了证明对一名印度女孩的爱,往自己身上浇汽油,女孩把一根燃烧的火柴棒扔到了这名青年的身上,致其烧伤60%。这名20岁的青年阿尔温德•尼沙德(Arvind Nishad)来自卡德拉地区,目前在医院情况危急。
Police said that while the in dent occurred on April 20, an FIR was lodged only on Saturday after Nishad's mother met SSP Lucknow and requested him to take action.
Later, a case of murderous assault ag inst the girl and her mother was registered at Hasanganj police station.
警方表示,尽管这起事件发生在4月20日,但直到上周六,母亲见到勒克瑙警长并要求采取行动后,警方才立案。后来,Hasanganj警察局对该女孩及其母亲以蓄意谋杀罪立案登记。
According to the police, Nishad had developed a fancy for a minor girl, who lived in his neighbourhood, and wanted to marry.
据警方称,尼沙德对住在他家附近的一个未成年少女产生了好感,想要和她结婚。
"The 15-year-old girl studies in class IX. Even though the girl's family promised Nishad that they would let the two get married once the former becomes an adult, Nishad didn't want to wait," said station house officer of Hasanganj police station, Dheeraj Shukla. In his statement, Nishad told the police that the girl and her mother came to his house to discuss the issue on April 20. When he refused to relent, they got into a heated argument. In a fit of rage, Nishad poured petrol over himself and threatened to set himself afire if they did not agree to his wishes.
Hasanganj警察局的警官迪拉吉·舒克拉(Dheeraj Shukla)称:"这名15岁的女孩还在上9年级。尽管女孩的家人向Nishad承诺,一旦女孩长大成人,就会让两人结婚,但尼沙德不想再等了。"尼沙德在陈述中告诉警方,女孩和她的母亲于4月20日来到他家商议婚事。他拒绝让步,随后双方陷入了激烈的争论。尼沙德一阵愤怒,把汽油倒在自己身上,并威胁说,如果他们不同意,他就要zi*。
"He told police that instead of stop him, the girl threw a burning matchstick in his direction, setting him ablaze. The girl and her mother fled from the scene. Hearing his screams, Nishad's mother and neighbours rushed to the spot, doused the flames and took him to the hospital. Doctors say his condition is critical," said Shukla.
舒克拉警官称:"女孩没有阻止他,反而朝他身上扔了一根点燃的火柴。女孩和她的母亲逃离了现场。听到他的尖叫声后,尼沙德的母亲和邻居们冲到现场,浇灭了火焰,把他送到了医院。医生说他的情况很危急。"
Police said that Nishad's statement could be used as a dying declaration if he dies.
警方表示,如果尼沙德身亡,他的声明可能会被视为临终陈述。
The SHO said that they did not come to know about the in dent when it occurred on April 20. "We came to know about the in dent through the hospital on April 22. We Nishad's mother Neelam, but she refused to speak to us. She said her husband was not in city and the family would lodge a compnt only after he returns on April 26."
SHO表示,在4月20日事件发生时他们并不知道此事。"我们是在4月22日通过医院得知这起事件的。我们找到尼沙德的母亲,她说,自己的丈夫不在家,等他4月26日回来后,她们家才会提起诉讼。"
"However, the injured youth agreed to record his statement on April 24, but we couldn't act on it as a formal compnt had not been filed," said Shukla.
舒克拉警官称:" 受伤男子同意在4月24日做笔录,但是我们不能就此采取行动,因为没有正式立案"
In her compnt, Neelam contradicts her son's statement. She alleged that her son and the accused girl had been seeing each other since the past one year, during which the latter's mother had duped him of Rs 2 lakh and gold ornaments.
男子母亲在诉状中的陈述与反她儿子的说法相矛盾。她声称,她的儿子和被指控的女孩自去年以来一直在约会,在这一年里,女孩的母亲骗了他20万卢比和一些黄金饰品。
She also said that when Nishad started distancing himself from the girl, her family retaliated by setting him ablaze. SSP (Lucknow) Knidhi Naithani said it was a complex case. "We are probing the sequence of events," he said.
当尼沙德开始疏远这个女孩时,她的家人进行了报复,放火烧他。勒克瑙警长称"这是一起复杂的案件,我们正在调查事件的前因后果"。
印度时报读者评论:
译文来源:三泰虎 http://www.santaihu.com/47518.html 译者:Jessica.Wu
外文:https://timesofindia.indiatimes.com
Souvik Ghosh•22 hours ago
too much population. we must con trate on controlling.
印度人口太多了,我们必须集中精力控制人口。
Kannan Rseshan•Chennai•23 hours ago
its parent''s responsibility to bring up good son.
父母有责任管好儿子。
Anil Dharan•New Delhi•23 hours ago
He literally asked for it ! heh heh
他真是自讨苦吃! 呵呵
Sri•23 hours ago
The girl did the thing. And the law instead of precting her from the stalker, is preparing to punish her. This looks wrong. It appears that the girl was precting herself, when the law failed to do so. The police should take strict action ag inst stalkers.
这个女孩做得对。法律非但没有保护她免受跟踪狂的骚扰,反而要惩罚她。这不合理啊。法律没能保护她,这个女孩似乎是在自卫。警方应该严惩跟踪狂。
Lui Dia•Unknown•1 day ago
There is more to this story than meets the eye.
这件事比表面上看的要复杂得多。
Kapoor A•Unknown•1 day ago
I think the girl did the thing
我认为那个女孩做得对
Mokkapati Prabhakara Rao•India•1 day ago
This is a one sided mad love. Age also will not permit. Love must be a two way affair and to be accepted by both the parents , for their marriage. There should not a revenge , for a true love.
这是一厢情愿的爱。结婚年龄也没到。真正的爱情是你情我愿的,不应该报复。
RAJESHWAR•1 day ago
Obviously, Neelam is lying.
显然,男子的母亲在撒谎。
Chander•1 day ago
Why was the compnt not made immediately? Why wait for the boy's father to file a compnt? Why did the father not accompany the mother to the police station? Why file compn with the SSP and not the local police station? Why the boy poured petrol on himself in the first place? Too many contradictions.
为什么没有立即报案?为什么要等男孩的父亲回来再报案呢?
为什么父亲不陪母亲去警察局?
为什么不是去当地警察局报案呢?
为什么这个男孩一开始就往自己身上浇汽油?太多疑点了。
Love Bug•Dubai•1 day ago
Doctors should let this rotten pest die!
医生应该让这种人自生自灭!
Ranbir•1 day ago
his mother delayed filling compnt as she wanted to cook false story
男子的母亲想编一个故事,所以迟迟不去报案
A•1 day ago
As usual no action will be taken ag inst the girl.
像往常一样,警方不会对这个女孩采取任何行动。
Navakanta•1 day ago
Why would a young man in normal mind pour petrol over his own body? Good that this stalker set himself ablaze accidentally. Otherwise he might have burnt the minor girl any day. Arrest his mother for implicating a minor girl falsely.
为什么一个头脑正常的年轻人会把汽油倒在自己身上?这个跟踪狂可能是不小心把自己点着了。否则他随时都可能把那个小女孩烧死。逮捕男子的母亲,罪名是诬陷一名未成年女孩。
Surinder Gujjar• Navakanta Mishra•Haryana•1 day ago
All UP women should pour petrol over their male family.members and set them ablaze.
所有北方邦女性都应该给她们自己家的男性浇上汽油,烧了他们。
Urmila•1 day ago
She did the thing. He had poured petrol on himself to die why blame the girl now.
女孩做得对。他都已经把汽油浇在自己身上寻死了,为什么要责怪那个女孩呢?
Ravi K Garg• Urmila Anwatti•Bangalore•1 day ago
yep, she called his bluff! the girl could be accused of intent to murder only if she had poured the petrol. she did not. the guy acted like an [email protected] in the heat of the moment despite being a lot older, and so did she. how else do you get a stalker off your back?
如果汽油也是这女孩倒的,才能被指控蓄意谋杀。但不是她倒的。那男的虽然年纪大了很多,在盛怒之下却表现得像个傻瓜。
Vpsinghsurgeon• Javed Badshah•1 day ago
Yes boys do such crazy things to win over the girl's sympathy and love in the process get fatally hurt sometimes.Few of them get lucky...
男孩子们为了赢得女孩的爱,会做一些疯狂的事情。在这个过程中,有时会受到致命的伤害。只有少数人成功……
Sukumar Kth•Cloud 9•1 day ago
He deserved the punishment for his immaturity in proposing a minor girl and harassing her...
这男的向一个未成年女孩求婚并骚扰人家,他应该受到惩罚。