India trashes US report, calls it attack on ch generic drugs
印度抨击美国报告,称其攻击廉价仿制药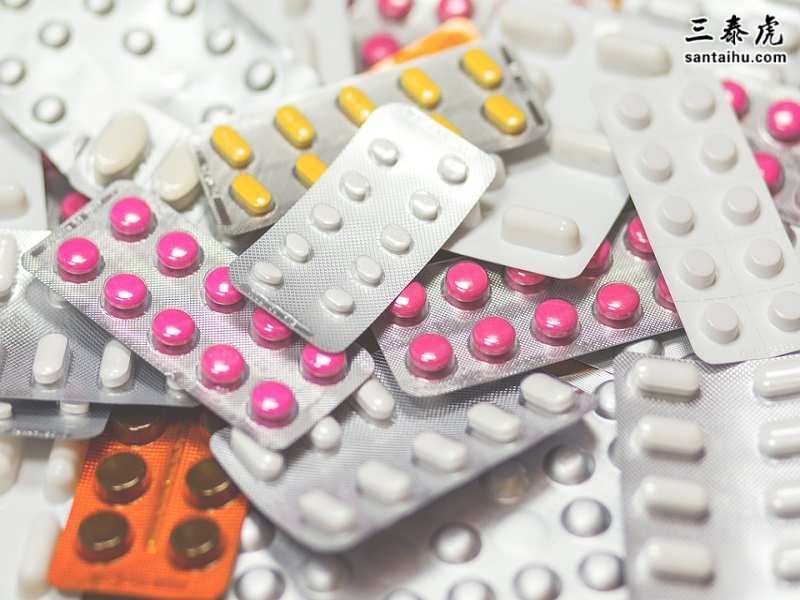 NEW DELHI: India has outly rejected allegations in a US report about the country being a chief source of counterfeit medicines to the world and said it is an attack on low cost generic drugs — crucial to make healthcare affordable.
新德里:美国一份报告称,印度是全球假冒药品的主要来源国。印度断然否认了这一指控,并表示,这是对廉价仿制药的攻击,而这些药品对降低医疗成本至关重要。
The 'Special 301 Report' by United States Trade Representative (USTR) s mmed India and as leading sources of counterfeit medicines distributed globally with 20% of all pharmaceutical products sold in the Indian market estimated to be counterfeits.
美国贸易代表办公室(USTR)发布的《特别301报告》抨击印度和是全球假冒药品的主要来源国,据估计,印度市场上销售的药品中有20%是假冒药品。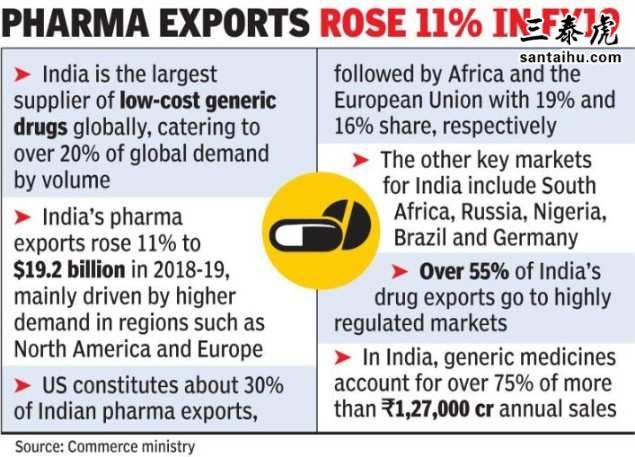 "We strongly disagree with the observations made by USTR. We do not know the genesis and methodology of their findings. Instead, we view this as opposition to low cost generics and the thriving Indian drug manufacturing industry which is the 'Pharmacy of the world'," health secretary Preeti Sudan told TOI.
卫生部长Preeti Sudan对印度时报表示:"我们强烈反对美国贸易代表办公室的言论。我们不知道他们何以得出该结论。我们认为这是对低成本仿制药和蓬勃发展的印度制药业的反对,印度制药工业是"世界药房"。"
The USTR report, an annual review of the state of IP prection and enforcement in US trading partners around the world, has again put India on the 'priority watch list' for violation of intellectual property s.
美国贸易代表办公室的这份报告对美国在全球贸易伙伴的知识产权保护和执法状况进行了年度评估,再次将印度列入侵犯知识产权的"优先观察名单"。
"In particular, and India are reportedly leading sources of counterfeit medicines distributed globally. While it may not be possible to determine an exact figure, studies have suggested that up to 20% of drugs sold in the Indian market are counterfeit and could represent a serious threat to patient health and safety," the report said. It also cmed that India exports counterfeit drugs to Africa, Canada, the Caribbean, the EU, South America, and the US.
报告称:"据报道,和印度是全球分销假药的主要来源。虽然无法确定确切的数字,但研究表明,印度市场上销售的药物中,多达20%是假冒药品,可能对患者的健康和安全构成严重威胁。"报告还称,印度向非洲、加拿大、加勒比地区、欧盟、南美和美国出口假药。
However, emphasising that generic drugs are low cost but quality products, Sudan said only certified pharmaceutical products are exported from here. Locally, over 75% of sales come from generic medicines.
然而,Sudan强调,虽然仿制药成本低,但质量高,并表示只有经过认证的药品才能出口。在印度,超过75%的销售收入来自仿制药
印度时报读者评论:
译文来源:三泰虎 http://www.santaihu.com/47510.html 译者:Jessica.Wu
外文:https://timesofindia.indiatimes.com
Kosmic Power• 6785 • Kosmic Power • 11 hours ago
That''s the West for you. They cannot stand competition or somebody else better that them. They don''t like the Idea, that Modi and India can make them look bad. Keep up the good work India!
西方国家忍受不了他国的竞争,也接受不来比他们更优秀的国家。继续努力,印度!
Kosmic Power • Rajasthan • 10 hours ago
Never ever ve for most corrupt faacist bjp rss modi for a better India. These murderers will burn India into ashes by their communal hatred and negative divisive po itics . Only and only congress can bring in sanity , peace, growth , communal harmony to India. Never trust a word of these Internet terr0rist of BJP IT cell, who are nothing more than hate mongers spamming this news portal. Ve anyone except faacist BJP RSS.
为了印度这个国家,大家不要把选票投给莫迪所在的人民党。他们会把印度毁于一旦。只有国大党才能给印度带来和平,只有国大党才能带来社会和谐。永远不要相信印度人民党,他们不过是仇恨传播者。只要不投票给人民党,投谁的票都行。
Vijay • 6 hours ago
there is no one to beat congress in co ption
印度没有哪个政党比国大党更腐败
R• 10907 • sankepally rajainder reddy • 3 hours ago
This report is a murder decree on world''s poor. The world needs Indian pharmaceuticals. On the contrary India and world needs more cher medicines.
这份报告是对全世界穷人的谋杀令。世界需要印度药品,需要便宜药
Soft• 694 • Soft • 10 hours ago
US has the worst pharmaceutical companies in the world. They make trillions of dollars. It''s only natural if they feel threatened by Indian companies making these meds available at cher rate.
It''s time to scrap the US dominance and make our country run the show. Good bye unethical companies from America.
美国的制药公司是全球最嗜血的,他们赚了数万亿美元。他们感受到印度廉价药品的的威胁,这是很自然的。是时候打破美国的主导地位,让我们的国家主持大局了。再见了,不道德的美国公司。
R• 10907 • Soft • 2 hours ago
In the US people are suffering and dying due to astronomical prices of pharmaceuticals. The US health care is in a mess.
在美国,天价药害苦了人们。美国的医疗体系一团糟。
Chander • Chander • Chennai • 10 hours ago
India should appoint a Committee to probe theft of intellectual properties from India especially during the British and Portuguese rule. Many foreigners have come to India in the garb of missionaries and have stolen significant amount of botanical plants, herbs and medicinal books as well as ancient knowledge.
印度应该任命一个委员会来调查从印度窃取的知识产权,特别是在英国和葡萄牙统治期间。许多外国人伪装成传教士来到印度,偷走了大量的植物、草药和医学书籍以及古代文献。
Amit • 10 hours ago
Pharma and Biech had a very strong lobby in US. They have a say in policy matters. India needs to chart its own territory and market and not care much into what the USTR says. US pharma giants needs India and market desperately and when their market access is blocked they will make USTR manipulate the report to their advantage. India must not think much into this.
制药和生物技术公司在美国有强大的游说力量。他们在政策问题上有发言权。印度需要规划自己的市场,不要太在意美国贸易代表办公室的说法。美国制药巨头迫切需要印度市场和市场,当市场准入被封锁时,他们就让美国贸易代表办公室捏造这份报告,为自己谋利。印度别太在意。
Terry Willson • Mackay • 5 hours ago
Australia imports top quality Indian generic drugs in high volume. America charges rip off prices for its drugs simply because it pays it CEO''s and senior executive staff outrageous and obscene sries. Examples: IQVIA HOLDINGS, CEO earns $38,029,517 a year. ALLERGAN, CEO earns $32,827,626 a year, JOHNSON & JOHNSON, CEO earns $29,802,564 a year. PFIZER INC, CEO earns $27,913,775 a year.
澳大利亚大量进口印度顶级仿制药。美国的药品价格之所以如此之高,是因为CEO和高管的薪水高得离谱。艾美仕CEO年薪为38029517美元。艾尔建CEO年薪32827626美元,强生CEO年薪29802564美元。辉瑞CEO年薪27913775美元。
Priyank • Bangalore • 9 hours ago
I live in US, and in my oion US got good medical services and pharma companies but it un-reasonably costly. If US pharma companies has to survive they have to blame other countires that there drugs are ch.
我住在美国,在我看来,美国医疗服务确实不错,但价格贵得离谱。如果美国制药公司想要生存下去,就得找药价便宜国家的麻烦。
Priyank • 1 hour ago
Millions in the USA cannot afford medical care. Its exorbitant. People in the US are compning. US medical economy is 3 Trillion for a population of 340 million. This figure is mind blowing. Many US citizens are under stress and have mental issues
在美国,数百万人看病难,太贵了,美国人都在抱怨。美国有3.4亿人口,医疗经济总量达3万亿美元。这个数字令人震惊。许多美国公民都有压力,闹出了心理问题。
HSF • Australia • 9 hours ago
US will never tolerate that non-white countries prosper and become self-sufficient. Sooner Trump goes the better, he has done nothing in 3 years, except, picking up fight with every country.
美国绝不能容忍非白人国家的繁荣和自给自足。特朗普赶紧下台,除了欺负其他国家,他在过去三年里什么都没做
Siddharth Paramhans • 7 hours ago
You can see like this; Ch generic drugs or life saving drugs. Indian medicine are of same standard like of USA or Europe however cost very low. Thus making large number of consumers prefering in these countries Indian generic drugs in place of their expensive brands.
廉价的仿制药也是救命药。印度的药物和美国或欧洲的标准一样,价格却很低。因此,这些国家的很多消费者更喜欢印度的仿制药,而不是昂贵的品牌药。
Siddharth Paramhans • 3 hours ago
Imagine millions of life are being saved across the world due to good quality low priced Indian generic drugs. The cost of these drugs are neglagible - MNC spends huge on marketing and sries of their top executives so high prices are their necessities. Its opposite in India; here companies focus on cost reduction and affordability. Is this wrong?
印度的仿制药质量好、价格便宜,拯救了全世界数百万人的生命。这些药物的成本基本可以忽略不计——跨国制药公司在营销上花费巨大,高管的薪水也很高,因此不得不提高价格。在印度,情况正好相反;在这里,制药公司专注于降低成本。这也有错吗?
Siddharth Paramhans • USA • 6 hours ago
Indian drugs are ch because they steal the formula from the U.S.companies without paying any royalties. There is NO prection for intellectual property in India.
印度药很便宜,因为印度公司从美国公司那里窃取配方,而且不支付任何专利费。在印度,知识产权不受保护。
Phantom • Dark Continent • 7 hours ago
india & has long history of making medicines centuries before USA was born! US drug corporates steal ethnic / traditional medical resources from other countries & then takes patent to loot the world.
在美国建国前几个世纪,印度和就有悠久的制药历史!美国制药公司从其他国家窃取传统医学资源,然后利用专利压榨全世界。
ixen • MI • 5 hours ago
I live in USA and all I know is if I ever be seriously ill, I will first book ticket to India and get my treatment there. USA is literally torturing it's locals in health care. I have topmost insurance plan still one MRI and one ct scan have costed me $1000 i.e. 70000 INR. if one doesn't have insurance here, they better die than go to doctor cause they have to pay through the nose. a simple doctor visit costs you $200-300 without insurance. a simple eye drop worth 35 rs costs 350$ in USA. it's an age of globalization and even their citizens are asking them why so much difference between meds price from India and USA.
我住在美国,如果我得了重病,我首先就会预订去印度的机票,在那里接受治疗。我买了最高端的保险,一次核磁共振和一次CT扫描花了我1000美元,也就是7万卢比。如果一个人没有保险,宁死也不去看医生,因为看病太贵了。没有保险的话,随便看医生就得花200-300美元。在美国,一瓶35卢比的眼药水要花350美元。这是一个全球化的时代,甚至美国公民都在问,为什么印度和美国的药价差这么多。
Zapakia • Bengaluru • 7 hours ago
India And are the only 2 countries where companies cannot hold patent on generic drugs, example, a cancer drug by Bayer which costs $64,500 in the US and Europe, costs $150 here.
只有印度和的制药公司不能拥有仿制药专利。拜耳的一种抗癌药物在美国和欧洲售价为6.45万美元,在印度只卖150美元。
Indian • Indian • India • 9 hours ago
As per my personal experience US heath care market is most corrupt market in the world. They loot people. Simple drugs are so costly that if people don''t have insurance they will die.
据我所知,美国的医疗市场是世界上最腐败的。他们简直在抢钱。普通药都贵得很,如果人们没有保险,那就等死。
Kl Nath Singh • New Delhi • 5 hours ago
India should give US the middle finger and do whatever it wants.Put India first.
印度应该对美国竖中指,想干什么就干什么。把印度放在第一位。
Kl Nath Singh • 5 hours ago
All Indians want to live in US and get high sry and then live by Indian standards and ch bill money hoarding money and show off in India. Those days are over since Trump came. Get to farming in India
所有印度人都想住在美国,拿高薪,然后按照印度标准生活,把钱存起来,回印度炫耀。自特朗普上任以来,这种日子已经一去不复返了。回印度种地吧。
Jagabandhu Kar • 10 hours ago
Going forward India will produce quality medicine and medical services at much cher rates due to govt policies..Modi will make things possible
在政策的支持下,印度将以更低的价格生产药物,提供优质医疗服务。莫迪将使这一切成为可能。
Vishal • 7 hours ago
US is jealous
美国嫉妒了
Saurabh • Gurgaon • 9 hours ago
it's . India is hub of duplicate drugs manufacturing. however they are sold and consumed in India only. they can't be exported due to strict laws in US
印度是仿制药中心。然而,印度药只在国内销售。由于美国法律严格,印度药无法出口到美国。
Mohammed Khaja Shujauddin • 10 hours ago
Modi needs to Hugs diplomacy failed
莫迪的拥抱外交失败了
Gauravdeep • 2 hours ago
high priced drugs are killing people in USA.
在美国,高价药正在夺去人们的生命。
RCH • Hyd • 2 hours ago
In another 40 to 50 years, Whites will cease to be in Majority in the US.
再过40到50年,白人在美国将不再占多数。