A Village Where No One Campaigns But Everyone Ves For the Same Candidate
一个候选人从不涉足的村庄, 全体投票给同一个候选人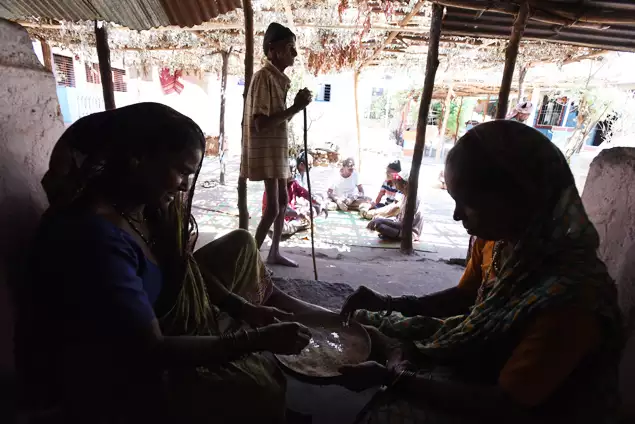 GHOL (BARAMATI, PUNE DISTRICT): It's the way this village ves that staggers observers. Every ion year, the sarpanch turns up at Ghol with reasons why the village should pick a particular symbol. The resi nts then march en masse to ve, and they all choose the same symbol. It's a unanimous decision by nearly 100 people, all based on the word of one person.
古尔(BARAMATI,普纳区):这个印度村庄的投票方式让观察家们感到震惊。每到选举年,村长都会向村民解释为什么村里应该选择一个特定的候选人。然后居民们集体投票,他们都选择同一个候选人。这是近100人的一致决定,而且是基于一个人的一句话。
The earliest memories of this strange pattern come from Babu Mahadev Polekar, who has been voting since the 1970s. Neighbours say he is well over 100 years old. "We never ask for names of candidates because we can't read or write. We just press the button," says Polekar. The present sarpanch is a woman, Phulabai Polekar, who has held the post since 2017. She was, however, not available for comment when TOI tried to contact her.
最早经历这种奇怪投票模式的是Babu Mahadev Polekar,他从20世纪70年代就开始这么投票了。邻居们说他已经100多岁了。"我们从不问候选人的名字,因为我们既不识字也不会写字。我们只要按下按钮。"Polekar说到。现任村长是一名女性,Phulabai Polekar,自2017年以来一直担任该职位。然而,《印度时报》并未联系到她进行置评。
And as far back as this man can recall, Ghol has never missed an ion. This village — where almost every resi nt is a senior citizen who has never been visited by a candidate— has consistently recorded near-100% turnouts. Even the young who have left Ghol, return every five years for the ballot. "On April 23, I will get to see my children again," says one woman, referring to Voting Day in two of the four Lok Sabha constituencies in Pune district.
在Polekar的记忆中,古尔村从来没有错过一次选举。这个村子几乎所有的居民都是老年人,从来没有一个候选人来过这个村子。这个村子的投票率一直接近100%。即使是那些离开古尔村的年轻人,每五年也要回来投一次票。"4月23日,我将再次见到我的孩子们,"一名妇女说,她指的是普纳区四个人民院选区中的两个选区的投票日。
It would be, however, difficult for an outsider to comprehend this enthusiasm. Ghol, in the Barti constituency, is a part of the Velhe tehsil and it suffers a range of problems.
然而,外人很难理解这种热情。Barti选区的古尔村是Velhe tehsil的一部分,面临着一系列问题。
First on the list is the water shortage. Nestled within the Sahyadaris, and close to the backwaters of the Panshet-Varasgaon dams, Ghol has abundant water, but not in its taps. "Development works start whenever polls are announced — only to stop abruptly. An example is the village's well. It was dug, but nothing was done to make it hold water," says Narayan Padwal, who is in Ghol on vacation. He is a student in Mumbai — one of the rare young faces TOI met here.
首先是缺水。古尔村坐落在Sahyadaris之中,靠近Panshet-Varasgaon大坝的回水区,有充足的水源,人们却喝不上自来水。Narayan Padwal是孟买的一名学生,正在古尔村度假,是我们(印度时报)在村里遇到的为数不多的年轻面孔之一,他说:"每当选举结果公布时,发展工作就开始了,但很快就停止了。村里的水井就是一个例子。虽然挖了井,却没有蓄水。"
The village's elderly population has been the worst hit by Ghol's second noticeable feature: inaccessibility. A single state transport bus covers the 80 kilometres between the village and Pune city, home to billion-dollar IT companies. But resi nt Yashwant Tukaram Nimbalkar says the bus has been of little consequence. "It leaves for Pune at 6am. But we can't rely on it for return journeys. It leaves from Swargate in Pune at 6pm and is supposed to reach Ghol by 9pm. Several times, the bus has reached the village well past midnight. All our requests to the Swargate depot — to ensure a schedule — seem to have fallen on deaf ears."
古尔村的第二个显著特征是:交通不便,村子里的老年人受到的影响最大。只有一辆邦际巴士,穿行80公里,从该村庄通往普纳市。但是当地居民Yashwant Tukaram Nimbalkar说,这辆巴士没起什么作用。"早上6点开往普纳,但回程却不准时。下午6点从普纳的斯沃盖特出发,预计在晚上9点才能到达古尔村。好几次,都在午夜过后很久才到达村子。我们向Swargate终点站提出的要求只有一个——确保准点——但他们置若罔闻。"
Many say a mere 12km of additional road — from Ghol to Mangaon Taluka in neighbouring Raigad district — could help. "A road ests from Panshet to our village. If this stretch is extended into Raigad district by 12km, we will be able to reach the Panvel-Goa highway. We made an appeal for this link 13 years ago. But there has been no movement so far," says 60-yearold Govind Hari Padwal. So, much of commute for Ghol is still on foot. "But we have been walking all our lives," says Polekar. "Earlier, there were no roads at all. We would walk for about 20km to reach a boat provided by the zilla parishad, which would take us to Panshet.
许多人表示,仅增加12公里的公路——从古尔村到邻近的莱加德地区的曼冈塔鲁卡——就可能有所帮助。"从潘歇特到我们村有一条公路。如果这段路向莱加德区延伸12公里,我们以后就能走潘维尔-果阿公路。60岁的Govind Hari Padwal称:"13年前,我们请求延伸这条公路。但是到目前为止还没有任何行动。因此,许多古尔村人仍是步行出行。我们一辈子都是步行出行。早些时候,根本没有路。我们步行约20公里,到zilla parishad坐船,这艘船将把我们带到潘歇特。"
The only school in the region, which now acts as the polling booth, shut down five years ago. Residents said that with the younger population migrating in search of better opportunities, there were no young children left to educate.
该地区唯一一所充当投票站的学校五年前关闭了。当地居民表示,随着年轻人为了寻求更好的发展机会而移居他乡,没有孩子在这上学。
Meanwhile, women say they still use firewood to cook food in the absence of LPG cylinders. Ratnabai Sopan Polekar, 65, told TOI, "I don't know how to get an LPG connection and even those who did get one are now struggling with paperwork."
与此同时,村里的女性表示,没有液化石油气,她们仍然用木柴做饭。
In several parts of the country, villages are boycotting ions over lack of basic amenities. But not Ghol. Voting here is like fa th or a deep, everlasting ritual.
在印度的一些地区,由于缺乏基本的生活设施,许多村庄抵制选举。古尔村却没有,在这里投票就像一种信仰或一种深刻而永恒的仪式。
Residents here said they were looking forward to casting their ballot. As always. "Voting is our constitutional , so we will ve. We hope that this time the wng candidate will bring change to our village," Govind Hari Padwal, 60, smiled.
这里的居民说,他们一如既往地期待投票。60岁的Govind Hari Padwal笑着说到:"投票是宪法赋予我们的权利,所以我们会投票。我们希望这次获胜的候选人能给我们的村庄带来改变。"
印度时报读者评论:
译文来源:三泰虎 http://www.santaihu.com/47457.html 译者:Jessica.Wu
外文:https://timesofindia.indiatimes.com
santosh sreepada • 4 hours ago
Mr Ambedkar thought to ve will change the fate of people.. but in reality it ruined this country..people ve the same or person despite doing nothing that too near 100% turnout.. what a foolishness..
Ambedkar先生认为投票将改变人们的命运。事实上,它毁了这个国家。人们投票给同一个政党或个人,尽管他们在任期快要结束时什么也没做,真是太蠢了.
Anonymous • bangalore • 3 hours ago
They keep voting for 70 years with no outcome ...
他们连续投了70年都没有带来改变…
MS Bigo • 4 hours ago
Seriously appreciate the Enthusiasm of these senior citizens and their Childrens even if uneducated.
But what is shocking here, that even after repeated failed promises of Sharad Pawar and Corrupt Family...they ved for NCP again and again and that is in a way Misusing the ve without understanding the power of Voting.
真欣赏这些老人及其子女的热情,即使他们没有受过教育。
令人震惊的是,即使腐败家族一再做出不能兑现的承诺之后……他们一次次为国大党投票。在某种程度上,这是在不了解投票权的情况下滥用选票。
kyMS Bigo • Location • 3 hours ago
it is not enthusiasm but stupidity !!
这不是热情,而是愚蠢!!
Naresh KumarMS Bigo • 3 hours ago
You are still not getting.. this is NOT de acy .. its feudalism and that too corrupt the sarpanch is corrupt so he is making them to ve for his who pays him.. First police has to arrest sarpanch for this unconstitutional behavior and ruining adult franchise / secret ballot
这不是,而是封建主义。村长太腐败了,她让村民把票投给她支持的政党,这个政党会给村长塞钱。首先,警方必须逮捕村长,因为其违反宪法、滥用选举权。
Parameshwaran Ganeshan abhi • Mumbai • 3 hours ago
being the 6th largest economy in the world.... our villages have remained the backbone of this economy.... We need to find a way out
作为世界第六大经济体,农村仍是印度经济的支柱。我们得找到出路
Radhakrishna Thommandra • Bangalore • 2 hours ago
Wonder how the people are wasting their ves by voting for the most corrupt person and corrupt family of Sharad Pawar
为什么人们要浪费选票,为什么要投票给最腐败的人-沙拉德·帕瓦尔
Pankaj Uke • Mumbai • 2 hours ago
The benefit of kee these folks illiterate and ignorant...the policy of Cong and its offshoots works well...
这就是让这些人一直文盲和无知下去的好处…
Pradeep • 2 hours ago
This is sad and it must not be allowed to happen this way. Then how can one call it as a free and fair ion?
这是可悲的,决不能允许这样的事情发生。怎么能称之为自由公正的选举呢?
Salman Kazi • 2 hours ago
I was thinking about the sarpanch who advise the villagers to ve for a particular / person.... How much he might be getting for doing this.......
村长建议村民投票给同一个政党/同一个候选人…这么做,她可能会拿到多少钱
Ajay Kapoor • 2 hours ago
good to hear 100 percent voting but whole village giving ve to same even after devoid of amenities is questionable
很高兴听到100%的投票。全村投票给同一个政党,是值得怀疑的
Ravi K Garg • Bangalore • 3 hours ago
wondering if this village has ricity!
不知道这个村子有没有通电!
Naresh KumarRavi K Garg • 3 hours ago
Modi declared whole India is rified..
莫迪已经宣布全印度都通电了。
fek credittakerBijoy Nair • India • 3 hours ago
Understood you guys never accept any remark or criticism on modi
你们这些家伙从来不接受针对莫迪的批评
Santimay Basu • New Delhi • 4 hours ago
Even after 70 years of independence, light has not reached this place.
独立70年了,曙光也没有照到这个村子。
Shekar • India • 1 hour ago
This is Sharad Pawar''s development agenda. His personal wealth has increased many folds, but the villagers are kept high and dry to keep himself flying high
这是沙拉德·帕瓦尔的发展议程。他的个人财富增加了许多倍,而村民们为了让他飞得更高而陷入困境。
Dhyan Chand G • Kyu Bataun ? • 2 hours ago
Although I appreciate their commitment they have been committing the same mistake since decades, then what''s the point of near 100 percent voting?
When someone does a mistake again and again, it''s no more a mistake but choice and they haven''t learned anything from they past mistakes. It''s nothing more than ''herd mentality''!!
我很欣赏他们承担自己的义务,但几十年来他们一直在犯同样的错误,那近100%的投票有什么意义呢? 当一个人一次又一次地犯错误,这不再是一个错误,而是一个选择,他们没有从过去的错误中学到任何东西。这只不过是"从众心理"!!
vidyad madhusudan • 3 hours ago
What does the sarpanch choose? They have been voting for the same family for 35 years! The heading is so misleading.
村长选了什么?他们已经为同一个家族投票35年了!标题太误导人了。
Naresh Kumarvidyad madhusudan • 2 hours ago
This is unconstitutional and not de acy .. the sarpanch has to be arrested now
这是违宪,不是。必须马上逮捕村长。
William India • MANGALORE • 4 hours ago
SHARAD POWERS SUPREMACY DEFINETLY REMAINS IN THIS CONSTITUENCY...
沙拉德的权力在这个选区绝对是至高无上的…
Desh Premi • 5 mins ago
Educate Sarpanch why Modi should be ved to power. They will get Road, LPG, Toilets, Health insurance cards. Otherwise they will get only lollipops
告诉村长为什么应该选莫迪。选莫迪的话,以后就会修路,做饭能用上液化石油气,有厕所可上,能享受医保,否则他们只能分到免费的棒棒糖。
Jay CHOUDHURY • 34 mins ago
This is not de acy , in earlier days a sarpanch / elderly used to decide for the whole village .
这不是。早年,印度的村长/长老决定整个村庄的命运。
Tatsuki Amaguchi • 1 hour ago
Priority is Free WIFI
先提供免费WIFI
baru • 1 hour ago
Everyone give ve same person that not fair
每个人都投票给同一个人,太不公正了。
Vijan Kumar • 2 hours ago
Give education to this village people
要好好教育一下那里的村民
Ashish Mkar • 2 hours ago
That is the congress way of wng ion
这就是国大党赢得选举的方式