Why do South Koreans hate India? I love South Korea so much. Will they treat me bad if I settle there?
为什么韩国人讨厌印度?我非常喜欢韩国。如果我在那里定居,他们会对我不友好吗?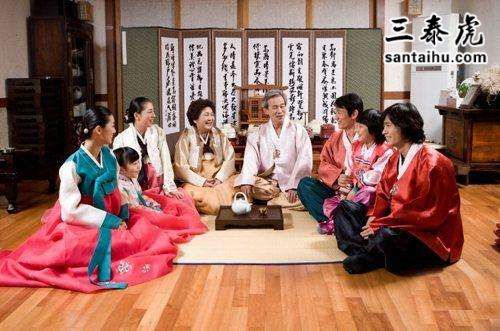 Quora评论翻译:
Kei Kim, Sinior Specialist at LG (2010-present)
I'm sorry to hear that you felt sometihng... rather not good... I suppose..
I believe there is no reason for being hated if you are from India~
听到你这么说,我很遗憾。我想并不会因为你是印度人而被人讨厌。
Koreans likes indian Curry very much but what is in Korea it's not real Indan Curry.. it's Japanese style Curry settled in Korea as Curry but anyways I think true Indan Food is also popular in some area.
韩国人喜欢吃印度咖喱,但是韩国卖的印度咖喱不是正宗的,而是日本风味的咖喱。正宗的印度食物在某些地区还是很受欢迎的。
Bollywood Films are also quite funny.. but I believe the story line should be improved in realism.. as most of indean flim is too much about the Main Character . He is almost like is superman.. fighting alone againt 200 bad people..
宝莱坞电影也很有趣。不过故事情节应该再现实一点。大部分的印度电影都是突出主角的,主角简直就像超人,可以单挑200个坏人…
So Koreans do not have any feelings to Indians~
韩国人对印度人其实不带任何感情色彩~
It's probably something to do with the ''Skin Tone'.. as Korea has serious racism issue about the skin tone. it's due to old idea.. and superstitious thing in general send... in Korean there is distintive idea about 음[陰]negative & 양[陽] positive, good & evil, dark side & Light side.. the 음[陰]negative & 양[陽] positive 기(氣) = energy was treated very important in local customs sense..
So black color often were sign of bad luck and death.
可能也和"肤色"有关,因为韩国存在严重的种族歧视问题,但这都是旧观念,就和迷信一样…韩国人对阴(消极)阳(积极),善良与邪恶,黑暗与光明有独特的见解。黑色通常是厄运和死亡的象征。
So I hope you don't get it so seriously about this..
我希望你们不要对肤色这件事太认真。
if you are like~ darkskinned~ There is 1 thing for sure~ people will just stare a lot.. as dark skinned can be very eye-catching among the Koreans~
so if you are person with positive mind~ who can enjoy being stared~ you will be fine in Korea~
如果你皮肤黑~人们肯定会盯着你看的,在韩国人中间深色皮肤的人很抢眼~
如果你是一个心态积极的人,不介意被人盯着看,那在韩国你会过得很好的。
I believe this 'racist act?' is normally from the old people~ but there is any intension to treat you bad or unfairly~ (they don't know what they are doing will hurt others)~ However if mis-treated~ don't stay doing nothing~!! Say it out loud~ 'don't be a racist!!'.. then they will get their mouth shut.. other people will come to support you~ the ignorant old people is problem.. but the old group takes the majority in whole population in Korea nowadays~
通常老年人会有这种种族主义歧视行为。他们并不知道自己这么做会伤害到别人。如果受到不公正的对待~不要无动于衷!!要大声说出来,"拒绝种族歧视!!",然后他们就会闭嘴。其他人会支持你的~无知的老人的确烦人…现在在韩国,老年人占总人口的大多数。
Korea has beauty standard set to Western style~
big eyes~ high sharp nose~ white clean skin~ this is due to recent history~ as US supported S-Korea to be re-built from all ruined part from 1955 when the Korean War ended~ US army stayed in Korea, having the white US people around~ near by~ the most things from US was admired ~ also at that time~ US was really the best country~ so~ Fashion & beauty standard was set to US style~
韩国的审美标准是偏向西方的
大眼睛~高鼻子~白皮肤~这是由于1955年朝鲜战争结束时美军呆在韩国,到处都有白皮肤的美国人~ ~来自美国的东西最受赞赏,在那个时候,美国是最先进的国家,所以韩国的时尚和审美标准跟随了美国风格。
However.. this thinking of skin-tone~ is changing~
More mixed generations are growing up in Korea~ international marriage are more common in these days~ the idea/thinking ~ is probably getting better as younger generations feel natural about foreigners.. but I know it's still long way to go.. ~ I believe there is hope & positive future ahead.. if we teach the young people in right direction~ education is very important~
然而. .这种对肤色的看法正在改变
韩国的混血儿越来越多~如今国际婚姻也越来越普遍~随着年轻一代越来越接纳外国人,这种观点可能会完全转变…还有很长的路要走…如果我们能教导好年轻人(教育是非常重要的),未来会更美好的。
Donghwan Kim, College Student. Korean Canadian.
Korea certainly don't have nationality hatred towards India. A correct word would be looking down. Some uneducated Koreans do look down on people with darker skin. This is because most countries where dark skin people are the majority are less wealthy than Korea. It is less of a racial discrimination and more of wealth discrimination. This is epitomized from change of attitute when those Koreans realize dark people are richer than them.
There are no racial crimes in Korea. But you will often be stared by random people who are curious about foreigners. It may be difficult to fit in "inner circle", even if you speak perfect Korean, because they won't consider you as true Korean. To many Koreans, true Koreans are those who look Korean and speak Korean. Even SE Asians are looked down in Korea; for Indians it will be more evident.
It is unfortunate truth for you, but as non east asian you will always feel an invisible barrier to most Koreans.
译文来源:三泰虎 http://www.santaihu.com/47398.html 译者:Jessica.Wu
韩国对印度肯定是没有民族仇恨的。一些没受过教育的韩国人确实看不起深色皮肤的人。这是因为大多数深皮肤人口占多数的国家都没有韩国富裕。与其说这是种族歧视,不如说这是一种贫富歧视。当这些韩国人发现这些人比他们更富有时,他们的就会发生改变。
韩国不会出现种族犯罪。然而,你经常会被一些对外国人很好奇的人盯着看。即使你能说一口流利的韩语,也很难融入"圈子",因为他们不认为你是真正的韩国人。对许多韩国人来说,真正的韩国人是那些长得像韩国人并且说韩语的人。甚至东南亚人在韩国也会被瞧不起,印度人则更是如此。
对你来说,这是不幸的。由于你们是非东亚人,对大多数韩国人来说,这永远是一道无形的障碍。
Tahitoa Toefuata, Lives and works in the countryside, in Korea
Koreans don't especially hate India and Indians. If you would have to be targetted in Korea, it wouldn't be because you're Indian! It would be because you're a non-Korean and a non-White foreigner! Nothing else. Just like most non-White foreigners in Korea.
And according to the 2014 BBC poll, South Koreans had a negative view about India as much as Canadians or Australians had about India, too!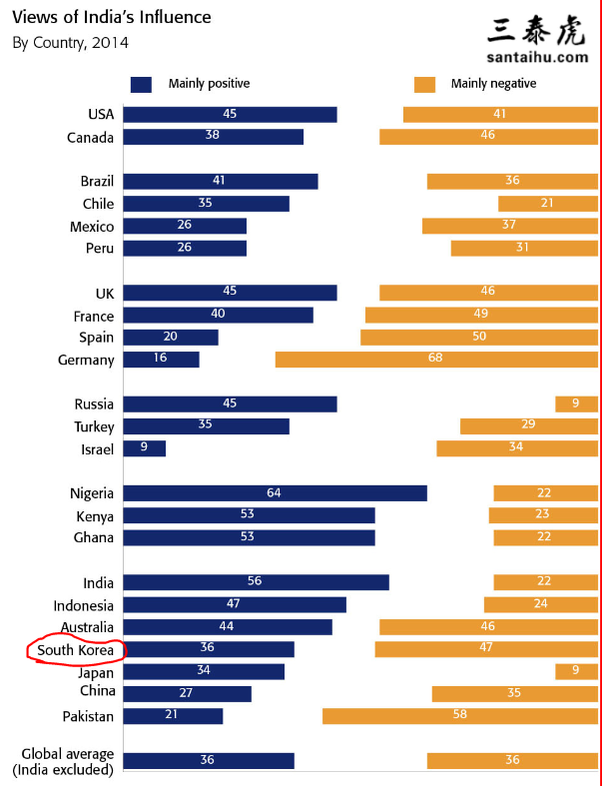 韩国人并不特别讨厌印度和印度人。如果你在韩国成为被攻击的目标,那不是因为你是印度人!而是因为你不是韩国人,也不是白人!没别的原因。大多数在韩国的非白人外国人也一样。
根据2014年BBC的民意调查,韩国人对印度的负面看法和加拿大或澳大利亚人对印度的负面看法一样多!
Xavier Johnson
Why worry so much? If you are going on a work visa, you will be so busy with work you are hardly gonna get time for other things. Maybe just enough for a weekend stroll. Other than that, Not all country or countrymen hate any other country or countrymen…but there are always few who have such issues. Just like going to a new school or college ..you will always encounter few bullies, if you are not strong or intelligent or sporty or rich. Same rule applies world over. Why do you long for acceptance from others ? Am sure you are not happy and not accepted even in India itself or maybe deep down you do not accept India or Indians that's why you are deciding to go away and settle down far from India. or why do you choose South Korea in the first instance, is it because it's citizenship gives you advantage to go to USA and Europe or is it because the city looks clean and so do the people. Why have you not chosen Ghana or Malawi as your choice of country because they are poor and people are black… so it makes me wonder who is the one judging here and who is having issues with regards to acceptance of others and of oneself by others. Just relax ! Do your work to the best of your ability, be humble, SMILE and the world smiles with you, and be confident and show genuine interest in others don't suck up to them to gain something from them, people can see through such things especially if you are going to country richer than your country in this instance South Korea. Yeah if you were to go to Malawi, you would be considered a rich celebrity as you come from rich country than their own. So if acceptance is what you seek, than go to some poor country. If work and money is what you seek , then just go get that. Don't worry what people think. Unless you are a social butterfly and want everyone in your circle to treat you like the center of attention and if you do not get that attention, it makes you sad and you get depressed. and that's why you are extra concerned if South Koreans will accept you or not. So catch a wake-up, Life is tough, grow up and face your challenges and deal with them.
为什么这么担心?如果你持工作签证,你会忙于工作,几乎没有时间操心其他事情,也许只能在周末散散步了。除此之外,并不是所有人都讨厌其他国家或其他国家的人,但有部分人会这样。就好比你去到一所新学校或大学,如果你不够强壮、不够聪明、不够有钱,你肯定会被欺负,这适用于世界各地。你为什么渴望被别人接受?我想你过得并不快乐,甚至在印度也不被接受。或者在内心深处你不接受自己的国家,不接受自己是印度人,所以你决定离开印度,在远离印度的地方定居。你为什么选择韩国,首先是因为韩国的公民身份方便你去美国和欧洲,韩国城市干净,韩国人也干净漂亮。为什么你不选择在加纳或马拉维定居?因为那里穷,都是黑人……所以我想知道是谁在接受别人和自我认可方面有问题。放松点!尽你的能力做好你的工作,保持谦虚、微笑,别人也会朝你微笑的。要有自信,待人真诚,不要为了从他们身上得到什么而奉承他们,人们可以看穿这些事情,尤其当你要去一个比你的祖国更加富有的国家时,比如韩国。如果你去马拉维,你会被认为是一个富有的名人,因为你来自富裕的国家。所以如果你想要被认可,那就去贫穷的国家吧。如果你追求的是工作和金钱,那就去争取吧。不要担心别人怎么想。除非你是一个交际花,希望你圈子里的每个人都把你当作焦点,如果你得不到这种关注,你会感到悲伤和沮丧。这就是为什么你特别担心韩国人是否会接受你的原因。所以,振作起来,生活是艰难的,成熟点,面对并克服挑战。
Andrew Lee, Doctor of Acupuncture
You are probably less likely to be robbed or beaten as an Indian in SK than you are in India… this is one of those things which makes SK look down on certain countries. For example blacks often say there's racism towards them in SK. However the chances they will face any violent or criminal retaliation it's far less than in the USA.
作为一个印度人,你在韩国被抢劫或殴打的可能性可能比在印度还小……这就是韩国看不起某些国家的原因之一。例如,在韩国,黑人经常说他们遭受了种族歧视,但是他们在韩国面临暴力或犯罪报复的几率远低于美国。
SK is among the lowest crime rates in the world, ranks at the top bracket for safety and security for women, and is extremely well developed with the fastest internet in the world, among the best public transport, cleanliness of public space etc.
韩国是世界上犯罪率最低的国家之一,女性的人身安全感在世界属于前列,上网速度是世界最快的,公共交通工具最发达,公共场所最干净整洁等等。
SK people thus have a fairly high standard, which is why some will look down on countries that are either not financially developed, culturally developed, or both.
因此韩国人的标准相当高,这就是为什么有些人会看不起那些要么经济不发达,要么文化不发达,要么两者兼而有之的国家。
But the truth is, in a survey done by pew research center, SK people do like India quite a bit. So you probably shouldn't worry about it.
事实上,皮尤研究中心的一项调查显示,韩国人确实非常喜欢印度。所以你不用担心。
Minmi Park, lives in South Korea (1999-present)
I LOVE India! You must keep in mind that south korea is still a very close minded country. Me being a non-asian korean and gay understands discrimination and trust me theres a lot of it. I have been turned away from clubs/bars just because I didn't look korean so thats something to be aware of. Most people in korea are sooo nice and kind, so don't be afraid of coming to korea! I hope in the near future everybody in korea will become open minded but until that day just brush off the hater
我喜欢印度! 记住,韩国仍然是一个思想非常封闭的国家。我是一个韩国人,非亚裔,也是个同性恋,体会过被歧视的感觉,相信我,歧视在韩国很普遍。俱乐部/酒吧把我拒之门外,就因为我看起来不像韩国人。在韩国,大多数人都很好,很善良,所以不要害怕去韩国!我希望在不久的将来,韩国的每个人都能变得开放,但在那一天到来之前,不要理会那些讨厌你的人。
Arun Poldern
I don't think you "love South Korea so much." I think in reality you're subconsciously in love with them having whiter skin and Eurocentric features. That's why most people love South Korea; they're the whites of the Asian continent. It's pretty embarrassing, coming from a fellow Indian, that you love South Korea so much when YOU KNOW they discriminate against and judge you. Alas, though, that's Stockholm syndrome.
我认为你没有多喜欢韩国。"我认为,在现实生活中,你会下意识地爱上他们白皙的皮肤和欧洲特征。这就是大多数人喜欢韩国的原因; 他们是亚洲大陆的白人。作为一个印度人,你这么喜欢韩国,知道他们歧视你,这是相当令人尴尬的。这就是斯德哥尔摩综合症。
Sunghwan Park, studied at 한국외국어대학교
Koreans dont hate India. But some of them look down on non-white foreigners, especially east south asians because many of them work in hard, cheap environment. Its wrong definitely.
韩国人不讨厌印度。但他们中的一些人看不起非白人,尤其是东亚人,这些人许多很多在艰苦、恶劣的环境中工作。
Hojai Jung, Studying Asia, Loving K pop, Practicing English.
Who said Korean hate India people. I never heard about that.
谁说韩国人讨厌印度人,我从来没听说过。
外文:https://www.quora.com/Why-do-South-Koreans-hate-India-I-love-South-Korea-so-much-Will-they-treat-me-bad-if-I-settle-there