Robots Are Coming to Walmart And Making Employees Scared for Their Jobs
沃尔玛将部署机器人,员工担心被取代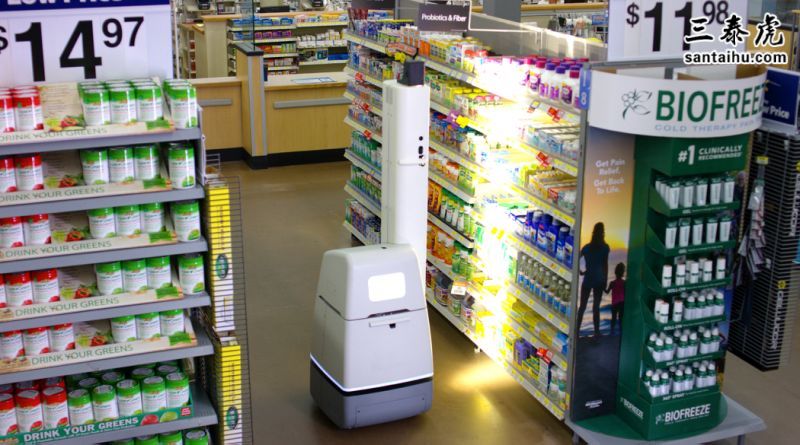 Greeters may be a thing of the past at Walmart — but there will be a lot more metallic help around the stores this year.
在沃尔玛,迎宾员或将成为过去式,今年沃尔玛门店将部署大量机器人。
Soon, 1,500 autonomous floor cleaners, 1,200 truck unloaders, 900 in-store pick-up towers, and 300 shelf scanners will be deployed across hundreds Walmart stores around the country as the company aims to cut labor costs and repurpose some associate-level positions to focus more on sales and customer service.
不久,沃尔玛将在全国数百家门店部署1500台扫地机器人、1200台自动快速传送带、900台自动取货机和300台货架扫描机器人。该公司的目标是削减劳动力成本,并重新定位一些辅助级别的职位,将更多精力放在销售和客户服务上。
But the implementation of these autonomous bots could lead to fewer hours for current employees — a problem the company hopes to skirt with employee attrition or reassignments. Workers are worried the bots will lead to shortened hours, fewer jobs, and further staffing shortages, according to employees and Organization United for Respect (OUR) at Walmart, a labor group that advocates for these retail employees.
这些机器人可能会减少现有员工的工作时间——该公司希望通过裁员或重新分配来规避这个问题。员工们担心机器人会缩短工作时间,减少工作岗位。
"This is one of a series of many decisions that [Walmart has] been making over the years to reduce the amount of humans and amount of staff that are working in the store," says Andrea Dehlendorf, co-director of OUR Walmart. "And [it's] dramatically increased the workload of people who are still working."
沃尔玛的联席董事Andrea Dehlendorf表示:"这是(沃尔玛)多年来做出的一系列决定之一,旨在减少店内员工数量。这也大幅增加了仍在岗员工的工作量。"
Walmart is the largest private employer in the country, with around 4,600 stores and 2.2 million associates. The massive retailer has a history of heavily criticized labor practices, including low wages, union-busting, limiting sick day policies, and an increasing number of part-time employees. Now, workers believe this investment in automation may exacerbate these issues for lower paid employees.
沃尔玛是美国最大的私营雇主,拥有约4600家门店和220万名员工。这家大型零售商的劳工问题历来受到严厉批评,包括低工资、破坏工会、限制病假政策,以及兼职员工数量不断增加等等。现在,员工们认为,对机器人的投资可能会加剧这些问题。
"It's the nature of the beast from what we've been experiencing for the last two decades," says Arthur Wheaton, director of Western NY Labor and Environmental Programs at the Worker Institute at Cornell University. "The lowest paid, lowest skilled, and the most at-risk employees in the most precarious jobs are the ones replaced first by technology — not necessarily the CEOs or the people doing the programming."
康奈尔大学工人研究所纽约西部劳工与环境项目主任阿瑟•惠顿表示:"从我们过去20年的经历来看,薪水最低、技能最低的员工风险最大,将首先被取代——而不是CEO或编程人员。"
The role of automation, however, is tricky. Walmart advertises the robots as tools to take care of menial tasks, like mopping the floors and scanning shelves to take track of inventory on the sales floor. Workers can instead invest their time in serving customers and making sales — a critical aspect of the in-store, brick-and-mortar experience.
沃尔玛宣传称,这些机器人将用来处理一些琐碎的工作,比如拖地和扫描货架,跟踪库存。而员工可以把时间投入到为客户服务和销售上——这是店内体验的一个关键方面。
Walmart's minimum wage is currently $11 — an amount that has been contended with competitors like Amazon and Target, who have raised theirs to $15 and $13 an hour, respectively, in recent months. The use of automated technology could now be effective in bettering retention rates — but keeping wages low.
目前沃尔玛的最低工资为11美元/小时,一直在与亚马逊和塔吉特等竞争对手比最低工资。最近几个月,亚马逊和塔吉特分别将最低工资提高到每小时15美元和13美元
美国雅虎读者评论:
译文来源:三泰虎 http://www.santaihu.com/47393.html
外文:https://finance.yahoo.com/news/robots-coming-walmart-making-employees-154527191.html
Texas15 hours ago
"Walmart advertises the robots as tools to take care of menial tasks, like mopping the floors and scanning shelves to take track of inventory on the sales floor. Workers can instead invest their time in serving customers"
Sure - that's why over half of the checkout lanes are not staffed while people are funneled to self-checkout. I refuse to use self-checkout if a person is available. I'm not going to help them cut staff.
沃尔玛称,这些机器人将处理一些琐碎工作,比如拖地和扫描货架,跟踪库存。而员工可以把时间投入到为客户服务上。"
所以才会导致超过一半的结账通道没有工作人员,人们被引导到自助结账处。如果有人在,我拒绝使用自助结账。我不支持他们裁员。
SPAMLANDFILL2 days ago
Age of Technology....employees are rapidly becoming a nonessential business expenses.....Manufacturing jobs, Mining jobs lost to robots...Now Retail jobs taxi drivers delivery even Doctor visits can now be done online with NEAR ZERO staffing
技术时代....员工不需要那么多了……制造业和采矿业的工作岗位已经被机器人抢走了……现在轮到零售工作了,甚至就诊都可以在网上完成,几乎不需要用到人手。
Rae17 hours ago
Duh. That's exactly what the company wants that way they don't have to pay anyone in the stores.
这正是企业想要的,这样他们就不用付工资了。
ShopGirl15 hours ago
When I worked in retail, some of my co-workers were complaining about folding clothes. They said they wish there was a machine that you could put the shirt into and have it come out perfectly folded. I finally spoke up and said, "you know, the day they bring that machine in is the day we'll be out of a job."
以前从事零售工作,我的一些同事抱怨不喜欢叠衣服。她们说希望能有一种能叠衣服的机器。我回了一句:"你要知道,当他们把那台机器搬进来的那一天,就是我们失业的那一天。"
Dan F.15 hours ago
now is a great time to get a 2-year degree in electronics technology. A lot of community colleges are also offering degrees in robotics technology. Another good field is biomedical equipment technology. If you know how to fix stuff, you'll have a job.
现在是时候去攻读电子技术两年制学位了,许多社区大学也提供机器人技术学位。另一个不错的领域是生物医学设备技术。如果你会修机器,就不愁找不到工作了。
Irene16 hours ago
The only thing that is constant is change. During the industrial revolution agricultural labor flocked to the cities for jobs that were no longer available in rural areas. Tunes change, change with the times to survive by acquiring new skills.
唯一不变的是变化本身。工业革命期间,农村劳动力涌向城市找工作。随着时代的变化,要通过学习新技能来生存。
Heather16 hours ago
I love how everyone on here is mocking people who work at Walmart. AI isn't exclusive to Walmart people, it could take over a lot more jobs and professions. My husband is an automation engineer and the company he works for used to need 35-50 warehouse workers. Now that it's fully automated they need 8. He's being called to automate wearhouses all over the USA. So, laugh it up but it could be your job next.
每个人都在嘲笑沃尔玛的员工。但人工智能并不是沃尔玛人独有的,人工智能可以取代很多工作和职业。我丈夫是一名自动化工程师,他所在的公司过去需要35-50名仓库工人。现在已经完全自动化了,只需要8个工人。他现在受邀在美国各地实现仓库自动化。尽管笑吧,下一个可能就轮到你的工作被取代了。
Planefun12 hours ago
A friend who is a Walmart manager told me that one of the reasons for automation is a lot of the employees they're getting these days are nearly illiterate despite being high school grads, make demands for breaks, benefits and paid time off and mouthing off to supervisors and not doing their work. With that experience I can understand why they may not want people like that.
我有一个朋友在沃尔玛当经理,他告诉我使用机器人的原因之一是:
他们现在雇佣的很多员工几乎都是文盲。他们要求休息、福利和带薪休假,跟上司顶嘴,不做好自己分内的工作。我能理解为什么他们不想要那样的员工。
Carola14 hours ago
This has been expected and feared for a long time. We have always known that technology would take over numerous jobs leaving people without work.
这一直是我们所担心的,但也是预料之中的。技术将接管大量的工作,让人类失业。
larry16 hours ago
They already have what they call "core hours" which means many employees work 15 hour weeks at min wage.
他们已经有了所谓的"核心工时",许多员工每周工作15小时,拿的是最低工资。
Carrol14 hours ago
It has happened to every industry. I worked at the bank before ATM's and debit cards. Think how many people that put out of work. All industries work for a profit and as wages and benefits increase, employers will find a way to replace you.
每个行业都是如此。在引入自动取款机和借记卡之前,我在银行工作,想想有多少人因此失业了。所有行业都在追逐利润,随着工资和福利的提高,雇主会找到取代你的方法。
Moreofthesame16 hours ago
I hope that these reporters know that a robot could easily do their job.
我希望这些记者也知道,机器人也可以轻松取代他们的工作。
Mark15 hours ago
Well when it becomes cheaper to buy a robot to do an unskilled low wage job than it is to pay a lazy worker more jobs will get replaced.
机器人会做低级工作,而且比雇一个懒惰的工人来得更划算,以后将会有更多的工作被取代。
PlaneDownstairs8 hours ago
Most of the comments I see focus on jobs. The focus should be on productivity. That's the only way to move the standard of living forward. It's been happening since the dawn of man. Do we really want to be using the same technology 20 years from now? The standard of living would stagnate. Take the classic shovel vs backhoe. The backhoe can do in a day what it would take 100 days for a man to do. Look at the standard of living for the countries that still employ manual labor and low technology.
我看到的大多数评论都是关于就业的,重点应该放在提高生产力上。这是提高生活水平的唯一途径,从人类诞生之初就开始了。我们真的想在20年后还使用过时的技术吗?生活水平将停滞不前。拿传统的铲子和挖土机来说吧。挖土机一天就能完成一个人需要100天才能完成的工作。看看那些仍然使用人力的国家,他们的生活水平如何。
Danny8 hours ago
the whole goal is to have less employees. Robots have no benefits, no lunch break, no calling out sick and no attitude problems. In the long term they are much cheaper.
总体的目标是减少雇员。机器人不需要福利,不需要午休,不会生病请假,也没有态度问题。从长远来看,划算得多。
Ryan13 hours ago
I've been trying to warn people, if you work in a manual labor position they are going to replace you.
我一直在警告人们,如果你从事的是体力工作,那么你终将被取代。
Tommy16 hours ago
40% of the work force will be replaced by machines. I would suggest people stop having babies.
40%的劳动力将被机器取代。我建议人们不要生孩子了。
Rita16 hours ago
When robots replace people in the work force, who will they sell their products to?
机器人取代劳动力后,他们要把产品卖给谁?
Scott2 days ago
The adoption of AI will be accelerating in the next 10 years. Estimates are that up to 50% of current jobs can be eliminated by AI. Embrace it or be replaced. Walmart cashier or McDonald's server were never meant to be careers. If students no longer want these jobs and adults demand higher wages I don't see another alternative.
人工智能的应用将在未来10年加速。据估计,目前多达50%的工作岗位将被人工智能淘汰。要么接受它,要么被取代。
LaCelle16 hours ago
I refuse to use their self-checkout lanes because those lanes mean less employees.
我拒绝使用沃尔玛的自助结账通道,走自助结账通道意味着更多人将失业。
sdiddle15 hours ago
business doesnt exist to give people jobs..........they cut costs to stay competitive and robots have almost ZERO sick days., maternity leave, ...........you cant argue the fact that robots have MUCH better ROI
商业的存在不是为了给人们提供工作。为了保持竞争力,他们削减成本,机器人不用请病假、产假,不能否认机器人的投资回报率更高。
War On Errorism16 hours ago
I haven't been inside a Walmart in ten years.
我有十年没进过沃尔玛了。
Annon16 hours ago
Pretty soon, no one will have a job. Then what?
很快,大家都要失业了,然后要怎么办?
none7 hours ago
Robots do not picket for a $15 minimum wage, they show up every day on time, do not require health insurance and do exactly what they are told to do. Sounds like the perfect employee
机器人不会为了15美元的最低工资而罢工,它们每天准时上班,不需要医疗保险,而且完全按要求行事。看来是个完美的员工。