Need to fix GDP data issues, says IMF chief economist Gita Goath
IMF首席经济学家吉塔·戈皮纳特表示:需要修正GDP数据问题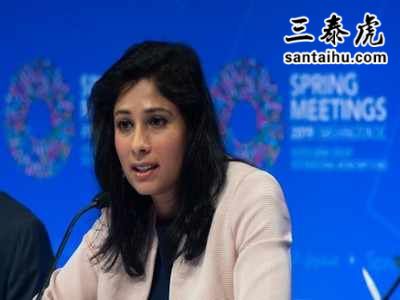 NEW DELHI: International Monetary Fund (IMF) chief economist Gita Goath has said that the Union go nment might need to fix "some issues" linked to the revised GDP methodology, which had been flagged by the multilateral agency.
新德里:国际货币基金组织(IMF)首席经济学家Gita Goath表示,印度联邦政府或需解决与修正GDP算法相关的"一些问题",多边机构曾对修正后的GDP算法表示过关注。
The former Ker go nment adviser joins former Reserve Bank of India governor Raghuram Rajan in raising fresh concerns over the methodology to arrive at the GDP numbers. But unlike Rajan, Goath did not question the numbers that have been released over the last four years or so.
这位前喀拉拉邦政府顾问加入了印度央行前行长拉古拉姆•拉詹的行列,对得出GDP数据的算法提出了新的担忧。但与拉詹不同的是,戈皮纳特没有对过去四年公布的数据提出质疑。
"There are still some issues that need to be fixed and this we have flagged before with respect to the deflator that is being used for estimating real GDP," she told a TV channel in the US late on Thursday.
星期四晚些时候,她对美国一家电视频道表示:"仍有一些问题需要解决,我们之前已经注意到了用于估算实际GDP的平减指数。"
The GDP deflator is a measure of general price inflation and is calculated by dividing the nominal GDP by real GDP (net of inflation) and then multiplying by 100.
GDP平减指数是衡量价格通胀的指标,计算方法是名义GDP除以实际GDP(通胀净额),然后乘以100。
"There were important revisions in 2015 as a part of modernising India's national accounts statistics, so that is welcome," Goath added. "With regards to the newer numbers that are coming out, we are paying close attention to it, we are speaking closely to our colleagues in India and then we will make a determination based on that."
戈皮纳特补充到:"作为印度国民核算统计现代化的一部分,2015年进行了一些重要修订,这是受欢迎的。关于即将公布的新数据,我们正在密切关注,我们正在与印度的同事进行密切沟通,之后我们将在此基础上做出决定。"
Goath, who along with Rajan and other economists, had recently released an economic agenda for po itical parties too called for a need to better communicate the GDP numbers.
戈皮纳特最近与拉詹和其他经济学家一道,为各政党发布了一份经济议程,呼吁有必要更好地传达GDP数据。
"India is projected to be growing over 7% in 2019 and 2020, which makes it one of the fastest growing major economy in the world, which is why it's even more that that the statistics coming out of India are transparently communicated because everyone is watching India at this point," she said in the TV interview.
她在电视采访中表示:"2019年和2020年印度经济预计将增长7%以上,从而成为世界上增长最快的主要经济体之一。由于每个人都在关注印度的增长,所以印度的统计数据需要更加透明。"
On his part Rajan, who had earlier praised the central statistics office for the new methodology, had questioned the veracity of the numbers and had suggested that growth may be overstated. He had suggested getting an "impartial body" to review the numbers to "restore confidence".
早些时候,拉詹赞扬了印度中央统计局的新算法,但他对数据的真实性提出了质疑,并暗示增长可能被夸大了。他曾建议成立一个"公正的机构"来审查这些数字,以"恢复信心"。
以下是印度时报读者评论:
译文来源:三泰虎http://www.santaihu.com/47384.html 译者:Jessica.Wu
外文:https://timesofindia.indiatimes.com
X - Delhi - 6 hours ago -Follow
WE WILL VOTE FOR MODI EVEN IF ENTIRE WORLD START SPEAKING AGAINST MODI DURING ELECTION.. THAT'S THE ONLY WAY TO SETTLE LEFTIST JIHADI ONCE FOR ALL
即使全世界都在期间反对莫迪,我们也会投莫迪一票。
X - Delhi - 7 hours ago -Follow
this lady was Ker gt advisor. We all know po itically where ker stand. All these fake khangraessi supprter opening their mouth during ion to support khangress..
这位女士曾是喀拉拉邦的政府顾问。我们都知道喀拉拉邦的立场。所有这些伪装的国大党支持者在期间开口支持国大党。
selva kumar - Location - 7 hours ago -Follow
Raghuram Rajan already pointed out this issue 3 years back. But bhaktaas blamed him. This BJP gt is cheating in all areas. Don''t know who will save India if Modi will come to power again.
拉古拉姆·拉詹在 3年前就已经指出了这个问题,印度人民党当时指责了他。人民党政府在所有领域都弄虚作假。如果让莫迪连任,不知道还有谁能拯救印度。
Frequent Flyer - Bhubaneshwar - 6 hours ago -Follow
BJP Gt fudged GDP calculation methodology in 2016. Real GDP growth is full 2% points below what Gt states.
2016年,印度人民党政府修改了GDP计算方法。实际GDP增长率比政府公布的数字整整低了2%。
ONE LINER Challenge - 8 hours ago -Follow
Frankly Geeta- what ever the GDP figures are- the quality of life for the common man remains unchanged-and that is half of India and the tops are-farmers committing suicides-
坦白说,不管GDP数字是多少,普通人的生活质量仍然没有改变。印度农民在自杀。
Souvik Ghosh - Kolkata - 4 hours ago -Follow
Indian GDP is disbelieved at major institutes now. Even big global investors are worried. We have become a negative yielding economy and it will hurt us terribly if Modi returns to power. There will be no biz and no jobs. Hard situation ahead.
目前各大研究机构都不相信印度GDP数据,就连全球大型投资者也感到担忧。我们已经成为一个负收益经济体。如果莫迪连任,我们的经济将严重受损。商业不景气,而且没有就业机会。前方形势严峻。
Duck - Toronto - 7 hours ago -Follow
FEKU is pathological liar shameless seless leader...he is most racist PM in India's history...Former French Presi nt François Hollandehas been qued stating that the Indian go nment had asked the French go nment to nominate Anil Ambani's Reliance Defence Ltd. as its India partner in the Rafale deal....
莫迪是个无耻的骗子,是个没有骨气的领导人。他是印度历史上最主义的总理…据报道,法国前总统弗朗索瓦·奥朗德称,印度政府已要求法国政府提名安尼尔·安巴尼的信实国防有限公司为其在"阵风"交易中的印度合作伙伴。
Jagdeep Singh Aneja - Evansville, Indiana, USA - 6 hours ago -Follow
in a country of IITs and IIMs & where education is given importance at extreme level so much so that around the world, Indian brains have proved their worth.... if chaiwallah is the chosen one to run the country....something is seriously troubled....
我们有印度理工学院和印度管理学院,我们非常重视教育,全世界证明了印度人才的价值。如果选择莫迪来管理这个国家,会出大问题的……
Suchitra Pradhan - 4 hours ago -Follow
india is in safe hands under bjp rule n second time also we will choose modi only. These so called khangressi chs talk during ion will no difference in public mind.
在人民党统治下,印度是安全的,我们只会选择莫迪。这些国大党支持者在期间的讲话改变不了公众看法的。
Pallav - 4 hours ago -Follow
Best way to do this is by letting knowledgeable people run the go nment not chaiw or chowkidar.
最好是让有学识的人来管理政府,而不是莫迪这种卖茶人。
RV - Location - 4 hours ago -Follow
Some boot lickers have started making childish comments about IMF chief economists' statement. Pity on those who don't even know the different between 'bakth' and 'Bhakt' - though it is irrelevant here. Geeta Goathan has not raised any doubts, accusations or concerns; she just said that IMF is 'watching' the new methodology of data collection - which is IMF's prerogative. She is supposed to make such observations in her offi al capacity as an IMF representative.
一些人开始对IMF首席经济学家的声明发表幼稚的评论。人家没有提出任何质疑,也没提出任何指控或担忧,只是说IMF正在"关注"数据统计的新方法,这是IMF的权利。她是以IMF代表的正式身份发表上述言论的。
Sanjay Patil - 4 hours ago -Follow
This is one among the last ditch efforts to discredit Modi Ji during ion time & confuse vers. However, people are wiser and know that Modi Ji is the only one among current leaders who can deliver the goods and take India to the next level over the next decade. Jai Hind!
这是在期间诋毁莫迪的最后一招,也是迷惑选民的最后一招。但是人们更明智了,他们知道莫迪是当前领导人中唯一一个能够兑现承诺的、唯一能在在未来10年把印度带到更高水平的人。印度必胜!
Abhishek - 5 hours ago -Follow
Even though I'm a BJP supporter, I can clearly see where her concern is coming from. If there are even minor irregularities in our GDP calculations which might create unnecessary suspicions in the minds of foreign investors and companies, it would negatively impact our growth, so her concerns are welcome. But Rajan went too far with him saying that the go nment is misrepresenting.
我是印度人民党的支持者,我清楚地看到她的担忧从何而来。如果我们在计算GDP时哪怕是出了一点差错,都可能引起外国投资者和企业不必要的怀疑,这将对我们的增长产生负面影响,因此她的担忧是无可厚非的。但拉詹太过分了,他说印度政府在歪曲事实。
Playpal - 6 hours ago -Follow
is there any area where Modi has not lied? Shameful that even IMF have pointed that he is providing fake data. He is serial liar and can tell lies without blinking.
莫迪哪些方面没有撒谎?就连国际货币基金组织(IMF)也指出他在提供虚假数据,真是丢人。他是个经常说谎的人,说谎从不眨眼。
Partha Roy - 4 hours ago -Follow
Left leaning intellectual speaking on the contrary is expected.
左翼知识分子发表反对言论,这是意料之中的事。
Hardeep Singh Sondhi - 4 hours ago -Follow
This gt. may be trying to fool the people of India but it cannot fool the world.
这个政府或许能忽悠印度人民,但忽悠不了全世界。
George Varghese - Location - 4 hours ago -Follow
The gt has dest yed India''s respectable data sy em. If an indicator goes ag inst this silly gt, they go for a new and favourable survey.
这个政府毁了印度令人敬重的数据系统。如果某项指标不符合政府的要求,他们就会重新算出一个对他们有利的数据。
John Fletcher - 5 hours ago -Follow
You cannot build an edifice on pure lies. GDP data is not reliable, job data is not available, black money data not available ... It is a shame that we are governed by congenital liars!
GDP数据不可靠,就业数据不可靠,黑钱数据也不可靠……我们被天生的说谎者所统治,这是一种耻辱!
Jay - 4 hours ago -Follow
Fix economy problems rest will fall in place
解决经济问题,其它问题就能迎刃而解。
Deepak - Karnataka - 6 hours ago -Follow
We knew this is a feku go nment and they did feku things with GDP!. Instead of con trating to take steps which would have helped to boost the GDP, This third rate go nment fudged the Data to show NDA era growth as highest and UPA the lowest!. Now the world is doubting the go nment
我们都知道这届印度政府捏造了虚假的GDP数据! 这个政府没有集中精力提振GDP,反而捏造数据,以证明人民党执政时代的增长最快,国大党时期的增长最慢! 现在全世界都对这个政府表示怀疑,
Bbg - 4 hours ago -Follow
We Indians suffer fron the tendency of 'MY WAY OR HIGHWAY. We should respect the oion of professionals. Most of the people abusing here leven can't read the papers written by her.
我们印度人向来"我行我素"。我们应该尊重专业人士的意见。
Rajesh - 5 hours ago -Follow
when a 1km of 4 lane road can become 4km road, then it is not a surprise on the GDP nos.
可以把一条1公里长的4车道公路算成4公里,GDP数据也就不足为奇了。
Vijay - Mumbai - 5 hours ago
Forget all this BS about fastest growing/ World's fifth largest economy etc. We are one of the poorest country in the world. No. 122 by per capita GDP and 130 by Human Development Index. Crores of people go to bed without proper meals. Phir Bhi Mera Bharat Mahan
忘了印度是世界第五大经济体吧。我们是世界上最贫穷的国家之一。印度人均GDP排名第122位,人类发展指数排名第130位。成千上万的印度人饿着肚子去睡觉。
RANJEET KOPPULLY - 5 hours ago -Follow
Why only indians even working for international agency have unnecessary questions regarding gdp why
为什么就连在国际机构工作的印度人也会对我们的GDP表示质疑。
Clarke - 5 hours ago -Follow
Modi and Jaitley doctored all data - people should punish them in this ions for making India a laughing stock before the world. They lied the nation on their performance for ves.
莫迪和贾特里篡改了数据——这次,人们应该惩罚他们,他们让印度成为全世界的笑柄。为了拉,他们欺骗了全国人民。
Suresh - - 5 hours ago -Follow
Raghuram Rajan's credibility suffered a huge dent when his contract as the RBI governor was not renewed which indirectly implied that he was not the man India needed. This is a big loss of face hurting his pride. He therefore leaves no opportunity to attack India when it suits him.
拉古拉姆•拉詹没能连任印度央行行长,间接暗示他不是印度所需要的那个人。这严重伤到他的自尊心。因此,他不会放过任何攻击印度的机会。
Spaceman - Earth - 5 hours ago -Follow
India is good at match fing Ha Ha
印度擅长修改数据。
George - 3 hours ago -Follow
It's really a scary situation to see that the go nment is manipulating key growth metrics to paint a wrong picture to the public. Even RBI Governor was asked to step down since he acted independently like the way RBI should.
政府正在操纵关键的增长指标,向公众描绘一幅错误的图景,这确实是一种可怕的情况。就连印度央行行长也被要求下台,怪他独立行事,但印度央行行长本就该这么做。
Cybe Tron - 7 hours ago -Follow
The ruling go nment never cared for the GDP growth but misled Indians by giving wrong figures.
印度政府从不关心GDP增长,反而通过捏造假数据误导印度人。
Chander - 3 hours ago -Follow
Do Goath and Rajan have the guts to talk like this about ? What about IMF, and other world economic bodies grading and rating India? Are all agencies wrong in case of India? These NRIs need to be strictly impartial. If they are so clever they can tell what is wrong in the calculation instead of saying 'something is wrong'.
戈皮纳斯和拉詹敢这么质疑吗?那国际货币基金组织和其他世界经济机构对印度的评级又如何呢?难道所有机构都错了吗?这些海外印度裔需要做到不偏不倚。如果他们这么聪明,就应该知道算法出了什么问题,而不是在那说"有问题"。
Jk - 4 hours ago -Follow
fake figures are shown from last 4 yrs..
过去4年的数据都是假的。