India Will Never Be the Next China, Morgan Stanley's Ruchir Sharma Says
摩根士丹利的鲁奇尔•夏尔马表示,印度永远不会成为中国第二
As a child, Ruchir Sharma spent his summers in his maternal grandparents' small town in Uttar Pradesh, one of India's poorest and most populous states. Although the town was about four hours from New Delhi, it was a world away from his otherwise urban life. Distractions were few so he spent his summers studying adults—and watching them "hurl their choicest insults at the TV" as they took part in India's leading spectator sport: politics.
鲁契尔·夏尔马童年时的夏天都是在外祖父母位于北方邦的小镇上度过的。北方邦是印度最贫穷、人口最多的邦之一。尽管这个小镇离新德里大约有四个小时的路程,但与他习惯的城市生活截然不同。没有什么事能打扰到他,所以他整个夏天都在研究成年人—看着他们"对着电视竭尽所能地辱骂",以此参与印度最受欢迎的观赏性运动:政治。
It was an early glimpse into how the world's largest democracy works.
这是对世界上最大的皿煮制度运作方式的早期认识。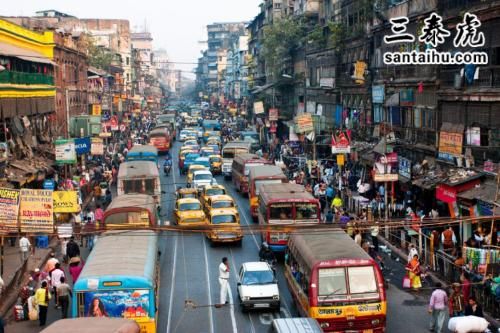 Sharma, chief global strategist at Morgan Stanley Investment Management, has refined his insights over the ensuing years, frequently making personal trips to India to track at least one Indian state or national election a year alongside a growing caravan of Indian writers and editors. His new memoir, D-cy on the Road: A 25-year Journey Through India, details his travels to 15 of the country's 29 states, including meetings with Indian politicians in the privacy of their homes and conversations with voters at political rallies in the small towns between the country's megacities. These byways often play an outsize role in deciding election results.
摩根士丹利投资管理公司首席全球策略师夏尔马在随后的几年里不断完善自己的见解。他经常亲自前往印度,每年密切关注至少一次印度某邦或全国性的选举,与此同时,印度的作家和编辑队伍也在不断壮大。他的新回忆录详细描述了他在印度29个邦中的15个邦的旅行见闻,包括在家中与印度政界人士的秘密会面,以及在印度大城市间的小城镇举行的政治集会上与选民进行的对话。这些往往会在决定选举结果时发挥巨大的作用。
India's benchmark S&P BSE Sensex market index hit a record high of 39056.65 on Tuesday. Rising optimism that Prime Minister Narendra Modi's pro-business coalition will stay in power in national elections beginning April 11 could be partly responsible for the index's advance. A month ago, India was one of this year's worst-performing markets. Election season ends at the end of May.
印度标准普尔BSE Sensex指数周二触及历史高位39056.65点。对印度总理纳伦德拉莫迪的亲商联盟将在4月11日开始的全国大选中继续执政的乐观情绪日益高涨,可能是该指数上涨的部分原因。一个月前,印度还是今年表现最差的市场之一。选举季将在五月底结束。
He recently spoke with Barron's about what drives Indian voters; why investors might want to lower their expectations for Indian stocks even if Modi beats rival Rahul Gandhi, Indira Gandhi's grandson, at the polls; and why investors need to stop comparing India with China.
他最近与《巴伦周刊》讨论了什么推动了印度选民;即便莫迪在民调中击败了竞争对手、英迪拉•甘地的孙子拉胡尔•甘地,投资者为何还可能降低对印度股市的预期?以及为什么投资者不要再把印度与中国进行比较。
Barron's: In your book, you talk about how elections are determined in India's "mofussils"—a colonial term Indians now use to describe rural places where old ways run deep. What do people miss by not spending time in these towns?
巴伦:在你的书中,你谈到了印度的"莫弗斯尔斯"是如何决定选举结果的。"莫弗斯尔斯"是一个殖民时期的术语,印度人现在用这个词来形容那些传统根深蒂固的农村地区。人们如果不在这些城镇花点时间,会错过什么?
Ruchir Sharma: How the thinking is so different. For example, the national media in India is focused on pollution and the quality of air in Delhi. Yet, as you go outside of Delhi, the smog may be as bad, but nobody talks about it. For the people in these villages, just getting by is more important. The other thing is how deep the caste system runs in India, especially in the rural areas where two-thirds of the people live. Also, Modi's nationalist message resonates far less outside the northern parts and people underestimate the diversity of the country. It is more like a continent with 29 states than one country.
鲁契尔·夏尔马:他们的想法非常不同。例如,印度的国家媒体关注德里的污染和空气质量。可当你走出德里时,雾霾可能也一样严重,却没有人谈论这个问题。对这些生活在乡村里的人来说,勉强糊口才更为重要。另一个问题是种姓制度在印度有多猖獗,尤其是在三分之二人口居住的农村地区。此外,莫迪的民族主义在北方以外地区获得的反响要小得多,人们低估了印度的多样性。印度更像是一个由29个邦组成的大陆,而不是一个国家。
So local issues trump national ones. What will you be looking for when you head back to India next month?
所以地方问题盖过了国家问题。你下个月回印度时想求证什么?
How much Modi is able to convert his personal popularity into votes for the BJP [Bharatiya Janata Party] and how well the opposition alliances are working together. Whenever the opposition come together, they always pose a threat.
莫迪能在多大程度上把他的个人声望转化为投给印度人民党的选票,以及反对党联盟将如何密切合作。反对党联手时,总会构成威胁。
What brings them together?
是什么让他们走到一起的?
Often it is to -. In India there has always been populist sentiment against the incumbent politician. Two-thirds of incumbent go nments in India have typically lost an election. In the U.S., 80% of incumbents typically get re-elected. Now, though, I'm seeing the anti-incumbency trend go global. Last year, only 40% of go nments across the world got re-elected—that is a big change compared with roughly a decade ago.
在印度,一直存在反对现任政治家的民粹主义情绪。印度三分之二的现任政府通常都会在选举中失败。在美国,80%的现任总统通常都能连任。但现在,我观察到,推翻现任政府的趋势正在全球蔓延。去年,全世界只有40%的政府获得连任,这与大约十年前相比是一个巨大的改变。
What is driving that? Rising inequality?
是什么驱动了这个结果呢?越来越突出的不平等?
In India, the view is that the state is broken and never delivers so they are always angry at the incumbent. But now across the world there is a growing frustration with what the establishment is able to do for you. It has also been partly stoked by social media, which makes it easy to bring people down now.
在印度,人们认为国家已经崩溃,承诺从未得到兑现,所以他们总是对现任领导人感到愤怒。如今在世界各地,人们对现任政府能为选民做些什么越来越感到失望。社交媒体很轻易地在一定程度上鼓动了这种不满。
What does that mean for investors?
这对投资者意味着什么?
It creates more volatility.
它造成了更多的波动。
If India always roots for the underdog, that can't be good for Modi.
如果印度总是站在弱者一边,这对莫迪来说不是好事。
That is the risk he faces. The business people in India are feeling listless. They haven't gotten from the go nment what they wanted, but they are scared of change. Their default is to favor stability.
这就是他面临的风险。印度的商人们无精打采。他们没有从政府得到他们想要的,但是他们害怕改变。他们的默认做法是倾向于稳定。
That diversity also makes economic reform hard. Over the past 20 years, you have had the chance to talk to the Gandhis, Modi, and other leaders and have lowered your expectations for reform. Why?
这种多样性也使得经济改革困难重重。在过去的20年里,你们有机会与甘地、莫迪和其他领导人交谈,降低了你们对改革的期望。这是为什么?
I've become more of a realist, realizing this country will change at its own pace. This isn't a country where you can go and tell them to be like [Ronald] Reagan or be like [Margaret] Thatcher. It isn't going to work that way. All the leaders tend to be statist—they believe too much in the state. Whatever reforms or focus on development there is, I tend to see much more of it with the state go nments. It is very hard to get top-down change in India.
我变得更加现实,意识到这个国家将以自己的步伐发生改变。在这个国家,你不能要求他们像罗纳德•里根或玛格丽特•撒切尔那样。那是行不通的。所有的领导人都倾向于中央集全——他们对国家过于信任。无论有什么改革或发展重点,我都希望能在邦政府那里看到更多的改革或发展。在印度很难实现自上而下的变革。
The last time Modi won, investors were excited about the prospects for economic reform and the reduction of bureaucracy. The market has been rising on similar optimism lately. Should investors temper expectations?
莫迪上次获胜时,投资者对经济改革和官僚主义削减的前景感到兴奋。最近市场也因类似的乐观情绪而上涨。投资者应该降低预期吗?
It is good to keep expectations low. The reform and change [Modi brought] is different than what was anticipated. He wants to fix things here and there, but it isn't free-market reform or liberalization—or the kind of change that, for example, is expected from Brazil today, under [President Jair] Bolsonaro.
放低期望值是有好处的。莫迪带来的改革和改变与预期不同。他想解决各种问题,但这不是自由市场改革或自由化,也不是今天的博尔索纳罗领导下的巴西所期望的那种变革。
What is one big thing investors should know about India?
投资者应该了解的印度的一件大事是什么?
Forget the India/China comparisons. Apart from the large populations, these two great nations of Asia have nothing in common. Nothing. Everything you say about China, the opposite is basically true of India. Where China is more homogenous, India is as heterogeneous as they come.
不要再把印度和中国拿来做比较了。除了人口众多,这两个亚洲大国没有任何共同之处。什么都没有。中国的一切基本上都与印度相反。中国同质化程度更高的方面,正是印度异质化程度最高的方面。
During the reform of the state-owned enterprises in the 1990s, they let go of 70 million employees. That is what kept China ahead of the curve. In the past few years, China is showing some signs of reverting, but that doesn't' take away from the big picture. China gave its people much more economic freedom than India did. And that is ironic.
在20世纪90年代的国有企业改革中,他们解雇了7000万名员工。正是这一点使中国遥遥领先。过去几年,中国出现了一些复苏的迹象,但这并没有影响整体形势。中国比起印度,给了人民多得多的经济自由。这很讽刺。
Give us an example of India's failure in this regard.
给我们举个印度在这方面失败的例子吧。
Look at demonetization [Modi's go nment voided 85% of the currency overnight in November 2016]. India wanted to move to a cashless society, but China has moved to a cashless society much quicker with the private sector. In Beijing or Shanghai today in the middle classes, cash is nonexistent. It happened organically through the tech revolution and the development of some great payment solutions, and not through some massive state intervention or something as draconian as demonetization. India's not going to become the next China.
看看废钞令(莫迪政府在2016年11月一夜之间废除了85%的货币)。印度想要向无现金社会迈进,但中国私营企业方面在向无现金社会迈进的速度更快。如今在北京或上海的中产阶级,现金是不存在的。中国是通过技术革命和一些很出色的支付解决方案的升级而有机地发生的,而不是通过一些大规模的国家干预或像废除货币一样严厉的措施。印度不会成为下一个中国。(文章译自barrons)
以下是美国雅虎网站读者评论:
来源:三泰虎 http://www.santaihu.com/47350.html 译者:Joyceliu
外文链接:https://www.yahoo.com
Obione
Two simple reasons India will not surpass China: 1) India's culture is deeply tied to ancient ways and 2)Tenacious adherence to to Religion. Both aspects will hold India back. Other Asian counties with old cultures and religions such as Japan, China and Korean successfully bridged these gaps.
印度无法超越中国有两个简单的原因:1)印度的文化与古老的方式息息相关;2)热衷宗教。这两个方面都将阻碍印度的发展。其他拥有古老文化和宗教的亚洲国家,如日本、中国和韩国,成功地弥合了这些罅隙。
S L
Don't see how. India's nowhere *near* as coordinated, calculating and planing as China.
我是看不出来这种可能的,印度在协同、谋虑和规划方面远不及中国。
Meiyo
Well, at least Ruchir has more courage than most to tell the truth!
好吧,至少鲁契尔比大多数人更有勇气说出真相!
Carl
I suspect that to to the globalization of capitalism that the world is rapidly running out of cheap labor markets.
我怀疑,由于资本主义的全球化,世界廉价劳动力市场正在迅速枯竭。
Keystone
India looks at China as their bar to beat. China looks at the US. That's why China will always be ahead.
印度把中国视为攻击的目标。中国则紧盯美国。这就是中国一直领先的原因。
Yu
Ruchir seems to be a guy to really care about India and dares to say something politically incorrect. He traveled to India for so many times to observe because he deeply cares. A lot of people have empty and big talks while not really knowing anything about the subject they are talking about.
貌似鲁契尔是一个真正关心印度的人,他敢说一些政治不正确的话。他多次前往印度观察,是因为他非常关心印度。很多人夸夸其谈,却对他们所谈论的话题一无所知。
45gft
Two things: caste system and religion. Religion itself is not bad, but will act as the break for development if they insert it into politics and go nment.
两件事:种姓制度和宗教。宗教本身并不是洪水猛兽,但如果把宗教融入政治和政府,宗教就会成为发展的断口。
Syzygy
India has perfected the culture of being happy with nothing. If you are happy with nothing why would you try to improve yourself?
印度一无所有的穷快乐文化已经登峰造极了。如果你对什么都不满意,为什么还要努力提高自己呢?
D
Never say never. In WWII no one would have believed that in the future both Germany and Japan would be allies of the USA.
话别说太满。二战时没有人会相信德国和日本日后会成为美国的盟友。
Charles
When I was in school teachers always told me if a statement has "always" or "never" in it, it was always wrong.
我还是个学生时,老师总是说如果一个句子里出现了"总是"或"从未",它一定是错的。
don
India's political system has entrapped the country with a two-step forward one step backward mentality as India's politicians will utilize all available means to advance their own self interests.
印度的政治体制让这个国家陷入了进两步退一步的心态,因为印度的政客们将利用一切可用的手段来保障自己的利益。
anis h
Corruption, political lies, support to become India as a Hindu country. As far as Modi is there India will go back in all the direction. Other parties are not capable to make India as a economic tiger of Asia. Sorry but this is fact.
附败,政治谎言,让印度成为一个印度教国家。只要莫迪还当政,印度就会全面退步。其他政党没有能力让印度成为亚洲经济之虎。对不起,但这是事实。
Charles
There are good and bad consequences for whatever route a society takes. Not everything can be measured in terms GDP.
无论一个社会选择走哪条路,都可能面临好的或坏的结果。并不是所有的东西都能用GDP来衡量。
Active
Pakistan has recently adopted a policy of reconciliation towards India by opening a corridor for Sikh pilgrims to their holy places. This is the right thing to do. People of every faith should have a fundamental right to practice their faith and every one should provide facilities. That will promote tolerance and love between people. The founder of Sikh faith promoted love for humanity.
巴基斯坦最近对印度采取了和解政策,为锡克教徒前往圣地开辟了一条走廊。这是正确的做法。每个宗教的信徒都应该有信仰的基本权利,每个人都应该提供便利。这将促进人与人之间的宽容和爱。锡克教的创始人提倡对人类的爱。
Mao
Why do we need another China? We do need a better India... so don't see much point in this article. As far as investment potential goes, India is a good investment opportunity for those who know the country (just like pretty much any investment!), don't need Morgan Stanley for that
为什么我们需要第二个中国?我们确实需要一个更好的印度…所以这篇文章没有什么意义。就投资潜力而言,对于那些了解印度的人来说,印度是一个很好的投资机会!
Anonymous
But China will be the next USA, for sure.
毫无疑问,中国将成为下一个美国。
Denali
At last some one is stating the obvious. India is built on lies and fake news. When it can create 20 million jobs per month and alleviate the suffering of 80% of its masses, then maybe - until then don't hold you breath
终于有人道出了这个显而易见的事实。印度是建立在谎言和假新闻之上的。等它能每个月创造出2000万个就业机会,将民众苦难减轻80%时,也许会吧——在那之前只管放轻松吧。
Active
I think most Pakistanis and Indian intellectuals recognize that they both were victims of colonialism with the latters' "divide and rule" policy. Now it is wise for the 2 countries to reconcile and make their countries tolerant people.
我想大多数巴基斯坦和印度的知识分子都认识到,他们都是殖皿煮义的受害者,奉行的是殖民者"分而治之"政策。现在,两国和解是明智的选择。
tamas
I just spent 10 days in India. The internet speed in my hotel was well over 100Mbps. No reason to worry about India: like China, it will be leaving the US behind in the dust, while the US wastes all its taxpayers' borrowed money on the military-industrial complex and religious strife in the Middle East.
我刚在印度呆了10天。入住的旅馆网速远超100Mbps。没有理由担心印度:与中国一样,印度将把美国抛在身后,而美国将纳税人借来的所有钱都浪费在中东的军工联合体和宗教争端上。
Observer
Most Indians, and certainly their current leader PM Modi, are fiercely independent, and the country has immense talent. Consequently, they'll always be unique in their own ways, and any comparisons to other nations are irrelevant.
大多数印度人,当然也包括他们的现任领导人莫迪,都是非常独立的,这个国家拥有众多人才。因此,他们总有自己独特的方式,与其他国家做比较都没有意义。
billy1
Duh! Look at the Philippines and countries south of the Rio Grande. Religion destroys a country and Hinduism is a religion just like Catholicism, but is still in control. The founders of the U.S. knew this and tried to keep religion out of our go nment.
看看菲律宾和里约热内卢格兰德河以南的国家。宗教能摧毁国家,印度教和天主教一样,都是宗教,但还未失控。美国的开国元勋们深知这一点,努力让宗教远离我们的政府。
Jam Greene
YES, different groups of people in large numbers will make a China-Like transformation very difficult. However, there are many possibilities and opportunities that are very unique to India. PM Modi's second term is absolutely essential to take full advantage of the existing possibilities.
是的,人数众多的多样化人群将使中国模式的转型非常困难。然而,印度有许多独特的可能性和机会。莫迪总理的第二个任期对于充分利用现有的可能性是绝对必要的。
Joel
Western countries don't understand China is on a plan for world domination. The plan involves not decades but a time frame even longer than that.
西方国家不明白,中国正计划称霸世界。这个计划不仅局限于几十年,甚至更长的时间。
kalim
I often used to says, Indians are educated but not civilized. There is a great difference in thinking of both people. Have seen a lot of Chinese while working. Really hard working
我常说,印度人确实受过教育,但并不文明。两个国家的人民的想法差异很大。我工作时见过很多中国人。他们工作起来非常努力。
Charles
A great book to read on this very issue is "Why Nations Fail".
关于这个问题,有一本很棒的书《国家没落的原因》
Mrtstmnlv
We can thank our CIA for keeping India from ever being a super power. We have used the h1B program to steal half of their best minds, and they cant use most of the other half as they are of the wrong caste. Our cia is brilliant
我们要感谢我们的美国中央情报局,他们阻拦了印度成为超级大国的努力。我们用H1B项目拐走了他们一半的顶级人才,而剩下的那一半因为种姓问题,印度也没能重用。我们的中情局太有才了。
lehan r
Biggest Democracy in the world, and also Caste base religion in the world. In order to know what going to happen to India ,one needs to visit India and stay at least 2 weeks to understand how Savages the Hindu religions are.
世界上最大的皿煮国家,也是全球独有的种姓基础宗教。想了解印度将会发生什么,人们得来印度停留至少两周,才能了解印度教有多么野蛮。
RM
India has something in common with china...over population..it has lots of well trained IT professionals. It should be way ahead of its growth track and needs to address its poverty and infrastructure to grow
印度和中国有相似的地方…那就是人口。印度拥有许多训练有素的IT专业人士。印度的经济增长应该远远超前于其增长轨道,需要解决贫困问题和基础设施建设才能实现增长
Beach
Never heard of India? Heard of Indiana.
从没听说过印度?倒是听说过印第安纳州。
Voice of Reason
The Silicon Valley and San Francisco Bay Area. Will the next China or India.
If you live in the area you see so much high density housing and disparity between the rich tech people and the poor average worker. The city go nments love it because more taxes and higher pay for the top go nment officials.
硅谷和旧金山湾区。将会是下一个中国或印度。
如果你住在这个地区,你会看到高密度的住房,富裕的技术人员和贫穷的普通工人之间的差距。市政府喜欢这样做,因为这样可以带来更多的税收和更高的薪水。
Keystone
Here's a fact! The West never assimilated the Chinese because the Chinese always fought. India was colonized to where the West was on control of generations thereafter which means the West taught India to be a subordinate to the West.
这是一个事实!西方从未成功同化中国人,因为中国人总是奋起抗争。印度被殖民到西方控制了几代人的时间,这意味着西方教育印度要顺从西方。
Danny
I look at the map India is small and located in a remote area of Indian Ocean plus Chinese are also a lot smarter than Indians, these are the disadvantages for India
我看了看地图,印度很小,位于印度洋的偏远地区,再加上中国人比印度人聪明得多,这些都是印度的劣势
THOMAS
India is and has been horribly over-populated throughout its history. It isn't the best and brightest who have the most children. It is the rural, backward poor who can least afford such large families. Backward beliefs and religion need to be brought into the 21st century as well as strong incentives for massive birth control are needed. China had its one child policy which was controversial but did help alleviate some of the population pressure. The countries with the lowest birth rates seem to have the highest standard of living, the cleanest air and the most modern societies.
印度在其历史上一直存在严重的人口过剩问题。生孩子最多的并不是最优秀、最聪明的人。只有农村落后的穷人才敢养育这样的大家庭。落后的信仰和宗教必须跟21世纪接轨,大规模的节育需要强有力的激励措施。中国的独生子女政策虽惹争议,但确实缓解了部分人口压力。出生率最低的国家似乎拥有最高的生活水平、最清洁的空气和最现代化的社会。