Italy becomes first G7 nation to sign China's OBOR plan
意大利成为七国集团中首个签署中国"一带一路"计划的国家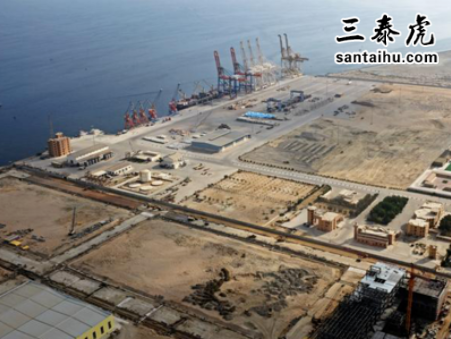 ROME: Italy signed a memorandum of understanding with China on Saturday in support of Beijing's "Belt and Road" initiative, which aims to weave a network of ports, bridges and power plants linking China with Africa, Europe and beyond.
罗马:周六,意大利与中国签署了一份谅解备忘录,支持北京的"一带一路"倡议,该倡议旨在编织一个连接中国与非洲、欧洲和其他地区的港口、桥梁和发电厂网络。
With the memorandum, Italy becomes the first member of the Group of Seven major economies, which includes the United States, to join Belt and Road, following Portugal's embrace of the initiative in December. Italy's move appears to be driven partly by hopes that Chinese investment in Italy's ports might help revive the country's traditional role as a key link in trade between the East and West.
根据这份备忘录,意大利成为七国集团(G7,该集团的成员国包括美国)中第一个加入"一带一路"的成员国。去年12月,葡萄牙接受了这一倡议。意大利此举似乎在一定程度上受到了这样一种希望的驱动:即中国对意大利港口的投资,可能有助于重振意大利作为东西方贸易关键纽带的传统角色。
The signing ceremony took place at Villa Madama, a Renaissance villa designed by Raphael. Italy's involvement gives China a crucial inroad into Western Europe and a symbolic boost in its economic tug-of-war with Washington, where President Donald Trump seeks to challenge China over trade and other issues.
签署仪式在拉斐尔设计的文艺复兴时代的玛达玛庄园举行。意大利的参与为中国进入西欧提供了一条至关重要的道路,也象征性地推动了其与美国的经济角力。美国总统唐纳德•特朗普试图在贸易和其他问题上挑战中国。
There is growing concern, in fact, that China has arrived in Europe not as an economic collaborator, but as a conqueror. The European Commission President Jean-Claude Juncker repeated that refrain on Friday, saying ''the Chinese market is not sufficiently open to European companies, and we must change this."
事实上,外界越来越担心,中国来到欧洲不是作为一个经济合作伙伴,而是作为一个征服者。上周五,欧盟委员会主席让-克洛德•容克重申了这一论调,称"中国市场对欧洲企业不够开放,我们必须改变这一点。"
The Belt and Road project has so far seen investments totaling more than a trillion dollars since its launch more than five years ago, and China says some 150 countries have signed agreements related to the project. Beijing has marketed the initiative as a way to give some of the world's neediest countries a leg up, helping them gain access to more trade and investment. But it also helps Chinese companies tap new markets for their products while helping Beijing amass greater global influence.
自五年多前启动以来,"一带一路"项目的投资总额已经超过1万亿美元。中国称,大约有150个国家签署了与该项目有关的协议。北京一直在宣传这一计划,希望借此帮助世界上一些最贫困的国家,帮助他们获得更多的贸易和投资机会。但这也有助于中国企业为自己的产品开拓新的市场,同时帮助北京积累更大的全球影响力。
Some go nments including the US, Japan and India worry that Beijing is trying to build a China-centered sphere of influence that would undermine their own sway, pulling developing nations into so-called "debt traps", that would give China ever-more control over their territories and economies. China's official position is that Belt and Road is solely an economic initiative with no political motives.
包括美国、日本和印度在内的一些政府担心,北京方面正试图建立一个以中国为中心的势力范围,这将削弱这些国家自身的影响力,将发展中国家拖入所谓的"宅舞陷阱",使中国对它们的领土和经济拥有越来越大的控制权。中国的官方立场是,"一带一路"完全是一个没有政治动机的经济倡议。
印度时报读者评论:
译文来源:三泰虎 http://www.santaihu.com/47246.html 译者:Jessica.Wu
外文:https://timesofindia.indiatimes.com
Now you see Sonia's Italy-Pakistan-China nexes against Hindu India. Italy has thrown Pakistani Muslim immigrants out of Italy . Now Sonia - Rahul traitors son't Say a word. Whole family is anti India
现在大家可以看到:索尼娅的意大利与巴基斯坦、中国联合起来对抗印度。索尼娅和拉胡尔这两个叛徒,他们整个家族都反对印度
Dheeraj - 13 hours ago -Follow
signed debt trap of china !!!
和中国签署的宅舞陷阱!!
Abhijet Singh - Dubai - 13 hours ago -Follow
Vote for Modi else i honestly fear RAGA will sign this OBOR following Italy ( his nanihaal ) footsteps
投票给莫迪,否则我真担心拉胡尔会跟随意大利的脚步签署"一带一路"计划。
Pramod
what a stupid move by Italians......can't they see, what happened to Srilanka (hambantota port) or the Maldives, who got caught in Chinese debt trap.
On a lighter note, I think RaGa is truly an Italian.....

意大利人这么做真的是太蠢了,难道他们看不出来,斯里兰卡(汉班托塔港)和马尔代夫发生了什么吗,他们陷入了中国的宅舞陷阱。
值得一提的是,我认为拉胡尔确实是个意大利人……
Gentleman - 13 hours ago -Follow
If the Congress comes to power in next election. Italy madam will ask her son to sign OBOR and surrender to Pakistan...
如果国大党上台。意大利夫人索尼娅将要求她的儿子签署"一带一路"并向巴基斯坦投降…
Phl - 13 hours ago -Follow
Its bcoz of sonia nd pappu...they r anti indian ppl
都怪索尼娅和拉胡尔,他们反印度。
Chowkidaar Tigerzinda - 12 hours ago -Follow
Modi hai to india hai
Modi nahi to india kahin bhi nahi
Vote modi 2019 for indias future
为了印度的未来,2019年一定要投票给莫迪。
Bala Srinivasan - saginaw USA - 13 hours ago -Follow
ITALY once considered "THE SICK MAN of EU"now unashamedly acknowledging that status.Unfortunately others like PORTUGAL,SPAIN&GREECE might follow making EU a crumbling DISUNION leaving GERMANY&FRANCE to carrying with the left overs.This means NATO,EURO&SHENGEN all gets weakened.
意大利曾经被认为是"欧盟病夫",现在却无耻地承认了这一身份。不幸的是,像葡萄牙、西班牙和希腊这样的国家可能会效仿意大利的做法,导致欧盟摇摇欲坠,留下德国和法国承担剩下的责任。这意味着北约、欧洲和申根都将被削弱。
Pradeep - Mumbai - 8 hours ago -Follow
now people will know what will happen if Congress comes to power. India will also join obor. then we're lose pok for ever.
现在大家都知道如果国大党长权将会发生什么了:印度也将加入"一带一路"。那我们将永远失去巴控克什米尔了。
Rajeev - 6 hours ago -Follow
Of course, Italians always had a soft corner for China. It has been proved by behaviour of some people of Italian origin staying in India.
意大利人对中国总是情有独钟。一些有意大利血统的人在印度的所作所为证明了这一点。
Subh Disha - 8 hours ago -Follow
China saying that OBOR is purely for economic purposes spanning in 150 countries with Chinese investment of $1 Trillion and is not for to establish hegemony. Did East India company of British told India that it was for establishing hegemony when it came to India?
中国称"一带一路"纯粹是为了经济目的,不是为了建立霸权,"一带一路"跨越150个国家,中国投资1万亿美元。英国东印度公司来印度的时候有没有告诉印度,来印度是为了建立霸权?
Santimay Basu - New Delhi - 6 hours ago -Follow
This deal must have been brokered by China''s close friend Pappu.
这笔交易一定是由中国的密友拉胡尔促成的。
Chintu Mon - 10 hours ago -Follow
Italy doesnt deserve to be a part of G7..its poor and bankrupt
意大利不配成为七国集团的一员,一个破产的穷国。
Dinkar Khakhar - 12 hours ago -Follow
Bad days for Bar Maid's Italy. Debt from China will increase year by year and will have to lease the country for 99 years
意大利要倒霉了。来自中国的债务将逐年增加,意大利将不得不把整个国家出租99年。
Ss - 7 hours ago -Follow
Now is it not confirmed that Bar Dancers family is very close to China? No wonder Pappu keeps compromising Indian interests and wants deals like Rafale to be public so that China gets a strtategic military advantage. The whole Gandhi family is a traitor.
现在不正好确认了甘地家族和中国走得很近吗?难怪拉胡尔不断损害印度的利益,希望公开"阵风"交易,这样中国就能获得强大的军事优势。甘地全家都是叛徒。
Smoking - Land of Cannabis Indica - 11 hours ago -Follow
In the current global scenario,India cannot afford keep itself behind and miss the bus. It has to be economically and militarily strong.
Gone are the days when remaining non aligned came up with benefits.
India has to select a block which benefits it's most.
Siding with US would may keep India into the good books of unreliable NATO and EU but would alienate it away from major emerging powers.
Being with Russia would only means a tactical support militarily. Russians aren't going to fight any war for India but their words count in current new world order.
Remaining non aligned would mean being nothing. Everyone would be taking for granted.
在当前的全球形势下,印度不能坐以待见,坐失良机,必须在经济和军事上强大起来。
"不结盟"带来好处的日子已经一去不复返了。
印度必须选择一个对自己最有利的地区。
与美国站在一起,可能会拉近印度和不可靠的北约和欧盟的关系,但会让印度疏远主要新兴大国。
俄罗斯人不会为印度卷入任何战争,在当前的世界新秩序中,他们的话语很重要。
保持不结盟意味着什么都不是。每个人都不会把你当回事。
Rikesh - Vadodara - 6 hours ago -Follow
It looks Italy become mad or brainless.
看来意大利要么疯了,要么傻了。
Narasimha Prakash - Bharath - 8 hours ago -Follow
Means China will first have a toehold, then a foothold and finally nation-hold. Suicidal for Italy. If they have not learnt from the experience of Sri Lanka and many African countries, it is just foolishness.
这意味着中国首先将找到一个立足点,然后站稳脚跟,最后占领整个国家。意大利是自取灭亡。他们没有从斯里兰卡和非洲国家的经验中吸取教训,太蠢了。
Subh Disha - 8 hours ago -Follow
Italy may become ChinItly in few decades!
意大利可能在几十年内变成中大利!
Indi - Bengaluru - 6 hours ago -Follow
My My. Now I understand why the Vadra-Gandy mafia syndicate are so adamant about the Chinese interest. It's dictated straight from Vatican and Italy !!!!
Remember the secret meeting of all the Criminals of the family with Chinese ambassador during the height of Do-m.
Now its clear by joining the dots.
现在我明白了为什么瓦德拉-甘迪黑手党集团如此坚决地维护中国的利益,他们直接听命于自梵蒂冈和意大利!!
记得在动郎对峙期间,甘地家族的人全都去与中国大使秘密会面。
把这些事情串联起来就清楚了。
M.s. - 8 hours ago -Follow
The Italians will pay a very heavy price for this monumental stupidity.
意大利人将为这一愚蠢至极的举动付出沉重的代价。
Arun Choudhary - 11 hours ago -Follow
Very dangerous step
非常危险的一步
Shinto James - Location - 12 hours ago -Follow
ITALY ALREADY BANKRUPTED...SO THIS WILL BE BIG PROBLEM FOR THEM
意大利已经破产,这对他们来说才是大问题。
Fiona Feynman - Bharat - 12 hours ago -Follow
It is time to expel Italy from EU and from NATO.
是时候把意大利赶出欧盟和北约了
Mohit - 12 hours ago -Follow
Economy of Italy will be ruined by China...Another eurozone crisis in making.
意大利的经济将被中国破坏…又一场欧元区危机正在酝酿之中。
Chowkidar - Kolkata - 6 hours ago -Follow
Italy is almost bankrupt and China will destroy it in 5 years, you will see Venice and Rome and milan infested by Chinese with italians as servents!
意大利濒临破产。你将看到威尼斯、罗马和米兰到处都是中国人,旁边跟着意大利仆人!
Ravindran M - INDIA - 7 hours ago -Follow
Another country to fall into debt trap ---
又一个即将陷入宅舞陷阱的国家
Pranjit - 8 hours ago -Follow
Pappu's hand?
拉胡尔促成的吗?
Smoking - Land of Cannabis Indica - 11 hours ago -Follow
Without Marco Polo going to China, there won't be any Spaghetti, Macaroni or even Pizza
如果马可·波罗没去中国,就不会有意大利面、通心粉,也不会有比萨。
Monica - New Delhi - 11 hours ago -Follow
Doesn''t the present Italia''s go nment want to transfer power from Italy to China?
难道现在的意大利政府想把权力从意大利转移到中国吗?
truthconscience81 - US - 13 hours ago -Follow
Only god knows where this will take Italy to. Wait and watch is the word. Only one thing is certain.....with the Chinese, it is never a mutually beneficial business....it's always a heavily tilted affair towards China. God save you.
只有天知道这将把意大利带向何方,只能说"等着瞧"吧。只有一件事是肯定的,对中国人来说,这从来都不是互惠互利的生意,始终是偏向中国的。
Gundchedilal - 13 hours ago -Follow
RAGA belongs to Italy as well, he should be whipped on his nudearse in public till he dies.
拉胡尔也是意大利人
Rajeev Desai - Mumbai - 5 hours ago -Follow
Next, italexit like brexit as the rich euro nations will throw this bankrupt Italy out of their Union.
接下来,意大利像英国脱欧一样退出欧盟,富裕的欧元区国家将把这个破产的意大利赶出他们的联盟。
Aravindan - Kuala Lumpur - 6 hours ago -Follow
Sonitalia must be delighted, if khangress win, India will also sign.
索尼娅一定很高兴,如果国大党当选,印度也会加入"一带一路"。