Why India is develo its maiden deep-sea port in Indonesia
印度为何要在印度尼西亚开发首个深海港口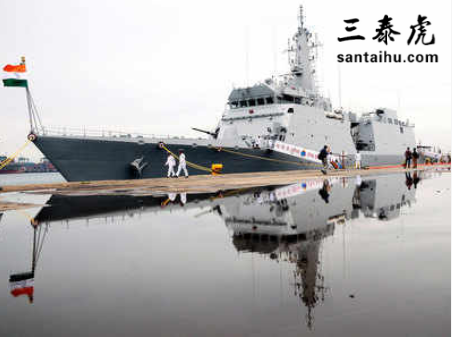 NEW DELHI: India is develo its maiden deep-sea port in Indonesia's Sabang, not far from the Andn and Nicobar Islands, amid 's attempts to have a greater say in the region through the Belt and Road Initiative (BRI). The port will be key to India's Indo-Pacific strategy.
新德里: 在试图通过"一带一路"倡议在该地区获取更大的话语权之际,印度正在印尼沙璜开发首个深海港口,距离安达曼和尼科巴群岛不远。该港口将是印度印太战略的关键。
The port will give India better access to the South East Asian markets and provide a strategic hedge at a time is increasing its presence in the Strait of Mcca (as also the larger Indian Ocean).
该港口将使印度更好地进入东南亚市场,并在增加其在马六甲海峡(以及印度洋)的存在之际,提供战略对冲。
Despite the Look East Policy, tracing back to the days of then PM Narasimha Rao, India's relationship with ASEAN nations have largely been trade-oriented. But the rise of in the waters of Indo-Pacific (and its economic clout) calls for a new approach to the region. Hence, the reason the Narendra Modi go nment has upgraded its policy to Act East.
尽管"东望政策"可追溯到时任印度总理纳拉辛哈•拉奥时期,印度与东盟国家的关系在很大程度上是以贸易为导向的。但由于在印太地区的崛起(及其经济影响力),印度对该地区要采取新的策略。因此,莫迪政府将政策升级为"东进政策"。
But countering in the region is easier said than done. For one, is the largest trade partner to ASEAN, increasing from $192 billion in 2008 to $515 billion by 2018. Then there is the BRI, through which has spent about $400 billion. Also, 's focus on Indo-Pacific region is aimed at displacing the US from the region — American military bases in Guam, Diego Garcia (Indian Ocean) as well as in Darwin (Australia), and its economic ties with the region ensure its primacy. But that mission threatens India as well, considering the nature of the relationship between and New Delhi.
但在该地区对抗说起来容易做起来难。首先,是东盟最大的贸易伙伴,贸易额从2008年的1920亿美元增加到2018年的5150亿美元。其次是"一带一路"倡议,已通过该倡议投入约4000亿美元。此外,对印太地区的关注旨在取代美国在该地区的地位——美国在关岛、迭戈加西亚(印度洋)以及达尔文(澳大利亚)拥有军事基地,其与该地区的经济联系确保了其主导地位。但考虑到中印关系的性质,这一使命也对印度构成了威胁。
Hence, strategic partnerships with Indo-Pacific nations help.
因此,与印太国家建立战略伙伴关系是有帮助的。
During PM Modi's visit to Indonesia last year, the two nations had agreed on a "Shared vision of maritime co-operation in the Indo-Pacific". Connectivity with Sabang port was identified as a key priority area within that vision.
去年莫迪总理访问印尼期间,两国就"印太海上合作的共同愿景"达成一致。与萨班港的连接被确定为该愿景中的一个关键优先领域。
Following this, an Indian naval ship, INS Sumitra, visited Sabang for the first time last July. Now an Indian Coast Guard ship, Vijit, has visited the port (from March 17-20).
随后,印度海军舰艇"苏米特拉"号于去年7月首次访问了沙璜。现在,印度海岸警卫队的"Vijit号"也已访问了这个港口(从3月17日到20日)。
India is also strengthening its forces in the Andns. The Indian Navy recently commissioned its third (and India's fourth) air base in the islands.
印度也在加强其在安达曼的军事力量。印度海军最近在这些岛屿上建立了第三个(也是印度的第四个)空军基地。
印度时报读者评论:
译文来源:三泰虎 http://www.santaihu.com/47238.html 译者:Jessica.Wu
外文:https://timesofindia.indiatimes.com
pasuramuthappa - 16 hours ago -Follow
What previous Gt did was free bees to poor and rest to loot for themselves. MMS is a economist with no practical knowldge of world policy and international po itics. A doctor without prescription
以前的政府所做的是给穷人发一些免费赠品,接着就是去为自己搜刮钱财。曼莫汉·辛格是一位经济学家,对世界政策和国际一无所知,是一位不会开处方的医生。
narasarao - Hyd - 15 hours ago -Follow
Credit goes to Modi!
莫迪功不可没!
Makdxb - INDIA - 16 hours ago -Follow
That''s good. India''s relation other countries are very good and that''s help us to have base like this
has strategically placed itself around some of its competitors in many ways. Until Shri Modi took over, there was no thinking on the need for strategic bonds with neighbours and others, who wish to be a partner with India in restricting access to . It should go to the credit of our Prime Minister for visualising this situation.
做得好。印度和其他国家的关系很好,这对我们有益。在许多方面围绕竞争对手进行了战略布局。在莫迪上任之前,政府从未考虑过与邻国和其他国家建立战略关系的必要性。而这些国家希望成为印度的合作伙伴,以遏制。这一切都是莫迪的功劳。
Ilias - USA - 15 hours ago -Follow
While p0rk1$ allow other countries like to build port inside, India is building its ports outside in other countries. Big difference!
虽然巴基斯坦允许等国家在国内建设港口,但印度正在其他国家建设自己的港口。二者的区别很大!
Santimay Basu - New Delhi - 15 hours ago -Follow
PM Modi''s Act Policy is not a mere slogan. He is increasing India''s reach to the far east Asian countries by kee at a bay.
莫迪总理的"东进政策"不仅仅是一个口号。通过牵制,他扩大了印度对远东国家的影响力。
San dy - 16 hours ago -Follow
Modi hu Akbar ! Modi hu Akbar !!!
莫迪大帝!
ARNIAK - 18 hours ago -Follow
MAKE IT CLEAR THAT PORT IS DEVELOPED TO DESTROY CHINESE NAVY AND OIL TANKERS BEFORE IT ENTERS INDIAN OCEAN IN TIME OF WAR. USA TOO WILL BE ALLOWED TO USE THIS PORT.
要明确表示,该港口是为了在战争期间摧毁海军和油轮而开发的。将来也要允许美国使用这个港口。
Arun Choudhary - 14 hours ago -Follow
It will boost up our economy in future
该港口将促进我们的经济发展。
PRAKASH chandra mishra - 13 hours ago -Follow
Great work. Great vision. Certainly they need next term.
做得好。雄才伟略,要让莫迪连任。
Mein CHOWIKIDAR nahi hoon - 14 hours ago -Follow
Can''t live more on will and wishes of others... Time to show mighty power to world.... East or West.. India is Best..
不能仰人鼻息,是时候向世界展示印度的强大实力了……不管在东方或西方,印度才是最好的. .
Vivek Shah - surat - 14 hours ago -Follow
Media outlets must refrain from publishing such strategic news in the national interest, if they refuse to stop, then I think Go nment must ban them
为了国家利益着想,媒体别再发布此类涉及国家利益的新闻了。
Subhash - 14 hours ago -Follow
Only time will tell where we are heading under the leadership of Mr Narendra Modi. In my oion, is the biggest enemy of India rather than Pakistan. This is to be kept in mind while formulating foreign policy.
只有时间能告诉我们,在莫迪的领导下,我们将走向何方。在我看来,是印度最大的敌人,巴基斯坦不是。在制定外交政策时要牢记这一点。
RCH - 12 hours ago -Follow
This is a super gt esp when it comes to foreign affairs..
这是一个超级政府,尤其是在外交事务上。
Amit - 13 hours ago -Follow
Foreign policy of a country should be based on national interest which is now the case as ag inst previously under the dynasty rule of congress when it was based on family interest.
一个国家的外交政策应该以国家利益为基础,目前的政府就是这么做的。而在从前国大党王朝的统治下,却并非如此,而是基于家族利益的。
Chowkidar Ashish Kumar - 15 hours ago -Follow
these are the work and effects of modi for india in sea, what knowledge pappu has in this field, zero
这些是莫迪在海上为印度所做的努力,拉胡尔在这个领域的知识是零。
Harshad B Chauhan - 13 hours ago -Follow
India's strategic enemy are not Pak or but are antinational Dynasties of Gandhi, SP and Goda
印度的敌人不是巴基斯坦,也不是,而是甘地等反国家主义王朝
Raj S - Ahmedabad, India - 13 hours ago -Follow
Quick and efficient Modi
快速高效的莫迪
Tropical - Delhi - 14 hours ago -Follow
In terms of emerging markets access, India is very strategically located and have access to SE Asia, Africa and Europe more competitively compared to . Only nationalist go nment with vision for a stronger India can take advantage of India''s geo-strategic advantage. Papu''s can''t dance but Modi can dare.
在新兴市场准入方面,印度具有非常重要的战略地位,与相比,印度在东南亚、非洲和欧洲的市场准入方面更具竞争力。只有具有强大印度愿景的民族主义政府才能利用印度的地缘战略优势。拉胡尔做不到,但莫迪能。
R Murti Paluri - 4 hours ago -Follow
I must say in Modi''s era, the Indian foreign policy is consistent with the international developments and to contain in Indian interest. , one must realize, is enclosing India to strangulate. India is responding well in an aggressive manner. This is the correct approach. The congress go nment had no stomach for such bold actions as they focused on co ption and filling their stomachs. Honestly vers should recognize this and drive away congress. Worst is if Rahul and Priyanka get ed and congress gets a majority. Come on Indians. Ve as per the national interests. Not dynasty. Gandhi family has loed the country.
在莫迪时代,印度的外交政策符合国际形势发展,遏制符合印度利益。我们必须认识到,正在包围印度,让印度窒息。印度正在积极应对。这是正确的做法。国大党政府不愿意采取如此大胆的行动,他们一门心思想着如何填满自己的腰包。选民应该意识到这一点,赶走国大党。最糟糕的情况是,拉胡尔和普里扬卡当选,国大党获得多数席位。印度人,投票时要考虑国家利益。甘地家族洗劫了这个国家。
Nriguy - New York - 5 hours ago -Follow
Once India becomes rich like all pieces of the puzzle will fall in place. The main issue is has deep pockets whereas India still dreams of its past. Indian culture is the biggest stumbling block to become a rich country, along with its resulting booming population of mostly poor uneducated labor force. We cant become rich when our women cant be part of the GDP nor be free to live their lives as western or eastern women do.
一旦印度像一样富裕起来,所有的难题都将迎刃而解。主要问题是,财力雄厚,而印度仍沉迷过去。文化是印度成为一个富裕国家的最大绊脚石,其次是人口激增,其中大部分是没有受过教育的贫困劳动力。如果我们的妇女不能为GDP做贡献,不能像西方或东方妇女那样自由地生活,我们就富裕不起来。
Amrit Bindra - Cleveland - 13 hours ago -Follow
The first vidionary PM of India , NaMo !
印度首位有远见卓识的总理,莫迪!
Rohit - 14 hours ago -Follow
good, this is result of go nment efforts. I can't believe congress can do anything like this for country.
很好,这是政府努力的结果。国大党就做不到。
Bijay - Noida - 4 hours ago -Follow
ve for BJP and convince 5 congress supporters near to you to vite BJP
投票给印度人民党,说服你身边的5位国大党支持者为人民党投票
Ashok - 5 hours ago -Follow
India should take on lease a Vietnam island and develop that as a port and airport...
印度应该在越南租一座岛,在那建港口和机场。
Pooja - 13 hours ago -Follow
US despite having multiple base in South east asia, has failed to stop the expansion of there. In true sense, in the interest of the Nation, India must buy more Tejas than buying Rafale
尽管美国在东南亚拥有多个基地,但未能阻止在那里的。从真正意义上讲,为了国家的利益,印度必须购买更多的"光辉"战机,而不是"阵风"。
Sahan - 13 hours ago -Follow
India will be a superpower in indo pacific region within a decade..
印度将在十年内成为印太地区的超级大国。
Sarada P - Mumbai - 13 hours ago -Follow
go for it.
放手去做吧
R Murti Paluri - 5 hours ago -Follow
Good strategic move in National interest.
这是符合国家利益的战略举措。