Chinese materials find way into army bulletproof vests
中国材料用在了印度军队的防弹背心上
NEW DELHI: China companies are getting a large chunk of the Rs 639-crore Indian Army order for new bulletproof jackets.
在印度陆军63.9亿卢比的新型防弹衣订单中,中国公司获得了很大一部分。
Chinese companies are now the main overseas raw material source for the 180,000-jacket order after Indian company SMPP changed its suppliers after winning the bid in April last year.
去年4月,印度SMPP公司中标后更换了供应商,目前中国企业是18万件防弹衣订单的主要海外原材料来源。
The order has been described by the go nment as one of its biggest contributions for soldiers who have been denied similar jackets in the past. ET has found that 40% of the jacket material, comprising fabric and boron carbide powder, are being imported from China.
该订单被政府描述为其对士兵最大的贡献之一,过去曾拒绝类似的采购申请。该防弹衣40%的材料,包括布料和碳化硼粉,都是从中国进口的。
ET has learnt that during the selection process, SMPP presented jackets that contained raw material from western sources in Europe and the US but changed its suppliers after winning the contract. The company said this will make no difference to the product.
在竞标过程中,SMPP展示的防弹衣,含有来自欧美的西方原料,但在赢得合同后SMPP更换了供应商。该公司表示,这对产品没有影响。
"Yes, we have changed the suppliers and have informed the army about it. There is no change of quality and the jackets are of the same standard that was tested," SMPP executive director Ashish Kansal told ET.
SMPP执行董事Ashish Kansal告诉《经济时报》:"是的,我们已经更换了供应商,并通知了军方。防弹衣的质量没有任何变化,而且符合相同的标准。"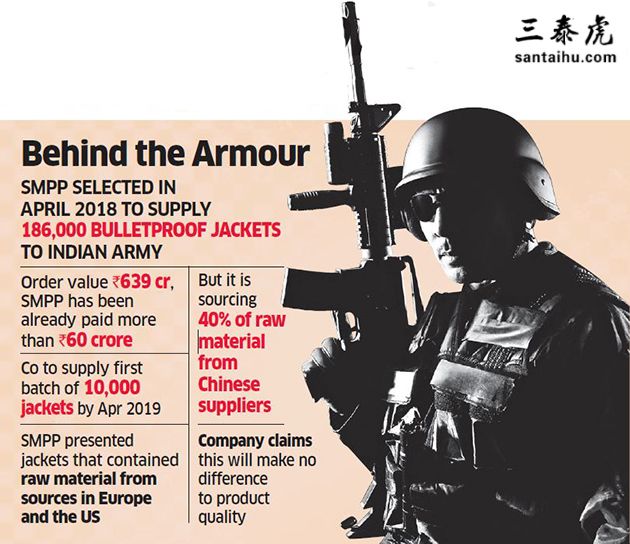 Records available with ET show that at least Rs 26 crore have been paid to a set of Chinese companies operating in Beijing's Changping district by SMPP since it won the order last year and that the material has been delivered to the Indian company at its manufacturing unit.
自SMPP去年赢得订单以来,该公司已向在北京昌平区经营的一系列中国企业支付了至少2.6亿卢比的货款,而且这些材料已被送到这家印度公司的制造部门。
SMPP has been paid more than Rs 60 crore in advance.
SMPP已经预付了6多亿卢比货款。
Jackets Being Thoroughly Tested
防弹衣正在进行全面测试
Officials say the first batch of 10,000 jackets are being accepted after a series of firing tests to check for quality.
有关官说,首批1万件防弹衣在经过一系列的射击测试以检验质量后,已被验收。
The biggest of the four suppliers – Beijing Protech New Material Science Company Ltd – said in its profile that the company was started in 2003 and that its products have been certified by the Chinese go nment.
四家供应商中最大的一家—— 北京普诺泰新材料科技有限公司——在其公司简介中表示,该公司成立于2003年,其产品已获得中国的认证。
印度经济时报读者评论:
译文来源:三泰虎 http://www.santaihu.com/47202.html
外文: https://economictimes.indiatimes.com
Rme
This is Make in India push............
这就是所谓的"印度制造"
Subbu India
8 minutes ago
When we talk about boycotting Chinese products Indian Army buys Chinese products and even Railway coaches are imported from China. What a contradiction.
我们在这谈论抵制中国产品,而印度军队却购买中国产品,就连火车车厢都是从中国进口的。真是自相矛盾。
Sain Pries
4 seconds ago
We are completely dependent on China from pen to plane...
小到钢笔,大到飞机,我们完全依赖中国……
Ashwani Kumar
9 minutes ago
As long as the quality is good and useful for our army we should go ahead.
只要质量好并且对我们的军队有用,我们就该买。
Dhivya Gad Pulcorner
23 minutes ago
They should have got it from Isreali or German military suppliers.
他们应该从以色列或德国的军事供应商那里购买。
mukesh tank
29 minutes ago
China has become so much indispensable due to its cheap manufacturing cost that you will find them everywhere. What ever material we may sourced from Europe or USA the final source could be from China. What can be done in this case.
中国因其低廉的制造成本而变得如此不可或缺,中国产品随处可见。无论我们从欧洲还是美国采购,最终的来源都可能来自中国。在这种情况下,我们能做些什么呢?
Vox Populi
29 minutes ago
A sorry state of Affairs, where the Bullet proof Jackets, exclusively meant for Army, brought by SMPP, without any restrictions whatsoever.
令人遗憾的是,针对专为军队设计的防弹衣,SMPP在挑选供应商方面也没有任何限制。
Raghu R
40 minutes ago
Shame on you army procurement team
军队采购部门,真可耻。
Damodar Biswal
1 hours ago
No Chinese products in India,please.
不要让中国产品进入印度。
muscat2011 job
1 hours ago
they will keep hidden stuff to monitor our army and huawei was doing. Are we so much foolish to source things for army from our enemy country?
他们会在防弹衣里面嵌入一些东西来监视我们的军队,华为就是这样做的。我们居然蠢到从敌国采购军队物资?
Vikram K
1 hours ago
As long as the quality is good we should not have any issues
只要质量好就没事
Okman
1 hours ago
Vendors for Army must be 100% indigenious , and for which Govt must invest in them strategically.
军队的供应商必须100%都是本土企业,政府必须对他们进行战略投资。
N N
1 hours ago
why can''t they produce fabric atleast
为什么他们连布料都生产不来
Balakrishna Sharma
2 hours ago
NOTHING IS MANUFACTURES IN USA. ALL OUTSORCED TO CHINA.
没有什么是美国制造的了,全都是中国制造了。
Santosh Nath
2 hours ago
What is the issue? In USA also all the materials and raw materials are imported and manufactured by China. This is carbon particles not different based on who produced it
有什么问题?在美国,所有的材料和原材料都是在中国制造,从中国进口的。这是碳粒子,谁生产的都一样。
Okman
1 hours ago
Enemy made bullet proof vest should be tested on you before issuing to soldiers.
敌人制造的防弹背心,在发给士兵之前,应该在你们身上先测试下。
Ramesh Pathak
2 hours ago
Its matter of immense concern. Does India not have the capability to produce Boron Carbide powder or the fabric commercially?..so many research units and enough capital -why cant this be done in India????
印度没有能力生产碳化硼粉或碳化硼织物吗?我们有这么多的研究机构,拥有充足的资金——为什么不能在印度生产?
Abhay Sandwar
2 hours ago
Quality First .But in marketing planning Chinese are definitely better at present
质量第一。但目前在市场策划方面,中国人绝对更出色。
ashok Jaidka
2 hours ago
BIG SHAME FOR OUR GOVERNMENT SHOULD BE DROOPED ALL STUFF FROM CHINES TOUCH EVEN WE HATE CHINES PRODUCTS
我们的政府应该感到羞耻,所有东西都从中国进口
Sanjay Chowdhury
2 hours ago
The go nment is discouraging general people from using chinese products, giving stress in make in India project (by words of mouth) but practically doing make in China projects.
政府不鼓励普通民众使用中国产品,强调"印度制造"(口头宣传),实际上却在推行"中国制造"项目。
Anand v
2 hours ago
The Chinese go nment and Politicians make all effort to make quality things in China but in India many put in maximum effort to see things fail to make in India.
中国和政客们竭尽所能在中国制造高质量的产品,但在印度,许多人尽最大努力,希望看到"印度制造"失败。
Slug Slurry
2 hours ago
absolute co ption. throw the supplier in jail. he will kill our soldiers
绝对有附败,应该把供应商关进简狱,他会害死我们的士兵
Kalpurush
3 hours ago
What type of report is this? Who paid for this report? This report is written with pseudo political mindset. Reporter should report how China can produce raw materiel for Bullet Proof Jacket, while India can not!
这是什么报道?谁付钱写这篇报道的?记者应该报道为何中国能生产防弹衣的原材料,而印度却不能!
Vikas Garg
3 hours ago
This is irrelevant.. As long as jackets are actually bulletproof don''t raise this controversy and cause delays
这些都无关紧要。只要能防弹就行,不要挑起争议
Amalesh Bhattacharya
3 hours ago
We cannot make a rope for tying cattle leave alone bullet proof jackets, simply for political reasons they ban decorative lights from china
我们连一根栓牛的绳子都不会造,更别说防弹衣了
Prasad Krishna
3 hours ago
pathetic state of the country... Even Jackets to face Chinese bullets are bought by China.... better sell this country to China
可悲的国家…连防弹衣都是从中国买的…最好把这个国家卖给中国
Vikas
3 hours ago
what does feku with a big mouth have to say about this ?
对此,莫迪怎么看?
suneil nayagam
3 hours ago
Modi's gift to India after bowing his head down before Chinese on Do-m
莫迪在动郎向中国人低头,这是他送给印度军队的礼物
Indian
3 hours ago
Do they have a choice? Army has to accept. Is there any comparison between American and chimlnese prod?
他们有得选吗?军队不得不接受。美国产品和中国产品有可比性吗?
Jai Hind
3 hours ago
Jai Ho Make in India
印度制造必胜
Awdhesh Pandey
3 hours ago
This is voilation of contract
这违反了合同条款
Manoj
4 hours ago
Patel ki murti ho, jio ho ya kuch bhi ho. Made in India actually manufactured in China hota hai.
印度制造实际上是中国制造的。