America gets its 'ass handed to it' in WW3 simulations: U.S. forces are defeated by Russia and China in almost all scenarios, analysts warn
分析人士警告说,美国在第三次世界大战模拟战中被"海扁":几乎在所有情况下美国军队都不敌俄罗斯和中国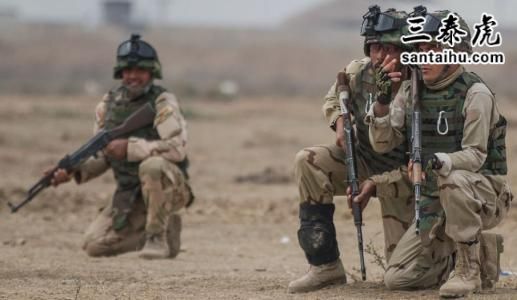 The US may not stand a chance against Russia and China should World War III break out, advanced warfare analysts have warned.
Nonprofit global policy think tank RAND has been performing simulated war scenarios, often sponsored by the Pentagon, to test how American forces would fare against the world's other leading military superpowers.
Last week, RAND analysts revealed that in scenario after scenario, the US has suffered severe losses despite spending nearly $1trillion annually on the military, exceeding the spending of any other country by more than double.
'In our games, when we fight Russia and China, "blue" gets its ass handed to it,' researcher David Ochmanek explained at the Center for a New American Security on Thursday, Breaking Defense first reported. American forces are generally color-coded in blue in the simulations.
高级战争分析人士警告称,如果第三次世界大战爆发,美国可能没有战胜俄罗斯和中国的赢面。
非营利性的全球政策智库兰德公司在五角大楼的资助下一直在模拟战争场景,以测试美国军队在跟世界其他主要军事超级大国交战时的表现。
上周,兰德公司的分析师透露,尽管美国每年在军事上的支出接近1万亿美元,比其他任何国家都高出一倍以上,但在不同场景中,美国都遭遇了严重的失败。
防务快讯报道称,周四,研究人员大卫·奥奇马内克在美国新安全中心解释道:"在我们的程序中,当我们与俄罗斯和中国对战时,蓝军溃不成军。"在模拟战中,通常用蓝色代表美军。
'We lose a lot of people. We lose a lot of equipment. We usually fail to achieve our objective of preventing aggression by the adversary,' Ochmanek added.
Though hypothetical, the simulated games warn that the world order America has fought to protect for more than a century could be at risk.
The simulated conflicts take place in all five domains of battle: land, sea, air, space and cyberspace.
Accord to RAND, 'red' aggressor forces frequently burn US military bases to the ground, sink warships and take out cyber systems.
Robert Work, a former deputy secretary of defense and experienced war-gamer, explained that America's F-35 fighter jet is the most advanced of its kind in the sky, but is vulnerable on the tarmac.
"我们损失了很多兵力。我们损失了很多武器装备。我们基本上都无法实现抵御敌人入侵的目标。"
尽管只是假设,但模拟游戏警告称,美国一个多世纪以来维护的世界秩序可能面临着风险。
模拟战发生在五个战争领域:陆地,海洋,空中,太空和网络空间。
根据兰德公司的说法,"红军"侵略者经常烧毁美国的军事基地,击沉军舰,摧毁网络系统。
前国防部副部长、经验丰富的战场老将罗伯特·沃克解释说,美国的F-35战斗机是所有空军同类战机中最先进的,但停泊在停机坪上时却非常容易受到攻击。
'In every case I know of, the F-35 rules the sky when it's in the sky,' Work said Thursday. 'But it gets killed on the ground in large numbers.'
Work also warned that US military bases across Europe and the Pacific are not equipped to handle the fire they would face in a high-end conflict.
Work and Ochmanek both said China focus on cyberspace with 'system destruction warfare', which involves targeting US communications satellites, command-and-control systems, and wireless networks.
'The brain and the nervous system that connects all of these pieces is suppressed, if not shattered,' Ochmanek said.
沃克周四说:"据我所知,F-35在天空飞行时绝对是霸主。但它在陆地上遭遇大量毁损。"
沃克还警告说,美国在欧洲和太平洋地区的军事基地内并没有部署能够应对高级别冲突中可能面临的火力问题的武器装备。
沃克和奥奇马内克都表示,中国将重点放在网络空间的"系统破坏战"上,针对美国通信卫星、指挥控制系统和无线网络等。
奥奇马内克说:"连接所有网点的大脑和神经系统即使没有被破坏,也会被抑制。"
The Chinese would 'attack the American battle network at all levels, relentlessly,' Work warned, adding that 'they practice it all the time'.
'These are the things that the war games show over and over and over, so we need a new American way of war without question,' Work said.
Work and Ochmanek's bleak observations mirror the findings of an assessment carried out last fall by the National Defense Strategy Commission, a bipartisan panel of experts selected by Congress to evaluate America's National Defense Strategy.
'If the United States had to fight Russia in a Baltic contingency or China in a war over Taiwan, Americans could face a decisive military defeat,' the Commission said in a November report.
The report highlighted how the US has lost its military edge as rival powers, namely Russia and China, have developed a 'suite of advanced capabilities heretofore possessed only by the United States'.
沃克警告说,中国军方将"持续地从各个层面攻击美国的作战网络",并补充说,"他们一直都是这么做的"。
沃克说,"这些都是模拟战争游戏一遍又一遍显示的东西,所以毫无疑问,我们需要一种新的美国式的战争策略。"
沃克和奥奇马内克悲观的观察结果印证了美国国防战略委员会去年秋天一项评估的结果。国防战略委员会是一个由国会挑选的两党专家组成的小组,负责评估美国的国防战略。
该委员会在11月份的一份报告中说,"如果美国必须在波罗的海突发事件中与俄罗斯作战,或者在台湾问题上与中国作战,美国人可能会注定遭遇军事失败。"
报告强调,随着俄罗斯和中国等竞争对手掌握了"之前美国独有的一系列先进实力",美国已失去了军事方面的优势。
It came to the alarming conclusion that the US is 'at greater risk than at any time in decades'.
However, RAND's findings aren't all doom and gloom.
Analysts say it would take just $24billion to improve outcomes - which is about three percent of the $750billion defense budget President Donald Trump will propose for 2020.
The Air Force had approached RAND to develop a plan to fix the problems behind the poor outcomes.
To his surprise, Ochmanek said: 'We found it impossible to spend more than $8billion a year' on necessary improvement.
The $24billion number comes from tripling that $8billion to cover the Army and the Navy.
Ochmanek said that adding $24billion to the budget 'for the next five years would be a good expenditure' to prepare the US for World War III, which he predicts is at least 10 to 20 years down the road.
报告得出了一个令人震惊的结论:美国"面临的风险比数十年来任何时候都要大"。
然而,兰德的研究结果并不都是悲观的。
分析人士说,只需要240亿美元就可以改进这个结果,这大约只占到特朗普总统提出的2020年国防预算7500亿美元的3%。
美国空军曾与兰德公司接洽,制定一项计划,希望解决这些问题。
令奥奇马内克吃惊的是,他说:"我们发现,每年为必要的改进花费超过80亿美元都无法兑现。"
这个240亿美元的数字是80亿美元的三倍,用于陆军和海军。
奥奇马内克说,在'未来五年的预算中增加240亿美元将是一笔不错的开支',可以让美国为第三次世界大战做好准备。他预测,第三次世界大战将于10至20年内爆发。
英国每日邮报读者评论
译文来源:三泰虎 http://www.santaihu.com/47192.html
外文网址:https://www.dailymail.co.uk
efepero, Washington DC, United States, about 4 hours ago
Sorry DM I am going to call bull--ish on this one. Neither China or Russia comes close to our national spending on defense or the technology we possess on the battlefields. The only way we can be defeated is because of crappy rules of engagement instituted by our politicians.
抱歉,每日邮报,我得说这简直是胡扯。中国、俄罗斯的国防开支和技术跟我们压根没法相提并论。我们被击败的唯一可能,就是因为我们的政客们制定的糟糕的交战规则。
Allen_Akbar, Bradistan UK, United Kingdom, about 5 hours ago
I have 100% respect or the RAND orgainization - BUT... ...does this study take into account that the whole free world would stand against communist expansion / agression if they did attack the USA?
我对兰德100%地尊重—但是…这项研究有没有考虑到,如果中国扩张/侵袭美国,整个自由世界的国家都会反对他们?
Tricks R 4 Kids, Everywhere, United States, about 10 hours ago
Message to Save the World: Boeing has contracts with china. So your comment about made in america is ignorant. Boeing opened a 737 plant in china last year and these are new planes that are going down so you do the math.
拯救世界的信息:波音与中国签订了合同。所以你对美国制造的批评是无知的。波音公司去年在中国开设了一家737飞机制造厂,而这些新飞机质量下滑,你应该明白了吧。
Nonna Tached, Twilight Zone, United States Minor Outlying Islands, about 11 hours ago
It should not matter since America is the only real aggressor (despite their propagandizing otherwise).
这无关紧要好嘛,美国才是唯一真正的侵略者(尽管他们做了宣传工作)。
Rickjames, Virginia Beach, United States, 1 day ago
Obama did his best to destroy our military. Thank a God that Trump is building it back up again.
奥巴马不余遗力地摧毁我们的军队。感谢上帝,特朗普又把它重建起来了。
illuminated_one, Manchester, United Kingdom, 14 hours ago
Destroy your military? Have you any idea what was spent on the military during the Obama administration? Almost SIX TRILLION dollars. Wouldn't you rather spend a fraction of that money on healthcare that doesn't bankrupt you if you suffer serious illness?
摧毁你们的军队?你知道奥巴马政府在军事上花了多少钱吗?将近六万亿美元啊。如果你患有足以让你破产的严重疾病,你难道不愿意把这笔钱拿出一小部分花在医疗保健上?
ILoatheThisRag, Planet Earth, United Kingdom, 14 hours ago
Your military will be made up pretty much completely by millennials. I'm sure the families of those 'millinials' who died in operations in recent years in Afghanistan will be really grateful for your support.
你的军队将完全由千禧一代组成。我相信,那些近年来在阿富汗战争中牺牲的"军人"的家属会非常感谢你们的支持。
pepsiumar, Springfield , United States, 1 day ago
War involves human. You cannot predict humans. No computer can.
要打仗就得牵涉到人。你无法预测人类。没有任何电脑可以预测得了。
MrPrytania, Chicago, United States, 1 day ago
War is like the stock market. You cannot make exact predictions but you infer probabilities and assess from there. You cannot predict one person but you can predict a million. That's how Facebook makes money along with Netflix
战争就像股市。你无法做出准确的预测,但你可以从中推断出可能性并进行评估。你无法预测一个人,但你可以预测一百万人。Facebook和Netflix就是这么赚到钱的。
Paulm69, Rivendell., United Kingdom, 23 hours ago
Hmmm, global war happens when fools arise on the world stage. Kennedy, thankfully had read the Guns of August before the Cuban missile crisis and it guided him somewhat..if you don't know the book argues that ww1 shouldn't have happened but we had idiots in charge..
嗯,当傻瓜出现在世界舞台上时,全球战争就会爆发。谢天谢地,肯尼迪在古巴导弹危机之前就读过《八月之枪》,这本书在一定程度上给了他指导。书上说一战本来不该发生的,但是那时我们的领导是白痴。
Yabba_Dabba_Dooo, Anytown, United States, 15 hours ago
Didn't the UK fight a little war called the 100 years war? Obviously it wasn't 100 years but I just find it ironic that a Brit wants to lecture the US about wars when you guys couldn't get along with ANYONE in Europe from the very beginning of your existence until the end of WW2.
英国不是打过一场被称为百年战争的小仗吗?当然了,并不是真的打了100年,但我觉得很讽刺的是,一个英国人居然想给美国上战争课,你们这些英国佬从建国到二战结束,都无法与欧洲的任何国家融洽相处。
lluminated_one, Manchester, United Kingdom, 14 hours ago
I know with absolute certainty that Russia and China cannot be defeated with conventional forces, which leaves Nuclear. We launch and they launch and that's how humanity's brief chapter ends on our Planet.
我非常肯定地知道,俄罗斯和中国不会被常规军队打败,只剩下核武器这个选择了。我们发射核武器,他们也发射核武器,然后人类在地球上的短暂历史就此终结。
weavy11, Geneva, Switzerland, 1 day ago
Real war events are more different than some computer generated data. All nonsense.
真实的战争事件与计算机生成的数据有很大的不同。全都是无稽之谈。
Nehemiah Scudder, Pandemonium, United Kingdom, 12 hours ago
America has been tearing up every agreement it ever signed,and insulting its allies at every opportunity .America may well find those allies tearing up their agreements at a time most inconvenient to the USA.
美国一直在撕毁它签署过的每一份协议,并利用每一个机会侮辱它的盟友。
Lavaflakes, Nowhere, United States, 1 day ago
People are you that stupid. This is a think tank set up by a DoD defense contractor funded by the tax payer. Rand is non-profit but the companies it supports are not. You can cook the books to give any outcome you want to show. The main reason these types of "think tanks" exist is to justify more DoD spending.
你这样的人太蠢了。这是一个由国防部国防承包商创立、纳税人养活的智囊团。兰德公司是非营利性的,但它所支持的公司却不是。你可以篡改书籍,给出任何你想要展示的结果。这种"智囊团"存在的主要原因是为了证明国防部开支再多都是合理的。
Duarteandrea, Phoenix, United States, 1 day ago
If China Russia and USA went to war there would be no winners. Only losers on all sides.
如果中国、俄罗斯和美国开战,是不会有赢家的。所有国家都是失败者。
Nath-, Dover, 19 hours ago
It's happening over here in the UK, Google the British army's latest advertising campaign... and it will be like this until politics more from the left and back to the centre...
英国现在也发生了这样的事,用谷歌搜索一下英国军队最新的广告活动…这种事还是持续到政治意识更多地从左倾回到中立……
Twines1987, Brighton, United Kingdom, 16 hours ago
The UK has fought beside you in pretty much every conflict you have started barring Vietnam oh yeah and you lost that one. In fact has America ever won a major Conflict without the uk ??
除了越南战争以外,英国在几乎每一场战争中都与你们并肩作战,哦对了,越战你们打输了哈。事实上,美国有没有在英国未参与的情况下打赢过哪场重要的战争?
MaverickRose, Somewhere, United Kingdom, 1 day ago
The problem is that people have become more wise to being used as cannon fodder for wars for profit. No wars in the last sixty years have been in defense of the nation or its' allies (exempting Kuwait).
问题是,人们越来越聪明了,不再为了利益把自己当作战争炮灰了。在过去的60年里,没有一场战争是为了保卫这个国家或它的盟友的(科威特除外)。
D000000d60, Bay of Whales, United States, 1 day ago
WWIII would not be a conventional war like others. It would be a nuclear war lasting probably an hour. No one is winner. We though lose most cause we have most at stake.
第三次世界大战不会像其他战争那样还是常规战争。很有可能是一场只持续一个小时的核战争。没有人会是赢家。但是我们输得更惨,因为我们面临的风险最大。
Atomical0923, Kansas City, United States, 1 day ago
The United States has an entire fleet of Ohio class ballistic missile submarines lurking in the depths of the ocean. Each sub has 24 Trident II missiles and each one of those missiles has 12 nuclear warheads in a MIRV configuration. The Russians and Chinese already know this. It's a concept called MAD (mutually assured destruction) and has been around since the cold war. Basically no one's going to be a winner in WWIII.
美国有一整支俄亥俄级弹道导弹潜艇舰队潜伏在海洋深处。每艘潜艇有24枚三叉戟II导弹,每一枚导弹在MIRV配置中都有12枚核弹头。俄罗斯人和中国人都知道这一点。这个概念被称为MAD(相互保证毁灭),自冷战以来就一直存在。基本而言,没有人会成为第三次世界大战的赢家。
Schmegma, Conshohoken, United States, 1 day ago
So the US spends more than the next nine countries combined. Yet, we cant defeat numbers 2 and 3? Hmmm. Either we are throwing money down the drain or this "think tank" is a mouthpiece for the military industrial complex. Our citizens have 300,000,000 guns. Come ashore. Lets see what what happens. Did u factor that in your "calculus"?
因此,美国的国防支出超过了紧随其后的9个国家的总和。可我们不能打败第二名和第三名吗?嗯。要么我们把钱都扔进了下水道,要么这个"智库"只是军工集团的喉舌。我们的公民有三亿支枪。让我们拭目以待。你在你的微积分计算中考虑过这个因素吗?
RoseinTexas, Abilene, United States, 1 day ago
We probably would lose right now. We don't need more spending we need the American spirit to return. We need the current generation to have the same courage as past generations.
我们可能现在就会输。我们不需要更多的支出,我们需要的是美国精神的回归。我们需要现在这代人拥有和过去几代人一样的勇气。
Cybersklar, Los Angeles, United States, 17 hours ago
This is the stupidest thing I ever heard of. If World War 3 breaks out, EVERYBODY loses.
这是我听过的最愚蠢的事情。如果第三次世界大战爆发,每个国家都会输的。
Witzelsucht, Los Angeles, United States, 1 day ago
Certain elements of the United States Government would prefer to see that 26 billion spent on welfare and support for illegal immigrants. These elements pray for the day America is governed by occupying forces under a socialist system.
美国政府的某些部门更愿意看到260亿美元被用于社会福利和对非法移民的支持。这些因素祈求有一天美国能在社会主义制度下被敌军统治。
Cambyses, Salt Lake city, United States, 1 day ago
Must be the same analysts who said Hillary had a 99% chance of winning. No one wars like the USA.
肯定就是那些认为希拉里有99%的胜算的分析人士是故意的。没有哪个国家能像美国那样打仗。
Rrrod, Elsewhere, United States, 1 day ago
Real Americans will fight. Democrats will cry and hide.
真正的美国人会战斗到底。而皿煮党人会哭着躲起来。
freedomofspeech4som, Pittsburgh, United States, 1 day ago
Obama decimated the US military over 8 years, which is why Trump had to put so much money into their budget to build it back up.
奥巴马在过去8年里摧毁了美国军队,这就是为什么特朗普不得不在预算中投入这么多钱来重建军队。
Quatermass., Edmonton AB, Canada, 1 day ago
Walmart raised the minimum age for firearms and ammunition purchases at its stores to 21 on Wednesday. ... Walmart is the largest single seller of guns in theU.S. and operates 4,600 stores around the country. The company stopped selling the AR-15 and other rifles in 2015 and only sells handguns in Alaska.Mar 1, 2018
沃尔玛周三将在其门店内购买枪支弹药的最低年龄提高至21岁。沃尔玛是美国最大的枪支销售商,在全国各地经营着4600家门店。2015年,该公司停止销售AR-15和其他步枪,只在阿拉斯加销售手枪。
BarryBwana, Canada, 18 hours ago
Honestly, a quick tour of any American University and you'll know exactly why America will lose WW3..... you think the youth paralyzed by microaggressions are going to defend a country or the lives of others? LOL
老实说,去美国大学里随便瞧上两眼,你就会知道美国为什么会输掉第三次世界大战。你觉得那些年轻人可以保卫一个国家,或者他人的生命么?哈哈
Camikazi, Waterbury, United States, 17 hours ago
Not only would it destroy those 3 countries it would remove the leashes from the smaller countries they hold and that do not like each other. I doubt most of the Middle East and some parts of Asia would survive long after the 3 powers are gone.
不仅会摧毁这三个国家,还会解除它们所控制的、互相看不顺眼的小国的约束。我怀疑,在这三个大国消失后,中东的大部分地区和亚洲的某些地区能否长久存在。