DGCA to issue fresh safety measures for flying Boeing 737 Max soon
印度民航总局将发布关于波音737 Max的新安全措施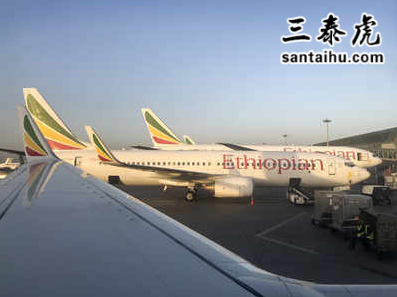 NEW DELHI: India will issue additional safety measures for operating the Boeing 737 Max, which two of its airlines -- SpiceJet and Jet Airways -- have, latest by Tuesday morning. Ethiopian Airlines, and Indonesian aviation regulators on Monday ordered grounding of the B737 Max following two crashes of this plane within five months in which 346 people have lost their lives.
新德里:印度最迟将于星期二发布关于运营波音737 Max的额外安全措施。目前有两家印度航空公司运营波音737 Max,百捷航空和捷特航空。和印尼航空机构星期一下令停飞波音737 Max。该飞机在5个月内发生两起坠机事故,造成346人丧生。
"DGCA is reviewing the matter regarding safety issues post accident of Boeing Ethopian Airline B737-800MAX on Sunday. We shall issue additional safety instructions Monday night or Tuesday morning in this regard for Indian operators," said a senior Directorate General of Civil Aviation (DGCA) offi al.
星期日埃航波音737 MAX 8发生事故后,印度民航总局正在审查相关安全问题。印度民航总局一位高级表示:"我们将在星期一晚或星期二上午向印度航空公司发布额外的安全指示。"
While the five B737 Max that Jet has are all grounded due to non-payment of lease, SpiceJet is currently operating 13 of these planes. SpiceJet's longest flight, Delhi-, is operated using the Max.
尽管捷特航空的5架波音737 Max飞机都因未支付租金而停飞,但百捷航空目前正在运营13架波音737 Max。百捷最长的航线"德里-"使用的是波音737 Max。
DGCA chief B S Bhullar had after the Ethiopian crash on Sunday said India has sought information from Boeing on this aircraft and that "further safety measures, if required, shall follow that."
在星期日埃航客机坠毁后,印度民航总局局长B S Bhullar表示,印度已向波音公司询问有关这款飞机的信息,"如有需要,将采取进一步的安全措施。"
The doomed Ethiopian and Lion Air B737 Max had four Indian passengers and an Indian pilot, respectively, among those on board.
在失事的埃航和狮航波音737 Max上,分别有四名印度乘客和一名印度飞行员。
While SpiceJet has up to 205 B737 Max on order, Jet Airways — which is facing a battle for survival — has 225 of them on order.
尽管百捷航空订购了多达205架波音737 Max,而正面临生存之战的捷特航空则订购了225架。
Following the Lion Air crash, the DGCA had issued a slew of directives for the B737 Max to both SpiceJet and Jet (which was then flying the Max). It had asked these two airlines to land their Boeing 737 Max at the nearest suitable airport in case the new plane shows any problem with its onboard maneuvering characteristics augmentation sy em (MCAS) — a software on the B737 Max to prevent it from stalling.
狮航坠机事件发生后,印度民航总局向百捷航空和捷特航空(捷达当时正有波音737 Max在飞行)发布了一系列有关波音737 Max的指示,要求这两家航空公司将他们的波音737 Max飞机降落在最近的机场,以防该新飞机的机载机动特性增强系统(MCAS)出现问题。MCAS是波音737 Max上的一款防止飞机失速的软件。
"In case of any snag or feared snag with the MCAS, pilots will revert to manual trimming (not depend on or use MCAS) and then land at nearest suitable airport. If any repairs are carried out on MCAS of a B737 Max, that aircraft should first do a verification flight (without passengers) and after that begin commercial flights with passengers," the DGCA instructions had said.
印度民航总局当时指示:"如果MCAS出现任何问题或担心出现问题,飞行员将恢复手动微调(不依赖或使用MCAS),然后在最近的机场着陆。如果对一架波音B737 Max的MCAS进行修理,应首先进行试飞验证(不载客),然后才能开始载客商业飞行"
Following inputs from Boeing and US Federal Aviation Administration, DGCA had asked the Indian Airlines to alert their pilots about a pential handling a particular situation (technically known as erroneous high angle of attack (AOA) sensor input).
在波音公司和美国联邦航空管理局提供信息后,印度民航总局要求印度航空公司提醒其飞行员注意可能出现的特殊情况。
"This condition, if not addressed, could cause the flight crew to have difficulty controlling the airplane, and lead to excessive nose-down attitude, significant altitude loss, and possible impact with terrain," a senior DGCA offi al had said then.
印度民航总局一位高级当时表示:"这种情况如果不加以解决,可能会导致机组人员难以控制飞机,并导致过度的俯冲姿态、急剧下坠。"
To be sure, the cause of Ethiopian B737 Max's crash will be known after a probe.
显然,埃塞俄比亚B737 Max飞机坠毁的原因将在调查后揭晓。
印度时报读者评论:
译文来源:三泰虎 http://www.santaihu.com/47190.html
外文:https://timesofindia.indiatimes.com/
Shantanu - Delhi - 22 hours ago -Follow
As usual, Indian regulators are playing with the lives of flyers. While multiple countries have immediately grounded the jet pending safety reviews after two big disasters, what is DGCA waiting for?
像往常一样,印度机构把乘客的生命当儿戏。发生两起重大灾难后,多个国家立即停飞了该飞机,等待安全审查,印度民航总局还在等什么?
Krantikari - 23 hours ago -Follow
Bhullar sir please ground all 737 max if you gona ask Boeing they won't accept that they have a bad product.
请停飞所有波音 737 max。去问波音的话,他们不会承认自己的产品有问题的。
Akhil Venugopal - Dubai, United Arab Emira - 23 hours ago -Follow
Hatta off to the pilots and crew who almost spend the whole life in the risky skies
向几乎在危险的天空中度过一生的飞行员和机组人员致敬
baba pyara - 23 hours ago -Follow
Now onwards will never ride on Spice and jet who are operating through boing max 737.
现在以后再也不用坐百捷和捷特的航班了,它们都运营波音737 max
Rajesh - 22 hours ago -Follow
Everyone should tweet to DGCA to ground all MAX and NEO
每个人都应该给印度民航总局发推文,叫它停飞所有波音737 Max和空客NEO320。
Indian - Bengaluru South - 22 hours ago -Follow
Planes should be grounded immediately. No guidelines work if the machines are proven defective. Two planes crashed in 6 months what else DGCA is looking for. Today only DGCA should ground these planes.
应立即停飞。如果飞机有问题,什么指导方针都没用。6个月内坠毁两架,印度民航总局还在等什么。印度民航总局应该让这些飞机停飞。
MAHASHIVA RAMAN - 23 hours ago -Follow
after every accidents the top brass of dgca sit and take good free time and issue new notification and no body bothers
每次发生事故后,印度民航总局的都会发布新的通知,但没人在意。
Jain Abhay - 22 hours ago -Follow
Boeing 737 stopped immediately like ..don''t wait report from DCGI
印度民航总局应该像一样立即停飞波音737,不要再等调查报告了。
Sai Chaitanya - 23 hours ago -Follow
DGCA is busy nap and now only guidelines while other countries are grounding the, typical sarkaari babus
印度民航总局正忙着打盹,只是发布了指示,而其他国家已经下令停飞了。
With No Malice - India - 23 hours ago -Follow
They should be grounded, like done by and Indonesia.
应该像和印尼一样,全部停飞。
Spaceman - Earth - 19 hours ago -Follow
IS DGCA WAITING FOR A CRASH BEFORE THEY GROUND? WAKE UP...LEARN FROM CHINA OR EVEN CAYMAN ISLANDS. THIRD RATE AVIATION AUTHORITY OF INDIA...
印度民航总局是不是要等到再次发生事故才下令停飞?醒醒吧,向,甚至开曼群岛学学。印度航空管理局是三流的。
Satish Shah - 20 hours ago -Follow
DGCA always talks of high safety of passenger but other countries do not talk but act they have immediately grounded Aircraft from past reports
印度民航总局总是说乘客的安全重要,而其他国家嘴上不说,直接采取行动,已经立即下令停飞。
Shiv - 20 hours ago -Follow
DGCA has consistently ignored safety issues,be it engines or other aspects.
印度民航总局一直忽视安全问题,无论是发动机还是其他方面。
Monica - New Delhi - 21 hours ago -Follow
The airlines should inform all the booked passengers that it flies B-737 Max 8. It has been discerned that the problem is caused by Boeing, and not by the pilot errors. Thus, safety of its passengers is at risk. However, it will continue to fly those passengers willing to risk their lives for the Boeing. In case the plane crashes, its passengers will be compensated as per Warsaw convention agreement.
航空公司应该通知所订票乘客,他们乘坐的是否是波音-737 Max 8。据了解,问题是由波音公司造成的,而不是飞行员的失误。因此,乘客的安全面临风险。
Salil - 21 hours ago -Follow
why not ground till fresh safety measures are out. who will be responsible in event of any accident despite knowing they are having some problems.
在采取新的安全措施之前,为什么不下令停飞呢?明知道有问题,如果发生事故,谁来负责任。
Pushder - 22 hours ago -Follow
Bik gya DGCA. Pressure from the airlines. What will our paj pilots do if the onboard computer puts the nose down, increases speed and starts hurtling the plane down within minutes of takeoff? There is no time to follow any procedure whatsoever.
I'm not flying any Max 737 anytime soon
如果飞机上的系统让飞机提高速度,并在起飞几分钟内开始俯冲,我们的飞行员会怎么做?根本没有时间遵循程序。我近期都不会坐波音 737 MAX

aaaa bbbb - 10 hours ago -Follow
India authorities just buying time for people to forget this event. They said similar things when indigo planes were stalling mid air due to defective engines, did nothing. A disaster is waiting to happen in indian airspace
印度当局只是在拖延时间,好让人们忘记这件事。他们以前也是这么做的,当印度飞机由于引擎问题而在空中熄火时,他们什么也没做。印度空域即将发生灾难。
Saurabh - 19 hours ago -Follow
When , Ethiopia and Indonesia had grounded Boeing 737 max as a safeguard, then why India is not doing the same? is it necessary to suffer an accident first before taking any effective step?
为了安全,、埃塞俄比亚和印度尼西亚停飞波音737 max。为什么印度不采取同样的措施?有必要等发生事故后再行动吗?
Spaceman - Earth - 19 hours ago -Follow
WHO IS DGCA TO GIVE SAFETY MEASURES? WHY ARE YOU PROTECTING BOEING AT COST OF PASSENGER LIVES. SO SHAMEFUL. BAN BOEING'S MAX.
你们为什么要以乘客的生命为代价来保护波音公司?这是可耻的。禁飞波音737 Max。
Shyam Kant - 20 hours ago -Follow
Whipe m phillie have grounded, our fckijg dgca is still considering ??? Wtf order grounding asap.
和菲律宾已经下令停飞了,印度民航总局还在考虑什么??赶紧下令停飞吧。
Ravi K Garg - Bangalore - 21 hours ago -Follow
Well, if dgca doesn''t do it, spice should ground its fleet voluntarily! Or is the loss from non operation higher than the insurance payout?
好吧,如果印度民航总局不下令停飞,那百捷航空应该主动停飞!
难不成非经营性损失高于保险赔付?
NANDU MENON - 22 hours ago -Follow
DGCA , with out delay, should take sterner action ag inst flying Boeing 737 max and Airbus Neo 320. Both these planes have unidentifiable problems which can cause crashes in a jiffy,taking valuable human life. Airbus Neo planes have many engine failures in India recently! We have been very lucky so far but.....
印度民航总局应立即停飞波音737 max和空客320。这两款飞机都有无法识别的问题,可能会在瞬间造成坠机,夺去宝贵的生命。最近,空客320飞机在印度出现引擎故障。到目前为止,我们非常幸运,但是……
Vijay Banga - new delhi - 23 hours ago -Follow
Safety measures concern design changes not anything DGCA can do
安全措施涉及设计变更,印度民航总局对此无能为力
Vedhanta - oman - 20 hours ago -Follow
What if the Boing was produced by an Indian company
如果波音飞机是印度公司生产的呢,那该怎么做?
Vijaykumar Menon - Hyderabad - 22 hours ago
Why not ask Boeing to address this problem before it leaves the factory.
为什么不让波音公司在出厂前解决这个问题呢?
Rohit Garg - Noida - 22 hours ago
No one should fly max 8 planes. has already ordered grounding all these planes. Surprising that DGCA is taking so long on deciding on these. Boeing and operating airlines will always be greedy , they will never accept that these planes are faulty.
不能再飞波音Max 8。已经下令停飞所有这些飞机。令人惊讶的是,印度民航总局花了这么长时间做决定。波音和运营波音飞机的航空公司是贪婪的,他们永远不会承认这些飞机有问题。