US says 737 MAX safe to fly after Ethiopia crash, Boeing shares dip
埃航坠机后,美国称波音737 MAX安全适航,波音股价下跌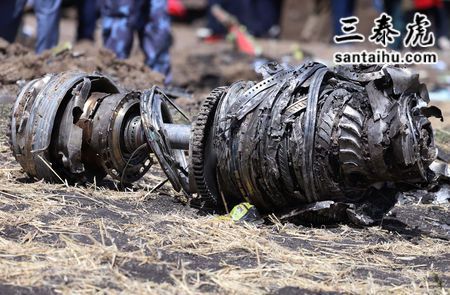 By Aaron Maasho, Duncan Miriri and David Shepardson
GARA-BOKKA, Ethiopia/WASHINGTON (Reuters) - The United States told airlines it was safe to fly 737 MAX 8 planes on Monday as investigators found two black box recorders that will help piece together the final moments of an Ethiopian Airlines jet before it plunged to the ground on Sunday.
GARA-BOKKA、埃塞俄比亚/华盛顿(路透社)—周一,美国向各航空公司表示,波音 737 MAX 8飞机仍安全适航。调查人员找到了两个黑匣子,将有助于还原埃航航班周日坠机前的最后时刻。
China and Indonesia grounded their fleets of 737 MAX 8 aircraft earlier on Monday, citing safety concerns, contributing to a drop in Boeing Co shares that wiped billions of dollars off the market value of the world's biggest plane maker.
周一,中国和印尼以安全问题为由停飞波音 737 MAX 8飞机,导致波音股价下跌,市值蒸发数十亿美元。波音是全球最大的飞机制造商。
Late on Monday, the U.S. Federal Aviation Administration issued a "continued airworthiness notification" to assure operators of the plane that it was safe to fly. It said it was collecting data on the crash and keeping in contact with international civil aviation authorities and would take immediate action if it identified any safety issues.
周一晚些时候,美国联邦航空管理局(FAA)发布了一份"持续适航通知",向飞机驾驶员确保该飞机可飞行安全。FAA表示,正在收集坠机数据,并与国际民航当局保持联络,如果发现任何安全问题,将立即采取行动。
Southwest Airlines Co, which operates the largest fleet of 737 MAX 8s, said it remained confident in the safety of all its Boeing planes even as it received a rush of queries from customers wanting to know if they were booked to fly on a 737 MAX 8.
运营着最大737 MAX 8机群的美国西南航空公司表示,尽管收到了客户的大量询问自己预定的航班是否为波音 737 MAX 8飞机,但该公司仍对所有波音飞机的安全性充满信心。
"Our customer relations team is responding to these customers individually, emphasizing our friendly, no-change fee policy," the No. 4 U.S. airline said in a statement.
这家美国第四大航空公司在一份声明中表示:"我们的客户关系团队正在一一回 复这些客户,并强调我们遵循免改签费政策。"
Investigators in Ethiopia found two black box recorders early on Monday that will help piece together the final moments of the plane before it plunged, trailing smoke and debris, and crashed killing 157 people. The disaster came just months after a jet of the same model came down in Indonesia killing 189 people.
周一早间,埃塞俄比亚调查人员找到了两个黑匣子,这将有助于拼凑出飞机坠落前的最后时刻。飞机坠落时冒着烟雾,飞出碎片,导致157人死亡。就在几个月前,同一型号的飞机在印度尼西亚坠毁,造成189人死亡。
The discovery of black box recorders means the cause of the crash may be quickly understood, as long as recordings are not damaged, although it typically takes a year for a full detailed investigation to be completed.
黑匣子的发现意味着,只要录音没有受破坏,人们可能很快就能了解坠机原因,不过全面详细的调查通常需要一年时间才能完成。
Boeing Chief Executive Dennis Muilenburg said he was confident in the safety of the 737 MAX in an email to employees which was seen by Reuters.
波音首席执行长穆伦伯格在发给员工的一封电子邮件中表示,他对波音 737 MAX的安全性有信心。
The planemaker, the airline and its insurers face big claims after the crash, industry sources said. The insured value of the plane itself was likely around $50 million.
业内人士称,飞机制造商、航空公司及其保险公司在坠机事件后面临巨额索赔。飞机本身的保价可能在5000万美元左右。
On top of that, Boeing may face lawsuits from victims' families in the United States, where legal compensation payments for people killed in plane crashes could run around $2 million to $3 million per person, depending on the law applied, compared to about $200,000 in Ethiopia, according to Justin Green, a New York-based aviation lawyer who has represented families in cases against Boeing.
除此之外,纽约航空律师贾斯廷格林(Justin Green)表示,波音可能会在美国面临来自遇难者家属的诉讼,根据适用的法律对空难遇难者的法律赔偿金额可能在每人200万美元至300万美元之间,而在埃塞俄比亚,这一数字约为20万美元。格林曾在针对波音的案件中为遇难者家属提供代理。
Boeing declined to comment on its insurance cover.
波音拒绝就其承保范围置评。
The company's share price briefly had its biggest one-day drop since the attacks of Sep. 11, 2001, falling as much as 13.5 percent early on Monday on fears that two crashes in such a short time could reveal flaws in the new plane.
波音股价创下自2001年9月11日恐怖袭击以来的最大单日跌幅,周一早盘一度下跌13.5%,因市场担心在如此短的时间内发生两起坠机事故,可能暴露出这款新飞机的不足。
Some investors saw that dip as an opportunity to buy Boeing shares, which have tripled in value over the past three years, sparking a recovery. The shares closed down 5.3 percent at $400.01. They hit a record high of $446 last week.
一些投资者将这一下跌视为买入波音股票的机会。过去三年,波音股价上涨了两倍,推动了经济复苏。该股收跌5.3%,报400.01美元,而就在上周,创波音股价下了446美元的历史新高。
美国雅虎读者评论:
译文来源:三泰虎http://www.santaihu.com/47189.html 译者:Jessica.Wu
外文:https://finance.yahoo.com
Kathleen13 hours ago
How can anyone state that the Max 8 is safe to fly? Maybe it is, maybe it isn't. The black boxes of the latest crash involving this plane haven't even been examined yet. I myself would aim at the extremely cautious side instead of proclaiming that the plane is safe. Research first, talk later.
怎么敢说波音 Max 8可以安全飞行呢?也许可以,也许不可以。甚至还没有检查过最近坠机的黑匣子。应该谨慎一点,不能贸然宣称飞机是安全的。先调查清楚再说吧。
iris12 hours ago
The fact is that two brand new Max-8 crashed on take off within 6 months and they don't know the reason yet. how can they say it is safe to fly
事实是,在6个月内两架全新Max-8相继在起飞后坠毁,还没查清楚原因,怎么能说可以安全飞行呢
Kimyesterday
China's highly regulated, top down, commercial aviation conglomerate of mostly (majority) state held airlines have established the best safety record in the world. They obviously, don't want to take any chances with that.
中国监管严格、自上而下,商业航空集团公司(多数为国有航空公司)建立了全球最佳的安全记录。他们显然不想冒任何风险。
Фрэнк10 hours ago
The 737 might have a good safety record BUT we are talking about the 737 MAX which only came into service no longer than a year ago. Both the aircraft that crashed are almost brand new from the factory, so the problem could hardly be due to poor maintenance by their users.
波音 737的安全记录可能是不错,但我们谈论的是737 MAX,不到一年前才投入使用的,而且坠毁的两架飞机几乎都是新出厂的,所以事故不大可能是由于维护不善造成的。
Americanyesterday
No way I'm getting into one of those flying coffins.
我绝不会坐这种飞行棺材。
viktoryesterday
Looks like boeing's anti-stall system works perfectly. The only minor problem, it crashes the plane
看起来波音的防失速系统效果很好。唯一的小问题是,这导致飞机坠毁了。
ronyesterday
they know what caused the crash, but are not telling
他们知道飞机坠毁的原因,但不愿透露
Markyesterday
This is sad that China more worries about safety than US. When 1 plane crashes it could be coincidence. When 2 planes of the same model crush with very similar scenario, it's pattern. I am very sorry that US official decided to compromise safety for getting more revenue to greedy airlines.
可悲的是,中国比美国更担心安全问题。一架飞机坠毁可能是巧合,当两架发生类似坠机事故时,这就不是巧合了。而美国官员为了给贪婪的航空公司带来更多收入,枉顾安全。
Ftechyesterday
The plane was brand new, and the pilot was very experienced. Boeing is in for a lot of trouble,
这架飞机是全新的,而且飞行员又很有经验。波音公司陷入了麻烦。
Chiddici13 hours ago
It's safe to fly until something happen (hope not) here too.
This shows you that not loosing money it's more important then our safety.
在出事之前飞行都是安全的。
这表明,不赔钱比我们的安全更重要。
MAGARAPEVAN13 hours ago
It's fine, it's just a minor software issue... That causes the plane to aim for the ground.
没事,只是一个很小的软件问题,导致飞机撞向地面。
Bjorn13 hours ago
"We haven't examined the black box data yet and we don't really know what happened yet, but they're safe to fly."?
都还没有检查黑匣子的数据,也不知道到底发生了什么,怎么能说可以安全飞行。
Wayne M12 hours ago
I spent 23 years in the Air Force and 22 years as a flight test engineer with a major aerospace company and I won't be boarding one until they get this figured out. They have a software or flight control system anomaly is likely.
我在空军服役23年,在一家大型航空公司做了22年的飞行测试工程师,在他们调查清楚之前,我是不会坐这款飞机的。软件或飞行控制系统可能有异常。
Oooyesterday
Well done, good move. We do not want to see any more crashes involving that particular aircraft model.
干得好,我们再也不希望看到关于该型号飞机的坠机事件。
blackorder200113 hours ago
How can they say they are safe to fly if they did not analyze the black box information yet?
如果他们还没有分析黑匣子的数据,怎么能说是安全的呢?
Frontier23 hours ago
I do not understand why Boeing has not grounded the 737 MAX. The POTUS should ground it. Yesterday I flew but made sure that it was not a 737 MAX.
我不明白为什么波音没有停飞737 MAX。昨天我坐了飞机,但事先确定好了不是波音737 MAX。
Robertyesterday
Soon China will be able to depend on their own C919 airliners for domestic travel.
不久,中国可以用国产的C919客机执飞国内航线
Anelyesterday
I rather go on an older 737 version or any other airplane.
我宁愿坐老款的波音737或其他飞机。
Joshua13 hours ago
How can the FAA say the plane is safe, if they dont know the cause of the crash. Please people do not fly these planes, their statement is not how logic or science works.
如果FAA不知道坠机原因,他们怎么能说可以安全飞行呢?请大家不要坐这飞机,他们的说法不合逻辑。
Tan13 hours ago
2 out of 350 delivered have crashed. That is quite a scary ratio. Who are we protecting here? Do we stop these plane from flying when the third one crashed?
这款飞机总共350架,已经有2架坠毁,这是一个相当可怕的比例。要是出现第三架飞机坠毁,我们是否会让其停飞?
ray13 hours ago
In other words: "Trust us, these planes are safe, we will review the black box data later".
换句话说:"相信我们,这些飞机是安全的,我们稍后会查看黑匣子数据。"
KevinRay14 hours ago
I will not get on a 737 MAX 8. I don't play Russian roulette with my life.
我不会坐波音737max 8,不会拿我的生命去冒险。
Alyesterday
In the US it is all about money.
在美国,一切都是为了钱。
S W6 hours ago
The probability of a plane crashing is 1 in 5.4 million. The probability of a new airplane crashing is a small fraction of that. The probability of 2 new airplanes of the same model crashing within 5 months is astronomically low. The FAA should definitely ground all MAX 8 planes as a precaution, statistically-speaking.
飞机坠毁的概率是五百四十万分之一。一架新飞机坠毁的概率还更小。同一型号的两架新飞机在5个月内坠毁的可能性极低。从统计数据上看,联邦航空局绝对应该停飞所有波音737 MAX 8,以防万一。
MARY12 hours ago
HOW can they say this is SAFE to fly given the FACT nearly 500 people have died in crashes in a couple months?
考虑到近500人在几个月内死于空难,他们怎么能说这架飞机是安全的呢?
MuffEateryesterday
China may be communist but at least they're sensible enough to take appropriate actions.
中国至少足够明智,采取适当的行动。
Yahoomanyesterday
Bad news for Boeing. It should forget about delivering the remaining 737Max8 on order. The recent two disasters with this plane could even force Boeing into to bankruptcy.
对波音公司来说是个坏消息,剩余的波音737Max8订单就别交付了。最近这架飞机发生的两起灾难甚至有可能迫使波音公司破产。