India inks over $3 billion deal with Russia for nuclear submarine despite the threat of US sanctions
尽管面临美国制裁的威胁,印度仍与俄罗斯签署了30多亿美元的核潜艇协议
NEW DELHI: India on Thursday inked yet another mega defence deal worth over $3 billion for the lease of a nuclear-powered attack submarine from Russia, despite the threat of US financial sanctions still looming over the earlier $5.4 billion contract inked for Russian S-400 Triumf missile sy ems in October last year.
新德里:星期四,印度又签署了一项价值超30亿美元的协议,从俄罗斯租借一艘攻击型核潜艇,尽管去年10月签署的俄罗斯S-400"凯旋"导弹系统合同仍面临美国金融制裁的威胁,该合同价值54亿美元。
Defence sources said the over $3 billion (around Rs 21,000 crore) contract for the Akula-1 class submarine, which will be ready by around 2025, includes a comprehensive package for refurbishment of the nuclear boat lying mothballed at Severodvinsk, its sustenance and spares support for 10 years, as well as training and technical infrastructure for its operations.
印度国防部消息人士称, 这艘"鲨鱼级"核潜艇的租赁合同金额超过30亿美元(约2100亿卢比),将在2025年左右交付,租期为10年。目前这艘潜艇停靠在北德文斯克造船厂内,俄罗斯将对其进行全面升级改造, 并提供操作方面的培训和技术支持,以及为期10年的维护和零件供应。
This submarine will replace INS Chakra, the Akula class submarine taken on a 10-year lease from Russia in April 2012, under a secret over $900 million deal inked way back in January 2004.
该潜艇将取代"查克拉"号潜艇,这艘潜艇也是从俄罗斯租借,租期为10年从2012年4月起算,该潜艇超过9亿美元的秘密合同早在2004年1月就签署了。
"INS Chakra's esting lease will be extended till at least 2025 through another contract till the new submarine, which will be bigger and more advanced than it, becomes operational," said a source.
一位消息人士透露:""查克拉"号的租约将至少延长到2025年,直到新潜艇投入使用,这艘潜艇将比"查克拉"号更大、更先进。"
It was in November last year that India declared its first indigenous nuclear-powered submarine with nuclear-tipped ballistic missiles (called SSBN in naval parlance),
去年11月,印度宣布其第一艘本土核潜艇"歼敌号"装配核弹头弹道导弹(海军称之为弹道导弹战略核潜艇SSBN)。
INS Arihant, had successfully completed its "first deterrence patrol" .
"歼敌号"成功完成了"第一次威慑巡逻"。
It meant that the country's long-awaited nuclear triad -- the capability to fire nuclear wons from land (Agni missiles), air (fighter-bombers) and sea (SSBNs like INS Arihant) – was finally operational to some extent.
这意味着印度期待已久的"核三位一体"打击能力——从陆地(烈火导弹)、空中(战斗轰炸机)和海上(弹道导弹战略核潜艇,如歼敌号)发射核武器的能力——终于在某种程度上准备就绪。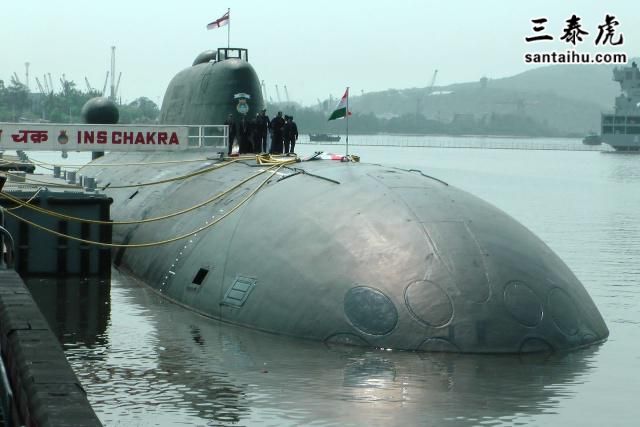 资料图 印度海军装备的"查克拉"号潜艇(原俄罗斯阿库拉级)
印度时报读者评论:
译文来源:三泰虎http://www.santaihu.com/47166.html 译者:Jessica.Wu
Kedar Patil - 11 hours ago -Follow
What a great dge Congress rule has done to our nation !. Just less than 5 years of Modi rule and we are getting stronger and stronger every day. Modi must be in power at least for one more term for sure. Only this will help us recover from the family rule dge
国大党的统治对我们国家造成了多大的损害啊!莫迪执政不到5年,印度越来越强大了。至少要让莫迪连任一届,只有这样才能帮助我们从家族统治的破坏中恢复过来。
Arun Choudhary - 11 hours ago -Follow
Well done by modi ji ,,,for security purpose of our country ,,,,
莫迪做得好,为了国家的安全着想…
Gaurav - India - 11 hours ago -Follow
Pappu is now busy preparing his script for this defense deal after he failed to get attention on Rafael
由于没能搅黄"阵风"战机交易,拉胡尔现在正忙于准备在这项协议上做文章。
Bajrang - 11 hours ago -Follow
Congratulations Modiji and keep it up. It will be Modi and Modi again and again in the next general ions and beyond
祝贺莫迪,再接再厉。不仅是下次大选,以后所有大选,我们都将把投给莫迪。
Pankaj - 11 hours ago -Follow
Russia is our closest friend since independence.. good going Modi ji.. we are on track..rest are Chutias..
自独立以来,俄罗斯是我们最亲密的朋友。莫迪,干得好,我们走上了正轨。
Ganesh - 11 hours ago -Follow
yessss! we will stay with Russia as always. US is commercial partner only.
我们将始终与俄罗斯站在一起,美国只是商业伙伴。
Desh Bhakt - 11 hours ago -Follow
Another huge shock for corrupt congress and chor friends
对的国大党来说,这又是一个巨大的打击
Bhakt - 11 hours ago -Follow
Good decision by the Modi go nment. India is going in the direction under the able leadership of Modiji. India is certainly in safe hands. Jai Hind Jai Modi.
莫迪政府做得好。在莫迪干练的领导下,印度正在朝着正确的方向前进。印度是安全的,印度必胜,莫迪必胜。
Anoop Kumar Singh - INDIA - 11 hours ago -Follow
A go nment truly working for the country.
一个真正为国家效力的政府。
Rakesh - Singapore - 11 hours ago -Follow
America will not come to India's rescue when it gets into any confrontation with Pakistan or . And America is no longer a honest and truthful de acy which the entire world thinks ! so no need to look for american approval to strengthen Bharath ! go ahead Modiji! majority are behind you !!!
当印度与巴基斯坦或发生对抗时,美国不会伸出援手。美国不再是一个世界公认的国家! 我们增强自己的实力,没有必要获得美国的批准! 莫迪,加油 !大多数人都支持你!!
Mangesh Gole - 11 hours ago -Follow
This is the difference, India was almost bankrupt druing UPA rule since UPA was busy with loot & distributing free resources for ves. And now India is spending big money to strengthen our defence line-up but still hel people who needs help like farmers, etc.
这就是现任政府和前任政府的差距。之前国大党忙于捞钱,忙于分发免费物品拉票,印度几乎要破产了。现在,印度政府不仅花了大钱加强国防实力,而且还在帮助农民。
Bajrang - 11 hours ago -Follow
Sulk and cry foul Pappu, ag inst Modi 'coz Jijjaji was not preferred as middle man and surprisingly there's no middle man either.
现在拉胡尔会强烈,反对莫迪的决定。在这笔交易中,没有他安排的中间人,他拿不到回扣了。
Pakisarehomosandsuck - Kalooooo Gandu Pakistan - 11 hours ago -Follow
That is fine. India first. Always.
很好,印度至上。
Anti - India - 11 hours ago -Follow
This is a good move. India won't bend before any country be it a superpower to safeguard the country's interests. The US has a tendency to bully other countries( "don't buy this that from that country or else...") but India won't bulge by your tactics.
Also point to ne that Russia has constantly taken our side for decades hence is a good friend. No need to fear US, they need us as much as we need them. We the people are the power that drives the country!
Have to give credit to this go nment for the decision.
干得好。为了捍卫国家利益,印度不会屈服于任何国家,无论对方是不是超级大国。美国有欺负其他国家的倾向(总是威胁"别从那个国家买,否则就怎样怎样……"),但印度不会屈服。
几十年来,俄罗斯一直站在我们这边,是我们的好朋友。没有必要害怕美国,他们也需要我们,就像我们需要他们一样。人民才是国家前进的动力!
功劳归本届政府。
Dead - Nation Bleeding Daily - 11 hours ago -Follow
Scam Scam Scam....PIL Champion Prashant Bhushan and his assistant RaGa are formulating new Ideas to declare this deal a scam even before anything happens...
拉胡尔他们在做文章,污蔑这项协议是个骗局。
Sarcastic Ajuba - 11 hours ago -Follow
Pakistani Foreign Minister is thanking India''s opposition leaders for raising questions over validity of air attacks.Instead of having these snakes ruling our country current PM Modi is a better option..
巴基斯坦外长感谢印度反对派领导人对空袭合法性提出质疑。与其让这些坏人统治我们的国家,现任莫迪总理是一个更好的选择。
Shaji Manghat - 11 hours ago -Follow
PM Modi is God of India - the Living Father of the Nation with pointed objective for PM Modi the rise of India - I fail to underdtand when people of India realise this fact - after Indira Gandhi the iron PM - we have PM Modi the iron PM
莫迪总理是印度之神,是印度健在的国父。他有一个明确的目标,那就是实现印度的崛起。继铁腕总理英迪拉·甘地之后,我们又有了铁腕总理莫迪。
Tukaram - 11 hours ago -Follow
Modi must be brought to power no matter whatever treacherous plans the dynasty may put make. This is our resolve.
不管拉胡尔有什么计划,都必须让莫迪上台,这是我们的决心。
Rampravesh Upadhyay - 9 hours ago -Follow
There should not be any compromise on defense which was totally neglected during UPA go nment.
在国大党执政期间,国防被完全被忽视了,国防不容妥协。
MrBoobs - Right Here - 9 hours ago -Follow
India is leaving behind its painful and coward past to become a new aggressive and powerful nation. Modi is doing his part, YOU as the citizen should do your part in supporting Modi. That''s all Modi needs.
印度正在摆脱痛苦的过去,成为一个新兴强国。莫迪在尽自己的一份力量,我们公民也应该尽自己的一份力量支持莫迪,这就是莫迪所需要的。
Satya - 11 hours ago -Follow
step ignore U. S sanctions. defence paramount importance for desh matha.
无视美国制裁是正确的做法。国防对印度来说至关重要。
Paul Finch - 11 hours ago -Follow
Only 14 submarines(13old)! AK Antony and Gandhi family must be sued for doing nothing for 10 years.
我们只有14艘潜艇,其中的13艘还是旧的。起诉安东尼(前国防部长)和甘地家族吧,过去10年他们无所作为。
Joe - 10 hours ago -Follow
Ignorant people are writing about why leaving and nor purchasing. Why not built in India ?
Congress never invested in research and development in the armaments industry because of kickbacks from the USSR.
The Americans, Russians, have invested billions and billions on dollars in R & D.
Congress only interest was Commision.
The state of India's defence speaks for itself when decent bullet proof vest and assault rifles could not even be replaced timeously.
有些无知的人说为什么不直接买呢,为什么不在印度造呢?
由于给了回扣,国大党从未在军备工业的研发上投资。
美国、俄罗斯和已经在研发上投入了数十亿美元。
而国大党唯一感兴趣的就是回扣。
印度军队没能力升级防弹背心和突击步枪,印度的国防状况不言自明。
Vinod Mishra - 11 hours ago -Follow
Here is a PM who puts nation first and is striving to make it stronger
这位总理把国家放在首位,并努力让国家变得更强大。
narasarao - Hyd - 7 hours ago -Follow
The Modi Effect!
莫迪效应!
Hindustan - 11 hours ago -Follow
Way to Go Hindustan...getting all geared up for a full fledge 2 front war with pakistan & ...JAI HIND...this is how we will take back PoK, CoK & Tib. And then there was Congress Scamgress who wanted to Gift Siachen to Pakistan as a peace gesture...n ki asha....anti national muzli congress
就该这么做…准备好与巴基斯坦和全面开战,这是我们夺回巴控克什米尔和的途径。印度必胜!
Bharat Sharma - 11 hours ago -Follow
Where are the boot lickers who were questioning Modi on bending infront of D. Trum..
那些质疑莫迪在特朗普面前卑躬屈膝的人呢?
Tanmay Chakrabarti - 7 hours ago -Follow
Good and bold move by him. NaMo means security and Congress means looting.
干得好,有胆识。莫迪意味着安全,而国大党意味着洗劫。
Neo V - 10 hours ago -Follow
Am surprised US would want to impose sanctions on India. The world knows Russia and India have been business and strategic partners since before Independence and US's attempt to thwart this relationship shall really weaken its biggest possible ally in Asia besides the nations size of one state of India. Think trump is smarter then the Usual po iticians and will do the thing
美国居然想对印度实施制裁。全世界都知道,俄罗斯和印度自独立前就一直是商业和战略伙伴,而美国试图阻挠这种关系,这将削弱其在亚洲潜在的最大盟友。我还以为特朗普比普通政客更聪明呢。
Manish Zaveri - 10 hours ago -Follow
India does and should not care about US sanctions. Our national security is more important than anything else
印度不用管美国的制裁,国家安全比什么都重要。