IAF pilot Abhinandan's return delayed as Pakistan forces him to record propaganda video
由于巴基斯坦强迫印度空军飞行员阿比纳丹录制宣传视频,耽误其返程
NEW DELHI/ATTARI: Wing Commander Abhinandan Varthn returned to a hero's welcome from his country late on Friday, almost 60 hours after he was drtically taken captive in PoK after being shot down while chasing an intruding Pakistani F-16.
星期五晚些时候,印度空军中校阿比纳丹·瓦尔塔曼从巴基斯坦回国,受到英雄般的欢迎。近60个小时前,阿比纳丹在巴控克什米追捕一架入侵的巴基斯坦F-16战机时被击落,随后被俘。
Abhinandan arrived in India after an agonising day-long wait via the Wagah-Attari border, after Pakistan rejected India's request to allow IAF to fly him in a special aircraft.
在巴基斯坦拒绝印度空军专机接人的请求后,阿比纳丹经过一天痛苦的等待,通过瓦加-阿塔里边境抵达印度。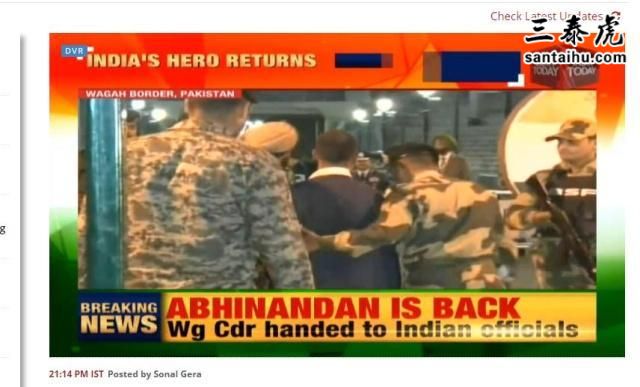 Abhinandan finally crossed the border around 9.25pm to enter India. He was received by his parents and senior IAF officers. Dressed in a blue blazer and grey trousers, he was accompanied to the border by Group Captain Joy Thomas Kurien, India's air attache in Islbad, and by a director of the Pakistan Foreign Office
阿比纳丹终于在晚上9点25分左右越过边境进入印度。他的父母和印度空军高级亲自迎接他。阿比纳丹身穿蓝色西装和灰色裤子,由印度驻ysl堡空军武官乔伊•托马斯•库连上尉和巴基斯坦外交办公室主任陪同前往边境。
"It's good to be back in my country," Amritsar deputy commissioner Shivdular Singh Dhillon qued Abhinandan as saying. A huge crowd had gathered at Wagah-Attari border to have a glimpse of the fighter pilot who has captured the national imagination with his courage and grace under extreme pressure, but he was immediately taken to the airport and flown in an IAF Embraer jet to New Delhi.
阿比纳丹说:"回到祖国真好。"一大群人聚集在瓦加-阿塔里边境,想一睹这位战斗机飞行员的风采。在极端压力下,他的勇气和风度吸引了全国人民的注意。他立即被送往机场,乘坐印度空军的飞机飞往新德里。
A "confession" was extracted from Abhinandan praising Pakistan at an ISI facility in Lahore. Indian offi als said this was extracted under duress and had only undermined Pakistan PM Imran Khan's "peace gesture" of releasing him. "This was in complete violation of the Geneva Conventions,'' said a senior offi al, while talking about how quickly the video had made its way to the Pakistan media.
阿比纳丹在拉合尔三军情报局赞扬巴基斯坦,并被问出了"供词"。印度表示,这是逼供,只会破坏巴基斯坦总理伊姆兰汗释放的"和平姿态"。"这完全违反了日内瓦公约,"一名高级在谈到这段视频如何迅速传到巴基斯坦媒体时表示。
Abhinandan had a black eye but walked ramrod straight, betraying no sign of the injuries inflicted by the mob who had pounced on him when he bailed out from his MiG-21 and landed in PoK. As per protocol, he will first undergo a thorough medical examination to ascertain the extent of his injuries due to the ejection and subsequent beating. If required, the wing commander will be hospitalised before he is declared fit for flying again.
阿比纳丹眼圈是黑色的,但他笔挺地走着,丝毫看不出徒们对他造成的伤害。当他从米格-21上跳伞降落在巴控克什米尔时,徒们突然袭击了他。他将首先接受全面的体检,以确定他被弹射和随后的殴打所造成的伤害程度。如有需要,会先住院治疗
He will also undergo a "debriefing session" on his captivity in the custody of the Pakistan army.
他还将就自己被巴基斯坦军方关押一事接受"询问"。
The ministry of external affairs had approached Pakistan's foreign ministry earlier in the day with an offi al communication asking that Abhinandan be allowed to travel in a special Indian aircraft to India. The go nment had also provided Islbad with a list of offi als whom it wanted to travel to Pakistan to bring the pilot back. This included an air vice marshal and two wing commanders.
当天早些时候,印度外交部与巴基斯坦外交部进行了接触,并发出了一份正式函件,要求允许阿比纳丹乘坐一架印度专机返回印度。印度政府还向ysl堡提供了一份名单,希望允许他们前往巴基斯坦将飞行员接回来。其中包括一名空军中将和两名空军联队指挥官。
印度时报读者评论:
译文来源:三泰虎 http://www.santaihu.com/47142.html 译者:Jessica.Wu
Aloo Ki Phactory
Hahaha...paki beggars can never win anything ag inst India...paki jaahils lynched their own F16 pilot when his jet was shot down by Abhi...the poor paki pilot who was supposedly the best may never get recognition due to paki denial and propaganda.
哈哈哈……巴基斯坦乞丐是打不赢印度的…他们私刑自己的F16飞行员,他的飞机被阿比纳丹击落。这个可怜的巴基斯坦飞行员应该是最优秀的,但由于巴基斯坦人的否认,他可能永远得不到认可。
Iron - New Delhi - 11 hours ago -Follow
I request Indian Go nment to take "our sries" for one month to buy new generation fighters. BUT DO NOT SEND THE PILOTS IN FLYING COFFIN CALLED MIG-21.
我请求印度政府拿我们一个月的"工资"去购买新一代战斗机,不要让飞行员开米格-21这种飞行棺材。
Human - 12 hours ago -Follow
Today 5 more Indian soldiers were killed in Kashmir by te rort. Either you choose to keep hearing this continuously or have a tough stance ag inst war on te rorm. Tomorrow don''t cry when something happens like Mumbai attacks
今天,又有5名印度士兵在克什米尔被分子杀害。要采取强硬立场,发动战争。否则当明天孟买袭击之类的事情发生时,不要在那哭。
Iron - New Delhi - 12 hours ago -Follow
Eradicate Pakistan once and for all All
彻底消巴基斯坦,一劳永逸。
Farzin - 12 hours ago -Follow
hope the media gives him some rest
希望媒体能让他休息一下
nanksn - Planet earth - 9 hours ago -Follow
This shows the resolve of the New India and thanks to the smart diplomacy and toughness shown by NaMo.. Had we done this after 26/11, things would have been different but we were ruled thro'' a puppet PM by a Mafia maid..
这体现了新印度的决心,也得益于莫迪展现的精明外交和强硬态度
Vishal Patel - 10 hours ago -Follow
There was no peace gesture from pakistan by returning IAF pilot to india.
巴基斯坦没有展示让印度空军飞行员返回印度的和平姿态。
Robert Nadar - 12 hours ago -Follow
When he ws beaten and strangled he didnt said a word
Thats all we know
We indian never watch such propoganda
We started to beleive pakistanis have changed
U have not
It was a good oppurtunity for peace , it is spoiled bu ur stupid action
我们只知道,当他被殴打的时候,一句话也没说。
我们印度人从来不看这样的宣传
我们本来开始相信巴基斯坦人已经改变了,但你们却没有
这是一个走向和平的好机会,这么好的机会被你们葬送了
GANESH LAD - 10 hours ago -Follow
India released 91000 paks pow out of mercy and that was a gesture. What Imran did was out of fear and a tear in his rear due to Modi
印度曾经出于怜悯释放了91000名战俘,这是一种姿态。伊姆兰所做的一切都是出于恐惧。
Donald Trump - 8 hours ago -Follow
Modi ji is the best PM
莫迪是最优秀的总理
Modi The Hunter - Gungahlin District - 12 hours ago -Follow
A hero .. feel proud indian . Wish i can join army like you ..
英雄,印度为你感到骄傲。真希望我也能参军,成为像你一样的出色军人。
Donald Trump - 8 hours ago -Follow
Congress has literally messed up India. Last 60 years the go nment gave 75% of Kashmir to Pakistan. 10% to . Now all the farmers and BJP haters want Pappu and to come in and take India back another 10 years. What a shame. Abhinandan was returned due to the pressure of Modi, America and Russia. India need to gang up with Israel and shame Pakistan. Pakis are the worst MSM all kinds. Illeterate and low IQ
国大党简直把印度搞得一团糟。在过去的60年里,他们把克什米尔75%的土地给了巴基斯坦,10%给了。现在,农民和人民党憎恨者都希望拉胡尔和国大党上台,让印度再倒退10年。在莫迪、美国和俄罗斯的压力下,阿比纳丹回国了。印度需要与以色列结盟,让巴基斯坦蒙羞。巴基佬是最坏的、懒惰、低智商。
Rohan Mazgonkar - Borivili - 9 hours ago
We are lucky that the Wing Commander did not get lynched by the crowd.
幸好,这位联队指挥官没有被愤怒的人群处以私刑。
Hiten Indie - Delhi - 9 hours ago -Follow
Return of wing commander was just delayed but there are thousands who will never return. Today also 4 got martyred and there is no sign of peace. Let''s prepare ourselves for bigger sacrifices as only Solution is dismantling of pak army. It has not allowed both sides to rest in peace since 1947.
这位空军中校的返回被推迟了,但是还有成千上万的人永远回不来。今天又有4人殉难,根本没有和平的迹象。让我们为更大的牺牲做好准备,唯一的解决办法是解散巴基斯坦军队。
Ramesh Law - Mumbai - 12 hours ago -Follow
The Pakistani PAF pilot Wing Commander Shahzaz Ud Din of 19 Squadron (Sherdils) PAF whose F-16 was shot down by Wing Commander Abhinandan Varthman, has succumbed to his injuries inflicted by his own countrymen. It should be ned that the pilot of F-16 had ejected after getting hit in an aerial engagement and had managed to land safely in his own territory. However, Pakistani locals, considering him an Indian, thrashed him so badly that he had to be admitted in hospital.
巴基斯坦空军19中队飞行员Shahzaz Ud Din开的F-16被空军中队指挥官阿比纳丹击落。F-16的飞行员在空中遭遇攻击后弹射出去,降落在自己的领土上。然而,巴基斯坦当地人误认为他是印度人,狠狠地揍了他一顿,他不得不住院治疗。真是讽刺!
Ramesh Law - Mumbai - 12 hours ago -Follow
Pulw attack, Criminals in Pakistan must be brought to Justice
关于普尔瓦马袭击事件,必须将巴基斯坦的罪犯绳之以法。