Pakistan releases captured Indian pilot; confrontation cools
巴基斯坦释放被俘印度飞行员,对峙局面缓和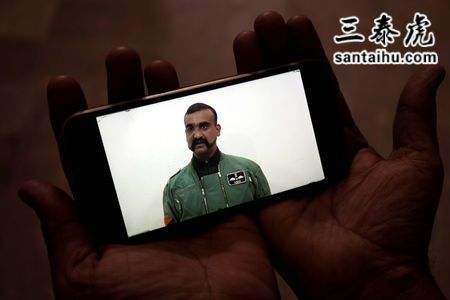 By Krishna N. Das and Abu Arqam Naqash
WAGAH, India/MUZAFFARABAD, Pakistan (Reuters) - Pakistan handed back a captured Indian pilot on Friday as the nuclear-armed neighbors scaled back a confrontation that has prompted world powers to urge restraint, although shelling continued in the disputed Kashmir region.
瓦加,印度/巴基斯坦穆扎法拉巴德(路透社)-周五,巴基斯坦交还了一名被俘印度飞行员,这两个拥有核武器的邻国缓和了局面,尽管在有争议的克什米尔地区,炮击仍在继续。这一对峙局面促使世界大国敦促双方保持克制。
Television footage showed Wing Commander Abhinandan Varthaman walking across the border near the town of Wagah just before 9 p.m. (1600 GMT). Indian officials confirmed he had been returned and said he would be taken for medical checks.
电视画面显示,在晚上9点前(格林尼治时间16点),印度空军联队指挥官阿比纳丹·瓦尔塔曼步行穿过瓦赫镇附近的边境。印度官证实他已经返回,并表示将对他进行医疗检查。
"While in captivity, he (Abhinandan) was treated with dignity and in line with international law," the Pakistani Foreign Ministry said in a statement.
巴基斯坦外交部在一份声明中表示:"在拘留期间,阿比纳丹受到了善待,符合国际法的要求。"
Prime Minister Imran Khan announced his return "as a goodwill gesture aimed at de-escalating rising tensions with India", it added, echoing Pakistan's stance this week that wants to resolve the conflict through talks.
巴基斯坦总理伊姆兰·汗称释放印度飞行员是"一种善意姿态,旨在缓和与印度不断升级的紧张关系",与巴基斯坦本周希望通过谈判解决冲突的立场相呼应。
Abhinandan's MiG-21 jet was shot down by a Pakistani fighter during a clash over Kashmir on Wednesday as two weeks of growing tensions between the two countries erupted into open hostilities.
阿比纳丹驾驶的米格-21战机于周三在克什米尔冲突中被一名巴基斯坦战斗机击落。两星期来,印巴两国之间的紧张局势不断升级,最终爆发公开的敌对行动。
The plane crashed on the Pakistani side of the de facto border that separates the two sides of Kashmir, a Himalayan region that has been a source of hostility between the two countries since independence from Britain in 1947.
这架战机是在实际控制线巴基斯坦一侧坠毁的。自1947年从英国独立以来,克什米尔地区一直是两国敌对关系的源头。
The Indian pilot's ordeal made him a focal point of the crisis for Indians, after footage of his battered face was shown on Pakistani television and social media shortly after he was captured.
这名印度飞行员的苦难经历使他成为印度人关注的焦点。在他被俘后不久,巴基斯坦电视台和社交媒体播放了他那张伤痕累累的脸。
Waiting for Abhinandan's return on Friday, crowds thronged the road to the crossing, shouting nationalist slogans and waving Indian flags. The handover took place hours later than expected, for reasons that were not clear.
在等待阿比纳丹归来时,人群涌向十字路口,高呼民族主义口号,挥舞印度国旗。移交比预期晚了几个小时,原因尚不清楚。
"Pakistan is releasing our pilot, I thank them for that," said Kulwant Singh, who has run a food stall at the crossing for 20 years. "War can never be good. War is bad for business, war is bad for our soldiers."
"巴基斯坦释放了我们的飞行员,我为此感谢他们,"库尔旺特辛格说到。"战争永远是不好的,对经济不利,对我们的士兵是祸。"
Before his release, Pakistani television stations broadcast video of Abhinandan in which he thanked the Pakistani army for saving him from an angry crowd who chased him after seeing him parachute to safety.
在释放之前,巴基斯坦电视台播放了阿比纳丹的视频,在视频中他感谢巴基斯坦军队将他从愤怒的人群中解救出来(他安全跳伞后,被愤怒的人群追赶)。
"The Pakistani army is a very professional service," he said. "I have spent time with the Pakistan army. I am very impressed."
"我和巴基斯坦军队待了一段时间,他们非常专业,让我印象深刻。"阿比纳丹说到。
Witnesses in Pakistan-controlled Kashmir said that after the pilot ejected from his plane he found himself facing angry villagers and ran off, firing his pistol into the air to deter them.
巴控克什米尔地区的目击者称,这名飞行员从飞机上弹射下来后,发现周围是愤怒的村民,于是向空中开枪,吓阻他们。
"During that half a kilometre run, he fired some more gunshots in the air as well, to frighten the guys but to no avail," said Muhammad Razzaq Chaudhry, 58.
"Then he jumped into a small stream. Then, he realized that he could not escape, he took out some documents and maps from his uniform and tried to swallow some, tear apart and immerse the rest."
58岁的穆罕默德拉扎克乔杜里说,"他跑了半公里,还向空中开了几枪,吓唬那些村民,但毫无效果。然后他跳进一条小溪里,发现自己逃不掉了,他从制服里拿出一些文件和地图,试图吞下一些,撕成碎片,剩下的扔进河里。"
Abdul Majeed, 40, said he was one of a number of villagers who had beaten and thrown stones at the pilot.
"Some of us did thrash him... because he had given us a tough time. But later we handed him over to the army personnel."
40岁的阿卜杜勒马吉德说,很多村民朝阿比纳丹投掷石块并殴打他,他也参与了。"我们确实打了他,因为他让我们的日子不好过。后来我们把他交给了军方。"
Amid signs the conflict may be easing, Pakistan re-opened some airports on Friday after easing airspace restrictions that had disrupted flights between Asia and Europe for several days.
有迹象显示冲突可能正在缓和,巴基斯坦放松了对空域的管制,并于周五重新开放了一些机场。
But firing continued along the contested border dividing Kashmir, according to officials in both countries, with at least two killed and two wounded on the Pakistani side.
据两国官称,在有争议的克什米尔分界线沿线,交火仍在继续,巴基斯坦方面至少有两人死亡,两人受伤。
The United States and other world powers have urged restraint as tensions rose.
随着紧张局势加剧,美国和其他世界大国敦促双方保持克制。
Pakistan's army chief, General Qamar Javed Bajwa, discussed the situation in a telephone call with top military officials from the United States, Britain and Australia and said Pakistan would "surely respond to any aggression in self-defense", according to Pakistan's chief military spokesman.
巴基斯坦军方首席发言人表示,巴基斯坦陆军参谋长巴杰瓦上将在与美国、英国和澳大利亚高级军事官的电话会谈中讨论了这一局势,并表示巴基斯坦"肯定会以自卫的方式应对侵略"。
On the diplomatic front, relations between the two countries remained strained. Foreign Minister Shah Mahmood Qureshi boycotted a meeting of foreign ministers from the Organisation of Islamic Cooperation in Abu Dhabi because his Indian counterpart had been invited to the event.
在外交方面,两国关系仍然紧张。由于印度外长受邀参加在阿布扎比举行的ysl合作组织外长会议,巴基斯坦外长库雷希外长抵制了此次会议。
美国雅虎读者评论:
译文来源:三泰虎 http://www.santaihu.com/47141.html 译者:Jessica.Wu
外文:https://news.yahoo.com
KhurshidQ19 hours ago
Pakistan Prime Minister scored another diplomatic win over India by announcing the release of captured Indian pilot Abhinandan. Imran Khan is pragmatic, peace minded and more statesman like then the other leaders in the region. There should be reciprocity from the other side. Sub continent needs peace for eradication of poverty and bringing stability and prosperity. Let the war drums be drowned by peace chants. India & Pakistan share common ancestry, heritage, culture and language. They both should work together to fight poverty and extremism.
巴基斯坦总理宣布释放被俘的印度飞行员阿比纳丹,在外交上又胜了印度一筹。伊姆兰·汗是一个务实、和平的政治家。印度应该投桃报李的。南亚次大陆需要和平,才能消除贫困,带来稳定与繁荣。让和平的口号淹没战鼓吧。印度和巴基斯坦有着共同的祖先,有着共同的文化和语言。两国应共同努力,消除贫困,打击极端主义。
Denali20 hours ago
Imran Khan stands out with statesman like vision for this gesture
伊姆兰·汗有政治家的远见卓识,为这一姿态做出了突出贡献
Vincent18 hours ago
i dont get what heroic action this pilot did for indian public to call him hero. I guess this is all their election stunts overstated. The tensions may not cool well because there are skirmishes as we speak after and during the release of this guy.
我不明白的是,这名飞行员干了什么英雄事迹,让印度民众称其为英雄。紧张局势可能不会缓和下来
Oscar19 hours ago
I would love to go to Kashmir, but I try to avoid vacationing in contested regions.
我很想去克什米尔,会尽量避免去有争议的地区度假。
Nicki17 hours ago
It was thought that India had closer ties with the US and that Pakistan was considered a terrorist host country but yet Pakistan has F-16s and returning the pilot instead of burning him alive that terrorists do.
人们认为印度与美国关系更密切,巴基斯坦则被认为是恐怖主义的东道国,但巴基斯坦拥有F -16战斗机,并将飞行员交还
Tony18 hours ago
These are two countries that really should have been one country. Sad to see two brothers fighting when they could truly spend the energy building better home for their citizens.
这两个国家本应该是一个国家的。看到两兄弟大打出手而不去建设美好家园,我感到很难过。
farrukh17 hours ago
Pakistan does not need international support in defending itself against Indian aggression .The road to peace is justice and Kashmiris deserve the right to self determination.There will never be peace as long as there is Indian aggression in occupied Kashmir .Let there be no mistake that Pakistan will respond to any Indian aggression with all its might .
巴基斯坦不需要国际社会的支持,自己就能抵御印度的侵略,和平之路是正义之路,克什米尔人应该享有自决权。只要印度侵略克什米尔,和平就永远不会到来
ConserviMike16 hours ago
Thank you, Pakistan for doing the right thing.
巴基斯坦做得对,谢谢
greywolf18 hours ago
kudos to the pakistanis for behaving in a manner to avoid war and confrontation. the pakistan army responded effectively to indian provocations, and its time india settle down, lick its wounds, and realize it cannot bully pakistan ever again.
巴基斯坦避免战争和对抗的行为值得称赞。巴基斯坦军队对印度的挑衅作出了有效的回应,现在印度是时候消停点,冷静下来,舔舔伤口,并认识到自己再也不能欺负巴基斯坦了。
John9 hours ago
Imran Khan has emerged as a true International leader and contributed significantly to avoid nuclear confrontation.
伊姆兰·汗已成为一位真正的国际领导人,为避免核对抗作出了重大贡献。
pkpandit10 hours ago
Nice gesture on part of Imran to deescalate the situation.
伊姆兰展现了友好姿态,缓和了局势。
Billy17 hours ago
Modi's political stunt to win votes just got exposed by its own parliamentarians.
莫迪为了赢得选票的政治伎俩刚刚被本国议员曝光。
Jerry14 hours ago
Have you seen the video of this guy being interrogated while he calmly sips his tea? He has my vote to be the next Bond, James Bond.
你看过这名飞行员被审问的视频吗?当时他还在淡定的喝着茶。我投票支持他成为下一个邦德。
Parker17 hours ago
"American built F-16 flown by Pakistan destroys an Indian flown Mig-21" Now we know a bit more truth. Will this factual comment be blocked yahoo?
巴基斯坦使用美国造的F-16战机,击落了印度战机米格-21。
B V15 hours ago
Peace is the only solution, war is not necessary in this day and age. Destroy all weapons of war, they are manufacture mostly for profit making. Kudha Hafeez Aum Shanti
和平是唯一的解决办法,在这个时代没有必要开战。
lolz11 hours ago
Pakistan handled the situation with statesmanship and maturity, while India pushing the region to the brink of a Nuclear war, Pakistan is also trying to bring peace to Afghanistan, but both India and Afghanistan are troublemakers, hope the US is noticing and will be a honest and fair neutral umpire.
巴基斯坦以政治家的风度和成熟的态度处理了局势,而印度将该地区推到了核战争的边缘,巴基斯坦也在试图给阿富汗带来和平,但印度和阿富汗都是麻烦制造者,希望美国注意到,并愿意担当一个不偏不倚的中立裁判。
AmericanVoter16 hours ago
Nobel peace prize for Imran Khan.Imagejustalittletumblweed
给伊姆兰·汗颁发诺贝尔和平奖
Thomas18 hours ago
Time for India to retire all junk Russian Mig and upgrade to F16 or F18 to save its pilot from another humiliation.
印度该淘汰所有的俄罗斯米格战机,服役F16或F18战机,以免飞行员再次被羞辱。
lolz11 hours ago
Only in India is a shot down pilot seen as a hero, while the real hero is the Pakistani pilot who shot him down.
Bollywood will now make their pilot into a hero, even though he lost a dogfight. LOL
只有印度将被击落的飞行员视为英雄,真正的英雄是击落他的巴基斯坦飞行员。
宝莱坞现在将把他们的飞行员包装成英雄,尽管他输了一场空战。哈哈
Paul15 hours ago
real lesson don't send migs against F-16s
真正的教训是不要派米格战机去迎战F16战机