India will fight, live, work and win as one: PM Narendra Modi
纳伦德拉·莫迪总理:印度人民会团结一心地战斗、生活、工作直至赢得胜利
NEW DELHI: It is necessary to ensure that nothing is done to dent the morale of the security forces, Prime Minister Narendra Modi said on Thursday, a day after Pakistani fighter jets violated Indian air space in response to Indian forces targeting a JeM terror camp in its territory.
新德里:莫迪总理周四表示,必须确保不发生任何打击安全部队士气的行为。一天前,巴基斯坦战机侵犯印度领空,作为印度军队针对其领土上一个穆罕默德军恐怖组织营地的行动的回应。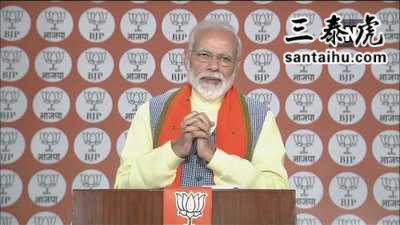 Modi said India will fight, live, work and win as one and nobody can create hurdles in its march towards development.
He was interacting with about one crore BJP workers in 15,000 locations through what the party said was the "world's largest video conference".
莫迪说,印度会团结一心地战斗、生活、工作直至赢得胜利,没有人能在印度的发展道路上制造任何障碍。
他通过人民党所称的"全球最大的视频会议",与1.5万个所在地的大约一千万名人民党工人进行了交流。
Modi said in his address that the 2014 election was a mandate for fulfilling people's necessities and the 2019 polls will be about fulfilling people's aspirations.
Indians have to be hard working in all spheres and should be grateful to all those who are protecting the country, the prime minister said.
莫迪在讲话中说,2014年的选举是为了满足人民的需要,2019年的选举将满足人民的愿望。
印度人必须在各个领域勤奋努力,应该感谢所有保护国家的人。
It is because they are there, the nation can reach new levels of development, he added.
Some people, for their selfish interests, dislike a strong government, he said. BJP workers need to tell people the benefits of a strong government, he added.
他补充说,正是因为他们的存在,国家才能达到新的发展高度。
他说,有些人出于私利,讨厌强大的政府。他补充说,人民党工人需要向人们解释一个强大政府的好处。
An IAF pilot was captured by Pakistan after an air combat Wednesday. Both sides said they shot down each other's warplanes.
Here is a look at some of his other quotes from the event.
一名印度空军飞行员星期三在一次空战后被巴基斯坦抓获。双方都称自己击落了对方的战机。
下面我们来看看他的其他发言。
* We have complete faith in the capabilities of our defence forces. Hence, it is very crucial that nothing which affects their determination happens.
* The enemy tries to destabilize us, carries out terror attacks, they want to stop our growth. We all countrymen are standing like a rock to counter their evil designs
* At this time, the country's emotions are at a different level. The country's brave soldiers are showing their valour at the border and beyond. The entire country is one and standing with our soldiers. The world is able to see our collective will.
*我们对我们的国防实力拥有完全的信心。因此,至关重要的是,任何影响他们决心的事情都不可能发生。
*敌人试图破坏我们的稳定,实施恐怖袭击,他们想阻止我们的发展。我们全体国民众志成城,对抗他们的邪恶计划。
*现在,全国民情激昂。国家勇敢的士兵在边境内外展示着他们的英勇无畏。整个国家结成一个整体,与我们的士兵同在。全世界都会看到我们的集体意志。
印度时报读者的评论:
译文来源:三泰虎 http://www.santaihu.com/47132.html 译者:Joyceliu
外文:http://timesofindia.indiatimes.com/
Aloo Ki Phactory
Aloo Ki Phactory - India - 4 hours ago -Follow
Picture this, The captured IAF pilot flying an antique MiG21 warplane is like Modi trying to fix the broken, rotting system which congress never bothered about. The pilot was very brave and courageous who shot down a modern F16 of paki force going behind it in hot pursuit in enemy territory.
被俘虏的印度空军飞行员驾驶一架老式米格21战斗机,和莫迪试图修复国大党从未放在心上的破损、腐烂的系统一样无力。我们的飞行员非常勇敢,击落了一架在其身后紧追不舍的巴基斯坦空军F16先进战斗机。
ONE LINER Challenge
ONE LINER Challenge - 4 hours ago -Follow
UNITED WE ARE
UNITED WE DELIVER
UNITED WE STAND
UNITED WE SHARE AND CARE-
WE BELONG TO MODI''s INDIA
团结起来,我们是印度人
团结起来,我们无坚不摧
团结起来,我们无所畏惧
团结起来,我们荣辱与共,彼此关怀
我们都属于莫迪的印度
Suprada Nataraju
Suprada Nataraju - 4 hours ago -Follow
Our PM knows when to do what to do. He has to take care of other things. If he talking in so much confidence means there is something coming up soon. Wait and watch....
我们的总理知道什么时候该做什么。他还得处理其他事情。如果他说得那么有信心,那意味着很快就会发生什么事情。等着瞧....
John Tulip
John - Pune - 4 hours ago -Follow
India stands as one Nation... India is greatly to have our armed force standing for us.
India is greatly to have such a PM who stood against terrorists and terroristan .
印度是一个团结的国家……印度有武装力量保护我们。
印度有这样一位反对恐怖分子和恐怖主义分子的总理,真是了不起。
ONE LINER Challenge
ONE LINER Challenge - 4 hours ago -Follow
ZERO TOLERANCE MEANS ZERO TOLERANCE- NO MUCKING AROUND WITH MODI AND INDIANS
零容忍就是零容忍——不要糊弄莫迪和印度人
Bhai Sahab
Bhai Sahab - 4 hours ago -Follow
One Nation, One Leader, soon v say v WON the battle with One Cheer: Bharat Mata Ki Jai.... ! Hats Off to Strongest Leader of India !
一个国家,一个领袖,用一声高呼赢得这场战斗吧!向印度最强大的领导人致敬!
Harish Mani
Harish Mani - Bangalore - 4 hours ago -Follow
Time for solution , enough for this for 3 decades , if war is the solution to end this be it, we are with the PM and Army
到了解决问题的时候了,已经30年了,如果战争是解决问题的办法,那就用战争结束这一切吧,我们支持总理和军队
ONE LINER Challenge
ONE LINER Challenge - 4 hours ago -Follow
THE ENEMY MAY BE STRONG OR WEAK BUT OUR JAWANS RESOLVE IS ALWAYS STRONG
WE STAND BY YOU
WE WILL PRAY FOR YOU
WE LOVE YOU ALL AND CARE FOR YOU
WE ARE BEHIND YOU
敌人可能强大,也可能弱小,但我们印度人的决心永远坚定无比
我们支持你
我们将为你祈祷
我们爱你,关心你
我们支持你
Gaurav Barman
Gaurav - India - 4 hours ago -Follow
Its not the gun which wins the battle, but its the Man behind the gun who wins it.
赢得这场战斗的不是枪,而是枪后面的人。
Anil Dharan
Anil Dharan - New Delhi - 4 hours ago -Follow
I think Modi is giving a clear Hint that there will be TOTAL WAR with Pakistan, soon. At least, I hope so.
我认为莫迪给出了一个明确的暗示,即印度很快将与巴基斯坦爆发全面战争。至少我是希望如此的。
Kartik
Kartik - 4 hours ago -Follow
The next Mig flight will have Rahul and Antony strapped together heading for Pak
下一架米格战机将把拉胡尔和安东尼绑在一起载往巴基斯坦
D M
D - Earth - 4 hours ago -Follow
Dear Modiji, Please declare War. Many of us support you.
They kill our Soldiers daily in Kashmir and also create Problem's for our Growth..
I repeat 'One time War is Far Better'.
亲爱的莫迪,请宣战吧。我们中有很多人支持你。
在克什米尔,他们每天都在杀害我们的士兵,也给我们的发展带来问题。
我再说一遍"一场彻底的战争要更好"。
N C Joshi
N C Joshi - 4 hours ago -Follow
A man who can not fight have no right to exst in this world. We have to save our interest, and for that we must remain prepared to sacrifice.
一个不能战斗的人没有权利生存在这个世界上。我们必须保留我们的利益,为此我们必须做好牺牲的准备。
F C
F C - 3 hours ago -Follow
This guy is only drama. No facts , he is only taking political miliage
这家伙只是在演戏。没有事实根据,他就是在装腔作势罢了
Jeyaraj Sr
Jeyaraj - 3 hours ago -Follow
Modiji we trust you....
You are the true leader...
First clear the Kashmir mesh.... every thing will be in place..
莫迪,我们相信你……
你是真正的领导者……
首先清除克什米尔网…一切都会尘埃落定的。
Mp Singh
Mp Singh - Navi Mumbai - 4 hours ago -Follow
Modi and BJP says to opposition dont politicise the current situation. And Yedurappa Claims Air Strikes will help BJP win 22 seats in Karnataka. Aa gaye apni aukaat par to win elections at any cost?
莫迪和人民党对反对派说,不要把目前的局势政治化。Yedurappa声称空袭将帮助人民党在卡纳塔克邦赢得22个席位。不惜一切代价就是为了赢得选举?
Ramesh Sargam
Ramesh Sargam - Bangalore - 3 hours ago -Follow
India will fight, live, work and win as one: I do not think so, as long as Corrupt Congress and other power hungry Opposition leaders are there.
印度人民会团结一心地战斗、生活、工作直至赢得胜利:我不这么认为,只要腐败的国大党和其他渴望权力的反对派领导人一日还在,就不可能实现。
Mp Singh
Mp Singh - Navi Mumbai - 3 hours ago -Follow
People are advising Modi not to hold election rallies, dont visit foreign countries, dont do photo ops. Can someone pl. tell if Modi ji will not do all these things then what on earth he will do to pass time.
人们建议莫迪不要召集选举集会,不要出访外国,不要拍照。谁能说说,如果莫迪不做这些事情,他要靠什么来打发时间呢?
Nisha Iyer
Nisha - 2 hours ago -Follow
Shame on PM. Campaigning for elections when our forces suffers from the loss and captivity. Is there any morality left with this guy who his hungry for power.
真为总理感到羞耻。在我们的军队遭受损失和俘虏时还在为了选举吆喝。这个渴望权力的家伙还有道德可言吗?
narasarao
narasarao - Hyd - 3 hours ago -Follow
Yes, India will be one, even without Modi.
是的,即使没有莫迪,印度也会团结一心的。
prateek Modi
prateek Modi - Jaipur, Rajasthan - 3 hours ago -Follow
right, we the people of India have to be united in our stand for the country, we need to speak in one voice for the nation and for individual selfish interests......we are with you PM
是的,我们印度人民必须团结起来为国家而战,我们需要为国家和个人发出统一的声音,我们和你在一起,总理
Bala subramanian
Bala subramanian - 3 hours ago -Follow
The whole nation stands as ONE in support of our brave army, in this very critical juncture. We are at the crux of war against terrorism. It is very important for all of us to keep away religion, throw out petty politics...stand united in the war against terrorists and wipe out all terrorists within and across the border. Salute to Indian army. Jai Hind.
在这个关键时刻,全国人民团结一致,支持我们英勇的军队。我们正处于反恐战争的关键时刻。对我们所有人来说,远离宗教、抛弃琐碎的政治是非常重要的。团结一致,共同打击恐怖分子,消灭境内外一切恐怖分子。向印度军队致敬。印度必胜。
Sudhansu Sekhar Das
Sudhansu Sekhar Das - 3 hours ago -Follow
Only Modi can teach Pakistan a lesson
只有莫迪能给巴基斯坦一个教训
Udaysinh G
Udaysinh - India - 1 hour ago -Follow
What a man ! never looks at mirror!
What a shameless PM! A Rakhdu and irresponsible statesman first betrayed people in name of fulfilling necessities and now shamelessly hoaxes to fulfil their aspirations!
多么无耻的总理!这个不负责任的政治家先是以满足需要的名义背叛人民,现在又无耻地以欺骗手段满足人民的愿望!
Nasir Khan
Nasir Khan - 2 hours ago -Follow
Narender Modi only knows about politics elections and wants to stay in power at any cost. This time nation will not forgive him for playing with national honour, security and integrity.
纳伦德·莫迪只知道政治和选举,他想不惜一切代价赢得连任。这一次,国家不会原谅他玩弄国家的荣誉、安全和完整。
Thomas Cheenath
Thomas Cheenath - India - 2 hours ago -Follow
we are in safe hands, PM Modi declared.. the very next day the Pak airforce violated our airspace , intruded into our area and shot down one air jet!! As usual, feku is at his best in fooling Indians.. all for election propaganda!!!!!
莫迪总理宣称我们现在安全了。可就在第二天,巴基斯坦空军侵犯了我们的领空,闯入我们的区域,击落了一架飞机!!和往常一样,莫迪太会愚弄印度人了。都是为了竞选宣传而已!!
kayveeala
Kayveeala - 3 hours ago -Follow
The Pakistanis have hit us first and Modi will bleed them to death. If pakistanis had no knowledge about PM Modi's patriotism then they must face the consequences.
是巴基斯坦人先动手的,莫迪会让他们流血而亡。如果巴基斯坦人对莫迪总理的爱国主义一无所知,那么他们必须面对严重后果。
Abhijit Pawar
Abhijit - 3 hours ago -Follow
Sir please stop your all election campaign till our pilot return safely.
先生,在我们的飞行员安全返回之前,请停止一切竞选活动。
Rajeev Sahay
Rajeev - Kolkata - 3 hours ago -Follow
Soon Pakistan will not in the world map ...just wait
很快巴基斯坦将在世界地图上消失…等着瞧吧
Tathagat Prasad
Tathagat Prasad - 3 hours ago -Follow
Scamgress did only scam... Didn''t made airforce strong with best jets
丑闻党只会骗人…我们就差在没有最好的战斗机来装备空军
kayveeala
Kayveeala - 3 hours ago -Follow
rahul baba's blue eyed media expert Divya spandana has tweeted " Were you not aware that Pakistan would retaliate? we're you slee Modi" . The entire Congress party is antinational.
拉胡尔的蓝眼媒体专家Divya spandana在推特上写道:"难道你不知道巴基斯坦会报复吗?"整个国大党都是反国家份子。
Zsking
Zsking - Parliament - 3 hours ago -Follow
BJP and RSS released Massod Azhar from Indian prison to win election...Now whole nation is paying price...Hope they don't release another terrorist to exchange Abhi.
人民党和民族志工组织把马苏德·爱资哈尔从印度监狱释放出来,想赢得选举…现在整个国家都在为此付出代价……希望他们不会释放另一个恐怖分子来交换阿比。
Aisha Dhoundiyal
Aisha Dhoundiyal - Delhi - 3 hours ago
We are proud that we choose Modi ji as our Prime Minister and we will again bring you back as our Leader. People who have no other work, other then criticizing i dont think that they are intelligent enough to understand that this is about nation''s safety and everything and anything cannot be shown on Indian Television. We Trust you and we stand with our PM, Indian Army, IAF and Navy and all officials of government working for the betterment of the country. The development can be seen and people who cant see the development and change in New India, India does not need your eyes to see the development.
我们为推选了莫迪作为我们的总理感到骄傲,我们会让你再次担任我们的领导人。那些无所事事,只会批评的人,我认为他们不够聪明,不能理解这是关乎国家安全的事情,这些事情都不能在印度电视上播出。我们相信你,我们与我们的总理、印度陆军、印度空军和海军以及所有为了国家利益而努力的政府官员站在一起。新印度的发展是有目共睹的,那些眼里看不到发展的人,印度也不需要你的眼睛来见证。
Indian Khan
Indian Khan - Location - 4 hours ago -Follow
Well, he is a PM of india, why adressing only to BJP workers. address to the nation.
他是印度总理,为什么只对人民党工人讲话。他应该对全国民众发表演说的。
Aditya
Aditya - Gurugram - 2 hours ago -Follow
It is a betrayal of National sentiment by Modi. Doing a BJP partys VC at this hour truly betrays their real intentions. To win electìons at any cost. Danger of war clouds are hovering over the nation and Modi ji is chanting "mera booth sabse mazboot". What can be more shameless than This.
这是莫迪对民族感情的背叛。在这个时候做人民党副主席真的违背了他们的真实意图。他们是不惜一切代价想要赢得选举。战争的阴云笼罩着这个国家,莫迪还大言不惭。还有什么比这更无耻的。
Vascado
Vascado - 2 hours ago -Follow
Reprobate and war mongering Politicians like Modi, Yogi and Amit Shah should lead from the front and fight the war against Pakistan with Bhakths and RSS activists acting as Armies.Why spill the blood of poor Jawans for their follies and policy mishaps ?
莫迪、约吉和阿米特·沙阿这样的堕落和战争贩子政客应该被派往前线,向军人一样,与虔诚信徒和民族志工组织激进分子一起对抗巴基斯坦。为什么要让可怜的印度人因为他们的愚蠢和政策失误而流血呢?
S C
S C - Bangalore - 3 hours ago -Follow
Answer with the language they can understand. Go inside, kill most and show our strength, this is the only option left. Entire nation is with you. Go On, Be a Tiger!
用他们能听懂的语言回答。杀到巴基斯坦去,大开杀戒,展现我们的实力,这是唯一的选择。整个国家都支持你。去吧,猛虎!
Rohit Yadav
Rohit Yadav - 3 hours ago -Follow
If Modi you are really serious sack the Defence minister for the death of 44 soldiers and say something about our Pilot in Pakistan custody. Also dont provoke people for a war. This is no required. Stop trying to get political gains from this.
如果莫迪你真的是认真的,那就以44名士兵的死亡,解雇国防部长,对我们被巴基斯坦俘虏的飞行员说点什么吧。请不要挑起人们的战争情绪。这是没必要的。不要试图从中获得政治利益。
Srinivas Jayaprakash
Srinivas - 3 hours ago -Follow
If peace was needed.. Why did pulwama happen?? Why did uri happen?? Why did pathankot happen?? If our army men are not safe how can we expect the citizens to be safe?? This country will go to dogs if we don't wage a war against terrorism and defeat the terror mongers! Hail Modi! Hail Army!
如果需要和平…为什么会发生普尔瓦玛的冲突?为什么会发生乌里的惨剧?为什么会发生帕坦科特的战争?如果我们的军人没有安全保障,我们还怎么指望公民获得安全呢?如果我们不向恐怖主义宣战,不打败恐怖主义贩子,这个国家就会完蛋!莫迪万岁!军队万岁!