Train 18's Delhi-Varanasi AC chair car ticket to cost Rs 1,850, executive class Rs 3,520
德里到瓦拉纳西Train 18列车的空调硬座票价为1850卢比,商务座票价为3520卢比
NEW DELHI: Vande Bharat Express or Train 18's air conditioned chair car ticket would cost Rs 1,850 and the executive class fare will be Rs 3,520 for a Delhi to Varanasi trip, including the catering service charges, offi als told PTI Monday.
印度国产列车"致敬印度号"(Vande Bharat Express),也就是Train 18列车,从德里到瓦拉纳西的空调硬座票价为1850卢比,商务座票价3520卢比
On its return journey, the chair car ticket will cost Rs 1,795 and the executive car ticket will be priced at Rs 3,470, they said.
返程票价分别为1795卢比和3470卢比。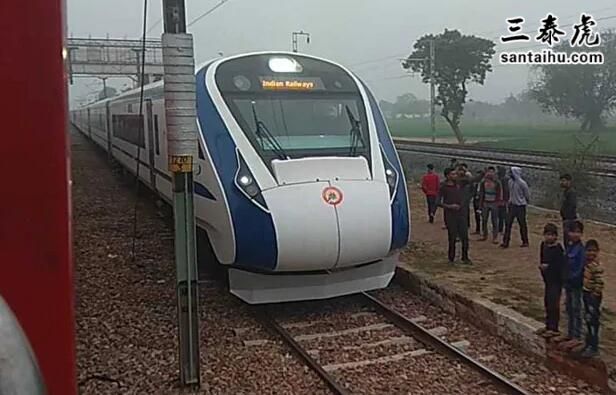 印度经济时报读者的评论:
译文来源:三泰虎 http://www.santaihu.com/47071.html
Gayasuddin
You can opt for Flight and it will be the same as compare to the Train 18 Economy fare and time taken will also be 5 times lesser. Also it will kill your whole day since it is running early at 6 AM .There are overnight journey from other trains which is more feasible at reasonable price.
可以坐飞机啊,票价和Train 18经济舱的票价相当。
旅行时间不到五分之一。
凌晨6点发车,一整天就没了。
其他列车有过夜列车,价格合理,还不如坐过夜列车呢
Venkatrna Rao
It is foolish to compare the facility in US or advanced countries with that of facility in India.Can you simiarly compare everything.A senior citizen inIndia can travel 500 km say Chennai-Coimbatore/Madurai/Mysore by just paying Rs 150 which is equivalent to 2 US $.will it be possible in US?One litre water bottle cost Rs200 or more in US.
把美国等先进国家的火车和印度火车比,这是有多么愚蠢啊
在印度,从金奈到哥印拜陀市500公里,车票只要150卢比,也就是2美元,而这在美国是不可能的。
在美国,一瓶水都要200卢比呢
Nasir Ali Zaidi
Still the time factor weighs in favor of plane. This train is good for go nment employees and others who travel on the privilege of reimbursement. The foreign tourist may also prefer this. Still there is additional service from Railways and its aim is to showcase it as great technological advancement by Modi go nment during the coming general ions although it is bound to be pleasing to eyes and ears of elite class.
从时间来看,坐飞机还是更占优势啊。
这火车适合公务员坐,他们坐火车有报销。
外国游客或许也会喜欢坐。
TearsForFears
What elite class? have you seen kind of people paying 5000 for a Delhi-Varanasi air ticket?However, instead of 8 hours sitting a passenger would prefer to fly as Varanasi has several flight options to Delhi. Yes, it will attract lots of passengers from Kanpur which has only one flight to Delhi.
坐8个小时的火车,还不如坐飞机呢,瓦拉纳西有几趟航班飞往德里。
倒是能吸引来自坎普尔的乘客,那里飞往德里就只有一趟航班。
V N
What are you going to do in Varanasi after going there in such comfort and speed? To have a dip in the polluted Ganga?
坐那么舒适的火车去瓦拉纳西干嘛?
难道是去喝恒河水?
vivek beri
not good to run down sacred ganga sirjee, it like google anti- semetic or hate crime
别来侮辱神圣的恒河。你这样会拉仇恨的
Natarajan Ganesan
Your mind is polluted. Ganga remained polluted because of ''polluted'' people like you managed the affairs in UP. But no more, because it is MODI now. Ganga our mother like river is gaining its past glory, slowly but certainly
1
2
你的思维是肮脏的正是你们这些"污垢之人"弄脏了恒河。
好在现在有了莫迪。我们的母亲河恒河正慢慢重拾昔日荣耀。
Madhav Das
I wonder what the fare is for the same distance on a similar class of train in Europe
欧洲同级别的列车,同样的距离,票价是多少
Venkatrna Rao
what we are going to achieve by comparison?It is meaningless.
这样比有什么意思?没意义
Chandan Chhavi
There should have one survey to find out why people prefer AC compartment as compared to non AC.Do people really want cool compartment or they choose bcos AC compartment is considered safer.
应该调查下,为什么人们更喜欢坐空调车,难道是为了装逼?还是说人们觉得空调车坐起来更有安全感
TearsForFears
Safer,cleaner, comfortable and convenient.
更安全,更干净,更舒适,更便捷
B A
AC compartment is cleaner as it is closed.
空调车厢是封闭的,更干净
Nabeel .m.a
flights are better and safer !
坐飞机更舒服,更安全
Arpan Sharma
Hope this train won't derail more often...
1
1
希望这火车别隔三差五就脱轨
Egg Head
Hope ACHCHE DIN come! Hope compensation in a train, where ticket fares are hire comparatively, is also higher should your hope does not materialize.
希望好日子快点到来!
Akash B
This is affordable. I hope the people maintain it!
价格还算亲民啦,希望人们好好爱惜火车
Manu
flight would be better in same price..
同样的价格,还不如坐飞机呢
Jriz
flight ticket is rs2500, train ticket 3500???? does any businessman have so much time????
机票价格是2500卢比,火车票价格是3500卢比?
商务人士有这么多时间吗?
Venkatrna Rao
what is the time taken atthe check-in-counters in Airports?,luggage release time etc.trains have got its own advantages.
机场安检要花多少时间?
还有取行李的时间。
坐火车也有坐火车的优势啦
Natarajan Ganesan
Seekers have time if not business men
除非是商务人士,要不然大家有的是时间
Rakshit Karia
Almost equivalent to flights but time is benefit
几乎相当于坐飞机了,时间就是效益啊
Egg Head
Time is benefit??? What does it mean? Time in a flight will be less.
时间就是效益?什么意思?
坐飞机还更快呢
Ravindra Munvar
I think the fares should be rationalized slightly. I think for saving just a couple of hours as compared to the Shatabdhi - this is way too steep.
2
0
我觉得票价可以再便宜些。
坐Shatabdhi也慢不了多少啊,就为了省那么几个小时,票价却贵那么多,划不来啊