Inside China's High-Tech Dystopia
中国高科技反乌托邦
彭博有关中国深圳的视频,介绍了机器人代替工人造成失业,不能使用美国信用卡以及手机支付等内容。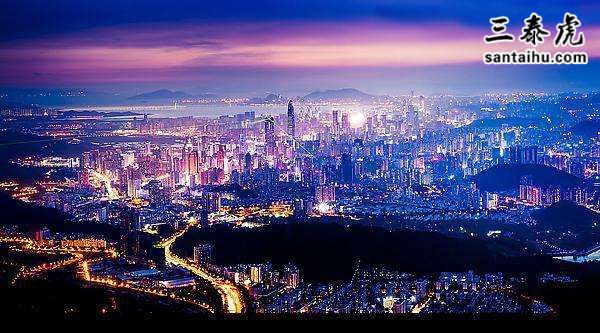 youtube读者的评论:
译文来源:三泰虎 http://www.santaihu.com/47033.html
视频地址:https://www.youtube.com/watch?v=ydPqKhgh9Mg
joel toh
WeChat isn't a Facebook equivalent. However Facebook seems to become more like WeChat with each update.
微信和脸书不一样的啦,不过随着不断的更新,微信越来越像脸书了
1
China is a thousand of years old peaceful civilization unlike West, this century belongs to Asia, Long Live Pakistan China Friendship.
与西方不同的是,中国是有着几千年历史的古老文明。
本世纪属于亚洲。
中巴友谊万岁
ezio of earth
china is not a peaceful country same goes for Pakistan but its the same for the US or basically any country but every country has really nice people
中国不是爱好和平的国家,巴基斯坦也不是。
当然,美国也不是爱好和平的国家。
不过,每个国家都有好人
mikeselectricstuff
When I was in Chengdu last year, some smaller places wouldn't accept western credit cards but debit cards were fine.
"can't use cash" is just bullshit.
去年,我在成都。小地方不能用西方信用卡,借记卡可以用。
iremember la
Doesn't Britain have tons of CC tv's watching the streets? Don't credit companies in North America track your spending habits? Wow, I m impressed by China's technology....
英国街道上不也是很多监控摄像头吗?
北美信用开发行机构,不也跟踪你的消费记录吗?
哇塞,中国的技术令我震惊了
Maverick
the most popular mobile app last year in the world is tik tok, made in China
去年全世界最流行的APP是中国的抖音( tik tok)
Shaq Attack
Maverick it was bought by China it was originally musically
被中国收购的,原来叫musically
Maverick
@Shaq Attack first tik tok orignialy is 抖音, the international version is tik tok, then they bought musically and merged the two together. second, musically was a Chinese company and was invented by Chinese people.
tik tok就是抖音,国际版叫 tik tok。
抖音收购musically后合并了。
musically 也是中国公司的
Armchair Warrior
@Shaq Attack Musically was also chinese
Musically 也是中国人的
Cool Cool
Shenzhen suddenly became a popular city, and its popularity in the world has increased.
深圳这座城市越来越有名了
在全世界的声誉不断在提高
Lirst Fast
what's also scary to me is that a country that was a third world country just 20 years ago is now in many ways more technologically advanced than us. British colonialism nearly destroyed China, but I guess the old adage what doesn't kill you makes you stronger may sometimes hold true
把我吓到的是,20年前还属于第三世界的国家,居然很多方面的技术领先了我们。
英国殖民几乎毁了中国。
Cadet Grey
dude i live in shenzhen and I still use cash. it's inconvenient but you can still use it. why does everything the east do have to be a dystopia for americans
老兄,我呆在深圳,仍在用现金。
用现金虽然不方便,不过可以用。
Arthur Fonseca
You said it yourself. It's "inconvenient" to use PAPER CASH. That is very diferent from what has been happening in the world for the last 200 years.
你才说了,用现金"不方便"。
而过去200年来,在这个世界用现金可是理所当然的
Jason Sun
why on earth is not accepting visa card a trait of dystopia? using cards and cash are slower and more stuff to carry.... using phones to pay is OBJECTIVELY better in every single way.
不能用visa 卡,怎么就反乌托邦了?
刷卡或者带现金,麻烦死了。
用手机扫二维码,怎么说都更方便
Sen zon
Shenzen is living in the future
深圳这是活在未来啊
jesus saquin
At least china does this openly
至少中国公开这么做
Hanif Ong
i'm supposed to be scared but now i'm interested in visiting Shenzen... thanks, i guess?
本来怕去的,现在我都想去深圳了。谢谢
Grant Munk
Whelp, if I ever want to visit china i better not saying anything bad about it online, they may put me in some database
以后打算去中国的玩的话,最好别在网上说中国的坏话,会被记录下来的
Tesuya kinko
sour grapes
酸葡萄
Mao Rui
So sour and salty feeling in many TV shows made by Western media, Do you know, you can use WeChat to pay for groceries in Australia? In Industrial revolution era, people blamed Walter's engine, claimed that machines robbed job from human. It is the same thing mentioned here
好酸啊,西方媒体录制的电视节目都是这样的调。
工业革命时代,人们也不怪瓦特发明了发动机,理由是有了发动机后,有些人就失业了。
这里不是同样的调调吗
onewhoisanonymous
I lived in Shenzhen China for 2 years. Yes, the technology is growing, yes wechat is the main way of paying for everything, yes there is face-recognizing software...but you know what? Google and Facebook has all my data as well. In America, unless I live under a rock, I need Facebook or Google to log into major websites. My US car has a GPS that connects to my google phone and logs my most visited locations so that it makes traveling easier...
我在中国深圳呆了2年
没错,技术在发展。
没错,微信是主要的支付方式。
没错,中国有脸部识别软件。
即便这样,你们知道吗。在美国,谷歌和脸书也在记录我的数据,登录网站需要脸书或谷歌账号。
我的美国车有GPS定位,连接我的谷歌手机,记录我最常去的地方。
Mikhail Angela
Bloomberg is right about the automation, I've seen the inside of car factories in Canada and there's only humans at the end where they test the product by driving it.
彭博有关自动化的说法是对的。我去看了加拿大车厂,只看到有人在试车,生产线上没什么人
virtualatall
Already this is happening in India for last 10 years... Most of the car manufacturing is automated by robots made in Germany
印度过去10年就已经实现自动化。大多数汽车是德国机器人组装出来的
virtualatall
@Stefan Frunza true... In 70s India, bank employee unions went on a massive strike to protest computerization, they felt that clerks will lose their job. See now as very few people are interested in clerk jobs and now you can do banking from your pocket friendly mobile phones.
70年代,印度银行员工工会举行了大规模罢工,抗议电脑化。
理由是,电脑化操作会让员工失业。
Harry Fishnuts
South Korea is much a better model of a high tech country.
韩国才是高科技国家的榜样
Sheila Uy
south korea is only 40 million while china is 1.4 billion people
韩国只有4000万,中国有14亿人
Julia Ma
SK only being 50 million makes it even more impressive that such a small country became what it is today, just incredible. slow clap
韩国才5000万人。不过这么小一个国家,能有今天的成就,更令人刮目相看。
不可思议啊,厉害
dundreary
As of about six months ago, cash was still accepted in Shenzhen, but increasingly rare to see it being used. I was able to use ATMs to get cash using my American credit/debit cards.
大约6个月前,现金在深圳还是能用的。
不过越来越少见了。
我用美国信用卡和借记卡可以从ATM机上取钱