This is Xiaomi's design for a gorgeous 4-sided edge display on a phone you can't have
小米四曲面屏幕设计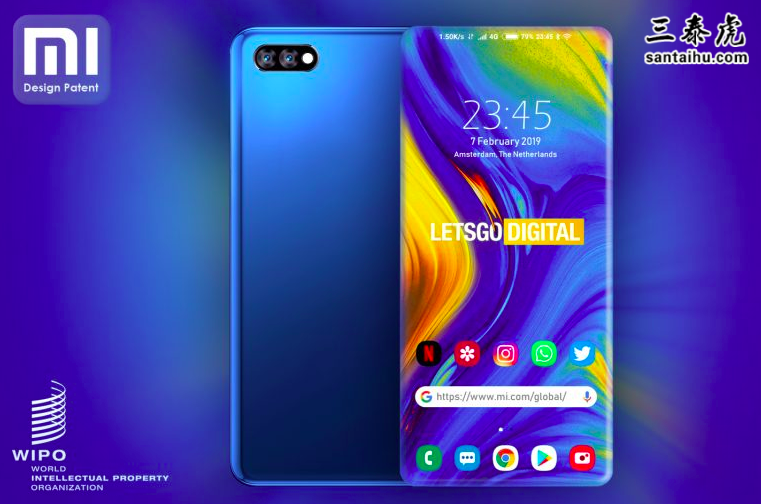 Xiaomi has been in the headlines recently for a few different developments, including the folding smartphone it's working on, as well as its 5G smartphone that's also on the way, and the China-based company will no doubt attract more attention during Mobile World Congress 2019 when its new phones are in the spotlight. Meanwhile, we've also got a new tidbit from the company to lust over — the design for a gorgeous, 4-sided edge display the company has just patented, as spotted by Dutch blog LetsGoDigital.
由于一些研发进展,最近小米一直占据头条。这些进展包括正在研发的可折叠智能手机以及即将推出的5G智能手机。在2019年世界移动通信大会上,这家总部位于中国的公司无疑将吸引更多关注。与此同时,根据LetsGoDigital(荷兰博客)的报道,小米的一项外观设计--四曲面屏刚刚获得了专利。
The blog sets up its reporting of the new design patent from Xiaomi, from which it prepared the rendering you can see above, by noting that while Xiaomi is one of the largest smartphone makers in China, it's got something like 5% percent of the total market share in Europe (and of course you can't buy the company's handsets here in the US at all). In the blog's home country, there's no Xiaomi shop or retailer — the point being, if the company wants to ever break out of its home market, it will need to rely in part on innovation to get noticed.
Which brings us to the new design.
上图是根据小米的新设计专利制作的渲染图。虽然小米是中国最大的智能手机制造商之一,但它在欧洲的市场份额约为5%(当然,在美国根本买不到小米手机)。在荷兰也没有小米商店或零售商——关键在于,如果该公司想要走出本土市场,就需要在一定程度上依靠创新来获得关注,这就引出了新设计。
Xiaomi's patent was published in the Global Design Database of the World Intellectual Property Office a few days ago. It depicts, among other things, a full-screen smartphone that sports a dual camera on the back.
小米的这项专利日前在世界知识产权局全球设计数据库中公布,该专利展示了一款全屏智能手机,背面配有双摄像头。
Per LetsGoDigital, the really interesting thing about this device is the display that's rounded on all four sides. There's also no button on the screen, which comprises up to half the thickness of the housing, according to the site. We're left to make assumptions about the front-facing camera, which could be situated under the screen. As the site goes on to note, Xiaomi introduced the Mi Mix 3 last year, which was the "world's first full-screen smartphone with a slider camera that houses a dual front camera."
这项设计真正有趣的地方在于四面都是曲面,屏幕上也没有按钮,四面的弯曲部分达到手机厚度的一半。前置摄像头可能位于屏下。小米去年推出了小米Mix 3,这是"全球首款拥有滑动摄像头的全屏智能手机,前置双摄像头。"
Perhaps Xiaomi's acquisition of rival Meitu late last year will also come into play here, with the company's selfie apps possibly playing a part in forthcoming Xiaomi handsets like this one.
小米去年底收购了竞争对手美图,美图的自拍应用程序可能会在即将推出的小米手机(比如这款手机)中发挥作用。
Chinese brands don't always have the best track record in terms of garnering a solid commercial foothold in Western markets, for reasons that are really the subject of another blog post at another time. However, it's certainly interesting to point out that designs and attention to detail like what Xiaomi apparently wants to attempt here continues to underscore the break that Chinese smartphone manufacturers have made from the past, when many of them were considered cheap, utilitarian — borderline disposable, even. A few brands have even managed to win fans in places like Europe and the US, like OnePlus. This Xiaomi design is admittedly gorgeous, and we'd certainly love to use one that looks like this, though, of course, beauty is in the eye of the… well, you know the rest.
就在西方市场获得稳固的商业立足点而言,中国品牌表现并不好。然而,值得注意的是,设计及对细节的关注继续突显出中国智能手机制造商过去的突破。在过去,许多中国智能手机被认为是廉价、实用的——甚至是一次性产品。一些品牌甚至在欧洲和美国赢得了粉丝,比如一加。小米的这项设计确实很漂亮,我们都想拥有一款像这样的手机。
美国雅虎读者评论:
译文来源:三泰虎 http://www.santaihu.com/47022.html 译者:Jessica.Wu
外文:https://news.yahoo.com
Youwould21 hours ago
I bought a Xiaomi miA1 on Amazon. Great phone under $200.
我在亚马逊上买了一台小米A1,很不错,花了不到200美金。
I have Bigly words that I know.yesterday
Too bad, because any phone you can buy in the US you can buy in China, plus 200 other choices.
你在美国能买到的任何手机都可以在中国买到,而且还有200种其他选择,太悲哀了。
Missaka17 hours ago
Xiaomi is a tech giant. Builds a wide array of electronic which are affordable and of the highest quality.
小米是一家科技巨头,应该多推出一些物美价廉的产品。
Rick15 hours ago
Now that's a nice phone. If it had a stylus, I'd buy it.
手机不错。如果有触笔,我就会买。
rvpMD6 hours ago
this is how samsung started, until it finally ran every competitor except apple out of the market
三星就是这么起来的,三星把除苹果之外的所有竞争对手赶出了市场。
yahoo19 hours ago
Have been using iPhone...crap battery and lost out in design and now even on technology. My daughter change her iPhone to xiaomi pocophone and most satisfied with it. Stole technology I don't know but I remember how much the holier than thou USA stole much technology secret from Japan and Germany after ww2.
一直在用iPhone…电池太垃圾了,设计上也失败,现在甚至技术也不行。我女儿把她的iPhone换成了小米pocophone,这是她最满意的手机。我记得二战后美国从日本和德国窃取了很多技术机密。
Richard18 hours ago
How is it that China expects globally registered patents of their companies to be respected, but they don't respect globally registered patents of foreign firms in China?
为什么中国希望自己公司注册的专利受到尊重,而自己却不尊重外国公司注册的专利?
Libtardsyesterday
Not buy $1000 phone
不买1000美元的手机
Bob18 hours ago
Chinese companies should be barred from all global patents until China enforces patent laws IN China.
在中国实施专利法之前,中国企业应被禁止申请全球专利。
Allan9 hours ago
Hey, XiaoMi, keep you company low profile or your CEO, CFO, COO... will be arrest oversea.
嘿,小米,低调点,否则你的CEO, CFO, COO将在海外被捕。
Danny C19 hours ago
Hahahaha.... nice try
哈哈....不错的尝试
Surfer Dude16 hours ago
No thanks. It contains malware planted by china.
不需要,谢谢。内部植入了恶意软件。
Mad Dog18 hours ago
Don't chinese phones have spyware?
中国手机难道没有植入间谍软件吗?
Joe11 hours ago
The American are jealous cus they cant have nice things in U.S.
美国人很嫉妒,他们在美国买不到好产品。
My name10 hours ago
If that phone not working on Verizon network, it will not be sold to me.
如果这手机不能在Verizon网络上使用,我就不会买。
Kennyyesterday
China lol
中国,哈哈
Frank16 hours ago
You the novelty of the gadget has run its course when this is considered advance worth crowing about.
当你认为这是一项值得夸耀的进步时,就没什么新奇之处了。
Bill18 hours ago
Its a damn shame that our government protects Apple from competition like this. The chinese get to use the latest technology while we have to pay rediculous high prices for Apples same old krap!
我们的政府保护苹果公司免受竞争,真是可耻。中国人可以使用最新的技术,而我们却要为苹果的旧技术买单,而且这个单还很贵!
Bill18 hours ago
Its time for Apple to knock off the hubris and produce something great like this or go out of business!
苹果别再狂妄自大了,赶紧推出自家的出色产品,否则就得关门大吉!
Tom S9 hours ago
I wouldn't want one anyways.
反正我不想要这种手机。
Darren23 hours ago
Stolen tech from SK, Japan and US
从韩国、日本和美国窃取的技术
Pennywise the Clown15 hours ago
We laugh, ridicule, and are dismissive of the Chinese while in true they first stole tech from other countries, then they learned from what they stole and are starting to innovate
我们嘲笑、轻视中国人,实际上他们先从其他国家窃取技术,然后从中学习并开始创新。
Fester2 hours ago
You can buy this phone and expect you phone to be filled full of corrupted Chinese spy apps
你要是买这款手机,你的手机将装满中国间谍程序
Mark4 hours ago
Did Xaiomi steal something from someone and patented that?
小米从别人那里窃取了技术再申请了专利吗?
x
don't want chinese junk
不要中国垃圾货