India is losing the AI battle to China, one app at a time
印度人工智能竞争正败给中国
A year ago, there were only 18 Chinese mobile apps among the top 100 apps on Google Playstore in India, and only two of them among the top ten. The number, as my FactorDaily colleague Shadma Shaikh wrote earlier this month, has now doubled.
一年前,在印度谷歌Playstore前100款应用中,只有18款是中国手机应用,前10款中只有2款是中国手机应用,但这个数字现在已经翻了一番。
TikTok, a short video-hosting social platform, already counts India as its biggest market with 39% of its 500 million global users based here. And it's not the only app being touted as a potential YouTube killer in India. LIKE and Kwai, apart from other live-streaming apps such as LiveMe and BigoLive, are other contenders for the position of the top video app in India.
短视频社交平台"抖音"已经将印度视为其最大的市场,在其5亿全球用户中,印度占39%。在印度,它并不是唯一一个被吹捧为YouTube潜在杀手的应用。除了LiveMe和BigoLive等其他流媒体直播应用,LIKE和快手也是印度顶级视频应用的竞争者。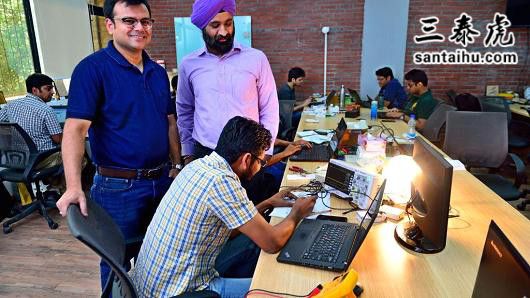 Quietly and steadily, China's app factory has been conquering India, far away from the mainstream noise about e-commerce and telecom. And very soon, these Chinese apps will have more data and insights about the next billion Indian internet users than any other platform, including Facebook and Google.
中国的应用程序工厂一直在悄悄地稳步征服印度市场,,远离电子商务和电信的喧嚣。很快,这些中国应用将比任何其他平台,包括Facebook和谷歌,拥有更多关于未来10亿印度互联网用户的数据和见解。
Why does that matter? China wants to dominate the AI world and fast-pace its transition from being a factory of the world to becoming a high-value destination for smart machines that mimic the human brain. Acquiring more data and throwing it all at the machines so they learn faster and deeper, is the holy grail for AI dominance.
为什么这一点很重要?中国希望主导人工智能世界,并加速实现从世界工厂向模仿人类大脑的智能机器高价值目的地的转变。获取更多的数据并将其全部投向机器,让它们更快、更深入地学习,这是主导人工智能的圣杯。
Consumer apps such as TikTok and BigoLive that have massive engagement with their users and capture hundreds of millions of data sets everyday feed into China's big data arsenal. And while India will retain its status as the world's battlefield for acquiring the next billion users, it will be about the American and Chinese internet companies looking to conquer the final frontier. Already, two of India's biggest e-commerce companies — Amazon and Walmart-owned Flipkart — are US enterprises.
TikTok和BigoLive等消费者应用程序与用户进行了大规模的互动,每天都能捕获数亿组数据,并将其输入中国的大数据库。尽管印度仍将是全球争夺10亿用户的战场,但只有美国和中国的互联网公司将寻求征服这块最后的疆域。印度最大的两家电子商务公司——亚马逊和沃尔玛旗下的Flipkart——已经是美国企业。
Let's look at how China's app factories carefully put together their own playbook. It is all about pushing the boundaries, focusing obsessively on the vernacular market and doing whatever it takes to go viral (including soft porn). Kwai, for instance, is a breeding ground for child pornography. The app encourages users, especially underage girls to perform vulgar gestures and lip sync to suggestive songs, among other acts.
中国的应用程序工厂是如何精心打造自己的剧本的?这一切都是突破界限,专注于本土市场,尽一切可能传播(包括软色情)。例如,"快手"是儿童色情的滋生地。这款应用鼓励用户,尤其是未成年女孩,对着暗示性的歌曲做粗俗的手势和对口型等动作。
Chinese platforms are beginning to realise the dangers of pushing soft porn content for achieving virality. LiveMe, for instance, had to delete 600,000 accounts of children under 13 after Fox11 news channel in Los Angeles talked of the dangers of paedophiles exploiting children.
中国的平台开始意识到,为了达到病毒式传播,推广软色情内容的危险性。例如,在洛杉矶福克斯11新闻频道谈到恋童癖者对儿童的潜在危险后,LiveMe不得不删除了60万个13岁以下儿童的账户。
To be sure, these apps are well-designed products in terms of technology sophistication and user interfaces.
可以肯定的是,从技术成熟度和用户界面来看,这些应用程序都是精心设计的产品。
ByteDance, for instance, has designed and launched Helo, a regional entertainment content platform specifically for India. If you haven't heard of Helo yet, it's only because the app only targets small-town, first-time, vernacular users. Helo is not even available in English. It is available in 14 regional languages including Hindi, Marathi, Gujarati and Bhojpuri.
例如,字节跳动设计并推出了专门针对印度的地区性娱乐内容平台Helo。如果你还没有听说过Helo,那只是因为这款应用只针对本土语言、小城镇及新数据用户。Helo甚至没有英文版本,有14种地区语言版本,包括印地语、马拉地语、古吉拉特语和比哈尔语。
The strategy is already paying off. In fact, for some of these Chinese apps, India is the only market of focus. SHAREit, a social content platform, believes it will have to shut down if there's no India market for the app. They have watched the India market closely for years and learned from the failures too. WeChat, which failed to make any dent, is a case study for any new Chinese app entrant to learn what not to do.
这种策略已经取得了成效。事实上,对于一些中国应用程序来说,印度是唯一值得关注的市场。社交内容平台SHAREit认为,如果该应用没有印度市场,它将不得不关闭。多年来,他们一直密切关注印度市场,也从失败中吸取了教训。没有取得任何进展的微信,是任何一个新进入印度市场的中国应用程序应该反思的一个反面案例。
And then, there's India's homegrown Sharechat, which was launched in 2015 and has over 50 million downloads. Sharechat demonstrated how savvy and first-time internet users in India's tier 2 and tier 3 towns can be tapped with vernacular content. Chinese apps such as ByteDance's Helo have been really quick to learn from Sharechat's playbook.
还有印度本土的Sharechat, 2015年推出,下载量超过5000万次。Sharechat展示了印度二线和三线城市的悟性和首次上网的用户是如何利用方言内容的。字节跳动的Helo等中国应用程序很快就汲取了Sharechat的经验。
For its part, the US is already planning to clamp down on China's investments in Silicon Valley with the Congress passing the Foreign Investment Risk Review Modernization Act (Firrma) last August.
就美国而言,随着美国国会去年8月通过《外国投资风险评估现代化法案》(Firrma),美国已经计划限制中国在硅谷的投资。
Several startup founders and investors have been talking in hushed tones about the need for India to look at similar tactics. The stakes are high. Already, Chinese companies have invested more than $2 billion in Indian startups in 2017 alone.
一些初创公司的创始人和投资者一直在低声谈论,印度有必要研究类似的策略。赌注很高。仅在2017年,中国企业就已经向印度初创企业投资了20多亿美元。
Meanwhile, India's classic love-hate affair with China is already catching up with the country's fledgling startup ecosystem. Startup founders and investors in India are beginning to feel increased go nment scrutiny, often caught in the middle of "Doklam-like" confrontations.
与此同时,印度与中国传统的爱恨交加关系,已经在追赶该国羽翼未丰的初创企业生态系统。印度的初创企业创始人和投资者开始感受到政府越来越严格的审查,这种审查常常被夹在"洞朗式"的对抗之中。
A board member at one of the top Indian startups backed by a Chinese fund decided to quit, sensing upcoming "complexities". "This year is going to be about economic nationalism," he told me. "And I would rather not be seen as being on the other side."
一家由中国基金支持的印度顶级初创企业的一名董事会成员感到即将到来的"复杂性",决定辞职。"今年的主题将是经济民族主义,我不希望被视为站在对立面。"
印度时报读者评论:
译文来源:三泰虎 译者:Jessica.Wu
Dean - traveller - 3 hours ago -Follow
wgst we want urgently is one Indian "Google ". China has beidu. we want an Indian search engine.
我们急需的是一款印度版"谷歌",中国有百度,我们也想要一款印度本土搜索引擎。
Amar Ufaq - Nizamabad - 3 hours ago -Follow
india busy in hindu muslim, mandir masjid, caste and creed, people are in power are more eager to build mandir, and chinese are getting advantage of all...alas still these morons are treated as patriot who are breeding the seeds of hate..god bless my india
印度忙于处理宗教、种姓和信仰纷争,印度当权者更渴望修寺庙,而中国人处处占据优势……唉,这些笨蛋正在播下仇恨的种子。愿神保佑印度
Nikola Tesla - 2 hours ago -Follow
India is a frog and China is a mountain. No comparison at all
印度是井底之蛙,而中国是一座大山。完全没有可比性
Sandeep Srikumar - 1 hour ago -Follow
I have lived in Singapore. I have lived in west too. Let me tell you never trust Chinese, they are disgusting, racist and down right dirty. India should never allow any thing from that country. Yes we are more back ward than them, but that does not mean we should have any thing to do with them.
我在新加坡生活过,我想告诉你们,永远不要相信中国人,他们是令人厌恶的,种族主义者,卑鄙下流。别让中国货进入印度。我们是比他们更落后,但这并不意味着我们就该和他们扯上关系。
Sajal - Dehradun - 2 hours ago -Follow
Kick out and ban All Chinese Software Apps and Products. We have to Ensure that Democracy Survives. It is Also the Responsibility of the Govt to Prove that it is Neither friendly Nor Bowing to China. Please Prove it.
封杀中国货,封杀中国APP,印度政府也有责任证明自己不是好惹的,不向中国低头。
Vishal - 2 hours ago -Follow
India & China should have open boundaries, peoples can go freely to anywhere like one continent with dusk nationality
印度和中国应该开放边界,人们可以自由来往。
Rohan Seth - Location - 2 hours ago -Follow
Indians are capable only of doing the routine stuff: billing software, accounting software, SAP implementation etc. Iss se jyada kuch nahi hoga.
印度人只会做一些常规的软件: 记账软件、会计软件、SAP等。
Balbhadra Dhagat - Bhopal - 2 hours ago -Follow
While we China believes in Meritocracy, we have full faith in our Quota system. We have enough scope to go down further.
中国任人唯贤,我们对配额制度很有信心。
Pinaki - NYC - 2 hours ago -Follow
Except for producing more kids, we are and will continue to lose all battles with China.
除了生孩子不会输给中国人,我们现在和将来都将输掉一切对华竞赛
Suresh Kumar - 2 hours ago -Follow
''China and India were almost the same in terms of GDP during 1980s. India''''s GDP per capita was, in fact, slightly higher than China''''s . Then, the Chinese economy grew very fast through some bold steps and radical reforms. After 25 years, Chinese manufacturing sector leaped eight times the size of Indian sector" . Apathy, negligence and colossal co ption left India far behind. … Modi led NDA has made schemes like ''Make in India'' and "Start up India" to make our manufacturing industries very competitive. Hope Govt will give more importance to Artificial intelligence sector as well.
"上世纪80年代,中国GDP和印度GDP几乎相当。印度当时的人均GDP略高于中国。然而,中国改革开放后,经济取得了突飞猛进的发展。25年后,中国制造业的规模跃升至印度的8倍。冷漠、疏忽和严重的附败让印度远远落后。莫迪政府制定了"印度制造"和"启动印度"等计划,提升了印度制造业的竞争力。希望政府更加重视人工智能领域。
Biju G - 1 hour ago -Follow
So much for being a software superpower. It would be better if we kept quiet and seriously innovate.
印度的软件超级大国地位到此为止吧。我们最好保持沉默,踏踏实实创新。
Pakisarehomosandsuck - Kalooooo Gandu Pakistan - 1 hour ago -Follow
tik tok keeps cropping up in searches for media players....
在搜索媒体播放器时,老是跳出"抖音"…
Mushtaq - 2 hours ago -Follow
we can compete with China only in population which we will surpass in 2035
我们只能和中国比谁的人口多,到2035年我们的人口将超过中国人口
Vijay Banga - new delhi - 8 mins ago -Follow
The war for global leadership in artificial intelligence and machine learning is well underway, and the US is poised to lose perhaps the most important technology war in its history.India is not there
争夺人工智能和机器学习领域全球领先地位的战争正在进行,美国可能将输掉其历史上最重要的一场科技战争。印度不在其列。
Guru Ghantal - 19 mins ago -Follow
India can not catch up to China. Politicians and thereby people are responsible for Indias failure.
印度赶不上中国的。政客要为印度的失败负责。
Baljeet Singh - 3 hours ago -Follow
India is leader in AI. There in ancient evidence in all vedas. Rishis was master in AI. RSS has published paper on this also
印度是人工智能的领导者。吠陀经都有证据。古代圣人精通人工智能。民族志工组织也就此发表过论文。
Vijay Banga - new delhi - 3 hours ago -Follow
China publishes more journal articles on deep learning than the US and has increased its number of AI patents by 200%. China is determined to be the world leader in AI by 2030.
中国发表的关于深度学习的期刊文章比美国多,人工智能专利数量增长了200%。中国决心在2030年前成为人工智能领域的世界领军者。
Vijay Banga - new delhi - 3 hours ago -Follow
The Chinese have a extremely well-funded commitment to AI.
中国的人工智能研究有极其充足的资金。