Vivo's all-glass phone has no ports and a full-screen fingerprint reader
Vivo一体式玻璃机身手机,全屏指纹解锁
2019 may be the year of flexible mobile devices, but judging by a couple of announcements from China this week, it appears that we may also be expecting the disappearance of holes and ports on smartphones. Following yesterday's Meizu Zero, today Vivo has announced its latest concept 5G device, the APEX 2019, which is yet another smartphone with almost no holes. I say "almost" because there's still a tiny microphone slit below the screen, but other than that, you won't find any USB port, speaker grill or SIM tray around this shiny slab of glass.
2019年可能是折叠手机之年,但从中国本周发布的几款手机来看,大家似乎也在期待智能手机上的开孔和接口的消失。继昨天发布的魅族Zero之后,Vivo也今天发布其最新的5G概念手机APEX 2019,这是另一款几乎没有孔的智能手机。说"几乎"是因为屏幕下方还有一个很小的麦克风孔,除此之外,在这闪亮的玻璃机身上,你找不到任何USB接口,也找不到扬声器或SIM卡槽。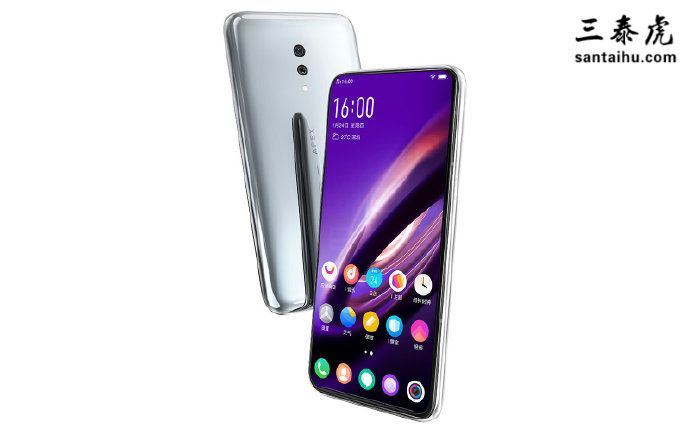 In fact, we should talk about this "Super Unibody" as well. It's made of "Curved-Surface Waterdrop Glass," with the "waterdrop" part referring to the extra thickness around the edges, which serves as an alternative to the usual metallic mid-frame while also offering a cool translucent look. That said, I do wonder how well this will survive drops, especially when compared to Meizu's ceramic offering.
事实上,这个"超级一体机身"是由"曲面水滴玻璃"制成的,"水滴"部分指的是边缘的额外厚度,可以替代通常的金属中间框架,同时提供一个半透明的外观。话虽如此,我还是想知道它能有多抗摔,尤其是与魅族的陶瓷机身相比。
To create this glass unibody with uneven thickness, it requires a tedious process involving both heat bending and CNC machining, which likely won't come cheap. Part of this glass also serves as a set of three pressure-sensitive capacitive buttons -- think HTC U12+ but with glass instead of metal -- along the right hand side, and these will presumably be mapped for toggling power and volume.
制作不等厚一体机身需要一个繁琐的过程,包括热弯工艺和数控加工,造价可能并不便宜。玻璃机身右边有三个压敏电容按钮——对比HTC的U12+,但Vivo APEX 2019是玻璃机身而非金属,这些按钮可能会用来开关机和调节音量。
Another unique feature here is the full-display fingerprint scanner. Just last week, Oppo and Xiaomi talked about possibly featuring a large-area in-display fingerprint reader in their upcoming phones, but if Vivo's claim is to be trusted, it appears that the APEX 2019 may be one step ahead of the game. Not only will this make unlocking more convenient, but it'll also let you unlock and toggle an app with just one tap -- so long as the app icon is made available on the unlock screen for you to press on.
另一项独特的功能是全屏幕指纹识别。就在上周,Oppo和小米还在讨论在他们即将推出的手机中可能配备大屏幕指纹识别,但如果Vivo的说法可信,那么APEX 2019可能会领先一步。这不仅会让解锁变得更方便,而且只需轻轻一点就能解锁和切换应用程序——只要解锁屏幕上的应用程序图标可供你点击即可。
Much like the Meizu Zero, Vivo's new APEX will be relying on its screen -- our money's on OLED -- to act as a loudspeaker. Likewise with the invisible earpiece. As for USB connectivity, this will be substituted by a "MagPort" magnetic pogo pin connector to go towards the bottom side on the back. While this doesn't sound as cool as Meizu's proposed wireless USB feature, it's far more practical and easier to execute. And most importantly, there's eSIM to replace the SIM tray.
就像魅族Zero一样,Vivo的新巅峰将依赖于它的屏幕——OLED,来充当扬声器,隐形耳机也是如此。至于USB连接,背壳触点进行磁吸式充电将取代USB接口。虽然这听起来没有魅族提出的无线USB功能酷,但它更实用,更容易执行。最重要的是,用eSIM来代替SIM卡槽。
Even though the APEX 2019 is just a concept phone, Vivo still provided some detailed specs, including a Qualcomm Snapdragon 855 chipset with an unspecified 5G modem, a whopping 12GB of RAM plus 512GB of storage, and a 12MP + 13MP dual camera setup on the back. Funnily enough, there's no front camera here, which is ironic given how the original APEX's main selling point was its pop-up selfie camera. At least we know for sure that there's no way this new APEX will end up in the market as-is, despite its good looks and potentially great water resistance.
尽管APEX 2019只是一款概念手机,Vivo仍然提供了一些详细的规格,包括高通骁龙 855芯片组,带有未指定的5G调制解调器,12G内存和512G存储空间,以及1200万 + 1300万双摄像头。有趣的是,APEX 2019没有前置摄像头,考虑到APEX最初的主要卖点是弹出式自拍相机,这一点颇具讽刺意味。至少我们可以肯定的是,尽管新款APEX 外观看起来不错,而且有很大的防水性,但应该不会以目前的概念机版本上市。
Vivo already showed off actual devices based on this concept at its Beijing event, and we'll be able to take a closer look at MWC next month. Given how the first APEX eventually evolved into the NEX S, chances are this new version will see a similar fate, so long as it finds a way to integrate a front-facing camera to complete the puzzle.
Vivo已经在北京的活动上展示了基于这一概念的实体机,下个月我们在世界移动通信大会将能够近距离观看。考虑到最初的APEX 最终演变成了NEX S,这个新版本很可能会看到类似的命运,除非它能找到一种方法来整合前置摄像头以解开这个谜题。
美国瘾科技(engadget)读者评论:
译文来源:三泰虎 http://www.santaihu.com/46955.html 译者:Jessica.Wu
外文:https://www.engadget.com/2019/01/24/vivo-apex-2019/#
No esimmmmm!!!
没有eSIM!!!
GudieveNingLeader3d
The Chinese are now innovating at speed, and have even delivered on what Apple actually admitted was their vision for the iPhone, for it to be port free. IE, just screen. Where China is now in electronics is where Japan was with cars in the 1980s. The 70s Japanese cars were rubbish, but they then learned to innovate and do QA properly from the 80s onwards, and, well, look who JD Power & Associates votes best auto brand year in year out? Toyota/Lexus/Nissan/Infiniti etc. Will be the same with Chinese electronics not long from now, once they start producing computers too so there's an ecosystem.
中国人正快速创新,甚至已经实现了苹果公司对iPhone的愿景,即无孔化,只有屏幕。中国现在在电子领域的地位,就像日本上世纪80年代在汽车领域的地位一样。70年代的日本车是垃圾,但他们后来学会了创新,从80年代开始有了质量保证,看看JD Power & Associates每年评选出的最佳汽车品牌是哪些?丰田、雷克萨斯、尼桑、英菲尼迪等等。不久之后,中国的电子产品也将如此,一旦他们开始生产电脑,就会形成一个生态系统。
metaforLeader3d
I find the total lack of ports...courageous.
我发现完全没有接口,可以啊
deenycLeader3d
I predict this won't be the last portless phone hitting the market in the near future.
我估计近期还会有其他品牌的无孔手机发布。
kealii123Leader3d
glass on the backs of phones was a mistake and continues to be a mistake.
手机背面用玻璃材料就是个错误。
JBDragonLeader3d
These no port or a small pin type mag connector phones just make no sense to me. it's taking things to far. phones screw up. How do you reset a locked phone with no buttons? How about the OS getting screwed up and you need to do a reinstall? Ops, can't plug it in.
这些没有端口的手机对我来说毫无意义,太离谱了。如果手机坏了,怎么重置一个没有按键的手机?如果操作系统花了,怎么重新安装呢?都没办法连接。
deenycLeaderJBDragon3d
There's three capacitive touch buttons. But it does not say how you would turn if on if it was powered off.
有3个电容按键,没说关机后要怎么开机?
BobJBDragon3d
Since this IS a concept, I'm absolutely certain that if it went into full production, they would have ways of mitigating the issues you stated.
@JBDragon由于这是一款概念机,我敢肯定,如果投入全面生产,肯定会有办法减解决你所说的问题的。
NevahLeaderdragonherder3dEdited
It seems that their "experiments" are paying off royality in designs/RD.
It's sad that Apple/LG are playing catch-up to these third-grade companies.
看来他们在设计和研发方面取得了成功。
遗憾的是,苹果和LG正在追赶这些三流公司。
dragonherderLeaderNevah3d
Vivio, Oppo, etc aren't third-grade/third-rate companies. In fact Oppo and it's brands are pretty high end in general. Most of BBK Electronics' companies in general are very solid phone manufacturer.
@Nevah Vivio、Oppo等不是三流公司。Oppo是高端品牌,VIVO是非常可靠的手机制造商。
NevahLeaderdragonherder3d
Tim Cook has failed Apple's innovation.
蒂姆•库克未能激发苹果的创新。
NevahLeader3d
I love this phone. But, my gosh, no front camera?
UGH!
我喜欢这款。不过天哪,没有前置摄像头吗?
BrandonNevah3d
That's the best feature.
@Nevah这是最有特色的一点。
SiddRajputLeader3d
Who cares? It's not available in the US.
谁在乎呢?反正在美国没有卖的。
Octataral3d
How does this thing shed heat?
这个手机怎么散热?
mrrealLeader3d
In the future china will take over the smartphone market they are making some very beautiful phones that are also cheap.
将来,中国将垄断智能手机市场,他们正在不断地推出物美价廉的手机。
James-OLeadermrreal3d
Yeah I'd never trust a Chinese phone.
我信不过中国手机
Dave27Leader3d
It needs a headphone jack.
jack.
需要留一个耳机孔
occasionalInfluencer3d
Looks like impossible to repair when broken.
看起来坏了就没法修了。
AlexanderLeader3d
To be fair you can see this is where the smartphone world is going.
客观地说,这是智能手机的发展方向。