How Indians beat Chinese in working and living in US
在美国工作和生活的印度人是如何打败中国人的
NEW DELHI: A per-country quota for Green Card means Indians face a huge backlog for landing permanent residency in the US. Plans by several US lawmakers to introduce a bill to eliminate this quota have led critics to argue that people from countries like India and China will corner the bulk of Green Cards. But Indians' predominance in the work-related visa categories shows how they are the most sought-after professionals for US firms.
新德里:绿卡国别配额意味着印度人申请美国永久居留权面临大量积压。数名美国议员计划提出一项法案,取消这一配额。批评人士因此辩称,印度和中国等国的人将垄断大部分绿卡。但印度人在与工作相关的签证类别上的优势表明,他们是美国企业最抢手的专业人士。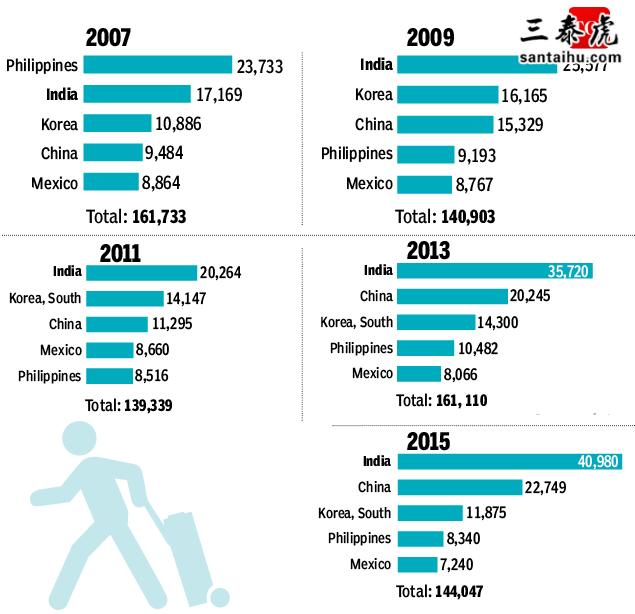 In 2015, 33.4% of all longer duration visas — given for purposes such as work, study, asylum etc. — were taken up by people moving to the US for work. Of these, 1 million visas went to temporary and in-transit professionals and diplomats and intergo nmental agency officials.
2015年,33.4%的长期签证(工作、学习、庇护等)被到美国工作的人占用。其中100万份签证发给了临时和过境专业人士、外交官和政府间机构官员。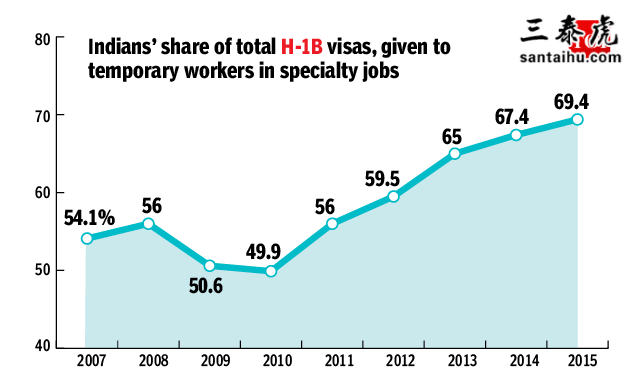 An additional 144,000 people were awarded green cards for employment based preferences. This is the category where Indians have ruled the roost for most of the last decade. For the work-based H-1B visa, too, Indians are way ahead of workers from other countries and have mostly bagged the majority of these visas in recent years.
另有14.4万人获得职业移民类别绿卡。在过去十年的大部分时间里,印度人一直是这一类别的主导者。而H-1B的工作签证方面,印度人也遥遥领先于其他国家,近年来,印度人获得大部分H-1B签证。
印度时报读者评论:
译文来源:三泰虎 http://www.santaihu.com/46945.html 译者:Jessica.Wu
外文:https://timesofindia.indiatimes.com/business/india-business/how-indians-beat-chinese-in-working-and-living-in-us/articleshow/67682397.cms
centroid ds - 22 hours ago -Follow
Indians are the most sought after professionals worldwide, except in India where reservations rule and not merit.
在世界各地,印度人是最受欢迎的专业人士,但在印度,预留名额现象盛行,而非任人唯贤。
Sameer Sameer - 22 hours ago -Follow
Allow reservation only at colleges and schools, so that the backwards get equal opportunity and the organisations get best talent.
只允许在中小学和大学里搞预留制,这样落后阶层就能得到平等的上学机会,各机构就能得到最优秀的人才。
Shah Jagdish P - Mumbai - 22 hours ago -Follow
Indians can beat any country provided they get support from their own country.
印度人有实力打败任何国家,只要他们得到自己国家的支持。
Jumla Expert - 22 hours ago -Follow
Wrong Headlines- China beats India. The Best Indians leave the country and never come back. Nadella, Nooyi, and Pichai confirm the failure of Indian system to retain the best. Thats why Indian American household income (2016) is $122,026- highest for any ethnic group in the United States.
标题有误——应该是中国打败了印度。最优秀的印度人离开了这个国家,再也不会回来。纳德拉、卢英德和皮查伊证实了印度体制未能留住最优秀的人才。印度裔美国人的家庭收入(2016年)是122,026美元,是美国所有种族中最高的。
gaurav - 21 hours ago -Follow
Hardly anything to be proud. Indians are desperate to leave the country because of pathetic living conditions.is that great?
没什么值得骄傲的。由于生活条件差,印度人急于离开这个国家,这很了不起吗?
Pais Hilary - 22 hours ago -Follow
The average wage in China is about four times of that in India. Indian labour of all varieties, including the one under discussion here, comes cheap. The Indian so-called IT model is described, as low cost arbitrage outsourcing without IPR content. Most of the Chinese, after acquiring special skills return to the home country to work in industry and research institutions. China''s expenditure on R and D, both in the private and public sector is enormous. In many areas of technology it has moved ahead of the United States. That is the main cause of the so-called trade dispute which has little to do with trade. The United States is threatened technologically for the first time in sixty years.
中国的平均工资是印度的四倍。印度各类劳动力都很便宜。印度所谓的IT模式被描述为没有知识产权内容的低成本套利外包。大多数中国人学成后回国,回到本国工业和研究机构工作。中国私营和国营部门的研发支出都是庞大的。在许多技术领域,中国已经领先于美国,这就是所谓的与贸易无关的贸易争端的主要起因。60年来,美国首次在技术上受到威胁。
Sundarrajan J - Coimbatore - 20 hours ago -Follow
Nothing wrong in reservations per se in the Indian context.But, where we have gone wrong is in not fixing a time limit by which the reservations would be disbanded.I personally feel reservations should be phased out gradually.Do our politicians have that will?
从印度的角度来看,预留制本身并没有错。但是,我们的错误之处在于没有确定取消预留制的时限。我个人认为应该逐步取消预留制。我们的政客会这样做吗?
sradhakr1 - Mumbai - 19 hours ago -Follow
One important advantage that Indians have over Chinese is that Indians are comfortable with the English language. It is extremely important to maintain this advantage and increase English medium schools in India at the expense of those in local languages. Unfortunately state-level politics ends up imposing a huge and unnecessary burden on Indian schools to compulsorily teach in local languages, which are complete duds as far as career advancement goes.
和中国人相比,印度人有一个重要的优势,那就是英语。保持这一优势,并在印度增加英语教学学校是极其重要的。不幸的是,邦一级的机构最终给印度的学校带来了一个负担,强迫用当地语言教学。
suyog ingle - 20 hours ago -Follow
The reason is quite simple most talent is not admired by Indians because of known quota based discrimination. So smart people tries where their talent is admired and well payed.
原因很简单,由于众所周知的配额歧视,大多数印度人才没有受到赏识。聪明人会到他们的才华受到赞赏以及能获得高薪的地方尝试。
Makdxb - INDIA - 21 hours ago -Follow
If you go the chart you will understand that Indian looking for citizenship abroad is increasing. Other country citizens probably stay back or ready to work in their own country. But every professionally qualified Indian always look for the opportunity abroad. In India, even though vacancies are there, the recruitment process crawling and youngsters loses their opportunity. Therefore, if they get chance they fled the country and chance for their comeback.
如果你看文中那张图表,你就会明白想要移民他国的印度人正在增加。其他国家的公民留在本国工作,但印度人才总是在海外寻找机会。在印度,尽管有职位空缺,但招聘过程拖拉,年轻人失去了机会。因此,如果有机会,印度年轻人就会逃离这个国家。
Pasupathy Nemam Natarajan - Location - 19 hours ago -Follow
China retains their best brains in their own country by giving them opportunity to research and develop and also research by doing reverse engineering of most advanced systems developed by others. The Chinese who migrate for higher technical education or technical work are guaranteed jobs if they return . In our country, merit has no place. Even if someone wants to return he is not guaranteed job due to caste policies. He will find morons and politicians bossing over him even on technical matters. Wipro, Infosys, TCS are working for major multinational firms using Indian workforce but they value merit. The day, these useless political leaders force them to recruit based on caste consideration for getting votes, that will be the end of these firms.
中国留住了本国最优秀的人才。接受高等技术教育或从事技术工作而移民的中国人,如果回国,就保证能得到工作。在我们国家,没有择优录取这一说。即使有人才想要回来,由于种姓制度的原因,也不能保证他能得到工作。他会发现印度政客对他颐指气使。威普罗、印孚瑟斯和塔塔公司都在利用印度劳动力为大型跨国公司服务,他们看重才能。总有一天,这些无用的政治领袖会强迫他们根据种姓进行招聘,以获得选票,这将是公司的末日。
Agentk - 21 hours ago -Follow
That''s why technological development stagnates in our country and we end up importing high-end equipment from other countries. Meanwhile, China produces everything from Mosquito bats to Rovers that land on the moon.
所以我们国家的技术发展停滞不前,我们最终从其他国家进口高端设备。与此同时,中国什么都生产,从蚊子拍到登月的月球车,都能自己生产
Anand - 21 hours ago -Follow
Is this like a consolation? They smack us to the ground in most other fields.
这是一种安慰吗? 他们大多数领域打得我们一败涂地。
Ramesh - Bangalore - 21 hours ago -Follow
Among the migrants, I think India and China are competing more for everything.
比拼移民,印度和中国的竞争激烈。
TrueDesiPal T.N. - 21 hours ago -Follow
RESERVATION OF ALL SORTS SHOULD BE REMOVED.If
所有类别的预留制都应该废除。
Vasant Mehra - Delhi - 22 hours ago
High time things at home improved. More manufacturing units and research and development facilities are encouraged. The quality of education at Primary, Secondary and Higher Secondary level should be improved. Communicating skills and trade skills should be given priority.
是时候改善国内的情况了。鼓励成立更多的研发机构。提高小学、初中和高中教育质量。在录用时,沟通技巧和贸易技巧应该被优先考虑。
Mohammed Shaikh - 22 hours ago -Follow
all news on this toilet paper is about h1b visa. aarey KAMZAAT LOGO can u tell me when india will becum like us?? this iz y india will always remain shiiiity
《印度时报》的新闻都是关于H1b签证的。你能告诉我印度什么时候能成为美国那样的国家?
Probhat Raha - 13 hours ago -Follow
Indians not only get overwhelming number of H1-B visas; they also work in much higher paid jobs in North America. Chinese are in low paying jobs; most of them are in the minimum wage category.
印度人获得了数量惊人的H1-B签证,在北美从事薪水高的工作。中国人的工作报酬很低;其中大多数属于最低工资范畴。
Venugopal Panaskar - 15 hours ago -Follow
It is good for US but not for India
这对美国有好处,但对印度没有好处
rana xxxx - mumbai - 16 hours ago -Follow
Indians work hard in foreign countries with lower salaries. Chinese, Koreans, Philipines demand higher salaries. Chinese have better educational backgrounds because Chinese universities admit students based on their grades, not based on their fees / financial standing. Chinese public schools cater for students for all communities and their educational standards are high. Main Land China also has reservation, Tawain and Hong Kong students are not academically bright, except a few as mainland Chinese students are
印度人在国外从事工资较低的工作。而中国人、韩国人、菲律宾人要求更高的工资。中国人有更好的教育背景,中国大学录取是看成绩的,而不是看经济状况。中国的公立学校面向所有社区的学生,教育水平很高。