India has a 26,000-tonne plastic waste problem
印度塑料垃圾问题,每天产生2.6万吨
NEW DELHI: India generates 25,940 tonnes of plastic waste every day, but 40% of it remains uncollected causing choking of drainage and river sy ems, littering of the marine ecosy em, soil and water pollution, ingestion by stray animals, and open air burning leading to adverse impact on human health and environment.
新德里:印度每天产生25940吨塑料垃圾,其中的40%未收集,造成排水和河流系统堵塞、海洋生态系统、土壤和水污染、流浪动物误食,露天焚烧,对人类健康和环境造成不利影响。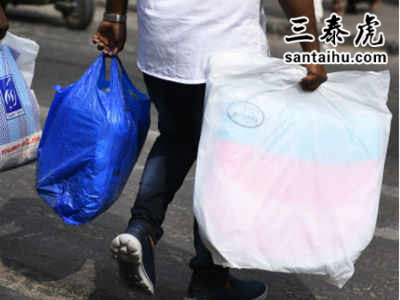 These facts are stated in the Centre's latest missive to states and UTs on phasing out single-use plastic which is neither biodegradable nor recyclable.
在印度中央发送给各邦的最新公函中,要求逐步淘汰既不可生物降解也不可回收的一次性塑料。
It ned that nearly one-sixth of the total plastic waste is generated by 60 major cities, with Delhi, Chennai, Kolkata, Mumbai and Bengaluru together generating more than 50% of the total 'contribution' from these cities.
公函陈述了上述事实,近六分之一的塑料垃圾是由60个主要城市产生的,其中德里、钦奈、加尔各答、孟买和班加罗尔"贡献"了50%以上。
The Central Pollution Control Board (CPCB) had conducted a study in these 60 major cities of India. It reported that these cities everyday generate in total 4,059 tonnes of plastic waste. Extrapolating this plastic waste generation data from the cities during 2010-12, the board had last year estimated the country-wide data on plastic waste and submitted it to the ministry. It found that that 10,376 tonnes (40%) out of 25,940 tonnes of plastic waste per day remain uncollected.
中央污染控制委员会(CPCB)在这60个主要城市进行了一项研究。据报道,这些印度城市每天总生4059吨的塑料垃圾。根据这些印度城市2010-12年的塑料废物产生数据推算,委员会去年估计了全国塑料废物的数据,并将其提交给相关部门。调查发现,在每天25940吨的塑料垃圾中,仍有10376吨(40%)未被收集。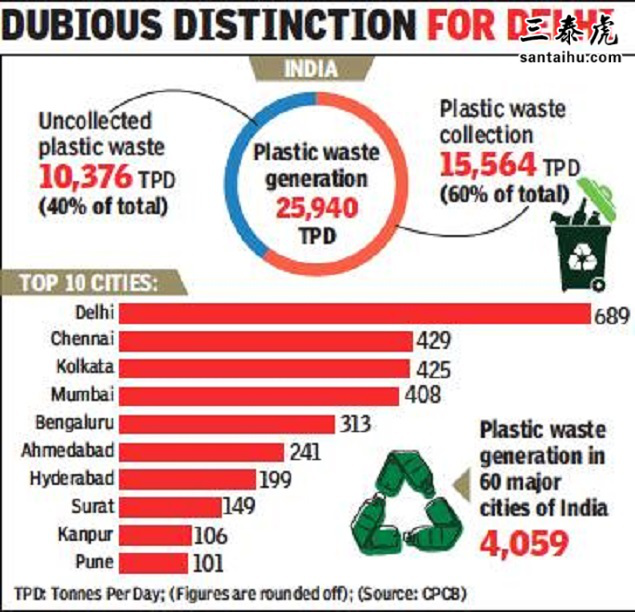 Noting the menace of uncollected plastic waste, India had last year voluntarily committed to eliminating, at least, single-use plastic by 2022.
注意到未收集的塑料垃圾的威胁,印度去年自愿承诺到2022年至少消除一次性塑料。
Union environment secretary, C K Mishra, on Monday shared standard guidelines with states and UTs, asking them for taking up and step up prohibitive actions so that the country can meet its 2022 goal on phasing out single-use plastic. The guidelines suggest different set of actions, including legal ones, which the states may take to minimise production and use of single-use plastic.
本星期一,联邦环境部长C·K·米什拉与各邦分享了标准指导方针,要求它们采取并加强禁行措施,以便实现2022年逐步淘汰一次性塑料的目标。该指导方针建议各邦采取不同的行动,包括法律行动,以尽量减少一次性塑料的生产和使用。
Asked about the move on single-use plastic, Gopal Krishna of the Toc Watch Alliance (TWA), said, "It's certainly a step in the direction, but more steps require to be taken. The campaign should not be limited to single-use plastic".
在被问及对一次性塑料采取的举措时,Toc Watch Alliance的戈帕尔·克里希纳(Gopal Krishna)表示,"这无疑是朝着正确方向迈出的一步,但还需要采取更多措施,不应局限于一次性使用塑料"
As a first major step, he said, the go nment should immediately ban "import of plastic waste". " and Mysia did it. Why can't India do it"? asked Krishna, who has been following the issue of hazardous and municipal solid waste (MSW), including plastic waste, for long.
他说,作为重要的第一步,政府应该立即禁止"进口塑料垃圾"。和马来西亚做到了,为什么印度做不到呢?克里希纳问道。他长期以来一直在关注包括塑料垃圾在内的有害垃圾及和城市固体废物问题。
印度时报读者评论:
译文来源:三泰虎 http://www.santaihu.com/46927.html 译者:Jessica.Wu
Shashi Patil - 7 hours ago -Follow
Bigger problem than 26000 tonne plastic is collection of shameless, corrupt and bhondu conggi''s & opposition...
比26000吨塑料更大的问题是集无耻、于一身的印度国大党…
MrBoobs - Right Here - 5 hours ago -Follow
This 26000 tonne plastic waste problem is still smaller than 1 Pappu problem.
两万六千吨的塑料垃圾的问题还没一个拉胡尔的问题严重。
PakisareHomosandSuck - Kalooooo Gandu Pakistan - 6 hours ago -Follow
Do it. Dont talk. is doing a lot of good things that are worth following.
少说话,多做事。有很多事都值得效仿。
gp Dutt - USA - 5 hours ago -Follow
Make it mandatory for the shopkeeper to charge the customer for Plastic bags. It will reduce the wastage and consumer will prefer to reuse the bags.
强制规定店主向顾客收取塑料袋的费用。这将减少浪费,消费者也会更倾向于重复使用塑料袋。
shilpy shilpy - onthescene - 10 hours ago -Follow
i am surprised no plastic plants in india has bothered to recycle plastic waste generated within india although they import a lot of american plastic waste.
我很惊讶的是,印度没有一家塑料工厂费心回收国内产生的塑料垃圾,尽管它们进口了大量美国的塑料垃圾。
Pradeep Rai - 3 hours ago -Follow
Recycling Program?
回收计划呢?
Stud Baker - 4 hours ago -Follow
Indian businesses and consumers use and discard plastic bags more casually than any other country on earth. Travelling by train one can see various colored plastic trash strewn all along the tracks. Sea, Rivers ponds drains are full of plastic trash. People are too ill mannered. Unless and until a strict law ag inst use of plastic bags is enforrced this situation would not improve.
印度企业和消费者使用和丢弃塑料袋的频率比世界上任何国家都要高。乘火车出行,你会看到各种颜色的塑料垃圾散落在铁轨上。大海、河流、池塘、排水沟里都是塑料垃圾。人们太没教养了,除非有严格的法律禁止使用塑料袋,否则这种情况不会得到改善。
Bharath Reddy - 1 hour ago -Follow
The Indian attitude is to keep your own house clean and throw the garbage on your neighbours side.
印度人的心态是只要保持自己的房子干净整洁,垃圾可以扔到邻居那边。
Whadafa - Here - 5 hours ago -Follow
The real solution is education: educate people to reuse (as much as possible) and dispose of it correctly. Hard solution, but apart from total ban on it, the only solution.
真正的解决方案是教育:教育人们重复使用(尽可能多次使用)并正确处理塑料袋。虽然很难执行,但是别无他法。
Bharat Darshan - Delhi - 6 hours ago -Follow
Ban non recyclable plastics completely... go back to good old way of using paper bags, cloth bags etc. We really don''t require plastic but then Reliance, as a largest producer of PVC, will be out of business in no time
彻底禁止不可回收的塑料……我们真的不需要塑料,信实作为最大的PVC生产商,很快将会倒闭。
Bharath Reddy - 1 hour ago -Follow
Indians have freat family sense but no civic sense.
印度人有家庭观念,但没有公民意识。
Om Prakash - Ludhiana, Punjab, India - 2 hours ago -Follow
production of single use plastic items should be stopped immediately.
应立即停止一次性塑料制品的生产。
Ravi - 1 hour ago -Follow
Make it compulsory to mix it with tar in construction of new roads. Easy way to dispose it off and better quality roads too
在修建新公路时,把塑料拉结和沥青混合。这种处理方式很简单,修出来的路质量也更好。
Kumar - Toronto - 1 hour ago -Follow
Many Indian people are lazy to carry a jute bag to buy vegetables. They don't care about environment. Also Gt. should ban all polythene companies.
许多印度人懒得提麻袋去买蔬菜,印度人不关心环境。政府应该禁止所有的聚乙烯公司。
Madan Mohan Siddhanthi - Mumbai - 1 hour ago -Follow
Con trate how to dispose it judiciously - I have seen it is so much used in US/Canada and don''t they have problem
集中精力明智地处理塑料辣椒酱问题,我看到美国/加拿大和使用的塑料袋也很多
Ganguman Ganguman - 2 hours ago -Follow
Humans are more bad than AIDS vir s
人类比艾滋病病毒还更可怕
Nitin Chalke - 2 hours ago -Follow
Why do we care?? We have bigger problems about getting reservation for every community, re gious issue, regionalism etc. Enviornmental care - What the hell is that???? :(
我们为什么要关心这个问题?我们有更迫切的问题要处理,为每个社区争取预留名额,问题,地区主义等等
Sonny V - Bangalore, India - 3 hours ago -Follow
Please ban plastic in the country. Unless we take tough measures you can''t promise better living conditions
请在国内禁止使用塑料。除非我们采取强硬措施,否则不能保证舒适的生活条件。
Shinto James - Location - 5 hours ago -Follow
Nobody cares this.....what a shame..we r going with cow po itics....swatch bharath
没有人关心这个,真遗憾……我们要搞奶牛…
Narendra - HINDUstan - 9 mins ago -Follow
I request all to use paper or cloth bags.
Always keep a cloth bag in your bag.
我呼吁所有人使用纸袋或布袋。
在包里放一个布袋。
bullaraam - Bulla Nagar - 1 hour ago -Follow
Much bigger problem to the nation is the RSS PIIIGS trying to break the unity of INDIA, kick them out
对印度来说,更大的问题是民族志工组织试图破坏印度的统一,把他们赶出去。
Anthony - Bangalore - 1 hour ago -Follow
This is a serious problem one day we will not able to dispose the waste.
这是一个严重的问题,总有一天我们会垃圾堆成山,处理不过来
Anthony - Bangalore - 1 hour ago -Follow
Gt Executives are responsible to find the solution using the resorces like our scientific community , universities and involving private players.
政府管理人员有责任利用我们的科研机构、大学和私营企业等资源找到解决方案。
K Gopkrishna - 2 hours ago -Follow
Go nment and people should come up with a long term solution for this menace . Cooperation from all is needed .
印度政府和人民应该为这一威胁找到一个长期的解决方案,这需要各方的合作。
Desmond Harris - Sydney Australia - 2 hours ago -Follow
Australia has a much smaller plastic waste problem but is banning plastic shop bags.
澳大利亚的塑料垃圾问题要轻微得多,该国正在禁止购物使用塑料袋。