Asia's richest man to take on Amazon boss Jeff Bezos in India's booming e-commerce sector
亚洲首富将在印度蓬勃发展的电商领域与亚马逊老板杰夫•贝索斯较量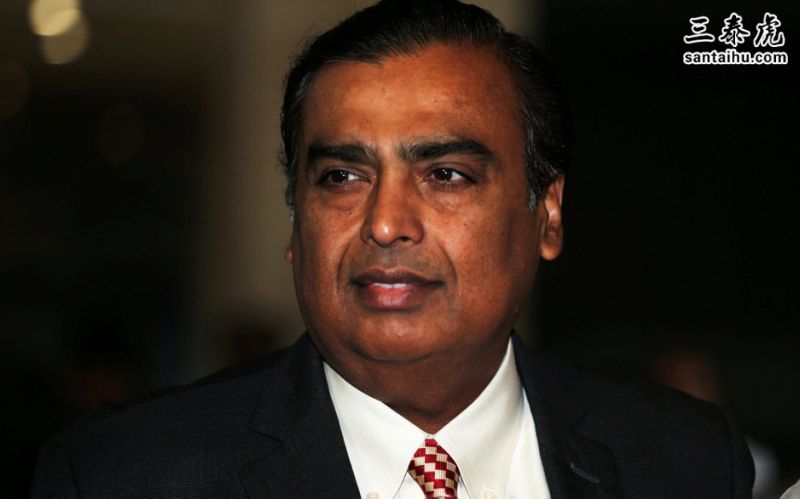 Mukesh Ambani, Asia's richest man, is set to take on Amazon's Jeff Bezos in India as the billionaire magnate launches his own rival e-commerce venture in the world's second most populous country.
亚洲首富穆凯什•安巴尼将在印度挑战亚马逊的杰夫•贝索斯,这位亿万富翁将在这个全球第二大人口国家推出自己的电商企业。
Reliance Industries, the Mumbai-headquartered conglomerate owned by Mr Ambani, is drawing up plans to roll out its online shop services to 1.2m retail businesses in western India as competition to grab a share of India's fast-develo e-commerce industry intensifies.
安巴尼旗下总部位于孟买的企业集团信实工业正拟定计划,向印度西部的120万家零售企业推出在线购物服务。目前,在印度快速发展的电子商务行业,争夺市场份额的竞争加剧。
Mr Ambani, who controls a $43 billion fortune in petrochemicals, energy, telecoms and textiles, is planning a push into the e-commerce space by adopting new technologies such as augmented reality to create an "immersive shop experience" and compete with the likes of Amazon and homegrown competitor Flipkart.
安巴尼在石化、能源、电信和纺织领域拥有430亿美元的财富。他计划通过采用增强现实等新技术,进军电商领域,创造一种"沉浸式购物体验",并与亚马逊和本土竞争对手Flipkart等公司展开竞争。
The e-commerce plans from the businessman will involve the combination of his mobile network operator Jio, which has 280m subscribers, with his additional mobile phone and physical retail ventures.
安巴尼的电商计划将涉及其拥有2.8亿用户的移动网络运营商Jio及其手机和实体零售业务。
Reliance Retail, first launched in 2006, serves over 3.5m customers per week through a network of local shops, supermarkets and wholesale cash and carry outlets in more than 6500 Indian cities and towns.
信实零售于2006年成立,通过遍布6500多个印度城镇的本地商店、超市和现款自运商店,每周为350多万客户提供服务。
It currently owns over 13m square feet of retail space, though a new wave of online retail in India is taking the company into new territory.
该公司目前拥有逾1300万平方英尺的零售空间,不过一波新在线零售浪潮正将该公司带入新的领域。
The trio of Reliance Industries' businesses will combine to bring Indian merchants online.
信实工业的这三家企业将联合起来,把印度商人带到线上。
"Jio and Reliance Retail will launch a unique new commerce platform to empower and enrich our [1.2m] small retailers and shopkeepers in Gujarat," Mr Ambani said at an event on Friday.
安巴尼在上周五的一次活动中表示:"Jio和信实零售将推出一个独特的新商务平台,惠及古吉拉特邦120万小型零售商和店主。"
In India, e-commerce has seen mass adoption as smartphone penetration and improved internet connectivity through 4G networks has boosted consumer appetite beyond cities like New Delhi and Mumbai.
在印度,随着智能手机的普及,4G网络改善互联网连接,电商已被大规模采纳,这刺激了新德里和孟买等城市以外的消费者需求。
According to the India Brand Equity Foundation, a subsidiary trust of India's department of commerce, the online retail market is expected to grow to $200bn by 2026, up from $38.5bn in 2017.
根据印度商务部下属信托机构印度品牌证券基金会的数据,到2026年,印度在线零售市场规模预计将从2017年的385亿美元增至2000亿美元。
Online retail sales for 2018 are expected to rise as much as 31pc to $32.7bn, with growth being driven by more companies looking to tap into the Indian market.
预计2018年印度在线零售额将增长31%,至327亿美元,这一增长将受到更多希望进入印度市场的公司的推动。
So far, India's booming e-commerce market has largely been a duopoly between Amazon and Flipkart, a domestic rival based in the southern technology hub of Bangalore which was started by two former Amazon employees.
到目前为止,印度蓬勃发展的电商市场基本上是亚马逊和Flipkart之间的双头垄断。Flipkart总部位于印度南部科技中心班加罗尔,由两名亚马逊前雇员创办。
Wal-Mart paid a $16bn to acquire a controlling share in Flipkart last year in the biggest foreign direct investment in India's history.
去年,沃尔玛斥资160亿美元收购Flipkart的控股权,这是印度史上最大的一笔外国直接投资。
Flipkart has also received billions of dollars in funding from Softbank of Japan and Tiger Global.
Flipkart还从日本软银和Tiger Global获得了数十亿美元的融资。
Amazon, which first launched its online retail platform in India more than five years ago with a limited sion of products on offer such as books and films, has committed $5bn to its Indian operation.
亚马逊已承诺向印度业务投入50亿美元。该公司5年前首次在印度推出在线零售平台,提供的图书和电影等产品种类有限。
But the two US-controlled companies which dominate the market - Amazon and Flipkart - are facing growing pressure.
但主导市场的两家美国控股公司——亚马逊和Flipkart——正面临越来越大的压力。
With a general ion due in May, the go nment of Prime Minister Narendra Modi recently unveiled new rules designed to prect small shopkeepers from online competition by restricting the level of discounting which the online giants can offer customers.
随着5月大选的临近,印度总理纳伦德拉•莫迪领导的政府最近公布了新规,旨在通过限制在线巨头向消费者提供的折扣,保护小商户免受在线购物的影响。
Mr Ambani sought to harness concerns that India should support the emergence of domestic champions in e-commerce.
"Today, we have to collectively launch a new movement ag inst data colonisation. For India to succeed in this data-driven revolution, we will have to migrate the control and ownership of Indian data back to India - in other words, Indian wealth back to every Indian," he said.
安巴尼试图利用"印度应该支持国内电商领军企业的崛起"这一趋势,他表示:"今天,我们必须共同发起一场反对数据殖民化的新运动。为了让印度在这场数据驱动的革命中取得成功,我们必须将印度数据的控制权和所有权转移回印度——换句话说,就是把印度的财富转移回每个印度人的手中。"
Amazon is continuing to expand its Indian operation, where it is currently advertising for 660 open roles in its Bangalore office alone - the second most worldwide after Seattle.
亚马逊正继续扩大其印度业务,目前仅班加罗尔的办公室就在为660个空缺职位打广告——仅次于西雅图的全球第二大空缺职位。
The company also has 450 open positions in Hyderabad, according to media reports.
据媒体报道,该公司在海德拉巴还有450个空缺职位。
美国雅虎读者评论:
译文来源:三泰虎 http://www.santaihu.com/46907.html 译者:Jessica.Wu
外文:https://news.yahoo.com/
Crispychicken12 hours ago
What zes me about India is that that can Be cutting edge in technology and have massive zing technological cities but yet still live in a 19th century
让我惊讶的是,印度技术居然能领先,建立了大量令人惊叹的科技城,却仍然生活在19世纪。
Sevenov14 hours ago
Ambanis, both brothers, have been at the forefront of bludgeoning and exploding Indian market. What have they done for the man in the street? How much job creation have they invested in? What about the charitable institutions the super rich are supposed to support like Bill Gates and Warren Buffet? The Indian super rich build temples in their names (like the Birla temples) to impress the masses. Nothing benefits the poorest of the poor who don't even have access to clean water or toilet facilities.
安巴尼兄弟为普通人做了什么?他们在创造就业方面投入了多少?那些超级富豪应该支持慈善机构,比如比尔盖茨和沃伦巴菲特。印度超级富豪以自己的名字建造寺庙(比如Birla),以打动大众。根本没有让最穷的人受益,他们甚至喝不上干净的水,没有厕所可上。
Sunny9 hours ago
Ambani or Jack Ma fact check?
亚洲首富是安巴尼还是马云,核实一下?
r13 hours ago
Develop a better ship structure and let global customers order from Indian businesses. Similar to Chinas infrastructure in ship. With the prices in India if kept low of its locally produced items it could supersede china. in no time.
改善运输网络,类似于中国的航运基础设施,让全球客户从印度企业订货。如果印度本土产品的价格保持在较低水平,随时都能取代中国。
ASe14 hours ago
Reliance cannot compete with Amazon and Walmart. It's a reality.
信实无法与亚马逊和沃尔玛竞争,这是事实。
tl13 hours ago
3/4 of India's population can barely afford to walk across the street, let alone order something from this Amazon-lite every other month to make it even viable on the world stage. Why do other countries always have to copy American innovation and then pretend that they are more successful at it? If they are so smart, why didn't they think of the idea to begin with? Instead they copy what others have done successfully.
印度有四分之三的人口没钱逛街,更不用说每隔一个月从亚马逊订购一些东西。为什么其他国家总是要模仿美国的创新,然后假装自己在这方面更成功?如果他们这么聪明,为什么一开始就没有想到这个主意呢?相反,他们总是复制别人的成功之路。
Harry Baals2 days ago
No the people in India can spend their $5 a week paychecks shop online.
印度人每周网上购物的开支不超过5美元。
Suraci12 hours ago
Second most populous country with the most poverty level.
最穷的人口第二大国。
Da Greek14 hours ago
He should create a website similar to Amazon that sells toilets for Indians. Only 30% of the population has access to indoor plumbing.
他应该创建一个类似亚马逊的网站,向印度人卖厕所。目前,只有30%的印度人用上了室内厕所。
Oracle9 hours ago
Taking on Amazon and Bezos- Good Luck with that ten years ago would have been a good time to start
挑战亚马逊和贝索斯——十年前,如果运气好的话,那还有可能。
phoq off13 hours ago
No toilets but E commerce....ahhhh, priorities.
厕所都没有,还搞电子商务,孰轻孰重。
Junior13 hours ago
Please take out Amazon so people can shop like they use to back in the days
干掉亚马逊,人们就可以像过去那样购物
Darren7 hours ago
Build some toilets, give rural people ricity, water and education.
还不如建一些厕所,给农村人民供电、供水。
Richard12 hours ago
Maybe India should build more toilets for its citizens before it realistically competes with the big boys like America and China.
在与美国和中国这样的大国竞争之前,印度应该为其公民多建些厕所。
J John4 hours ago
Article should say Bezos and his ex wife since she now own half of Bezos shares of Amazon
应该说是和贝索斯及其前妻较量,毕竟她现在拥有亚马逊一半的股份。
Paul13 hours ago
Hope they put Amazon out of business in India.
希望他们能让亚马逊在印度破产。
Joseph B7 hours ago
Good they can buy their child brides online now;)
很好,他们现在可以在网上买童养媳了
Captain Downer13 hours ago
Maybe they can start selling toilets in India.
也许他们可以开始在印度卖厕所。
Sean Derrick6 hours ago
Big difference in Indian and China markets collared compared to here in the USA is they won't let a foreign company suceed
与美国市场相比,印度和中国市场的最大不同在于,他们不会让外国公司成功。
kane11 hours ago
this guy owns the largest curry chain restaurant in India. now he is planning to sell his recipe online..
这个家伙拥有印度最大的咖喱连锁餐厅,现在他打算在网上兜售。
Jim9 hours ago
India will always be too corrupt to amount to much on the world stage.
印度太了,在世界舞台上不会有太大作为。
John12 hours ago
If you are sa foreigner doing business in India, the Indian go nment will regulate/tax you out of business as soon as there is a single Indian business competing with you.
如果你是在印度做生意的外国人,一旦有一家印度企业与你竞争,印度政府就会对你实行管制或征税。
anthony6 hours ago
Good timing since Bezos is about to get ripped off in divorce court.
这是个好时机,因为贝索斯即将在离婚法庭上被敲诈。
Randy12 seconds ago
One word, "toilets"
一个词,"厕所"
Nat Clean Coal4 hours ago
Trust me, Bezos isn't losing any sleep.
相信我,贝索斯不会为此担心得睡不着觉的。
Junie B2 hours ago
It's almost sad to know Asia's richest man is from India while most of the people in the country are poor without clean water.
悲哀的是,亚洲最富有的人来自印度,但这个国家的大多数人都很穷,喝不上干净的水。
JD9 hours ago
India, and specially the men, treat women as cattle. Until this changes, I won't be buying a single item from them.
印度人,尤其是男人,把女人当作牲口。在这一情况改变之前,我不会买印度货。
Sub Tech6 hours ago
you know who is the richest man in the world? the man with the best HEALTH
你知道谁是世界上最富有的人吗?身体最好的人
Anonymous8 hours ago
Who cares about India??
谁在乎印度?
Peru9 hours ago
no wonder they don't want zon selling their own products. lol
难怪他们不希望亚马逊销售自己的产品。哈哈
Richard12 hours ago
India is the joke of "major powers".
印度是"大国"的笑柄。
Randy10 minutes ago
Toilets.... build toilets please
还是修厕所吧
A8 hours ago
YUP, it's a matter of time when Amazon will lose market somewhere because of competition.
亚马逊迟早会因为竞争而失去市场。