Why do Indian brides enter the bedroom with a glass of milk for the groom on the day of consummation ?
为什么印度新娘在婚礼当天会带一杯牛奶进卧室给新郎?
QUORA网站读者评论:
Dinesh Reddy, Any day spent with family is always better than staying alone
Nervous ho kya ?(are you nervous?)
Its an indian thingie were the room is decorated with flowers and the bed with rose petals, lots and lots of fruits beside the bed.
When I was a kid I used to think they would eat all those fruits, sweets and quench their thirst with milk and sleep.
You see we didn't have sex-ed classes, neither I saw any pornographic films to understand how babies were born. I used to think all the homa(ritual) and the havan kund (sacrificial fire) was done to get a baby.
Let me come to 'why the hell milk' part. Imagine yourself as a bride walking inside a room filled with the smell of rose and Jasmine and a stranger 'the bridegroom' now husband, waiting to rip your clothes apart and satisfy his desire to have coetus with you, how would you feel?.
Won't feel nervous? Won't you be shaking like a vibrator?
你紧张吗?
这是印度特有的,房间里摆放着花,床上撒着玫瑰花瓣,床边放着很多水果。
当我还是个孩子的时候,我以为他们会吃掉所有的水果、糖果,用牛奶解渴,然后才睡觉。
你们知道的,我们没有接受过性教育课,我也没有看过色情电影来揣摩婴儿是怎么出生的。我曾经认为做完所有的仪式和祭祀之火,就能得到一个孩子。
让我来说说"为什么要喝牛奶"。想象一下,你是一位新娘,走进一间充满玫瑰和茉莉花香味的房间,一位陌生的"新郎",现在的丈夫,正等着剥掉你的衣服,满足他的欲望,你会怎么想?
不会感到紧张吗?不会像振动器一样颤抖不已吗?
译文来源:三泰虎 http://www.santaihu.com/46884.html 译者:Joyceliu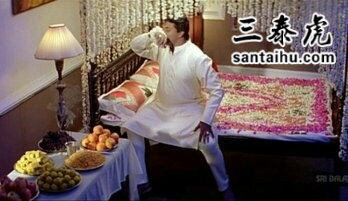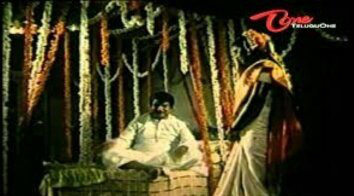 Do you want your husband to notice your hands trembling in fear, nervousness or maybe excitement.
So to avoid getting caught with a shaky hand and feeling embarrassed about it they hand you a glass of milk, which can also be replaced with a glass of Gatorade to improve your husband performance and be more active or a glass of poison if you don't like your husband.
The choice is clearly yours(no poison please)
Remember there are other alternative for milk like Vaseline or any petroleum jelly, redbull, a camera if you are a selfie freak and post in Facebook(slee with xXxX and 49 others)
No offense people just kidding.
你希望你的丈夫注意到你的手在恐惧、紧张或兴奋中颤抖吗?
为了不让人发现自己颤抖的手,觉得尴尬,她们会递给你一杯牛奶,也可以换成一杯佳得乐来提高丈夫的性趣,让他更有性致,如果你不喜欢你的丈夫,也可以给他一杯毒药。
很显然,选择在你手上(请不要下毒)
你还可以用其他东西代替牛奶,比如凡士林、油,红牛,如果你是个自拍狂,还可以用相机,在Facebook上发帖(和xXxX和另外49个人共眠)。
无意冒犯,只是开个玩笑。
Geetanjali Shivanand, I have a bow and arrow, also the will to use them.
Hollycow.
Milk is auspicious to Indians. Milk has an important role in most of the Hindu rituals. For example during house warming milk is boiled on a new stove and caused to overflow from the pot. Milk is also used for ritual purification (Abhishek).
Milk was included in other rituals like
Annaprashana and in Antyesti (But not widely seen now).
印度神牛。
牛奶对印度人来说是吉利的东西。牛奶在大多数印度教的仪式中扮演着重要的角色。例如,在乔迁庆宴期间,会把牛奶放在新炉子上煮,让煮沸的牛奶从锅里溢出。牛奶也被用于仪式净化。
其他仪式也会用到牛奶,比如
安那普拉什纳和安提耶什蒂(但现在不太常见)。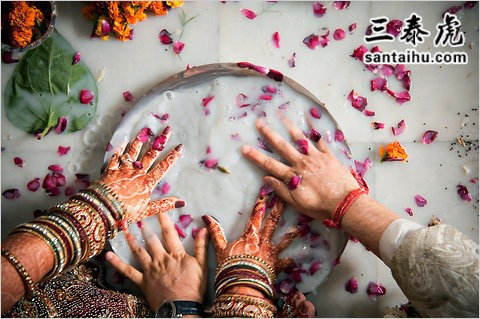 In short, milk is consider as auspicious. It symbolizes wealth.
As we know Ancient Indians were farmers. They gave lot of importance to cattle farming since it gives a wide range of products varying from cow dung to ghee. These things were considered as auspicious because it had an important role in their daily life. They could relay on milk and related products to survive for a long time. So cattle became the symbol of the wealth during the ancient times, so that the milk, the major product.
So when the bride enter the bedroom with milk in her hand, it symbolizes the wealth, a good fortune she brings to one's life.
This also showcase the sweetness of the upcoming life. As the bride and groom said after the "Saptapadi"
"May the night be honey-sweet for us. May the morning be honey-sweet for us. May the earth be honey-sweet for us. May the heavens be honey-sweet for us. May the plants be honey-sweet for us. May the sun be all honey for us. May the cows yield us honey-sweet milk."
总之,牛奶被认为是吉祥物,象征着财富。
我们知道古代印度人是农民。他们非常重视养牛,因为牛能提供从牛粪到酥油各种各样的产品。这些东西被认为是吉祥的,因为牛在人们的日常生活中扮演着重要的角色。它们可以靠着牛奶和奶制品活很久。所以在古代,牛成为了财富的象征,牛奶作为主要的产品,也一样。
因此,当新娘端着牛奶走进卧室时,这就象征着财富,象征着她给一个人的生活带来好运。
这也寓意着即将到来的生活的甜蜜。就像新郎新娘在"七步礼"之后说的一样。
"愿这一夜对我们来说甜甜蜜蜜。愿清晨对我们来说甜甜蜜蜜。愿大地对我们来说甜甜蜜蜜。愿上天对我们来说甜甜蜜蜜。愿这些植物对我们来说甜甜蜜蜜。愿太阳对我们来说甜甜蜜蜜。愿母牛给我们产甜甜蜜蜜的牛奶。"
Shashank Singhal, Deep Hidden secret
Hinduism considered as the oldest of all re gions in the world is estimated to have come to practice around 3000 BC back. Our Most of the Indian traditions have a deep secret meanings.
SCIENCE behind serving milk on Suhagraat(Wedding night):
According to Ayurveda, milk is considered an important part of the diet. Milk is a good vrishya (aphrodisiac), which means it strengthens the shukra dhatu (reproductive tissue).
Among the eight types of milk mentioned in Ayurveda, cow's milk is said to be the best. Cow's milk is rejuvenating and strengthens the various tissues, improves memory, and boosts immunity. It is easily digested and absorbed in the body that's why it is served at night.
印度教被视为世界上最古老的宗教,据估计在公元前3000年左右就出现了。我们大多数的印度传统都有很深的秘密含义。
在新婚之夜上端上牛奶的科学依据:
根据阿育吠陀,牛奶被认为是饮食的重要组成部分。牛奶是一剂很好的催情剂,意味着它可以增强生殖器。
在《阿育吠陀》中提到的八种奶中,牛奶被视为最好的。牛奶能使各种组织器官恢复活力,增强记忆力,增强免疫力。牛奶很容易被身体消化、吸收,这就是为什么要在晚上服用牛奶的原因。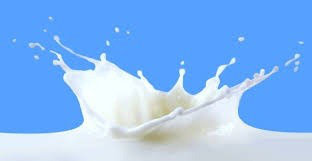 The base of all Ayurveda recipes
Texts of Ayurveda have recommended many simple milk recipes for men to increase their ability to be sexually active. There are many herbs like kesar, shilajit etc that are added to milk to make it more beneficial. Milk acts as a vehicle and helps these herbs to reach tissues of male reproductive sy em. Thus the total male reproductive sy em gets rejuvenated and doshas get bnced. Regular consumption of such preparations also help men to get young looks and stay healthy. It increases libido, low sperm count and motility.
所有阿育吠陀食谱的基础
阿育吠陀的经文推荐了许多简单的牛奶配方,可以提高男性的性能力。有许多草药,如凯萨,士拉吉特等,被添加到牛奶中,提高效力。牛奶作为一剂引子,让这些草药的效力能作用到男性生殖系统。因此,整个男性生殖系统得到恢复,能量得到平衡。定期食用这种制剂也有助于男性保持年轻的外表和身体的健康。它能提高性欲,治疗精子数量少、运动能力弱等。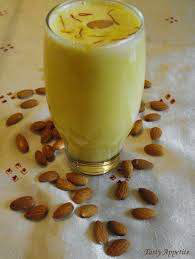 Think of this chain reaction: milk and almonds both give you prein; prein is needed for making hormones (testosterone) and these two hormones means better sex.
看看这个链式反应:牛奶和杏仁都能提供蛋白质;蛋白质是制造激素(睾丸激素)所必需的,这两种激素意味着性生活更加和谐。
Apoorva Gupta, PGDM from T A Pai Management Institute, Manipal (2012)
Thanks for A2A.
I am not really sure why this tradition ests but we personally never followed this and nor have I seen anyone in my close relatives /friends follow this but I feel this was probably derived from the habit of drinking milk before going to bed so as to have a peaceful sleep after a long hectic day.
Also on the day of your marriage you are generally are so occupied and caught up, that there are high chances you did not have your meals properly so it may also be the reason behind this tradition to at least sleep on a full stomach rather than feel hungry and have a disturbed sleep. Milk is very filling and generally satisfying to have before going to sleep.
It is bcos generally the milk has saffron added to it. Saffron , sugar n milk the whole combination work as an aphrodisiac

我不确定为什么会有这个传统,但我们不会遵从这个传统,我也没见过我有哪个亲人/朋友遵从这个传统。但我觉得这可能是源于在忙了一个白天后,睡前喝点牛奶,睡个安稳觉的习惯。
还有,婚礼当天,你基本上会忙得脚不着地,一刻不得闲,很有可能没办法好好好吃饭,可能也成为这一传统背后的原因,至少能吃饱了再睡,不会饿着肚子、睡不安稳。牛奶很有饱腹感,睡觉前喝牛奶通常会让人感到很舒服。
因为人们通常会在牛奶中加入藏红花。藏红花、糖和牛奶加在一起,就是壮阳剂。
Gouri.S. Nair, Eldest girl of my family. Love to be with my family forever.
Such customs are practised only on Screen, which is considered as vital for the First night.
I am from South India(Ker) and I haven't witnessed this custom till date. Both my brothers got married and none of my sister in laws entered into bedroom with a glass of milk or with full jewelry or wearing silk saree. They were in their night clothes.
I believe,there might have been such customs in the past, and the logic behind this may be, after a Big fat white wedding, both the bride an the groom will be exhausted and having a glass of milk before going to bed helps them fall asleep faster.
这样的习俗只能在银幕上看到,被视为新婚头夜很重要的事。
我来自印度南部(喀拉拉邦),到目前为止我还没有见过这个习俗。我的两个兄弟都结婚了,我的姐夫里也没有人端着牛奶、戴着整套珠宝或穿着丝绸纱丽走进卧室。他们身上都只穿着睡衣。
我相信,过去可能有过这样的习俗,这背后的逻辑可能是,在盛大的白色婚礼后,新娘和新郎都筋疲力尽,睡前喝杯牛奶会让他们快点入睡。
A single glass of milk is shared by both the husband and the wife. Husband drinks the milk first and then offers it to his wife, to ensure that she is his better half and they are on a journey where they have to share all their joys and sorrows together.Drinking from a single glass of milk symbolizes love and trust between husband and wife.
After all "Sharing is Caring"
丈夫和妻子共饮一杯牛奶。丈夫先喝,然后把杯子递给妻子,表示说她是他的另一半,他们成了同路人,他们必须一起分享所有的欢乐和悲伤。共喝一杯牛奶象征着夫妻之间的爱意和信任。
毕竟"分享就是关心"
Sai Maheswaran, B.Tech Chemical Engineering, Amrita University (2017)
Milk plays an important role in Hindu rituals. It is considered to be a purifying agent and is used at the begng of a number of rituals. As the bride and groom begin a conjugal life, milk marks the begng of it. The act of consumption is seen as a mark of purification.
Milk helps in diminishing the body warm that ascent while having sexual intercourse. In specific parts of the nation, the couple is approached to have milk ordinary for the initial couple of months.
The milk commonly served to newly weds contains spices like saffron,turmeric, sugar, pepper, almonds and fennel seeds or saunf. All of which are boiled in milk and served warm.A glass of milk is, hence also seen as a symbol of wealth and good fortune that the bride brings to the groom's life.
牛奶在印度教的仪式中扮演着重要的角色。它被认为是一种净化剂,在某些仪式开始时会用到牛奶。当新娘和新郎开始婚姻生活时,牛奶标志着新婚生活的开始。牛奶的使用被视为一种净化标志。
夫妻性生活时牛奶有助于降低身体上升的热度。在印度某些地区,在婚后头几个月,人们会让新婚夫妇饮用牛奶。
新婚夫妇喝的牛奶中会加入藏红花、姜黄、糖、胡椒、杏仁和茴香籽等香料。所有这些都是在牛奶中煮热后饮用。这杯牛奶,因此也被视为新娘给新郎的生活带来财富和好运的象征。
Vineet Chawla, Encrypted with awesomeness
Only one reason for this: To have better sex. No other reason.
This is a Hindu tradition, which according to me, should be followed by everyone. Hardly anyone follows it now, but there is a scientific reason behind this.
On the wedding night, the newlyweds are traditionally given a glass of milk to which crushed almond and pepper has been mixed to enhance the first night experience. Other aphrodisiac decoctions from the K Sutra include fresh fennel juice with milk as well as adding honey, licorice and sugar to milk.
Almond is considered a natural aphrodisiac. The benefits of that on the first night are obvious I suppose. It's a hindu tradition.
This tradition should be brought back. It's beneficial for everyone, newlyweds as well as their parents who long to play with their grandchildren as soon as possible.
原因只有一个:为了享受更美妙的性生活。没有其他的原因。
这是印度教的传统,在我看来,每个人都应该遵守。现在几乎没有人关注了,但这背后有一个科学的原因。
在新婚之夜,新婚夫妇通常会喝杯牛奶,牛奶中加入碎杏仁和胡椒,让新婚之夜更美好。《印度爱经》中还有其他壮阳汤剂,比如把鲜嫩的茴香汁加入牛奶中,辅以蜂蜜、甘草和糖。
杏仁被认为是种天然的催情剂。这对新婚初夜的好处是显而易见的。这是印度教的传统。
这种传统应该恢复。这对每个人都有好处,新婚夫妇和他们的父母都希望尽快能和他们的孙子孙女们享受天伦之乐。
Anonymous
It's in the culture, and originates from the K Sutra.
The treatise talks about aspects of sex in the life of woman and a man. It talks about courtesans, marriages, tantra in sex, potions for love making, and much more. Without going into much detail on unrelated items, let me post a few pictures. I have cropped any graphical depiction of intercourse from the miniature paintings.
这是印度文化的一部分,起源于《印度爱经》。
这本书论述了男女生活中关于性的方方面面。它谈到交际花、婚姻、坦陀罗的性、催情剂等等。在不深入讨论无关细节的情况下,我发布几张照片吧。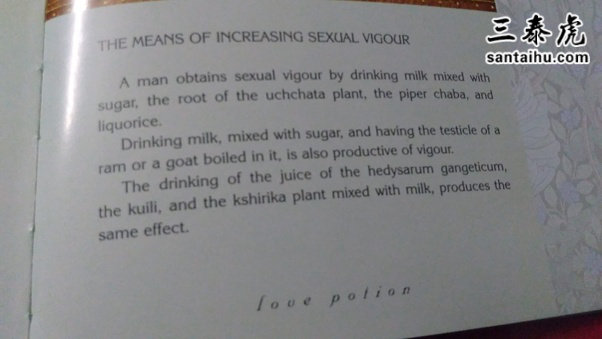 This is from the section of love potions. The treatise talks about milk+sugar+testicle of a goat. But, my assumption is that, especially in the Hindus who don't consume non-vegetarian food due to re gious reasons, the testicle of the goat was omitted.
这是关于催情剂的部分。爱经中写的是奶+糖+山羊睾丸。但是我猜,对那些由于宗教原因不吃非素食的印度教徒,山羊的睾丸是不行的。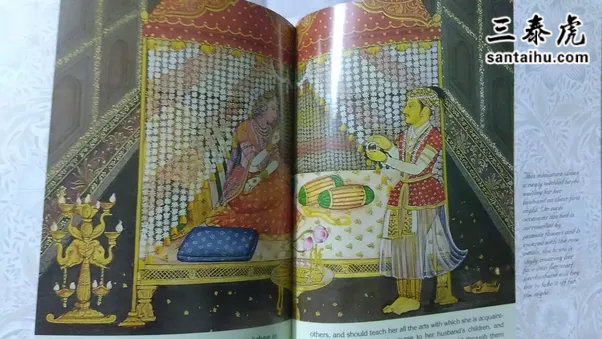 This image is clicked from the chapter on marriages, and the side ne is given in the image below
这张图片是关于婚姻的章节中的,下面的图片是边注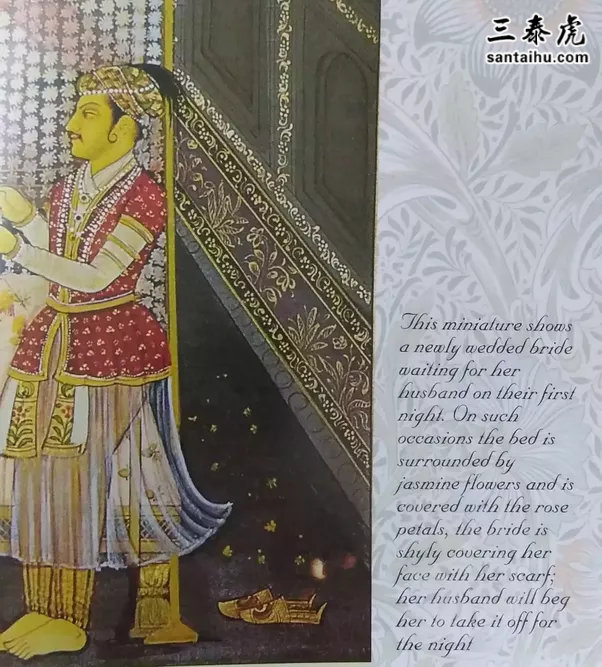 You can also see that the treatise mentions specifically how the bed should be decorated. In a different section, the importance of perfumes to lure the partner is given.
This has been imbibed in the culture since centuries and still being followed. Although, our primary rendezvous with this happens primarily from our Bollywood movies and we believe it to be a TODO item after every marriage, the actual reason WHY, remains hidden somewhere in the pages of KSutra.
NB: Going anonymous because my family and friends don't know that I have ever purchased a copy of K Sutra out of curiosity. That would be too much leg-pulling to handle. Ahem!
你也可以看到书中特别讲了床该如何装饰。在别的章节中,还提到了香水对挑逗另一半性趣的重要性。
几个世纪以来,这种观念一直灌输在我们的文化中,至今仍在延续。虽然,我们主要在宝莱坞电影中能看到这一场景,我们相信这是每段婚姻后的必做之事,真正的原因,仍然隐藏在《印度爱经》中。
注:匿名是因为我的家人和朋友都不知道我曾经出于好奇买过一本《印度爱经》。这可是件麻烦事。嗯哼!
Jagdish Singh
…… Simple …… because a bride is not sent empty hand into the matrimonial room to meet her husband for the first time .. Well …… used to be first time ……but now …… it can be said ……. revisiting or follow up visit .. Because many couples have had many rehearsals of first nights minus the glass of milk before getting offi ally married .. Even after the many rehearsals ……. doesn't matter with the same partner or different …… tradition has to be followed and kept alive ..
很简单,因为新娘不会空着手走进婚房,第一次去见她的丈夫……好吧,以前是第一次……但是现在……可以说……说是再次见面吧。因为很多夫妻在正式结婚前,除了喝杯牛奶外,还会进行很多次初夜的彩排。即使经过多次排练……无论另一半是同一人还是不同人,我们都要遵循并坚守传统。
Anonymous
Generally the milk that is given to the groom by the bride has haldi (turmeric) or kesar (saffron) mixed in it.
Both these ingredients are known to be aphrodisiacs.
An aphrodisiac is a substance that increases sexual desire on consumption.
通常,新娘给新郎的牛奶中会加入姜黄或藏红花。
这两种东西都是催情剂。
催情剂是一种物质,能增加人的性欲。
Ronit Dey, Instagram Media Enterpreneur
According to Indian rituals and customs, milk and milk products always has been considered as auspicious and pure before starting a good task or life.Here, milk is used for such a cause beacuse it is also said that by sharing the glass of milk both girl and the guy promises to share all their sorrow and hapess till the end of the life.Many old wives tale say that serving milk on the wedding night is considered auspicious and marks the begng of something pure. It is an age-old tradition to decorate couple's room with fresh fragrant, flowers for their first night or suhagraat. The fragrant flowers leave an aphrodisiac effect on the couple. It's a beautiful way of blessing the newly wedded to begin the new chapter in their life together.
根据印度的仪式和习俗,在开始执行好任务之前,牛奶和奶制品一直被认为是吉祥和纯洁的。在印度,牛奶被这么用就是因为共饮一杯牛奶后,女孩和男孩就立誓分享所有的悲伤和幸福,直到生命的尽头。许多老妇人说,新婚之夜喝牛奶是吉祥的事,标志着纯洁的开始。在新婚之夜用鲜花装饰新人的房间是一个古老的传统。芳香的花朵为这对夫妇提供了催情剂的效果。这是祝福新婚夫妇开始生活新篇章的美好方式。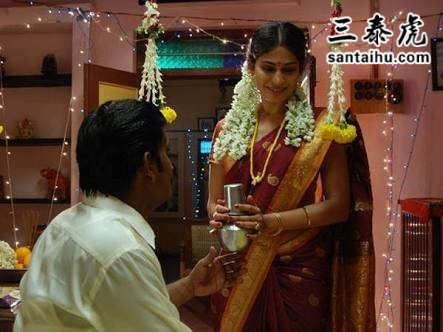 Scientifically, its proven that :
1.Replenish their loss of energy after long tiring wedding rituals.
2.Milk gives an enery boost for a better sex time increasing the sperm count.
3.Drinking a glass of milk can helps to maintain a steady sexual drive.
4.Vitamin A in milk helps to boost up the sex hormones both testosterone and oestrogen and these two hormones support better sex.
5.Milk is a considered as aphrodisiac; i.e. it strengthens the reproductive tissue. It is vitalizing for re-productivity.
科学证明:
1.能补充他们在冗长疲惫的婚礼仪式后失去的能量。
2.牛奶能大大延长性生活时间,增加精子数量。
3.喝一杯牛奶可以帮助保持稳定的性欲。
4.牛奶中的维生素A有助于提高睾丸激素和雌激素这两种性激素,有助于更好的性生活。
5.牛奶被认为是催情剂;比如增强生殖器。能使生育能力恢复活力。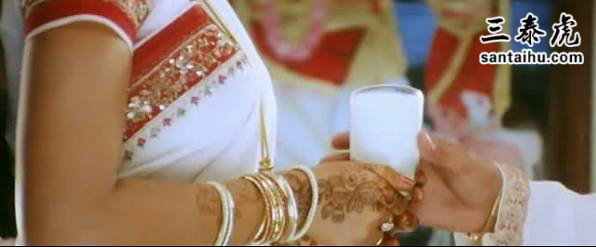 In other words, it simply help them to perform better in their first night.
换句话说,这只是为了让他们的新婚初夜更圆满。
Arunn Bhagavathula,
Its an ages old Indian tradition, the original reasons are no longer clear!
1.Crushed almonds, pepper, fennel and/or other spices are added to the warm milk which is supposed to energize the bride and the groom after the tiring marriage rituals
2.The milk mixed with the spices is also supposed to be an aphrodisiac
3.Groom is supposed to drink half the glass of milk and offer the bnce to the bride! Perhaps its symbolism for both of them "sharing" their life from then onward.
4.India being an agrarian society, milk played a major role in all its festivals, re gious ceremonies! And this could also be one of the reasons.
5.There are other scientific reasons for offering milk which can be googled!
这是一个古老的印度传统,最初的原因已经不清楚了!
1.碎杏仁、胡椒、茴香和/或其他香料加入温暖的牛奶,可以让新娘和新郎在累人的婚礼仪式后补充能量
2.加了香料的牛奶也被认为是种催情剂
3.新郎应该喝掉半杯牛奶,把剩下的给新娘喝!也许这就象征着他们俩从此要"分享"各自的生活。
4.印度是个农业社会,牛奶在所有的节日和宗教仪式中都扮演着重要的角色!这可能也是原因之一。
5.可能还有其他科学原因,可以谷歌搜索一下!
Sristi Shukla, " I am the best daughter"
If it's a negative role woman, milk can be mixed with poison. Suddenly glass get slipped from her hand and a cat come in room somehow, she taste it and dead.
Yes.. It happens in serials only. No bride come with milk glass in hand I guess. These things happen in movies or serials only. In real life no one do it.
And normally so many unmarried people use to drink milk in night before sleep, I am going to get it. It is full of preins and vitamins. Good for health as well as for brain. So the concept of Indian bride with milk glass is out of my thoughts
如果是个坏女人,牛奶里可能会掺有毒药。杯子突然从她手中滑落,一只猫不知怎么地进来了,尝了尝后,就死翘翘了。
是的. .只有电视剧才敢这么演。我想没有新娘会手里端着牛奶杯子进婚房。这些事情只会发生在电影或连续剧中。现实生活中没有人会这么做。
很多未婚的人会在睡前喝牛奶,我马上就要去喝上一杯。牛奶富含蛋白质和维生素。对大脑和健康都有好处。所以印度新娘端着牛奶杯,不是我能想象的了的。
Sanuj,
I think its a clever idea made simpally to "Break the ice" .During earlier times the Bride and Groom could see each other only during the first night.And even if they have seen each other ....offering milk acted as conversation starter.
I cant understand the relationship btw milk and sex though cheez then i dont think i will give milk to teenagers.I think its best to avoid it on "the" night . Coz how unpleasant would it be if either of the Bride and Groom were lactose intolerant. I mean u cant even say no to the bride when she offer u milk.The first night would be more of a gassy affair then a romatic one.
我认为这是个很聪明的主意,能很容易打破僵局。早些时候,新娘和新郎只能在新婚初夜上见面。即使他们已经见过彼此....让丈夫喝牛奶就是开始对话的话题。
我不能理解牛奶和性之间的关系,我认为我不会给青少年牛奶。我认为在"初夜"最好不要喝牛奶。因为如果新郎和新娘都有乳糖不耐症,那该有多难受。我的意思是,当新娘给你牛奶的时候,你都不能对她说个不字。初夜与其说是浪漫的夜晚,不如说屁声不断的夜晚。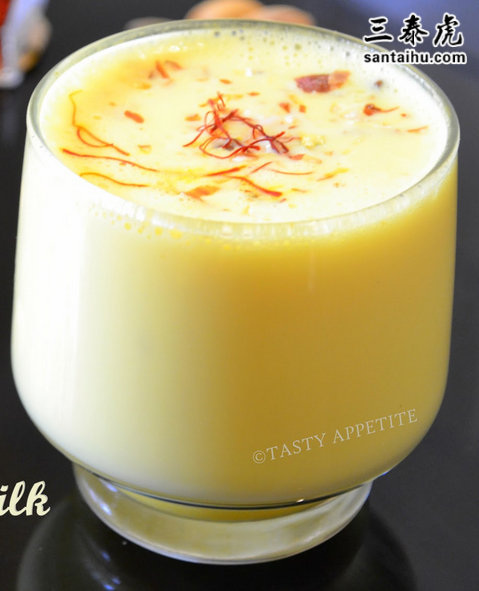 Thus the milk with haldi or kesar is given to arouse or intensify the sexual desire of the groom, since its the wedding night
因此,由于是新婚初夜,加了姜黄或藏红花的牛奶是为了唤起或加强新郎的性欲
外文链接:https://www.quora.com/Why-do-Indian-brides-enter-the-bedroom-with-a-glass-of-milk-for-the-groom-on-the-day-of-consummation