China wants 'to build a house on the Moon using 3-D printing technology' and reveals it intends to return again THIS YEAR
中国将用3D打印技术在月球建造房屋,并计划今年再次登月
China wants to be the first country to establish a base on the moon and says it will build it using 3D printing technology.
中国希望成为第一个在月球上建立基地的国家,并表示将使用3D打印技术建造。
Officials from the Chinese space agency also said the country will return to the moon by the end of the year with the Chang'e-5 mission.
中国航天局的官员还称,中国将在今年年底前发射"嫦娥五号",重返月球。
Three successive missions will further explore the barren surface and the viability of building houses there.
在"嫦娥五号"之后将再进行三次任务,将进一步探索月球表面以及在那里建造房屋的可行性。
China National Space Administration (CNSA) said they also have plans to go to Mars in 2020, a timeline that would likely make them the first to do so, beating out the US, Russia and the plethora of private firms looking to colonise space.
中国国家航天局(CNSA)表示,他们还计划在2020年登上火星,这可能会使他们成为第一个登陆火星的国家,击败美国、俄罗斯和众多希望进军太空的私营企业。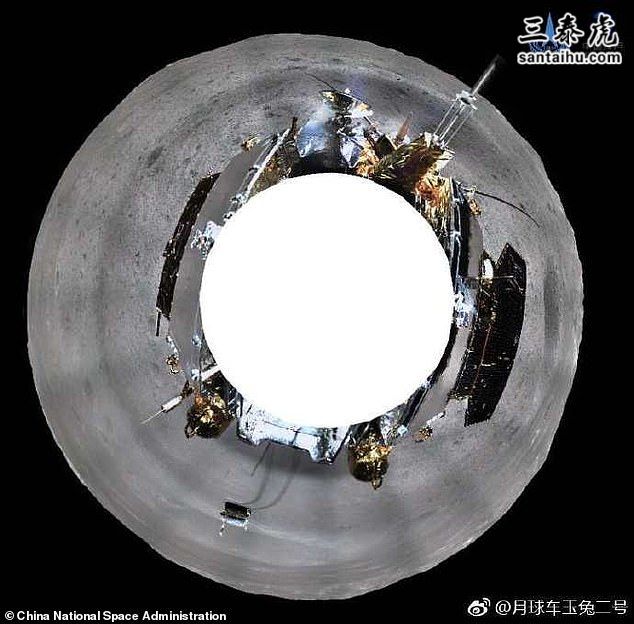 China successfully achieved a global first with its trip to the far side of the moon when it landed in the Von Kármán crater on January 4.
1月4日,"嫦娥四号"在冯·卡门撞击坑着陆,中国成功地完成了首次月球背面之旅。
Speaking at a conference earlier today, the high-ranking CNSA staff claimed the ground-breaking mission only cost the same as building one kilometer of underground railway.
在今早的一次会议上,中国国家航空航天局的高级官员称,这次突破性任务的成本仅相当于建造一公里地铁的成本。
The lander and its corresponding rover - Yutu-2 - sent back images of the equipment and the moonscape last week after the rover, called Jade Rabbit 2 in English, woke from an enforced 'nap'.
上周月球车"玉兔2号"从"休眠"中醒来后,着陆器和"玉兔2号"传回了设备和月球表面的图像。
Dr Wu Yanhua, deputy director of the National Space Administration and deputy commander of lunar exploration projects, said in a press conference: 'Chang'e-5 will return mission sampling from the surface of the moon around the end of this year.
国家航天局副局长、探月工程副总指挥吴艳华博士在新闻发布会上表示:"嫦娥五号将于今年年底左右登月,将样本带回地球。"
He added: 'Our country's first Mars exploration mission will take place before and after 2020.'
他补充称:"我国的首个火星探测任务将在2020年前后进行。"
China is swiftly establishing a reputation as one of the forerunners in the renaissance of the space race with its continued investment in both Martian and lunar missions.
随着中国在火星和月球任务上的持续投资,中国国正在迅速建立声誉,成为太空竞赛复兴的先驱之一。
After Chang'e-5 returns lunar rocks from the surface the next mission, Chang'e-6 will be the first mission to explore the south pole of the moon.
在下一次任务中,"嫦娥五号"将采集月球表面的岩石样本返回地球,之后"嫦娥六号"将进行探索月球南极的首次任务。
Chang'e-7 will study the land surface, composition, space environment in a comprehensive mission, it was claimed, while Chang'e-8 will focus on technical surface analysis.
据称,"嫦娥七号"将对地形和地貌,物理构成以及空间环境进行综合研究,而"嫦娥八号"将侧重于月面技术分析。
China, America, Russian and Europe are reportedly discussing whether to build a base station on the moon using 3D printing for example to build houses and other infrastructure.
据报道,中国、美国、俄罗斯和欧洲正在讨论是否要在月球上建立一个基地,例如使用3D打印技术建造房屋和其他基础设施。
Mission number eight will likely lay the groundwork for this as it strives to verify the technology earmarked for the project and if it is viable as a scientific base.
"嫦娥八号"任务将可能为这一工作奠定基础,它将致力于验证该项目的专用技术以及作为科学基地的可行性。
Chang'e-4's 360° lens captured the Yutu-2 - or Jade Rabbit 2 - rover in front of the grey moonscape last week.
It revealed the potholed surface and barren expanse of land inside the mysterious Von Kármán crater near the lunar south pole.
上周,"嫦娥四号" 360°的镜头捕捉到了"玉兔二号"前面的灰色月球表面,月球南极神秘的冯·卡门陨石坑凹凸不平的表面和贫瘠的广阔土地。
Pictures posted on Chinese social media also showed that Chang'e-4 and Yutu-2, took images of each other.
中国社交媒体上发布的照片也显示,"嫦娥四号"和"玉兔二号"拍下了彼此的照片。
This celestial photoshoot gives an astonishing look at the tandem of cutting-edge machinery that China is currently using to explore the previously unknown region.
照片展示了中国探索这片未知地区所使用的尖端技术。
Eternally immortalised tracks left from Yutu-2's maiden voyage away from Chang'e-4 on January 4 can also be seen snaking over the untouched surface.
1月4日,"玉兔二号"从"嫦娥四号"驶离的处女航留下了永久的痕迹,这些痕迹蜿蜒在这片处女地上。
China's co unist party has since issued a statement praising the endeavour which marks the first time the se-tive go nment has formally recognised the mission's success.
此后,中国发表了一份声明,称赞这一努力,这标志着中国首次正式承认登月成功。
China aims to catch up with Russia and the United States to become a major space power by 2030.
中国的目标是在2030年前赶上俄罗斯和美国成为太空大国。
It is planning to launch construction of its own manned space station next year and have its own lunar base by 2036.
中国计划明年发射自己的载人空间站,并在2036年前拥有自己的月球基地。
'The co-operation between the space agencies is great for science and is a case of humanity working together to understand more about the mysteries and issues of the universe.
太空机构之间的合作对科学来说是伟大的,是人类共同努力去了解宇宙奥秘和问题的一个例子。
'Possibly the best thing that could happen is another space race similar to the competition between the US and Russia in the 60s and 70s.
另一场类似于60年代和70年代美国与俄罗斯之间的太空竞赛可能是最好的结果。
'With ESA, Roscosmos and NASA all taking significant steps and the private space race between SpaceX and other firms hotting up, it could bring about a renaissance in space exploration.'
随着欧洲航天局、俄罗斯航天局和美国NASA都采取了重大举措,SpaceX与其他公司之间的私人太空竞赛也在升温,这可能会推动太空探索的复兴。

英国每日邮报读者评论:
译文来源:三泰虎 http://www.santaihu.com/46876.html 译者:Jessica.Wu
外文:https://www.dailymail.co.uk
Pienso, Atlanta, United States, 54 minutes ago
China can land on the moon, but can't build a decent car.
中国能登上月球,却造不出一辆像样的汽车。
HKer, Hong Kong, China, 4 hours ago
100 years later, China will have the first hotel and restaurant in the moon. Any nationality is welcome to this Chinese Colony if you have sufficient money.
100年后,中国将在月球上建立第一家酒店和餐厅。只要你有足够的钱,这个中国殖民地就欢迎你。
StevenJ, Cleveland Ohio, United States, 5 hours ago
It's one thing to land a rover on the moon, another to land people and to build.
把月球车送上月球是一回事,把人送上月球和建造月球基地是另一回事。
Magadude, Somewhere else, United States, 5 hours ago
Why on the far side of the moon? The views are better when you can see the Earth.
为什么要去月球背面?能看到地球的这面风景更好。
Minababy, Agoodcity, United States, 4 hours ago
It is fake that is why it is on the far side of the moon. CGI and lies.
假的,所以才说是去了月球背面,照片是电脑合成的。
HondoPX, Smallville, United States, 5 hours ago
However, as NASA found, there are zero economic rewards.
正如NASA所发现的,登月没有任何经济回报。
MonkeyBidness, New City, United States, 5 hours ago
China spends our money on technology and invest onto their future. Liberal America spends our money on illegals.
中国用我们的钱投资技术,投资于他们的未来。美国却把钱花在了非法移民身上。
Lets salahbrate, Fazakerley, United Kingdom, 7 hours ago
Once China build bases on the moon they will rule the world
一旦在月球上建立基地,中国将统治世界
Minababy, Agoodcity, United States, 4 hours ago
The moon landings were faked just like this one.
这次登月是伪造的
Jonnym4403, Southampton, France, 7 hours ago
Yeah, then it'll be a take away, then a laundry....
先开一家外卖店,再开一家干洗店。
AutoGrow, Scotland, United Kingdom, 7 hours ago
America will be very jealous
美国将会非常嫉妒
Syme1984, Wiganpier, United Kingdom, 8 hours ago
Build a house , they're Chinese, they'll build a military base, one hut at a time, then missile sites
他们会建一个军事基地,然后是导弹基地
Rarkar, Winchester, United Kingdom, 9 hours ago
Passengers on their way to Mars will be able to stop by for spring rolls and egg fried rice.
在飞往火星的途中,乘客们可以顺道去月球吃春卷和蛋炒饭。
Dalton, Chicago USA, 9 hours ago
This is a prestige/technical exercise that has no real scientific value. NASA canceled the last couple moon missions in the early 1970s for good reason - there's nothing left there to discover that's worth the risk or expense. This IS a necessary precursor to develop the infrastructure and expertise for a manned mission to Mars.
这是一种没有真正科学价值的技术练习。NASA在1970年代早期取消了最后几次登月计划,原因很充分——那里没有任何值得冒险或投资的东西。登月只是为载人火星任务发展基础设施和积累专业知识。
dovedove, manchester, United Kingdom, 10 hours ago
No.1 Moon avenue
月球第一大道
salubrious1, London, United Kingdom, 11 hours ago
But how much would the house cost though DM
建这房子要多少钱呢
salubrious1, London, United Kingdom, 11 hours ago
They are putting Nasa to shame
他们让Nasa无地自容
centerlane, ketchikan, United States, 11 hours ago
What do you bet their going to claim the moon as their's
他们会把月球据为己有
Steven, Estates at Sugarloaf Mountain, United States, 11 hours ago
the US has sat on it's ass for almost half a century doing nothing.
半个世纪以来,美国一直坐以待毙,无所作为。
Bitten1, Salisbury, United Kingdom, 12 hours ago
Let's hope China finds the site of the first moon landing so we have no more doubt it happened.
希望中国找到美国第一次登月的地点,这样我们就不会再怀疑了。
GRKM3, NY, United States, 12 hours ago
Theyll build a massive flag of China that well all have to stare at.
他们将打造一面巨大的中国国旗,让我们都看得到。
AvivaTony, Surrey, United Kingdom, 15 hours ago
At least there'll be somewhere to finally send all the imm!grants.
他们终于有个地方可以把所有移民都送过去。
billrob3002, City of Sin, United States, 15 hours ago
LOL so does this mean the moon will be a territory of China?
这是不是意味着月球将是中国的领土?
trumpster657, Californistan, United States, 15 hours ago
on the far side....where it cannot be seen or verified from earth?. got it. thanks.
为什么去背面?我明白了,背面从地球上是看不到的,也无法证实。
Candiru, corpusChristiTX, United States, 15 hours ago
they are probably studying the feasibility of building a missile base there.
他们可能正在研究在那里建立导弹基地的可行性。
Barry Soetoro, Bohemian Grove, United States, 18 hours ago
just as fake as nasa moonlanding about 40 years ago
就像40年前NASA登月一样,都是假的
Minababy, Agoodcity, United States, 4 hours ago
Moon landings 6 of them all fake...deal with it!
美国6次登月都是假的,面对现实吧!