Why are cows holy in India?
为什么牛在印度如此神圣?牛在印度教徒心中是神圣的吗?
QUORA网站读者评论:
Avinash Nkumar (Achyuta Das)
Meat eating is generally not recommended in Hinduism
In Vedic culture eating meat is considered as eating dirty food or food in tama guna. Also the karmic reactions for meat eating is very high and the subject who eats it will be elligible to be killed by the animal(soul) he had killed. Thus any serious spiritual aspirant or a man with high moral value should desist eating it.
一般而言印度教不提倡吃肉
在吠陀文化中,吃肉就等同于食用不洁或愚昧的食物。而且吃肉的业力很高,吃肉的人会被他所杀的动物(灵魂)所杀。因此,精神上有追求的人或有着高度道德观的人不应该吃肉。
Allowance to eat other animals except cow
However there are some people who do want to consume meat and cannot live without eat. So there is a provision to eat some of the animals as meat in adverse conditions. Many other animals like goat, sheep , chicken are prescribed but cow should not be consumed because of the special significance of cow.
除牛以外,其他动物可以食用
然而,有些人确实想吃肉,没有肉就活不下去。因此,就有了这么一条规定,在特定条件下,某些动物可以作为肉类食用。许多其他动物,如山羊,绵羊,鸡等都在规定之内,但不得食用母牛,因为母牛具有特殊的象征意义。
Cow only gives and is completely selfless
Cow gives milk which can be consumed by infants as well if mothers milk is not available. Thus cow is like the mother. Cow milk has all essential nutrients required for humans.
Cow produces more milk than necessary for its own kids and is Gods arrangement for nourishment of humans. Thus cow is selfless. Also cow eats grass and straw which is of no value to humans and still converts it into milk which is very valuable nutrient and can be converted into curd, ghee, butter, oil, paneer, cheese among others. It provides all fat that is required and great protein supplement also.
牛的一生只知付出给予,非常无私
如果没有母乳,婴儿也可以饮用牛奶存活。因此,牛就像母亲一般。牛奶含有人体所需的所有必需营养素。
母牛产出的奶比它自己孩子所需要的还要多,这是上帝为人类安排的营养品。所以牛是无私的。而且牛只吃草和秸秆,这些东西对人类而言毫无价值,可牛将它们转换成非常有营养价值的牛奶,还可以加工成凝乳,酥油,黄油,油,印度奶酪,奶酪以及其他食品。它提供了人类所需的所有脂肪和大量的蛋白质补充。
译文来源:三泰虎 http://www.santaihu.com/46867.html 译者:Joyceliu
The bull is used for agriculture to till the fields. In modern farms and villages bulls can also produce electricity by rotating the shaft.
Even if cow and bull become aged and are of no use they provide dung and urine which are directly useful as fertilizers and pesticides.
Dry Cow dung is natural fuel as well. Cow dung is also great source of gas which if processed can produce electricity.
Also there are medicinal value of cow urine which has been patented in countries like USA as well.
These are the properties of cow while she is alive and after her natural death leather and meat is obtained.
公牛被用于农业耕作。在现代农场和村庄里,公牛也可以通过旋转轴帮人类发电。
即使母牛和公牛老了,没用了,它们还能提供粪便和尿液,这些粪便和尿液可以直接用作肥料和杀虫剂。
干牛粪也是天然的燃料。牛粪还是天然气的重要来源,经过处理后可以发电。
牛尿的药用价值也在美国等国家注册了专利。
这些都是母牛活着时的价值,等母牛死后,人们还能获得它们的皮革和肉。
Cow is the pillar of religion or dharma
The four legs of the cow and bull are the four pillars of religious life. As long as the cow is slaughtered the four pillars of religious life are diminished. Protecting cows is protecting the four pillars of religious life. Working with the bulls is protecting Dharma who is the personification of religious principles.
牛是宗教或佛法的支柱
母牛和公牛的四条腿是宗教生活的四大支柱。如果牛被宰杀,宗教生活的四大支柱就会消失。保护母牛就是保护宗教生活的四大支柱。与公牛们一起工作就是保护佛法,它是宗教信念的化身。
Cows are backbone of agriculture
Cows are a backbone of agriculture life. Simply by having land and cow a person can live happily and they compliment each other. Agriculture is a very important for humans as it is the only major source of food and is required by everyone for sustenance. Hindu or Vedic religion believes that the higher purpose of life is to spiritually uplifting oneself and the agriculture and cow protection should be the business for economic development.Cows are also by nature very friendly and loving. They are said to have very strong emotions and there is nothing better than seeing the sight of happy cows jum around. Cow was loved by Vedic Gods and killing is highest sin
Also The Supreme Lord Krishna when he appeared on the earth propagated the agrarain economy based on cow protection. Now God himself says this is the best way for humans and loved cows dearly, it is simply sinful to kill a cow. Also Lord Siva the great Vedic personality is very fond of Bull (Nandi). In fact any major ceremony in Indian land was accompanied by donation of thousands of cows to the priests and brahmanas.
母牛是农业的支柱
母牛是农业生活的支柱。只要有了土地和母牛,人就可以幸福地生活。农业对人类而言非常重要,因为它是唯一主要的食物来源,是每个人维持生计所必需的。印度教或吠陀教认为,人生的更高目标是精神上的提升,保护农业和母牛关乎经济的发展。母牛天生也非常友好可爱。据说它们有非常强烈的情感,没有什么比看到快乐的母牛跳来跳去更好的了。吠陀神喜爱母牛,杀死母牛是最大的罪孽。
当至尊克里须纳神在地球上现身时,他也以保护母牛为基础,推广农业经济。现在神自己说,这是人类最好的办法,并且深爱着母牛,杀死母牛就是罪孽深重的行为。伟大的吠陀人格湿婆神也非常喜欢公牛(南迪)。事实上,在印度这片土地上,所有重大仪式都得向祭司和婆罗门献牛。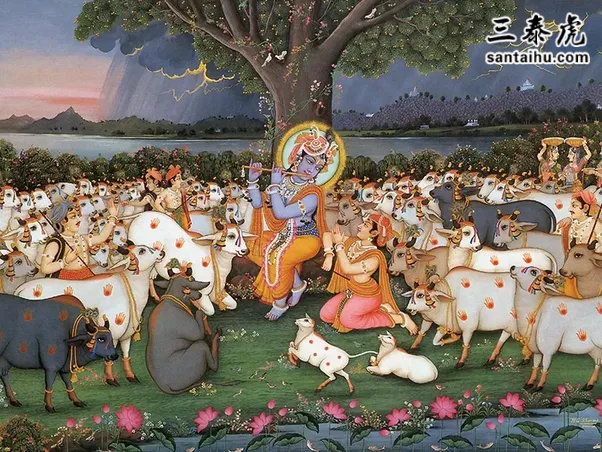 Lord Krishna and his calves
It is said that Cow killers and cow eaters are condemned to rot in hell for as many thousands of years as there are for each hair on the body of every cow they eat from. Killing of another animal will only entail you to be killed by that other animal in future births. However cow killers/eaters are thoroughly condemned.
克利须那神和他的牛犊
据说杀牛者和吃牛者注定要在地狱里受尽数千年折磨,每一年都对应着他们吃掉的每头牛身上的每一根毛。杀死其他动物只会使你在来世被这种动物杀死。然而,杀牛者/吃牛者受到的谴责最为彻底。
Harini Boienipelly, Indian
Cows are holy and sacred, and are therefore treated as such. But they are not worshiped (common misconception).
In Hinduism, cows represent life, wealth, and maternal figures. In fact, Bhumi, who represents the Earth, is often depicted in the form of a cow.
Since Vedic times, many Indians have relied on cows as a source of milk, yogurt, and ghee (butter that is used in many religious ceremonies). Cow dung is also used as fertilizer and fuel. A cow gives all but does not take, hence the reference to the maternal figure. It supports life. They are the mother of all creatures.
母牛神圣庄严,因此被人们视为圣牛。但是他们并没有受到崇拜(普遍的误解)。
在印度教中,母牛代表着生命、财富和母亲的形象。事实上,代表地球的菩萨地经常就被描绘成母牛的形象。
从吠陀时代起,许多印度人依赖着母牛,获得牛奶、酸奶和酥油(许多宗教仪式上使用的黄油)。牛粪也被用作肥料和燃料。母牛给予一切,但从不索取,因此指的象征着母亲。它供养了生命。它们是所有生物的母亲。
In Hinduism, all animals, including cows, have souls and killing one would be a sin. Especially one that is shown a lot of importance in sacred texts. Krishna, the eighth incarnation of the Hindu God Vishnu, tended cows and showed a great deal of love for them.
In the Bhagavad Gita, a Surabhi cow (also known as Kamadhenu, a Goddess known as the mother of all cows) descended from the Heavens for the sole purpose and benefit of all other creatures.
So eating a cow or causing harm to it is sinful beyond measure. The voluntary slaughter of an ox, bull, cow, or calf is also illegal and can lead to imprisonment and/or fines in most Indian states.
在印度教中,所有的动物,包括牛,都有灵魂,杀生就是罪孽。尤其是在神圣的经文中经常强调这一重要性。印度教神毗湿奴的第八个化身克里须纳牧养母牛,并对它们表现出极大的关爱。
在《博伽梵歌》中,一只苏拉比母牛(也被称为Kamadhenu,一位被称为所有母牛之母的女神)从天而降,唯一的目的就是造福其他所有生物。
所以食用或伤害牛是罪不可赦的。在大多数印度邦领,蓄意宰杀牛、公牛、母牛或牛犊都是非法的,可能会导致监禁和/或罚款。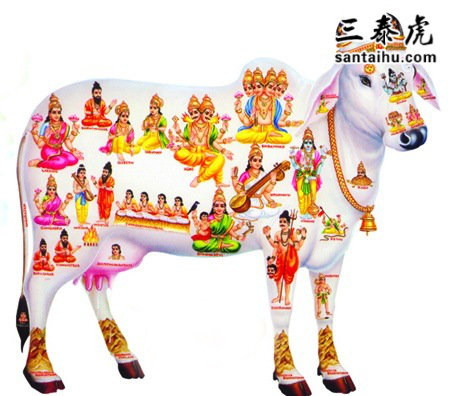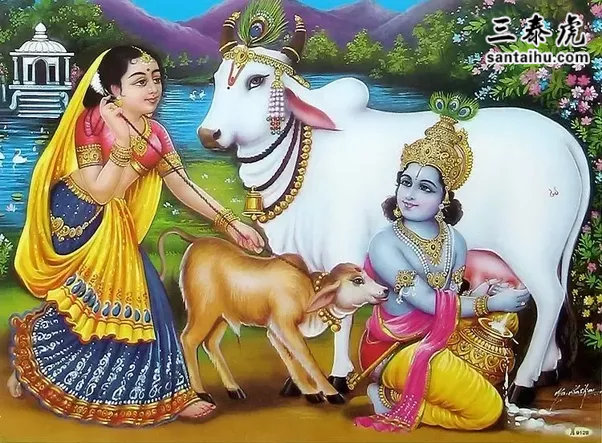 We Indians refer to the cow as gau mata. It means mother cow. Yes, the cow is like our mother as her milk is considered nearest to the human mother. If a newborn baby's mother is unable to feed her child due to some ill health or if she is no more after giving birth, in such a case cow milk is recommended for the child; not the milk of other animals such as goat, buffalo or camel.
Now imagine, if a child has lost his/her mother. In such a case on which food will, he/she survive? In ancient times when there was no baby milk powder available then it was only the cow milk which used to be the survival source for the infant. Even today, if one gets pure cow milk then it is preferred over packaged milk powder. In interior villages, it is still the cow milk, which is given to an infant.
我们印度人称这头牛"高斯玛塔"。意思是母牛妈妈。是的,母牛就像我们的母亲,因为她的乳汁最接近人类母亲的乳汁。如果新生儿的母亲因健康原因不能喂养自己的孩子,或者在分娩后去世,在这种情况下可以给孩子食用牛奶;而非其他动物,如山羊、水牛或骆驼的乳汁。
现在想象一下,如果一个孩子失去了他/她的母亲。在这种情况下,他/她靠什么食物生存?古代可没有婴儿奶粉,只有牛奶能帮助婴儿生存下来。即使在今天,如果人们能买到纯牛奶,人们不会选择罐装奶粉。在内陆的村庄里,仍然会给婴儿喝牛奶。
Now consider that the child has a little grown up. He/she is two or three years old. Now, breastfeeding is obviously not an option. By now, he/she must be taking some cereals. However, for protein and calcium, he/she still needs milk. Even at this stage cow milk is considered as the best supplement for the child. Actually, the cow milk remains over the top of any other animal's milk, in terms of quality, for the human beings for whole life.
A mother is a mother. No other relationship can be as important as the relationship of a mother and her child. Any human being from any part of the world, he/she always considers his/her relationship with the mother as the most important. Thus, a mother is always considered as sacred.
In India, cow's milk is considered as Amrita (nectar). In Ayurveda, many medicines are advised to be taken with cow milk. Even Cow Dung and Urine of cow have medicinal values. Urine of Cow is used in preparing many Ayurvedic Medicines. Treatment with cow urine is helpful in many diseases related to skin, kidney, liver, stomach, joints and bones, intoxcations etc…Eventually, many firms in the US has applied for the patent of cow urine.
现在想象一下,孩子长大一些了。他/她两三岁了。现在,吃母乳已经显然不合适了。现在,他/她肯定开始吃谷物了。然而,为了获得蛋白质和钙,他/她仍然需要食用牛奶。即使在这个阶段,牛奶也还是孩子最好的补品。事实上,就品质而言,牛奶对人类的一生来说,都要优于其他任何动物的奶。
母亲就是母亲。没有其他关系能像母子关系那样重要。来自世界各地的人,他/她都认为他/她与母亲的关系是最重要的。因此,母亲总是被认为非常神圣。
在印度,牛奶被人视为甘露。在阿育吠陀,许多药物都建议与牛奶一起服用。甚至牛粪和牛尿也有药用价值。牛的尿液被用来制作许多阿育吠陀药物。用牛尿治疗皮肤、肾脏、肝脏、胃、关节、骨骼、中毒等多种疾病都能改善……最终,美国许多公司都申请了牛尿的专利。
No wonder that the holy cow is worshipped in our country. According to Vedic scriptures say that there are 33 koti devatas (33 types of Gods) residing in the body of Cow. It is said that Lord Ram could not get an opportunity to serve cow. Therefore, He has vowed that in next incarnation He would serve cow. In Krishna Avatar, He got this opportunity and fulfilled His desire of cow serving.
In a country where Cow is considered such holy that she is worshipped, how can one even think to inflict harm on her? In no other religion or country a cow is worshipped, therefore, they cannot understand the religious belief or conviction behind it. At least, they can understand its milk's substance vis a vis breast milk and that is enough to regard her as sacred. And even if they think that why there is the opposition of beef then it's clear that they are not respecting their mother. A cow is not the mother of only the Hindus, rather, the whole mankind.
Do I need to say anything more?
所以我们国家崇拜圣牛一点都不足为奇。根据吠陀经文,有33种神居住在牛的身体里。据说罗摩神没有机会侍奉母牛。因此,他发誓下辈子要侍奉牛。在化身为克利须那时,他得到了这个机会,达成了侍奉圣牛的愿望。
在一个牛被世人认为非常神圣,甚至受到世人崇拜的国家,人们怎么会想伤害她呢?没有其他宗教或国家崇拜牛,因此,他们无法理解这种崇拜背后的宗教信仰或信念。起码他们能理解牛奶与母乳的相似吧,这就足以说母牛神圣了。牛不仅仅是印度教徒的母亲,而是整个人类的母亲。
我还需要再接着说什么吗?
Pramvir Rathee, works at Earth
Let me answer this question, As I am a son of farmer and more close to cows thus eligible to answer this query. My answer is purely cultural-based. I have no influence of religion or Manusamriti etc.
In ancient time, Some 20 - 2000 years ago. Agriculture in India was particularly based on animals, there were no machines (tractors).
People and some specific caste in my region (Jat, Ahir, Chamar etc. 90% caste of Haryana, punjab, west UP and rajasthan) were indulged in agriculture. They used to plaugh fields with cattels (More specifically Bullock - OX). Their pets used to be these cattels.
They had a very close attachment with cows, as they were their partner in Hardwork for agriculture. Cow milk was the main source of Milk protein for the vegetarian people, thus it was regarded as mother for providing MiLk. This long term bonding was the main reason for people in this region to be considering the cow as a part of family.
让我来回答这个问题,因为我是农民的儿子,和母牛比较亲近,因此有资格回答这个问题。我的答案纯粹基于文化。本人不受宗教的影响。
古代,大约20 - 2000年前,印度的农业特别倚仗动物,没有机器(拖拉机)。
在我的老家,人们和一些特定种姓(贾特人,阿希尔族人, 恰马尔等,以及哈里亚纳邦,旁遮普邦,中央邦西部和拉贾斯坦邦90%的种姓)都以农业为生。他们过去常常用牛(更确切地说,是用公牛)犁地。他们的宠物就是这些牛。
他们与母牛有着非常密切的关系,因为他们是农业劳作的伙伴。牛奶是素食者牛奶蛋白质的主要来源,因此被认为是提供牛奶的母亲。这种长期的亲密关系是这个地区的人把牛视为家庭一份子的主要原因。
If you go on youtube and search Haryanvi Ragini (classical haryanvi music) You will find many poems about relation of farmers and cows in Farmer community and the cause of respect for cows in this community.
In that era, Cow was the only animal to work harder compared with other animals with you day and night just to feed you selflessly. Made this bond even more emotional. Cow was seen as mother and its calves as the hardwork partners.
如果你在youtube上搜索哈里亚纳传统音乐,你会发现很多都跟农民社区中农民和母牛的关系,以及这个社区为何尊重母牛有关。
在那个时代,牛是唯一一种比其他动物都更辛苦劳作,日夜与你相伴的动物,无私地供养你。这让这种关系更具情感。牛被视为母亲,牛犊被视为辛勤劳作的伙伴。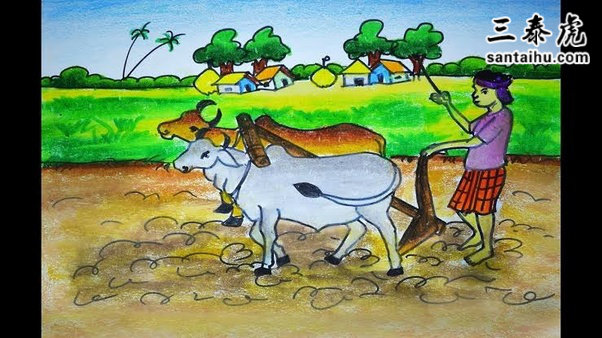 This was the time when Hinduism started acknowledging cow as holy animal to bring these people closer making them united under a religion. Cow became a sacred animal just for the ease of brahmins to get the 90% of population follow them and their Manusamriti.
If you see Ambedkar's Writing about cow meat being consumed in Hindusim in vedas period. (Do a simple google search regarding it.) It was the farming culture of Jats who loved cow and regarded it as a family member, made a cow sacred animal in hinduism, So that brahmins can let follow these farming culture in their mutated religion.
I am a son of farmer. I respect and love cows because they fed us in the hardest times of history, stood by us during shortage of grains and food. Cow was the hardworking creatures of our harworking society in the ancient times. By the way, I do not live in india. I have cows in my home in india.
这个时候印度教开始承认牛是神圣动物,拉近这些人,在一种宗教下团结起来。牛变成神圣的动物只是为了方便婆罗门让90%的人口追随他们和他们的教义。
如果你看到安贝德卡所著的吠陀时期印度教食用牛肉的文章。(只需谷歌搜索就能找到)农民的农耕文化中爱牛,把牛视为家庭成员,使得印度教把牛视为神圣的动物,所以婆罗门可以在他们的宗教中追随这些农耕文化。
我是农民的儿子。我尊敬和热爱母牛,因为它们在过去最艰难的时候供养了我们,在粮食和食物短缺的时候陪伴我们。牛是我国古代劳动社会中勤劳的动物。顺便说一下,我并不住在印度。但我在印度的家里有牛。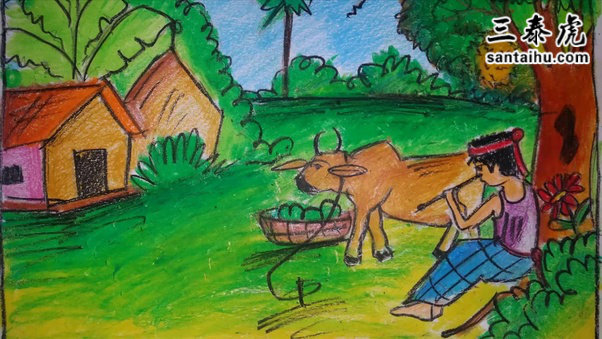 I love cows not because of hinduism or cow is sacred in hinduism, But my father gandfather used to grow grain and all our wealth now is as a result cows.
我爱牛,不是因为印度教,也不是因为牛在印度教里很神圣,而是因为我的父亲、祖父曾经种过地,现在我们所有的财富都来自牛。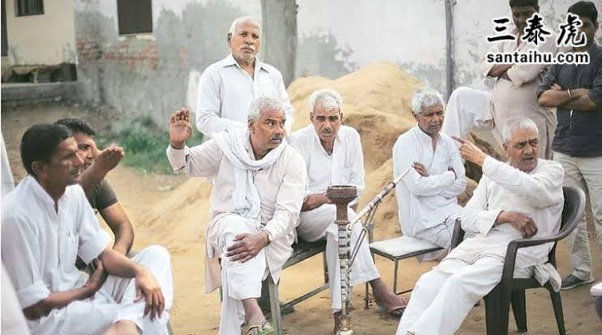 We are jats(farmers) and made the hindusim to consider cow as a sacred animal. Hindusim did not make us to worship cows.
我们是农民,让印度教把牛尊崇为神圣的动物。印度教并没有强迫我们崇拜牛。
Anne Fletcher-Jones,
Although I've never been there, I read the news and lately there have been several instances of people being attacked and killed because some other Hindus believed those people possesed or had eaten beef. So yes, cows are sacred in India and since the election of Mr. Modi, these attacks seem to have become more common. I guess every religion has its fanatics.
虽然我从未去过印度,但我读过新闻,最近发生了几起人遇袭、被害的事件,起因就是有些印度教徒认为这些人占有或食用了牛肉。是的,牛在印度是神圣的,自莫迪当选以来,这种伤人事件似乎变得愈发频繁。我猜每个宗教都有狂热者吧。
Anonymous
Cow isn't considered "holy" in Hinduism. However, many Hindus consider cow as a holy animal.
The reason for this is that Hindus of the so-called "cow belt" in India, were historically quite dependent on cow for economical benefits.
It was cow that helped them in farms, provided milk etc. So, Hindus revere the "holy" animal.
Just like how a guitarist would get disheartened if his guitar is broken because he loves his guitar and it forms a part of his identity.
Similarly, cows are considered part of Hindu's identity, as a part of their custom since centuries.
Point to be noted: Hindus of Kerela and Bengal don't revere cow, because the locals weren't depended on cow for their survival. Thus, it is a cultural phenomenon, not religious one.
牛在印度教中并不"神圣"。然而,许多印度人认为牛是种神圣的动物。
原因在于印度所谓"神牛带"地区的印度教徒,在历史上非常依赖牛来获得经济利益。
母牛在田地里帮他们耕作,供应了牛奶等等。所以,印度人尊敬"神圣"的动物。
就像如果吉他手的吉他坏了,他会很沮丧,因为他爱他的吉他,它是他身份的一部分。
同样地,牛被认为是印度人身份的一部分,是几个世纪以来他们习俗的一部分。
需要指出的是:喀拉拉邦和孟加拉邦的印度教徒并不尊敬牛,因为当地人的生存并不依赖牛。因此,这是一种文化现象,而不是宗教现象。
Yogesh Rathore
Many reasoning to this,one is in ancient time lot of women died in childbirth in india and the infants were fed on cow's milk which could be easily digested because less creamier(fat)than any other animals milk.Baby lived on cow milk so cow was treated like mother.lord Krishna gave them as a symbol of Hindu religion because of their productivity.perhaps that's how they got the holier tag among Hindus.
对这种说法,原因众多,其中一个原因是,古代印度有很多妇女死于分娩,婴儿只能吃容易消化的牛奶,因为牛的奶中脂肪含量比其他动物的奶都少。婴儿靠着牛奶活下去,所以人们像对待母亲一样对待母牛。克利须那神因为他们的生产力把他们当做印度教的象征。也许这就是他们在印度人中被贴上神圣标签的原因。
Lingi Meta
First of all cow is not holy in india, Cows are holy for Hindu population,those who follow Hindu gods and goddesses in India.
India is a nation vast in demographic and geographical manner. And the majority of people are Hindu, about 80% of the population. So people make a mistake of saying that India is a Hindu nation similarly.
And this Hindu people don't consist of any particular ethnicity, a person from Tamil nadu can be a Hindu, a person from Orissa or any other state.
This question is about why cow is holy in India, why cow's are holy to Hindu population is a different topic so i will discuss about that in another question.
首先,牛在印度并不神圣,牛只对追随印度教神灵的印度人来说神圣而已。
在人口和地理上,印度都是个大国。大多数人是印度教徒,大约占到总人口的80%。所以人们错误地认为印度也是一个印度教国家。
印度教人口并不包括特定的种族,来自泰米尔纳德邦的人可能是印度教徒,来自奥里萨邦或其他邦的人可能也是。
这个问题问的是为什么在印度牛很神圣,为什么对印度人来说牛很神圣是另一个问题,我会在另一个问题中讨论。
Madan K Limbu, An natural born animal lover
Cows give milk. India is a Hindu-majority country. Most Indian Hindus are vegetarians and milk is a good source of protein for them. This is the reason cows are so special in India. And then, of course, there was this king called Manu in ancient India who forbade the slaughter of cows because people were eating too many of them.
牛会产奶。印度是一个以印度教为主的国家。大多数印度教徒是素食主义者,牛奶是他们获得蛋白质的良好来源。这就是牛在印度如此特别的原因。当然,在古印度有一个叫摩奴的国王,他禁止宰杀牛,因为那时候的人们吃掉了太多的牛。
外文:https://www.quora.com/Why-are-cows-holy-in-India