United States will drop to become the world's THIRD biggest economy behind China and India by 2030, new financial rankings suggest
最新的金融排名显示,到2030年,美国将沦为落后于中国和印度的世界第三大经济体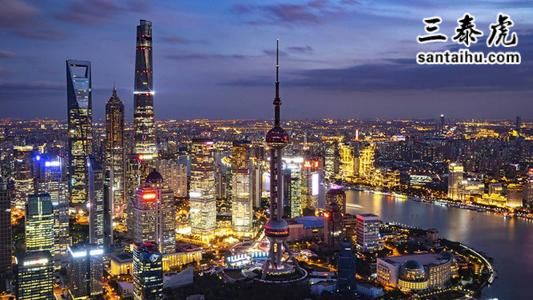 America will fall to number three on the list of the world's largest economies behind China and India, a British financial services firm is predicting.
一家英国金融服务公司预测,美国将在世界最大经济体排行榜上跌至第三位,排在中国和印度之后
China will overtake the United States as the world's largest economy in a decade's time while India will assume second place, according to Standard Chartered, which unveils its annual rankings of the world's ten largest economies.
根据渣打银行公布的全球十大经济体年度排名,中国将在十年内取代美国成为世界最大经济体,而印度将位居第二。
It predicts that America will fall to third on the list behind the two Asian giants by 2030, according to Fox Business.
据《福克斯商业》预测,到2030年,美国的排名将降至第三位,落后于中印这两个亚洲巨人。
The firm predicts that the new global order will see current emerging markets occupy seven of the top 10 spots.
该公司预测,在新全球秩序下,目前的新兴市场将占据前十名中的七个席位。
While America is expected to trail behind China and India, Indonesia will vault into the fourth slot.
预计美国将落后于中国和印度,而印尼将跃居第四。
'Our long-term growth forecasts are underpinned by one key principle: countries' share of world GDP should eventually converge with their share of the world's population, driven by the convergence of per-capita GDP between advanced and emerging economies,' Standard Chartered economists write in their study.
渣打银行的经济学家在他们的研究中写道:"我们的长期增长预测基于一个关键原则:受发达经济体和新兴经济体人均GDP趋同的推动,各国在全球GDP中所占份额最终应与在全球人口中所占比例趋同。"
The size of a country's economy is determined by gross domestic product (GDP), which measures the market value of all the final goods and services produced in a period of time.
一个国家的经济规模由国内生产总值(GDP)决定,GDP衡量的是一段时间内所有最终产品和服务的市场价值。
Standard Chartered predicts that Turkey will round out the top 5.
渣打银行预测,土耳其将跻身前五名。
Brazil is the only Latin American country in the top 10. It is predicted to be the sixth largest economy by 2030, with a GDP of $8.6trillion.
巴西是前十名中唯一的拉丁美洲国家。预计到2030年,巴西将以8.6万亿美元的GDP成为世界第六大经济体。
Egypt is the only Middle Eastern country on the list. It is predicted to have the seventh largest economy with a GDP of $8.2trillion.
埃及是榜单上唯一的中东国家。据预测,埃及将以8.2万亿美元的GDP成为世界第七大经济体。
Russia is slated to be the eighth largest economy with a GDP of $7.9trillion.
俄罗斯预计将以7.9万亿美元的GDP成为世界第八大经济体。
Japan and Germany fall down in the rankings. The Asian giant finishes in ninth with a GDP of $7.2trillion while Germany rounds out the top 10 at $6.9trillion.
日本和德国的排名下滑。日本这个亚洲巨人讲以7.2万亿美元的GDP排在第九位,德国以6.9万亿美元的GDP排在第十位。
The countries that are currently in the top 10 - and which are predicted to fall out of the rankings - are the United Kingdom, Italy, France, and Canada.
目前排名前10的一些国家预计将会跌出榜单,分别是英国、意大利、法国和加拿大。
India forecast its economy will grow more than 7 per cent in the current financial year ending in March, giving some relief to Prime Minister Narendra Modi who seeks a second term in national elections to be held by May.
印度预计,在截至3月份的当前财年,其经济增速将超过7%,这让寻求在5月份举行的全国大选中连任的印度总理纳伦德拉莫迪松了一口气。
Annual economic growth had fallen to a worse-than-expected 7.1 per cent in the July-September quarter, from 8.2 per cent in the previous quarter, dragged down by a slower consumer spending and farm growth, posing a risk to Modi who plans a populist budget to win back voters.
受消费支出和农业增长放缓的拖累,7 - 9月当季印度经济同比增长7.1%,低于预期,低于前一季度的8.2%。这对莫迪构成了风险,他计划制定民粹主义预算,以赢回选民。
With the fall in global crude oil prices and strengthening of the rupee in recent weeks, the Modi administration plans to prop up rural demand through higher state spending and a financial package for farmers in the annual budget to be presented on February 1.
最近几周,随着全球原油价格下跌和卢比走强,莫迪政府计划在2月1日提交的年度预算中,通过增加政府支出并向农民提供财政援助,来提振农村需求。
Gross domestic product is estimated to grow 7.2 per cent in 2018/19, faster than a provisional 6.7 per cent growth in 2017/18, Ministry of Statistics said in a statement.
Manufacturing is now forecast to grow 8.3 per cent this fiscal year compared with 5.7 per cent in the previous year.
Farm output may grow 3.8 per cent, up from 3.4 per cent.
印度国家统计局在一份声明中表示,预计2018 /19年度GDP将增长7.2%,高于2017/18年度的6.7%。目前预计,本财年制造业将增长8.3%,而上一财年为5.7%。
农业产出可能增长3.8%,高于上一财年的3.4%。
英国每日邮报读者评论:
译文来源:三泰虎 http://www.santaihu.com/46851.html 译者:Jessica.Wu
外文:https://www.dailymail.co.uk
Nitish Singh, Hyderabad, India, 8 minutes ago
Now, the right time has come to destroy Britain for colonial oppression of India.
对于受殖民压迫的印度来说,摧毁英国的时机已经成熟。
Mr Happy Man, Snohomish, United States, 3 hours ago
I take this with a grain of salt.
我对此半信半疑。
Sumit Bhattacharjee, Mumbai, India, 2 hours ago
Caste system wont stop India becoming a great power. India and China economically ruled the world over 2 millenniums. This will happen again.
种姓制度阻止不了印度成为一个大国。印度和中国曾在经济上统治了世界两千年,这种情况将重演。
Doc Hilliard, San Diego, United States, 4 hours ago
Get off the Dole and go to work.;
别领失业救济金,都去工作吧。
Flechette, New York, United Kingdom, 5 hours ago
You can bet that if China becomes #1 they won't be as generous as the USA was.
如果中国成为世界第一,肯定不会像美国那样慷慨。
Sumit Bhattacharjee, Mumbai, India, 2 hours ago
China is already world's largest economy by GDP Purchasing Power Parity. Check IMF report.
按GDP购买力平价计算,中国已经是世界上最大的经济体了。可以去看下国际货币基金组织的报告。
Danny0101, Alt-Right Snowflake Territory, United Kingdom, 6 hours ago
Assuming that China grows 14% every year and India grows 27% every year. I am going to call bs. Neither country has such growth rates.
这是假设中国每年增长14%,印度每年增长27%的吧,胡扯。这两个国家都没有达到这样的增长率。
Zone195, LandoftheFree, United States, 6 hours ago
Whoever produces the goods begets economic power, because production creates wealth, it builds entrepreneurship. America is building China¿s economy for decades thru free trades (NAFTA) and we are to blame.
谁生产商品,谁就拥有经济实力,因为生产创造财富,建立企业。几十年来,美国通过北美自由贸易协定帮助中国发展经济,这都怪我们自己。
Saji Antony, Fair Lawn, United States, 6 hours ago
These calculations are based on PPP. In fact almost all economists consider PPP as the correct calculation. China is already the largest economy in PPP terms (25.3T), India is 10.39T, US is 20.66t and Britain luckily due to PPP calculation has a 3T economy (in dollar exchange rate it is 2.9T).
这些计算基于购买力平价。事实上,几乎所有的经济学家都认为购买力平价是正确的算法。按购买力平价计算,中国已经是最大的经济体(25.3万亿),印度是10.39万亿,美国是20.66万亿,幸运的是,按照购买力平价计算,英国是3万亿经济体(按美元汇率计算是2.9万亿)。
Truth_is_here, Truthville, United States, 7 hours ago
If Liberals continue to gain and win in 2020 you can count on the US getting to 3rd place earlier then that. The Dems have no idea how to make money or build industry.
如果自由主义者在2020年再次获胜,美国将提早跌到第三名。皿煮党不知道如何发家致富,也不知道如何建立工业。
tsicby, Plano, 8 hours ago
lol. I hope India is able to reach such stratospheric GDP numbers but I am very skeptical that a country with virtually no natural resources or R&D, no bonafide justice system, no infrastructure or a middle class, etc. could get there in 10 short years. Me thinks the author of the study hasn't done their homework. It wasn't that long ago that the GDP of Texas was larger than India.
哈哈,我希望印度GDP能达到这么高。但我非常怀疑,一个几乎没有自然资源或研发、没有真正的司法体系、没有基础设施或中产阶级等的国家,能否在短短10年内实现这一目标。我认为这项研究的作者没有做足功课。就在不久前,德克萨斯州的GDP还高于印度。
shade, Indianapolis, 8 hours ago
This won't happen if we can keep the liberals slimy little hands off the economy. Unfortunately there are plenty of idiots that still vote for them.
如果我们能让自由主义者不再插手经济,这种情况就不会发生。不幸的是,仍有许多白痴投票给他们。
Elixer, De Soto, 8 hours ago
It's all in the new inventions, patents and Ideas. China and India just copy. They don't discover new products.
一切都靠新发明、专利和创意。中国和印度只会照抄,不会研发新产品。
TheMark1, Anchorage, United States, 9 hours ago
I'm old enough to remember that China was supposed to overtake the US by 2020.
不是说中国在2020年之前就能超过美国吗
MaryJoKopecne, Tijeras, 10 hours ago
Maybe, BUT this ranking system does not and cannot take into account what innovations are coming in the next 10 years. Ask yourself this: What world changing innovations have China or India created in the last 10 years? On the other hand, which planet changing innovations have come out of the US in the last 10 years?
这个排名没有考虑未来10年将出现哪些创新。在过去10年里,中国和印度贡献了哪些改变世界的创新?有哪些改变世界的创新来自美国?
khawk, Katy, United States, 11 hours ago
Pure propaganda
纯粹是做宣传
Richard Poor, Lancaster, United States, 11 hours ago
And we all keep buying billions of dollars of useless junk from China every day.
然而,我们依然每天都从中国购买数十亿美元的无用垃圾商品
Paul Silvey, Dallas, United States, 12 hours ago
This article oozes of stupidity. The official exchange rate GDP for China is 12.01 trillion. The official exchange rate of India is 2.6 trillion. The official exchange rate of USA is 19.49 trillion. How is India's economy going to grow 760% in 11 years? China would need to grow by almost 200% and that is assumming the other economies whom they depend upon because they are an export econmy do not turn them off. Than there is the EU which is 17.1 trillion official exchange rate GDP. No wonder the masses are so ignorgant; it is because they are being trained by the ignorgant media who know very little about economic things.
这篇文章写的太烂。中国GDP是12.01万亿美元,印度GDP是2.6万亿美元,美国GDP是19.49万亿美元。印度经济如何在11年内实现760%的增长?中国需要增长近200%,这是在假设他们所依赖的其他经济体(因为它们是出口经济体)不停止增长的情况下得出的结论。相比之下,欧盟GDP为17.1万亿。难怪群众如此无知,他们正在接受无知媒体的洗脑,这些媒体对经济知之甚少。
David, Commuter Belt, United Kingdom, 12 hours ago
Why would India's economy have to grow 760%? Is it not possible for the US economy to contract?
@Paul Silvey为什么印度经济一定要增长760%?美国经济就不会萎缩吗?
David, Commuter Belt, United Kingdom, 12 hours ago
I can totally believe this. Much of the east coast of China has incredible infrastructure (which is future proofed by building big) an an orderly hard working population. In many ways they are ahead of the UK . Of course there are areas that are poor but most of the people I talk to have never been and buy into a stereotype. If you have never been go and see Shanghai or Bejing and you will have your stereotypes blown away.
我完全相信找个预测。中国东海岸的大部分地区都拥有令人难以置信的发达基础设施,人们工作兢兢业业。在许多方面,中国都领先于英国。当然,有些地区是贫穷的。如果你从未去过中国,那就去上海或北京看看,你的成见立马就会烟消云散。
MidwestinNW, Seattle, United States, 12 hours ago
China overtake the US - highly unlikely at current growth rates in 10 years. India ? Impossible. Their nominal GDP is one tenth of the US.
中国超越美国?以目前的增长速度在10年内是极不可能的。印度更不可能,印度名义GDP是美国的十分之一。
blisterpeanuts, Boston, United States, 11 hours ago
US economic growth rates are >3% under Trump. Might hit 5% by 2020. Meanwhile China's is slowing from 8% to 6% (possibly worse than reported in fact).
特朗普执政期间,美国经济增速超过3%,到2020年可能达到5%。与此同时,中国经济增速从8%放缓至6%(可能比报道的还要糟糕)。
Sue Ridge , The Ganges River, India, 13 hours ago
Where's big bad Britain??
英国排到第几了?
MarkD, Formerly Syracuse, United States, 13 hours ago
In the 1980s, Japan was going to rule the world.
在20世纪80年代,日本差点就统治世界了。
the_UK_reader, London, United Kingdom, 13 hours ago
Hahaha, what's about 2130? Any ideas? Ridiculous...
要到2130年吧?
yagermeister55, Stockholm, Sweden, 13 hours ago
Basically the more people you have the bigger the economy. Doesn't mean those people are better off than smaller countries. But China and India have a ridiculous amount of people. Each one has more people than all of Europe US Canada and Brazil combined. And India manages to do it with a 3rd of the size of Europe/US.
基本上,人口越多,经济规模就越大。但这并不意味着这些国家的人民比小国的人民富裕。中国和印度的人口多得可笑,两个都比欧洲、美国、加拿大和巴西加起来还要多。而印度经济规模只有欧盟或美国的三分之一。
Weihan Xingqi, Los Angeles, United States, 14 hours ago
Em, if the open-borders Democrats get their way, by 2030 the USA will be Guatemala North, so make that the 145th strongest economy?
嗯,如果赞成开放边界的皿煮党人得逞,到2030年,美国将成为第145强经济体?
rwisrael, breezy point NY, United States, 14 hours ago
The US economy has been predicted to be overtaken by other countries since the 70s . As long as we don't regulate our selves to death , we will remain ahead.
自上世纪70年代以来,就有人预测美国经济将被其他国家超越。只要我们不作死,我们就会保持领先。
WeToldYou, in stormy, United States, 14 hours ago
MAGA
让美国再次伟大
Ismellarat, Somewhere, United States, 14 hours ago
Not gonna happen.
这种情况是不会发生的。
enoon, Erewhon, United Kingdom, 14 hours ago
Not if Trump gets reelected it won't.
如果特朗普再次当选,就不会发生这种情况。
Say When..., Bs. As., Argentina, 15 hours ago
The United States will not let that happen.
美国不会让这种情况发生。