China tests its own 'Mother of All Bombs'
中国试验"诈弹之母"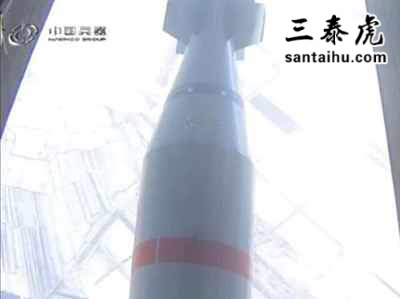 BEIJING: China has tested its most powerful non-nuclear weapon, dubbed the "Mother of All Bombs" by official media in a reference to a US munition used in Afghanistan.
北京:中国测试了其最强大的非核武器,官媒称之为中国版的"诈弹之母"。(美国在阿富汗曾使用过诈弹之母)
In a short video published on the website of state arms manufacturer Norinco, the massive bomb drops on to a plain and produces a gigantic ball of fire and black smoke.
在中国兵器工业集团网站上发布的一段视频中,这枚巨大的诈弹落在一片平原上,形成一个巨大的火球和浓浓的黑烟。
On social networks on Wednesday, the official Xinhua news agency described the bomb for the first time, calling it the "Chinese version of the 'Mother of all Bombs'".
The bomb — whose strength is only second to that of a nuclear weapon, according to the agency — was dropped by a Chinese H-6K bomber.
周三,官方媒体新华社在社交网络上首次对这枚诈弹进行了描述,称其为"中国版的'诈弹之母'"。该机构称,这枚诈弹的威力仅次于核武器,是由一架中国H-6K轰炸机投下的。

印度时报读者评论:
译文来源:三泰虎 译者:Jessica.Wu
外文:https://timesofindia.indiatimes.com/world/china/china-tests-its-own-mother-of-all-bombs/articleshow/67386223.cms
V - 10 hours ago -Follow
China has highest average iq in the world, India has lowest, check facts, no point competing with China other than in the English spelling bee.
中国是世界上国民平均智商最高的国家,印度是世界上平均智商最低的国家。
Mahavir - 10 hours ago -Follow
A country of fakes
造假大国
Azaad - 13 hours ago -Follow
Sadly , in India most of the people don''t take it seriously. The day if our forces become weak and Chinese enter into Indian territory
遗憾的是,大多数印度人并不把这当回事。
Shyam - 11 hours ago -Follow
In times of 1950, China was far behind of India but in last 60-70 years it has gone way ahead of India. Only reason Indian leaders engaged themselves only in loot with very little development. Only after coming of Modi, we have some hope for future
在1950年代,中国远远落后于印度,但过了60-70年里,中国已经遥遥领先印度。唯一的原因是印度领导人只顾捞,几乎不管国家的发展。莫迪上台后,我们的未来才有了一些希望
Tanmay Chakrabarti - 13 hours ago -Follow
Russia also claimed that they tested thermobaric bomb which is more powerful than an a-bomb. They dubbed it as FOAB (Father of All Bomb).
俄罗斯还声称他们测试了比原子弹威力还更强大的温压弹,他们称之为"诈弹之父"。
Mohan - 9 hours ago -Follow
Here people fighting for silly things; whether women should allowed to go to temple in kerala. Whether temple should be built or not... there they are making mother and father of bombs
印度人还在为芝麻小事而斗争,比如是否应该允许印度妇女去喀拉拉邦的寺庙。是否应该建寺庙……而别人都在制造诈弹之母和诈弹之父了。
BE INDIAN - 9 hours ago -Follow
Sorry Chinese, we are busy with cow, caste, religion, statues, ayodhya, Sabarimala......,
我们忙于照顾神牛、建造雕像、搞种姓、宗教斗争等等
Gabbar Singh - Boston - 13 hours ago -Follow
Chinis are scared of Agni 4 and Brahmos, not to mention the scare they have if the war goes nuclear.
中国害怕烈火-4和布拉莫斯导弹
Moin - 11 hours ago -Follow
don't worry We have Papu Bomb it will Destroy every thing.
别担心,我们有拉胡尔,他能摧毁一切的。
Vikram - Hyderabad - 11 hours ago -Follow
sorry we don't care we have important issue like ayodhya and ayappa . these things were there in India 200,00 year's ago . no big deal
抱歉,我们不在乎。这些东西2万年前印度就有了,没什么大不了的
Sampath - 11 hours ago -Follow
china wants to overtake America and Russia in all spheres,Indian politicians have made India not a match to China in all aspects, fools.
中国想全面超过美国和俄罗斯。都怪印度政客,印度各方面都不是中国的对手。
Narendra - HINDUstan - 13 hours ago -Follow
No worries.
It's Made In China, rest be assured.
不用担心,这是中国制造的,尽管放心。
Sarcastic Ajuba - 9 hours ago -Follow
And people in our parliament keep talking Rafale deal should be scrapped and so on... they delayed things because they were not satisfied about their earnings.... now they''re not happy because someone else is earning better than them... in all process the Nation is suffering...
我们的议会一直在谈论阵风战机的交易是否应该取消,他们推迟购买是因为对分赃不满意....他们见不得别人比他们赚得多。在这过程中,遭殃的是这个国家。
China Expert - 12 hours ago -Follow
Probably made from stolen technology, looks like the American version.
可能是偷来的技术,看起来像美国的。
Mk - India - 13 hours ago -Follow
Did it explode ?
爆炸了吗?
Vikash - 8 hours ago -Follow
in China there is no reservation....
中国没有预留制。
Bhai Jan - 10 hours ago -Follow
Now the scared Hindus will try to make a copy and name it as Choootia of all bombs or Kanjur of all bombs.
印度人怕了,将试图造一个山寨版。
Shrinivas Godi - 12 hours ago -Follow
no country criticized this test.....
怎么没有国家抨击这个试验。
Ram Pyare - 2 hours ago -Follow
US and China have mother of all bombs, Russia has Father of all bombs . India must make Grandfather of all bombs. All IIT Ian's must be asked to work in defence labs in India for 10 years compulsorily.
美国和中国有"诈弹之母",俄罗斯有"诈弹之父"。印度必须造出"诈弹的鼻祖"。要求所有印度理工学院的学生在印度国防实验室工作10年。
Ginger - 6 hours ago -Follow
Indian is still stuck on Rafale!!!Time to save our as ses!!!
印度人还在吵着要买阵风战机!!!
SANKAR RAMAN - 7 hours ago -Follow
Our mother of all bombs is Sonia Gandhi. Rahul being the biggest Bomb!
我们的诈弹之母是索尼娅·甘地。
Neha Kumari - Jaipur - 9 hours ago -Follow
China will never take risk with India, we are importing and purchasing a lot of products from there. They won''t kill their market
中国永远不会和印度对着干,我们从中国进口很多产品,他们不会扼杀自己的市场。
Cyber - Delhi - 10 hours ago -Follow
Our Govt is only interested in mandir, masjid, cow, Sabarimala, deshbhakt, deshdrohi, jumlas.... let the country be fccuked..
我们的政府只关心寺庙和牛, 这个国家要完蛋了。
Nindak - India - 11 hours ago -Follow
Whatever they try, Chinese will always be losers. They are only good at making cheap unreliable copies of things that don't last.
不管他们怎么努力,中国人永远都是失败者。他们只擅长制造不耐用的廉价复制品。
I - 11 hours ago -Follow
We don't care. We have different Gods for different Jobs. They will protect us. last
我们不在乎,我们有众神保佑。
Sathasivan Nagarajan - chennai - 13 hours ago -Follow
A party in India congress mother of all corruptions and scams.
印度国大党是所有腐败和骗局之母。
Priyank Mohan - Noida - 13 hours ago -Follow
Chinese product are mostly fake.
中国产品大多是假货。
Excabar Poseidon - Kolkata - 7 hours ago -Follow
Our moron govt is busy building statues。
我们的政府正忙着建雕像。
MOC - land of cows - 16 hours ago
What''s the big deal? India can drop MOCs, Mother of Cows
有什么大不了的?印度有神牛
gift to India - MOB - 16 hours ago
great gift for warmonger Indians.
这是给好战的印度人的一份大礼。
999 111 - 19 hours ago -Follow
Hindus jealous......
印度人嫉妒了!
Avishek Mazumdar - Kolkata - 20 hours ago -Follow
So where is the Indian version? Lets call it GDOB. Grand Daddy of all bombs.
印度版的呢?我们称之为"诈弹的鼻祖"。