Samsung, Huawei supply majority of own modem chips, Qualcomm says
高通表示:三星和华自己提供大部分调制解调器芯片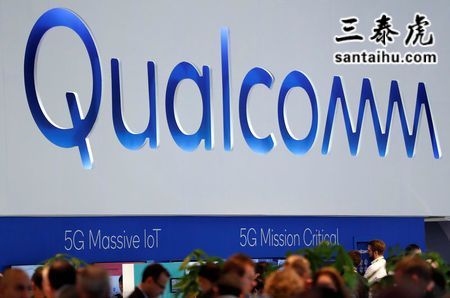 By Stephen Nellis
SAN JOSE, Calif. (Reuters) - The two largest smart phone makers in the world supply a majority of their own modem chips to help their devices connect to wireless data networks, according to evidence presented at an antitrust trial for chip supplier Qualcomm Inc .
加州圣何塞(路透社)--据芯片供应商高通公司在一场反垄断审判中提交的证据显示,全球最大的两家智能手机制造商三星和华为的调制解调器芯片主要由自己供应,以帮助其设备连接无线数据网络。
A trial between the U.S. Federal Trade Commission and Qualcomm kicked off in a federal courtroom in California on Friday, with the regulators arguing that Qualcomm engaged in anticompetitive patent licensing practices to preserve a monopoly on modem chips. The case is being closely watched because it may shed light on the likely eventual outcome of the global legal battle between Apple Inc and Qualcomm.
周五,美国联邦贸易委员会对高通的审判在加州一家联邦法庭开庭。监管机构称,高通从事反竞争的专利授权活动,以维持对调制解调芯片的垄断。这起案件受到了密切关注,是因为它可能会影响苹果与高通之间全球法律战的最终结果。
Apple has alleged that Qualcomm engaged in illegal business practices, and Qualcomm in turn has alleged Apple violated its patents, scoring victories in China and Germany last month.
苹果指控高通从事非法商业活动,高通反过来指控苹果侵犯其专利,并于上月在中国和德国取得胜利。
Qualcomm has argued its licensing practices follow long-established industry norms and that it charges broadly the same licensing rates that it had for many years before it ever started selling chips.
高通辩称,其授权行为遵循长期确立的行业规范,其收取的授权费用大致与开始销售芯片之前很多年前的水平相同。
That has become a big market for Qualcomm, which controlled 59.6 percent of the $15.3 billion market for 4G modem chips in 2017, according to IDC's Phil Solis, who studies mobile chips for the research firm.
据IDC研究移动芯片的Phil Solis称,这已成为高通的一大市场。2017年,高通在4G调制解调器芯片153亿美元的市场中占据59.6%的份额。
But Bob Van Nest, an attorney representing Qualcomm in the case, also sought to show that Qualcomm is not dominant in the world's two biggest handset makers.
但高通的代理律师Bob Van Nest也试图证明,高通在全球两大手机制造商中并不占主导地位。
During opening arguments, Van Nest's presentation said that Huawei [HWT.UL] internally sources 54 percent of the modem chips it puts in its devices and gets only 22 percent of its modems from Qualcomm, with the remainder coming from other unnamed makers. Samsung <005930.KS> internally sources 52 percent of the modem chips it uses, with 38 percent from Qualcomm and the rest from other makers, according to the presentation.
在陈词中,Bob Van Nest称,华为设备中54%的调制解调器芯片来自公司内部,只有22%的调制解调器来自高通,其余来自其他未具名制造商。而三星使用的调制解调器芯片有52%来自内部,38%来自高通,其余来自其他制造商。
Huawei and Samsung did not immediately respond to a request for comment. Also, the FTC's case centers not on the overall modem chip market - which includes slower chips that go into cheaper handsets - but rather the market for speedy "premium" chips where Qualcomm is among the only options.
华为和三星没有立即回应记者的置评请求。此外,此次联邦贸易委员会的案件并非集中整个调制解调器芯片市场(包括速度较慢的芯片,一般用于低价手机),而是针对高速的"高端"芯片市场。在高端芯片市场,高通是唯一的选择。
Huawei and Samsung are both large diversified technology corporations that make many other products aside from premium-priced smart phones. Huawei's HiSilicon unit supplies the chips for its high-end phones such as its Mate and P series. Samsung's chip division supplies processors and other components for many of its handsets and is also a dominant global supplier of memory chips beyond its own products.
华为和三星都是多元化的大型科技公司,除了高端智能手机,它们还生产许多其他产品。华为的HiSilicon部门为Mate和P系列等高端手机提供芯片。三星的芯片部门为其许多手机提供处理器和其他部件,也是全球主要内存芯片供应商。
The two firms are also Apple's fiercest rivals in the market for premium smart phones costing $700 or more. Apple depends entirely on Intel Corp and Qualcomm for modem chips, though the iPhones released in 2018 use Intel modems exclusively.
华为和三星也是苹果在高端智能手机市场上最激烈的竞争对手。苹果完全依赖英特尔和高通的调制解调器芯片,不过2018年发布的iphone只使用英特尔调制解调器。
Technology news publication The Information last month reported that Apple was designing its own modem chip, citing Apple job listings and a source briefed on Apple's plans. Apple declined to comment on its plans.
科技新闻出版物《信息报》上月报道称,苹果正在设计自己的调制解调器芯片。
For the second quarter of 2018 - the most recent figures available from IDC - Apple was the third-largest smart phone supplier by volume, with Samsung and Huawei in first and second place, respectively.
根据IDC提供的最新数据,2018年第二季度,按销量计算,苹果是第三大智能手机供应商,三星和华为分别位居第一和第二。
美国雅虎读者评论:
译文来源:三泰虎 http://www.santaihu.com/46813.html 译者:Jessica.Wu
外文:https://finance.yahoo.com/news/samsung-huawei-supply-majority-own-modem-chips-qualcomm-001030215--finance.html
Tong3 hours ago
Huawei supply majority of own modem chips.
Huawei has signed 22 worldwide contracts to commercialize 5G technology (27 contracts upto Jan. 4 2019).
华为自己提供大部分调制解调器芯片。
华为已经在全球签署了22份5G技术商业化合同(截至2019年1月4日,27份合同)。
Anonymous5 hours ago
Is apple buy samsung screens lol
苹果买的是三星的屏幕,哈哈
Janetran4 hours ago
Qualcomm actually has the best modem chips.
实际上,高通的调制解调器芯片是最好的。
Libtards&Democraps4 hours ago
I'll stick with iPhone for life. But, you don't have to !
不管别人怎么样,我这辈子会坚持用iPhone。
Nominsky4 hours ago
No Communist Chinese Company makes their own Chips. The Chips are made under Licenses from Companies who Own The Patents, or else they are STEALING the Patents.
没有一家中国企业能自己生产芯片。这些芯片是根据专利持有公司的许可生产的,否则他们就是在窃取专利。
#LiberalismIsDYING2 hours ago
Apples greed isnt gonna help on this one
苹果的贪婪对这个问题毫无帮助
No-Nonsense1 hour ago
FTC's lawsuit will end Qualcomm's illegal pricing practices in a few weeks!
联邦贸易委员会的诉讼将在几周内结束高通的非法定价行为!
Bill3 hours ago
This lawsuit is another big problem for Apple to deal with and it is of their own making. It seems to me that if Apple would stop trying to screw all the people that they do business with they would have fewer business problems to deal with. BTW, Apple was the second largest cellphone maker by sales volume and now Huawei has past them. Clearly Apple is doing some things wrong and I would suggest that Apples customer screwing high prices are responsible for this change. If Tim Cook doesn't cut Apples non-competitive prices, he should immediately resign!
这起诉讼是苹果要处理的又一个大问题,这也是他们自己造成的。在我看来,如果苹果公司不再欺骗和他们做生意的人,那么他们需要处理的商业问题就会减少。顺便说一下,按销量计算,苹果是全球第二大手机制造商,现在华为已经超越了苹果。很明显,苹果做错了一些事情,我认为苹果的顾客把价格抬得太高是造成这种变化的原因。如果蒂姆•库克不降低苹果那不具竞争力的价格,他应该立即辞职!
DESMOND5 hours ago
So how to kill Huawei, a trusted name and reliable partner in almost every part of the world? This is the question the hawks are pondering daily. Look like US has to kill its technology companies first before killing Huawei.
如何才能扼杀华为这个几乎在世界各地都受人信任、值得信赖的合作伙伴呢?这是美国鹰派每天都在思考的问题。看来美国在扼杀华为之前必须先扼杀自己的科技公司。
Poock Poock3 hours ago
I don't understand why FTC investigates American company in favor of two Asian companies. Tell Asians to take a hike!
我不明白为什么联邦贸易委员会要偏袒两家亚洲公司。告诉亚洲人哪儿凉快哪儿歇着去!
Michael26 minutes ago
So Apple says Qualcomm needs to "share" its patents... what if iOS needed to be shared?
苹果说高通应该"分享"它的专利, 那苹果把IOS也拿出来分享吧?
Korean2 hours ago
Samsung, LG, SK, will not supply Huawei chips for sure.
三星、LG、SK肯定不会向华为供应芯片。
Thomas2 hours ago
Chinese know how to make chip? They can make potato chip only.
中国人知道怎么做芯片吗?他们只会做薯片。
H5 hours ago
Communists are laughing their butt off at Americans dismantling their own company over something non-existent.
中国人会嘲笑美国人为了一些根本不存在的东西而解散自己的公司。
Robotech6 hours ago
And please don't expect Apple to buy Samsung and Hwawei modems that's ridiculous.
不要指望苹果会购买三星和华为的调制解调器,这太荒谬了。
sandra 5 hours ago
Dumb Apple should have bought Qualcomm. It wasted billions on a stock buyback
愚蠢的苹果本该收购高通。它在股票回购上浪费了数十亿美元。
T v4 hours ago
2 US companies are preying on each other and the rest of the world are rejoicing. China, Germany and many more will be happy to watch this infighting. And the fools in FTC are playing around. Good riddance for China.
2家美国公司在互掐,其他国家在幸灾乐祸。中国、德国以及更多国家将乐于看到这种内讧。而联邦贸易委员会的那些傻瓜们却在和稀泥。中国可以轻松脱身了。
yorky5 hours ago
Let's boycott Iphones made in commie China
我们应该抵制中国组装的iphone