China approves $33.8 billion railway projects in Jiangsu and Anhui
中国批准江苏和安徽338亿美元铁路项目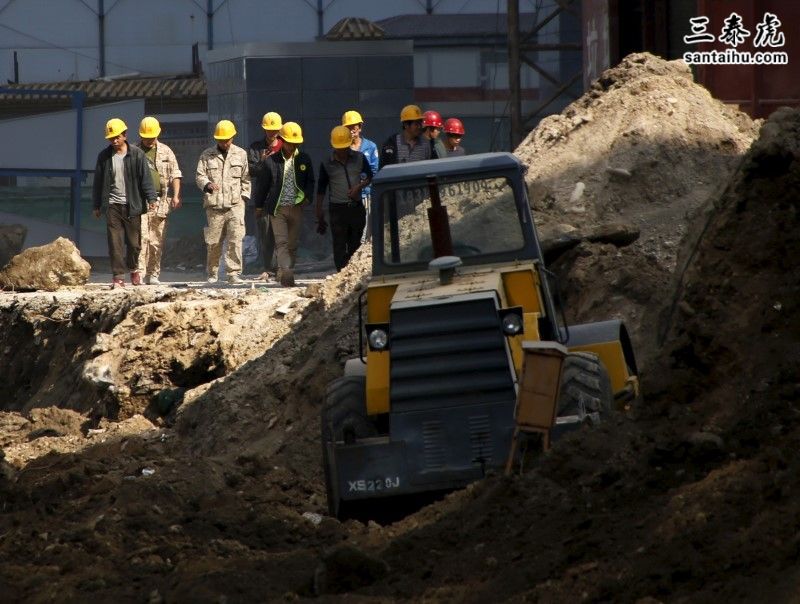 BEIJING (Reuters) - China's state planner said on Wednesday it has approved inter-city railway projects in the eastern provinces of Jiangsu and Anhui, with a combined total investment value of 231.7 billion yuan ($33.82 billion).
The eight inter-city railway projects will have a total length of 1,063 km, with 980 km in Jiangsu, the National Development and Reform Commission said in a statement on its website.
($1 = 6.85 yuan)
北京(路透社)——中国发改委周三表示,已批准江苏和安徽的城际铁路项目,总投资为2317亿元(合338.2亿美元)。
发改委在其网站上的一份声明中表示,8个城际铁路项目总长度将达到1063公里,其中江苏省内总里程约为980公里。
(1美元= 6.85元)
美国雅虎读者评论:
译文来源:三泰虎 http://www.santaihu.com/46794.html 译者:Jessica.Wu
外文:https://finance.yahoo.com/news/china-approves-33-8-billion-083738369.html?tdsourcetag=s_pcqq_aiomsg
Sanity!!11 hours ago
The US just approved 700 billions $$$$$$$$$$$ for its military, and 2 billion for infrastructure.
美国刚刚批准了7000亿美元军费、20亿美元基础设施支出。
ANDY L11 hours ago
I'm pretty sure China will complete this rail project before California high speed rail is done. Lol
我敢打包票中国将在加州高铁建成之前完成这个铁路项目,哈哈
DAVID14 hours ago
China is moving far ahead of the United-States in the development of its infrastructure. Wishing that Americans will take notice and start improving their own society.
中国基础设施建设遥遥领先美国。希望美国人能注意到这一点。
W13 hours ago
This is what America needed, infrastructure spending, instead of a tax break for billionaires (who really don't need more) and big corporations (who mainly used it to buy back their own stock).
基础设施支出正是美国需要的,而不是为亿万富翁和大公司减税
Texaslefty14 hours ago
China should change its motto to 'Just Do It'. The US already has the motto 'Just Delay It'.
中国应该把口号改为"只管去做"('Just Do It)。美国的口号已经改为"只管去拖"了。
Jack of Spades11 hours ago
This will also likely be finished in a few years, not the decades it takes some places in the USA to complete a few small train stations... The USA is clearly losing on the infrastructure front. Riding the subway in NYC, it is clear the system has been downgraded to a 2nd world mass transit system, not a 1st world.
项目可能在几年内完成,不像美国的一些地方几十年才建成几个小火车站……美国基础设施显然输了。纽约地铁很明显已经从第一世界的公共交通系统沦为第二世界的了。
be carefull14 hours ago
while China keeps investing in their economy ,we keep investing into weapons and wars that do nothing for improving our economy
中国不断发展经济,我们却继续花钱打仗
Xiaodong8 hours ago
At end of 2018, China has completed 18125miles or 29000km high speed rails. More than rest of the world combined. Great achievement!
截至2018年底,中国已经建成18125英里(29000公里)高铁,比其他国家加起来还要长,了不起的成就!
Christopher14 hours ago
Hmmm....China invests $33 billion in improving infrastructure; they already know where to spend their funds because it's been proven walls are a waste or money.
中国投资330亿美元改善基础设施,他们知道该把钱用在哪里。
Peter5 hours ago
Just hope this will be a sustainable project, there are already a lot of completed mega projects that lose money for years and doesnt seem to be profitable.
希望这会是一个可持续发展的项目,已经有很多建成的大型项目亏损多年。
Sunshine12 hours ago
and all america does is give rich tax cuts and bad roads
而美国所做的只是给富人减税,基础设施那么差劲也不管。
Anonymous4 hours ago
China is going to build hi-speed rails, not like the rails in us now.The length of China's railways in operation reached 127,000 kilometers, of which 25,000 kilometers were high-speed railways, accounting for 66.3 percent of the world's total. the average speed is 300 kilometers.and all those hi-speed rails were built in a matter of several year.
中国正在建设高铁。中国铁路运营里程达到12.7万公里,其中高铁为2.5万公里,占世界铁路总里程的66.3%。中国高铁平均时速是300公里,而且这些高铁都是几年内建成的。
EL ZORRO13 hours ago
China is an example to the world
中国为世界树立了榜样。
Ho13 hours ago
What happens to California High Speed train? it is at its snail pace. Can we really have a speed train in the year 2030?
加州高铁怎么样了?到2030年,我们能坐上高铁吗?
Max13 hours ago
American is only this generous when it gives money to Israel
美国只有在给以色列钱的时候才这么慷慨
bunnies_attack13 hours ago
Meanwhile, the USA infrastructure keeps falling apart and gets worse each year. No one in the US wants to spend money on taxes let alone universal health insurance.
与此同时,美国的基础设施越来越烂。在美国,没有人愿意花钱修基础设施,更别提全民医保了。
Anonymous13 hours ago
And Trump can't get Mexico to pay $5 Billion for his Wall. SAD.
特朗普却筹不到50亿美金来建墨西哥边境的隔离墙,悲哀。
C13 hours ago
Meanwhile, Trump wants $5 billion to build the Great Fence of the USA
与此同时,特朗普想筹50亿美元来建边境隔离墙。
son14 hours ago
The Chinese can fund a 33billion railway. say that again 33 billion. But the dems can't fund a 5 billion wall. go figure.
中国能拿出330亿美金修铁路,330亿啊。但是美国皿煮党却拿不出50亿修边境隔离墙。
The American14 hours ago
China is building a railroad? And somehow this is news? Will it have the usual 30 day warranty?
中国修个铁路也上新闻?有30天的保修期吗?
zho4 hours ago
the Chinese high speed rail system is amazing.
中国的高铁令人叹为观止
Bob12 hours ago
China is spending $38 billion on super railway; while Trump and his associated f-s, want to spend $50 billion on a useless wall. Wonder why Chinas economy is #1 in the world.
中国正斥资380亿美元建设超级铁路,特朗普却想花500亿美元修一堵墙。知道为什么中国经济能成为世界第一了吗?
M14 hours ago
How are they going to maintain it all after their main money source looks elsewhere for suppliers and their bankroll dries up?
资金用完之后,他们将如何维持运营?
Paul13 hours ago
Infrastructure. What a unique idea. We gonna spend $22 billion on a wall. China already has one and it works great. No Mongols have not invaded China in over 1000 years. Still working. We (USA) are so screwed.
我们要花220亿美元修一条边境墙。中国已经有长城,而且效果很好,1000多年来蒙古人从未入侵过中国。
Carol4 hours ago
We'd be lucky to get 100 miles of old Amtrak rail redone for that money.
这笔钱只够翻修100英里美国铁路公司(Amtrak)的旧铁路。
Jay C.13 hours ago
And trump cant get 5B for the wall...LOL
特朗普筹不到到50亿美金修墙…哈哈
Moderate Independent7 hours ago
While I agree that US should spend more for infrastructures but high speed railways are not necessarily needed for US. China on the other hand definitely needs it since there never was adequate means of transportation (and movement of commercial goods) and not too many people in China can afford air fares.
虽然我赞同在基础设施上多投资,但是我们不一定需要高铁。而中国绝对需要高铁,交通设施不足,很多人坐不起飞机。
Prussia!5 hours ago
More details would be nice. What cities are they connecting?
多点细节就好了,比如它们将连接哪些城市?
Tom6 hours ago
China is building a $35B railroad. We are building a $45B wall. No wonder we are doomed.
中国花350亿美元修铁路。而我们却耗资450亿美元修一堵墙,难怪我们注定要失败。
Scott7 hours ago
And Americans are paying for this program if we don't reverse the trade deficit.
如果我们不能扭转贸易赤字,那美国人将为这个项目买单。
Scott7 hours ago
Why don't States like California pay for their own infrastructure instead of asking the Federal government?
为什么加州不为自己的基础设施买单,而要向联邦政府要钱呢?
Moises13 hours ago
China takes our middle class jobs and the profits and taxes that come from it!
中国夺走了我们中产阶级的工作以及由此带来的利润和税收!
Gul5 hours ago
Sorry we don't have any money for infrastructure building, we have to build the wall
我们没钱修基础设施,我们得先修墙
Tony6 hours ago
It is funny the US is debating about $5 billion for the wall to secure the border. If the US has the money to bomb here and there in the world, why not spend this money for their border. This world needs construction instead of destruction. The US should withdraw all its troops from abroad and spend money home and the world would be a better place with less wars and more peace.
有趣的是,美国正在讨论用50亿美元修建隔离墙以确保边境安全。如果美国有钱在世界各地狂轰滥炸,为什么不把这些钱花在边境上呢?这个世界需要建设,而不是毁灭。美国应该从国外撤出军队,把钱花在国内,这样世界就会变得更美好,少些战争,多些和平。
fedupman2 hours ago
America paid for this
美国掏钱买的单
bud13 hours ago
Totalitarian gov's are great aren't they libs? So efficient. Only if we could be more like them. How's the CA "bullet" train going? Billions wasted and we got nothing.
加州高铁怎么样了?花了数十亿,却没点进展。
WANG9 hours ago
Trumpet liar, Mexico will not pay a cent.
特朗普撒谎,墨西哥不会掏一分钱修边境墙。
Eric Yucatan6 hours ago
Pretty soon the worlds wealthy will send their kids to China for higher learning.
很快,全世界的富人将把他们的孩子送到中国接受高等教育。
Matt10 hours ago
Every week is actual infrastructure week in china... US trash expect fairies to fix roads
中国的基础设施每周都有进展,而美国只能指望精灵来修路了。
wayne8 hours ago
Who Cares.
谁在乎这事儿。
CaptainKKK3 hours ago
US is going backwards. China built GREAT WALL thousands of years ago. US can't even get funding for a wall. Broke USA
美国在倒退,中国几千年前就修建了长城。美国甚至连建一堵墙的资金都没有。美国破产了。
Joe5 hours ago
The road in the U.S is worse than those in 3rd world country, yet them yanks still think their country is the greatest...lol
美国的路比第三世界国家还糟糕,但他们仍然认为自己的国家是最伟大的…哈哈
Rattha5 hours ago
Actually US has more money than China. But allocated the most budget to its military. If US can reduce 30% of its military budget and allocate to infrastructure, then plenty of things will happen in US.
实际上美国比中国有钱,不过把大部分预算拨给了军方。如果美国能够削减30%的军费预算,并将其用于基础设施建设,那情况就大不相同了。