China Seeks Talks With India to Push Asia Trade Pact, Sources Say
中国寻求与印度进行谈判,以推动亚洲贸易协定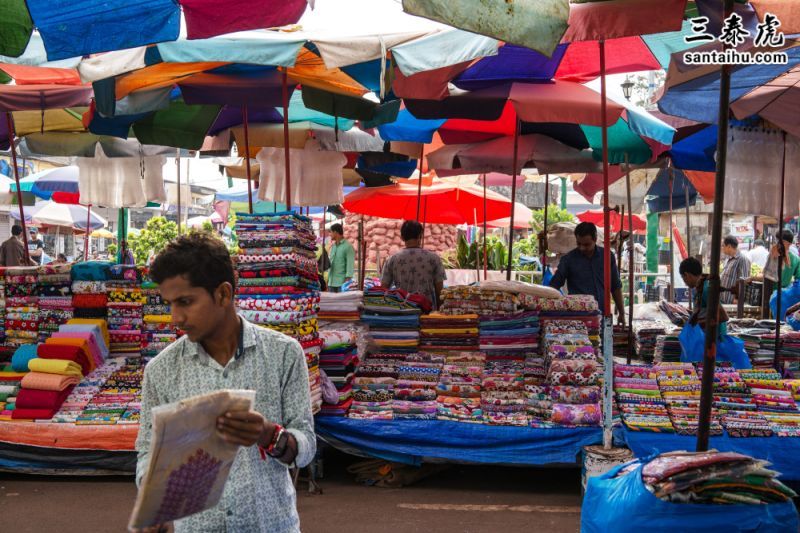 (Bloomberg) -- China has sought talks with India to allay concerns on a regional free trade pact it is spearheading, two people familiar with the matter said, as Beijing seeks newer markets amid the ongoing trade war with the U.S.
(彭博社)--两名知情人士表示,中国已寻求与印度进行谈判,以缓解外界对中国主导的地区自由贸易协定的担忧。在中美贸易战仍在持续之际,北京方面正在寻求新的市场。
The 16-country Regional Comprehensive Economic Agreement has been in the works for a while and China is keen to conclude it by end of 2019, the people said, asking not to be identified as the matter is not public. India's wariness about a possible flood of Chinese goods, and its demand for looser immigration rules for its tech professionals remain sticking points.
上述知情人士表示,16国《区域全面经济协定》已经酝酿了一段时间,中国希望在2019年底前达成该协议。但印度对中国商品可能大量涌入的担忧,以及印度对本国科技专业人士放宽移民规定的要求,仍是症结所在。
China's inability to close the trade deal highlights the continuing suspicion among its Asian trading partners over Beijing's effort to increase its influence in the region. RCEP, along with the Belt and Road Initiative to build investment and trade links with countries along the old Silk Road to Europe, is a key element in China's efforts to seize the geopolitical advantage following what many in the region see as a U.S. retreat under President Donald Trump.
中国未能达成这一贸易协议,突显出其亚洲贸易伙伴对北京在该地区扩大影响力仍持怀疑态度。《区域全面经济伙伴关系协定》(RCEP),以及与旧丝绸之路沿线国家建立投资和贸易联系的"一带一路"倡议,是中国努力抓住地缘政治优势的关键因素。
India's foreign ministry didn't immediately respond to a message seeking comments. China's commerce and foreign affairs ministries didn't immediately respond to a fax.
印度外交部没有立即回复置评请求,中国商务部和外交部也没有立即置评。
The meeting is likely to take place before the end of this month, and New Delhi has drawn up a list of issues it will take up with Asia's largest economy. That includes providing zero-duty access to fewer Chinese goods as opposed to those offered to other members of RCEP. It also will seek a longer period to phase out levies on Chinese goods compared to 20 years offered to the others.
此次谈判很可能在本月底之前举行,新德里已经拟定了一份将与中国这个亚洲最大经济体讨论的问题清单。印度还将争取较长时间逐步取消对中国商品征收的关税,相比之下,对其他国家征收的关税将实行20年。
India's imports from China have been rising for a while with the deficit reaching $55.6 billion in 2017 compared to $48.19 billion in 2015. A resolution of the stalemate appears unlikely any time soon as RCEP member countries like Australia, India and Indonesia go into elections in 2019.
一段时间以来,印度从中国的进口一直在增长,2017年印度对华贸易逆差达到556亿美元,而2015年为481.9亿美元。随着澳大利亚、印度和印尼等RCEP成员国在2019年举行选举,僵局似乎不太可能在短时间内得到解决。
Apart from China, India is planning to reach out to key players like Singapore and Australia to seek a consensus on these issues.
除了中国,印度还计划与新加坡和澳大利亚等国家接触,寻求在这些问题上达成共识。
美国雅虎读者评论:
译文来源:三泰虎 http://www.santaihu.com/46789.html 译者:Jessica.Wu
外文:https://news.yahoo.com/china-seeks-talks-india-push-220000887.html
Go Greenyesterday
Trade make win win for all..
贸易带来双赢
Mosesyesterday
India may have concerns but ASEAN and Japan want this deal as well and 2018 saw ASEAN nations put additional pressure on India and also saw Japan take more of a leadership role to close the pact. China's Asian partners are NOT suspicious of this pact at all. India has been the outlier and wants more flexibility for its high tech workforce. Elections could get in the way of a quick resolution but RCEP has momentum and will likely get done.....India may have concerns but it also does NOT want to be left out. This will be the largest multilateral trade pact in history and its focus is solely on ASIA!
印度可能会感到担忧,但东盟和日本也希望达成协议。2018年,东盟国家对印度施加了更多压力,日本也在达成协议方面发挥了更大的主导作用。中国的亚洲伙伴对这一协定并不怀疑。印度一直是局外人,选举可能会阻碍问题的快速解决。印度可能有顾虑,但它也不想被排除在外。这将是历史上最大的多边贸易协定,其焦点完全集中在亚洲!
Go Greenyesterday
Glad to see India and China focus on economy and win win ..
No war, no cold , no trade war stir up by the media led by Washington .. but seeking benefit for people of the two countries , fight poverty , build infrastructure , out reach each other for culture exchange, to understand and to be understand , win win win for the world
很高兴看到印度和中国关注经济,这将带来双赢。
没有战争,没有冷战,没有由华盛顿主导的媒体挑起的贸易战。但要为两国人民谋福利,消除贫困,修基础设施,开展文化交流,相互了解,相互理解,实现双赢、共赢。
Faliciano20 hours ago
Well losing 55 billion dollars yearly to china is not good for India...India will keep on becoming poorer and China will keep on becoming richer .Free trade should also be equal trade .............
每年输给中国550亿美元,这对印度不利,印度会变得更穷,中国会变得更富。自由贸易也应该是平等贸易……
sandra yesterday
Real headlines "China wants a trade imbalance with India to help China's economy"
标题应该改为"中国希望与印度保持贸易失衡以促进中国经济的发展"
Maki16 hours ago
Hope American government would stir something up in the region. It cannot happen two regional powers cooperating with each other, it would undermine our influence in South Asia and the Middle East. Asian countries needs to stop cooperating.
希望美国政府能在该地区挑起事端,不让该协定达成,两个地区大国相互合作,会损害我们美国在南亚和中东的影响。应该让亚洲国家停止合作。
Observeryesterday
India's growing economy and huge market are attracting the world..smartly striking win-win deals will be good for everybody..bullying, cheating won't help!
印度不断增长的经济和庞大的市场吸引着世界。达成双赢协议对大家都有好处,恃强凌弱和欺骗是无济于事的!
Glenn16 hours ago
Properly managed trade agreements are good for everyone
好的贸易协定对大家都有好处。
Honest manyesterday
Just trade with goods to goods without US dollars. Just see what US can do to sanction.
以货易货,不用美元交易,看看美国能实施什么制裁。
Timothyyesterday
Since China claims a large chunk of India (Arunachal Pradesh) belongs to China, yeah, I can see how closer ties might be difficult to establish.
既然中国声称印度的一大块领土属于中国,那就很难建立更密切的关系。
Dr Bobyesterday
India would be well advised not to sign anything yet, but to wait until the Trade war with the US yields some results and puts China back in its place. They will be much more amenable after that.
印度最好不要签署协议,等到美国在贸易战中取得一些成果,让中国重新找准自己的位置之后,他们会更加顺从的。
CHyesterday
Asian countries should start doing barter trades with each other until they can come out with a new banking system based on a basket of currencies.
亚洲国家应该开始进行易货贸易,然后推出基于一篮子货币的新银行体系。
Alejandroyesterday
China is making Africa "it's China" also taking over most of Asia markets. We sit here and fight over little old Mexico.......while our stock markets crash. The world is a symbiotic, one, you cannot live "alone" or secluded from the rest of the world anymore. The rest of the world is doing everything to surpass the United States and winning, while they see us fighting with each other. Pick up a history book, countless civilizations have fallen this way, to late to even notice. Your hate, bigotry and fear of what does not look like you, will be our downfall. You voted for it, live with it lmao
中国正在把非洲变成自己的地盘,中国"还占领了亚洲大部分市场"。世界是一个共生体,你不能再"独自"生活,也不能再与世隔绝。世界其他国家正在尽一切努力超越美国,而与此同时,我们还在窝里斗,无数文明都是这样堕落的。
Hurricane Ditkayesterday
China and India have historically been adversaries. I'll be interested to see how this ends.
中国和印度历来是争锋相对的,我很想知道结果会如何。
Wargirl16 hours ago
The US FARMER thinking they are the only ones that can make SOY or CORN or other products are so wring. India can make a better product and CHEAPER. So many farmers will end up on WELFARE and BANKRUPTCY.
美国农民认为只有他们才会种植大豆、玉米等作物人,他们的想法是如此的扭曲。印度产品更便宜,质量更好。很多美国农民最终将破产,靠救济度日。
Vincentyesterday
By 2025 Most of the ENTIRE WORLD ECONOMY will BE BASED in INDO/CHYNA......get READY ! LOL VJVMD
到2025年,世界经济中心将转移到印度和中国…做好准备吧!
Ooh Rah17 hours ago
India must be very careful setting up trade agreements with China. They need to understand why no one else has.
与中国签订贸易协定时,印度必须慎之又慎,需要了解清楚为什么其他人没有签。
Monkyesterday
Most of the 1.339 billion Indians already used Huawei G5 phone for years and they loved its speed and the ultra high definition screen.
印度13.39亿人口中的大多数已经使用华为5G手机很多年,速度和超高清屏幕吸引印度用户
UkroReich12 hours ago
With Russia mediation it will happen. Russia- China- India already United in a powerful alliance which created a New World Order. Defeating American failed Hegemony.
在俄罗斯的调解下,这将成为现实。俄罗斯、中国和印度已经结成强大的联盟,建立了新的世界秩序,打败美国霸权。
Magjkyesterday
The Asian countries have been bullied and colonized by the west for hundred of years, it's time for them to unite and fight back.
几百年来亚洲国家一直受到西方的欺凌和殖民,是时候团结起来反击了。
stephenyesterday
Horse is out of the barn.
No country wants to keep running huge deficits
没有哪个国家愿意继续对华保持如此高的贸易赤字。
Lakeshoreyesterday
That's a step in right direction. China knows it's better off doing business with India rather than Pakistan.
这是朝着正确方向迈出的一步。中国知道和印度做生意比和巴基斯坦做生意更有利可图
eeyaw9 hours ago
If india is not prepared to move forward just leave them out in the cold.
如果印度还没准备好向前迈进一步,那就把他们晾在一边。
John Jyesterday
India is against free trade. This is one large reason why it went from the richest country in Asia in 1948 to much poorer than most today.
印度反对自由贸易。这就是它从1948年亚洲最富裕国家沦为比大多数国家更穷的一个重要原因。
Terryyesterday
No one country wants to willing trade with the China traps except maybe Cambodia, NK, or maybe the Philippines.
也许除了柬埔寨、朝鲜和菲律宾,没有一个国家愿意与中国进行贸易
Guruyesterday
No body trusts china.
没人信任中国。
AGR2 hours ago
India has had enough with cHina ! China still occupies 30% of Kashmir that belongs to India !!
印度受够中国了!中国仍然占领着本属印度的克什米尔地区30%的土地!!
Karan14 hours ago
India's concerns are not unfounded. One reason for the tilted trade imbalance is that China simply restricts market access to Indian products and services in many more areas than India does. In this regard, India has liberalized its import regime in line with WTO rules (with notable exceptions) whereas China has not. Having said that, India has lagged behind in labor and other reforms that would make its manufacturing as competitive as China's.
印度的担忧并非毫无根据,贸易失衡是原因之一,中国对印度产品和服务的市场准入限制比印度多得多。在这方面,印度已经按照世贸组织的规则(除了明显的例外)放开了进口,而中国没有。印度在劳动力和其他改革方面仍然落后,改革后,印度的制造业将具有与中国一样的竞争力。
Anonyesterday
Nobody believes China, anymore.
没人再相信中国了。
dannyboy6yesterday
Don't trust Chins, you ll bd Sorry
不要相信中国人,否则你会后悔的
Mark15 hours ago
There is no country in the world, not even India, that will tolerate China stealing its intellectual property. Indian intellectual property is sacred too.
世界上没有一个国家,包括印度,会容忍中国窃取技术。印度的知识产权是神圣不可侵犯的。
BGT4VR4 hours ago
World Domination thru Commerce.
通过商业统治世界。
3k40d11 hours ago
Make China Great Again MCGA
让中国再次伟大