Introducing the X-32 Stealth Fighter (The Plane That Could Have Replaced the F-35)
X-32隐形战机介绍(本可取代F-35的战机)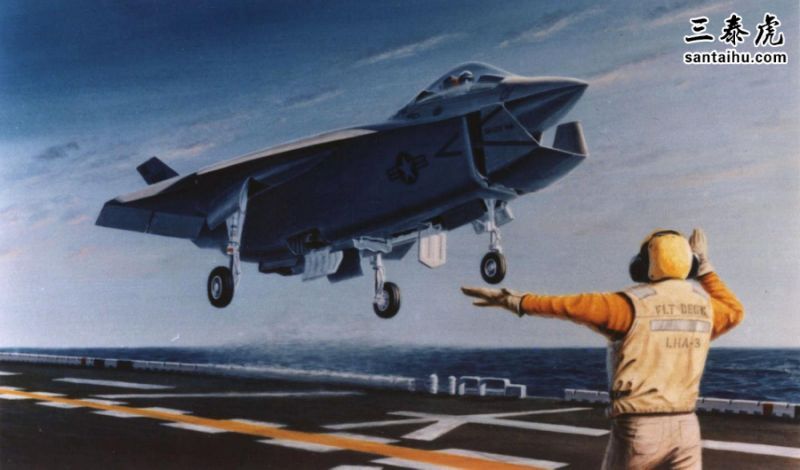 Dave Majumdar
Security,
Key point: "Overall, it is very likely the Boeing would have run into the same sort of technical hiccups, cost overruns and delays as Lockheed did on the X-32".
关键点:"总的来说,波音很可能会遇到类似洛克希德在X-32上遇到的技术问题、成本超支和延误。"
In October 26, 2001, the U.S. Department of Defense announced that Lockheed Martin's X-35 had won the Joint Strike Fighter contest over Boeing's X-32.
2001年10月26日,美国国防部宣布洛克希德·马丁公司的X-35(后命名为F-35)在联合攻击战机比赛中击败波音公司的X-32。
The win secured Lockheed's future as the manufacturer for all of America's fifth-generation fighter platforms. But Lockheed's resultant F-35 has suffered myriad delay, technical glitches, unrecoverable technical shortfalls and massive cost overruns.
这次胜利确保了洛克希德公司作为美国所有第五代战机平台制造商的资格。但是洛克希德的F-35遭遇了无数的延迟、技术故障、无法弥补的技术缺陷和巨额的成本超支。
Already the largest ever defense program with an estimated price tag of $233 billion in 2001 for a total of 2,866 aircraft, the F-35 program is now estimated to cost more than $391 billion for 2,457 jets, according to the Government Accountability Office.
据美国政府问责局的数据,F-35项目是美国有史以来规模最大的国防项目,2001年总计2,866架飞机的造价估计为2,330亿美元,目前2,457架飞机的造价估计超过3,910亿美元。
Moreover, while the short-takeoff vertical landing F-35B was originally projected to achieve initial operational capability with the U.S. Marines in 2010, it only reached that milestone in 2015—five years late. Meanwhile, the conventional F-35A and the F-35C carrier variant were both slated to achieve initial operational capability with Block 3 software in 2012—but that software block is now scheduled to be delivered for operational testing in 2017 at the earliest.
此外,虽然短距垂直起降F-35B最初计划在2010年投入美国海军陆战队,实现初步作战能力,但直到2015年才达到这一里程碑——晚了五年。与此同时,常规的F-35A和F-35C舰载型预定在2012年实现Block 3软件的初始作战能力,但是该软件模块目前计划最早在2017年交付运行测试。。
Would Boeing have done any better? Hard to say—the Joint Strike Fighter was always a technically challenging and extraordinarily ambitious program. It is likely that Boeing would have run into similar but different technical and budgetary problems. The fundamental issue with the Joint Strike Fighter was that is was always an overambitious program to replace multiple specialized types with one aircraft in the hope that it could perform every role equally well. The result is predictably a jack-of-all-trades but master of none.
对此,波音X-32会做得更好吗?很难说,联合攻击战机一直是一个雄心勃勃的项目,在技术上具有挑战性。波音也很可能会遇到类似的问题。联合攻击战机的根本问题是,用一架战机取代多种特种战机,并希望它能同样出色地发挥每一种作用,这一直是一个过于雄心勃勃的计划。结果可想而知,样样通样样松。
One of the main reasons why Lockheed Martin's design was selected over Boeing's was because the X-32's direct lift system—which uses engine thrust to lift the aircraft—is prone to pop stalls. That's a phenomenon where hot exhaust gases are reingested into the engine causing a power loss. There were also questions as to whether the engine would be powerful enough to lift a fully operational F-32—the prototype had to have parts removed to ensure it would fly. It probably didn't help Boeing's case that it had to redesign the X-32 to meet the modified JSF requirements. An operational F-32 had a very different configuration from the X-32.
洛克希德·马丁公司的设计之所以中选,其中一个主要原因是波音X-32的直接升降系统——使用发动机推力来让飞机起飞——容易突然熄火。这是一种热废气被重新吸入引擎造成动力损失的现象。还有一个问题是,引擎是否强大到足以举起一架完全可操作的F -32,原型机必须拆卸部件,才能确保起飞。为了满足修改后的联合攻击战机的要求,波音公司不得不重新设计X-32。可操作的F-32与X-32的配置大不相同。
Even if Boeing managed to solve the airframe issue, they would have had to deal with the extremely complex sensor fusion software. The software was always going to be a challenge under the best of circumstances. The only edge Boeing had was that it had developed the Lockheed Martin F-22's avionics package—but the JSF is much more complex.
即使波音公司设法解决了机身问题,他们也必须处理极其复杂的传感器融合软件。即使在最好的情况下,软件也总是一个挑战。波音公司拥有的唯一优势是它开发了洛克希德·马丁公司的F-22航空电子设备包——但是联合攻击战机要复杂得多。
Overall, it is very likely the Boeing would have run into the same sort of technical hiccups, cost overruns and delays as Lockheed did on the X-32. Lockheed mismanaged the F-35 program to an extent, but the Pentagon's requirements for a all-in-one wonder plane is what caused the programs problems. With either company, the JSF program was almost certainly going to be late and over budget—it just a question of by what margin.
总的来说,波音很可能会遇到类似洛克希德在X-32上遇到的技术故障、成本超支和延误。洛克希德公司对F-35项目的管理在一定程度上是错误的,但是五角大楼对一架多功能飞机的要求是导致项目问题的原因。对于这两家公司,联合攻击战机项目几乎肯定会延误,并且超出预算——问题是超出的范围有多大。
美国雅虎读者评论:
译文来源:三泰虎 http://www.santaihu.com/46754.html 译者:Jessica.Wu
外文:https://news.yahoo.com/introducing-x-32-stealth-fighter-131900186.html
jnkewa7772 days ago
You can watch the whole x32 story on YouTube and it's a lot easier to understand than this article...
可以在YouTube上观看了有关X32的介绍,比这篇文章更好理解……
Chris2 days ago
The F-32 couldn't be repaired. The entire upper wing/fuselage surface had to be built in one go, and Boeing couldn't figure out how to build it without flaws/voids in the composite layup. Even worse, if there was any damage to the surface, there was no way to FIX it. So, you'd end up throwing out the fuselage of the aircraft every time you had a hailstorm.
Aircraft are now too complex to design.
F-32无法修复。整个上翼/机身表面必须一次性完成,而波音公司不知道如何避免这一缺陷。更糟糕的是,如果表面有任何损坏,就没有办法修复它。所以,每次下冰雹的时候,机身就废了。
飞机的设计太过复杂了
Robert2 days ago
The NAVY & AIR FORCE need to talk! There are cost savings in efficiencies of using the same plane!!!
海军和空军需要谈谈! 使用同款战机可以节省成本、提高效率!!!
SM2 days ago
X32 was a Boeing proposal, the F35 is the Lockheed Martin proposal and the X-35 won the contract. There is no replacing the X35 with the X32, it was two companies proposing next gen fighters and the X35 won.
X32是波音公司设计的,F35是洛克希德马丁公司设计的,X-35赢得了合同。X32不可能取代X35,这是两家公司在下一代战斗机上的竞争,X35赢了。
Charles2 days ago
The X32 money should be invested in the enhancement of our already existing arsenal. Our present level of fire-power is more than adequate to defend our nation against an attack from any aggressor.
X32的资金应该用于加强现有武器库。我们目前的火力足以保卫国家不受他国攻击。
Mike H2 days ago
Seems like they dust off this article every few months and slap a new date on it.
他们似乎每隔几个月就会把这篇文章拿出来重温一下,然后在上面加上一个新日期。
Steve2 days ago
The "X-32" didn't even come close to meeting early flight trial requirements. To get the aircraft to accomplish a vertical takeoff they had to take parts off to lighten the aircraft.
"X-32"甚至没有达到早期试飞的要求。为了让飞机完成垂直起飞,他们必须把一些部件卸下来,以减轻飞机的重量。
Jeezy2 days ago
Now you know why we have a debt/deficit problem
现在你们应该知道为什么我们会有债务/赤字问题了
Edyesterday
Haha. Boeing's X-32B couldn't hover at sea level without a headwind,and having parts removed and other parts "fixed" to reduce weight. (Air cool and dense. Lockheed did it in the California high desert.) This is not a slam against Boeing, but the engine company couldn't deliver on the thrust they promised. Aircraft gain weight as their designs mature. How would that have faired with an F-32 airplane.
哈哈。波音公司的X-32B飞机无法在海平面上盘旋,而且为了减轻重量,需要拆卸部件。这并不是对波音公司的猛烈抨击,但这家公司无法实现他们所承诺的推力。飞机的重量随着设计的成熟而增加。
Canned Heat2 days ago
We shouldn't be paying for cost overruns.
我们不应该为成本超支买单。
A2 days ago
You can tell Boeing exec's are wasting money again trying to buy good press! The X32 was not stealth, could not fly, and overall poorly designed. If the writer could find a picture of the prototype flying I would be extremely suprised!
可以看出,波音公司的高管们又在掏钱收买媒体!X32不是隐形的,不能飞,整体设计也很糟糕。
Randyyesterday
ALL government programs go over budget and past deadlines . Particularly military ones . Please refer to a single one that hasn't .
所有政府项目都会超出预算,超出最后期限,特别是军方的。谁能列举出一个特例吗。
Anonymous18 hours ago
Considering Boeing BOTCHED the KC-46 contract and is over $3 BILLION in the hole
波音公司搞砸了KC-46合同,亏空超过30亿美元
melting snowFAKEs2 days ago
what happened???....it was to small, carried less then the 35 and had design problems....
X32太小了,载荷低于F35,设计上也有问题。
John16 hours ago
Doesn't anyone proof read this stuff before putting it out. Obviously not. Was this written by a 4 year old.
在发布前没有人校对过这篇文章吗?显然没有。看起来像是一个4岁孩子写的。
steve3 hours ago
the worst part is china says none of usa planes are stealth.
最糟糕的是中国说美国战机不具备隐形能力。
Ooh Rah21 hours ago
It's no different than any other aircraft designed by either company.Imageworldofaviation
这和任何一家公司设计的飞机没有什么不同
David8 hours ago
The F35 is going to turn out to be the biggest most expensive turd the US mitary ever invested in.
F35将成为美国军方投资过的最昂贵的垃圾战机。
Dale15 hours ago
This is nice we're discussing something for 2001 and Russia is putting out massive new weapons this year. Thank you ohblowme and Bush for making us number three in the world vs number one.
很好,我们还在讨论2001年的事情,俄罗斯今年正在部署大规模的新武器。感谢奥巴马和布什让我们从第一降到第三。
Tomyesterday
Boeing is trying to get back in the fighter aircraft business
波音公司正试图重返战斗机行业
Peteyesterday
Ask Yahoo why they post stories from divisive "National Interest". Only Russian spies are interested in this topic.
雅虎为什么会发布引起分歧的《国家利益》的文章,只有俄罗斯间谍对这个话题感兴趣。
jh4 hours ago
This article was outsourced to be written in India.Saved a ton of money.Way to go Yahoo.
这篇文章外包给印度写的,省了一大笔钱,雅虎干得好。
Cmdr7 hours ago
Will the Trump conversion to Coal power hurt the performance?
特朗普向煤炭发电的转型会影响业绩吗?
Jason19 hours ago
A 5-year-old wrote this article.
这篇文章像是5岁孩子写的。
Jam8 hours ago
Looks like concept art from the 1950's.
看起来像是20世纪50年代的概念图。
Phillip2 days ago
Cost of X32 = cost of F35 x 10
X32的成本= F35 x10
hanger2 days ago
Boeing couldn't even deliver a tanker, baised on their own airframe on time, what makes you think that they could do it with a clean sheet design? All these defense contractors are ripping off American taxpayer
波音公司甚至不能按时交付一架运油机。所有这些国防承包商都在剥削美国纳税人。
Randyyesterday
The U.S. has the military power to easily defeat the entire planet . I like it that way .
美国的军事力量足以轻而易举地击败全世界。
StevenB15 minutes ago
Im sure cash kickbacks to certain people are the problem.
我敢肯定问题在于给了某些人回扣。
Edward6 hours ago
Even less maneuverable than the F35.
机动性不如F35。
Liberal Enemayesterday
Pilots don't like to fly ugly planes, and the X-32 was a ugly as they come.
飞行员不喜欢开难看的飞机,X-32很丑。
antal2 days ago
Boeing designed a plane that was just to ugly.
波音公司设计了一架很丑的飞机。
gregory9 hours ago
That design was junk....
设计太垃圾了