The Future of E-Commerce and Retail Will Be Written in China
电商和零售的未来将由中国书写
By Justin Leverenz, CFA, Director of Emerging Market Equities, Portfolio Manager & Bhavtosh Vajpayee, CFA, Senior Research Analyst
China's experiments in shopping are moving into high gear. The world needs to pay attention. The Emerging Markets Equity Team was in Hangzhou, China, last week. In this, the second in our series of Insights articles on China Innovation, we argue that China is ground zero for the future of retail. The West will learn from and adapt the experiments that are already moving to scale in the East.
中国在购物方面的试验正在进入高潮,全世界都有必要关注。中国是零售未来的归零地,西方将学习和适应已经在东方大规模进行的试验。
Consider Alibaba, the Chinese Internet giant whose wide-ranging businesses span e-commerce, offline retail, fintech, online video, maps and browsers, and artificial intelligence. By the third quarter of 2017, Alibaba's business model appeared to have reached peak fruition, as the company took pole position as the world's largest e-commerce platform (by a factor of at least 2x Amazon), but was also third in digital advertising, just behind Google and Facebook. What could possibly change?
以中国互联网巨头阿里巴巴为例,该公司业务范围广泛,涵盖电子商务、线下零售、金融科技、在线视频、地图、浏览器以及人工智能。截止2017年第三季度,阿里巴巴的商业模式似乎达到了顶峰,不仅成为全球最大的电商平台(至少是亚马逊的两倍),而且在数字广告领域名列第三,仅次于谷歌和Facebook。哪些可能发生变化?
Experiments in Retail
零售试验如火如荼
A lot, as we have seen in the last 12 months. Alibaba's experiments in what it calls "new retail" have gained a scale and urgency scarcely imagined a year ago. Over 1 million of China's 6 million mom and pop stores have signed up for the company's Lingshoutong initiative.1Lingshoutong refits the shops, supplies them directly using Alibaba's logistics channel, aggregates offline and online data, and extracts a monthly commitment of throughput in return.
正如我们在过去12个月看到的那样,阿里巴巴在其所谓的"新零售"领域的试验已经达到了一年前几乎无法想象的规模和紧迫性。在中国600万线下零售小店中,有100多万家已经签署了该公司的零售通项目。零售通帮助他们重整店铺,利用阿里巴巴的物流渠道直接供货,整合线下和线上数据,作为回报它可以获得每月的流量。
Additionally, Alibaba's high-tech food/grocery retail store concept, known as Hema, is expanding quickly. Exhibit 1. These outlets serve as walk-in restaurants, food and grocery purchase points, and warehouses for online delivery (within 30 minutes in a three-kilometer radius) – all at the same time. There are now 64 Hema stores in operation, with two being added each week. Already, Hema stores in operation for over 18 months are reporting revenues of RMB50k per square meter, up to five times what traditional offline stores can generate. Sixty percent of Hema's sales are through the online delivery channel, making the stores far more productive, for far more hours of the day, than pure offline stores.1
此外,阿里巴巴的高科技食品/杂货零售店"盒马"正在迅速扩张。盒马是超市,是餐饮店,也是菜市场,消费者可到店购买,也可以在盒马App下单,门店附近3公里范围内,30分钟送货上门。目前有64家盒马门店在运营,每周增加2家。已运营超过18个月的盒马门店目前的每平方米的营收为5万元人民币(即坪效:每坪的面积可以产出的营业额),是传统线下门店营收的5倍。盒马 60%的销售都是通过在线配送渠道进行的,这使得商店在一天中的工作时间远远超过纯粹的线下商店。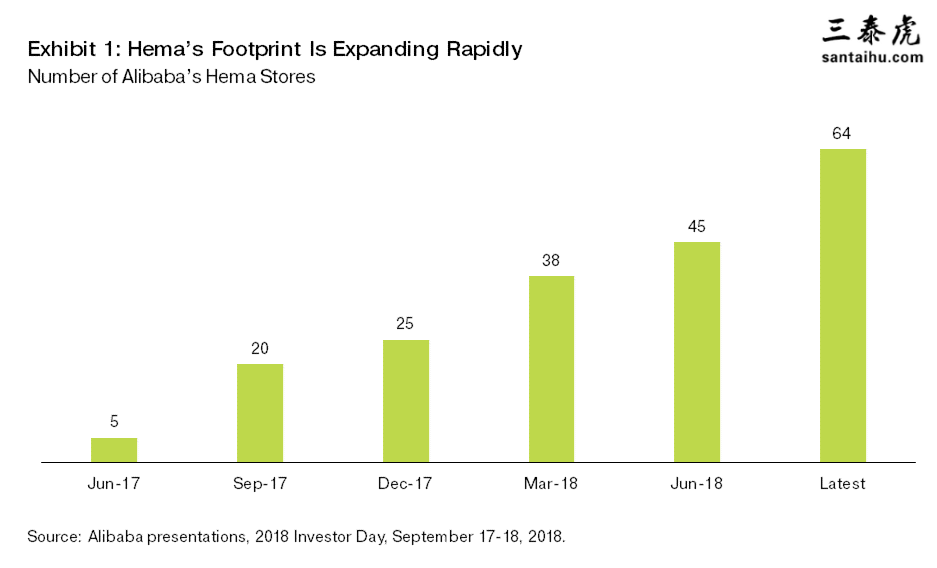 Unsurprisingly, China seems uniquely ready to adopt the Hema concept. Organized channels for grocery are currently underdeveloped compared with the United States, where over 90% of grocery already passes through established super/hypermarkets.In China, wet markets, the Asian equivalent of farmers markets that sell fresh meat and produce, still account for more than 70% of the country's grocery sector. This signifies the boundless potential for Hema as it keeps on driving the new retail experience involving online and offline integration.
不出所料,中国似乎已经准备好采用盒马概念了。而在美国,有组织的杂货渠道目前还不发达,其中超过90%的杂货是通过成熟的大型超市售出的。在中国,湿货市场,也就是销售新鲜肉类和农产品的农贸市场,仍占该国食品杂货业的70%以上。这标志着盒马的无限潜力,因为它不断推动线上和线下整合的新零售体验。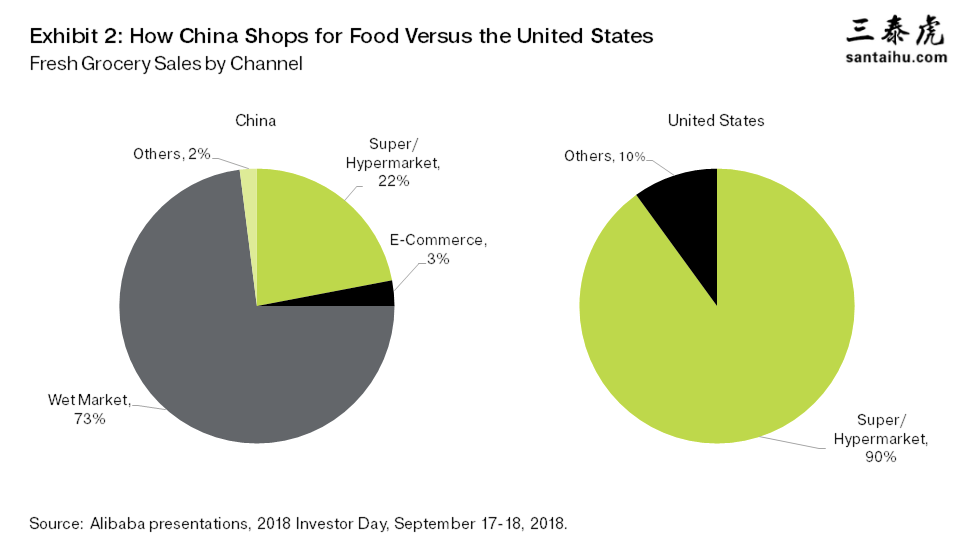 There is more. Alibaba's online shopping Taobao platform is no longer content with making ad-based recommendations, which were driven by keyword bidding by merchants. Recommendation feeds driven by consumer opinions have gained priority, as have sharing, short-form videos, and live streams. Taobao claims a 58% improvement in conversions when users view short-form videos. Additionally, gross merchandise value (GMV) driven by live streaming rose nearly four times in the past year.1
另一方面,阿里巴巴旗下的网购平台淘宝不再满足于仅推荐商家关键字竞价广告要推销的产品,由消费者意见驱动的产品推荐获得了优先权,分享、短视频和直播流也获得了优先权。淘宝网声称,当用户看短视频时,转化率提高了58%。此外,由直播推动的商品总价值在过去一年中上涨了近四倍。
Ambitions are also rising at the recently acquired Ele.me, an online food delivery platform. Not content with its 167 million user base, Ele.me is now eyeing the nearly 600 million e-commerce user base of Taobao and Tmall, another Alibaba e-commerce platform, and the 870 million users of Alipay, Alibaba's digital payments platform, to substantially expand its reach.1
最近被阿里巴巴收购的在线食品配送平台"饿了么"的雄心心也在上升,不满足于现有的1.67亿用户群,想扩大其影响范围,已经开始瞄上了电商平台淘宝和天猫的近6亿用户群,以及支付宝的8.7亿用户。
Retail space owned by Intime Retail – now a part of Alibaba – is being used for experimental "Tmall pop-up stores," which allows consumers to walk in, sample inventory, access a large apparel collection on giant touch screens within the store, pay with Alipay, and choose self-pickup or home delivery. Alibaba also has a furniture store that uses augmented and virtual reality to show consumers how an item will look in their homes. And retail stores owned by Sun Art Retail, in which Alibaba has a 31% stake, are dedicating space to products directly sourced from Tmall.
已被阿里巴巴收购的银泰零售旗下的零售空间正被用于试验性的"天猫快闪店"(Tmall pop-up stores),消费者可以在商店内的巨型触摸屏上访问一系列服装,使用支付宝支付,并可以选择自助提货或送货上门。阿里巴巴还开设了一家家具店,利用增强现实和虚拟现实技术向消费者展示家具摆放在家中的效果。阿里巴巴持有高鑫零售31%的股份,高鑫旗下的零售店也为天猫产品提供空间。
The Need for a Retail Transformation
零售转型的必要性
Is there a method to this cornucopia of initiatives? Alibaba's new long-term target to transition from working with 10 million small and medium enterprises (SMEs) to 10 million profitable SMEs provides a clue.1 As e-commerce penetration rises to nearly 20% in China,2 the existing silos of offline and online retail raise vital questions: Are brands and merchants more profitable, or less, as e-commerce grows larger? Does Alibaba's rising "take rate" – the percentage of GMV that flows into revenues – come at the expense of its merchants' profitability, or is everyone truly better off? Do merchants enjoy better profitability even as Alibaba raises its own monetization?
有没有一种方法可以实现这一壮举?阿里巴巴1000万家中小企业转型为1000万家盈利中小企业提供了线索。随着中国电商渗透率上升至近20%,对现有的线下和线上零售提出了至关重要的问题:随着电商规模的扩大,品牌和商家盈利更高还是更低了?阿里巴巴上涨的"转化率"是否以牺牲商家的利润为代价?在阿里巴巴提高自身货币化水平的同时,商家是否能获得更高的利润?
These questions create a fundamental need to transform the way retail works. Analysis suggests that between 2011 and 2016, when e-commerce grew dramatically in China, selling, general, and administrative (SG&A) costs rose significantly for several retail categories as they tried to keep up. Exhibit 3. Specifically, consumer appliances saw their SG&A costs rise 340 basis points, apparel saw a near 500 basis point rise, and personal care spent 80 basis points more.3 These rising costs reflect the parallel universes that exist today; offline retail channels, demand management, space planning, supply chains, and consumer analytics have little in common with e-commerce. Increasingly, brands and merchants seem to be running two businesses for the same product, which unsurprisingly leads to cost inflation.
这些问题激发了改变零售方式的基本需要。分析表明,在2011年至2016年期间,当电子商务在中国大幅增长时,销售总务管理支出(SG&A)成本在几个零售类别中显著上升。具体来说,家用电器的SG&A成本上涨了340个基点,服装价格上涨了近500个基点,个人护理增加了80个基点。这些不断上升的成本反映了当今存在的平行宇宙,线下零售渠道、需求管理、空间规划、供应链和消费者分析与电子商务几乎没有共同点。越来越多的品牌和商家似乎经营两种模式来销售同款产品,这无疑会导致成本上涨。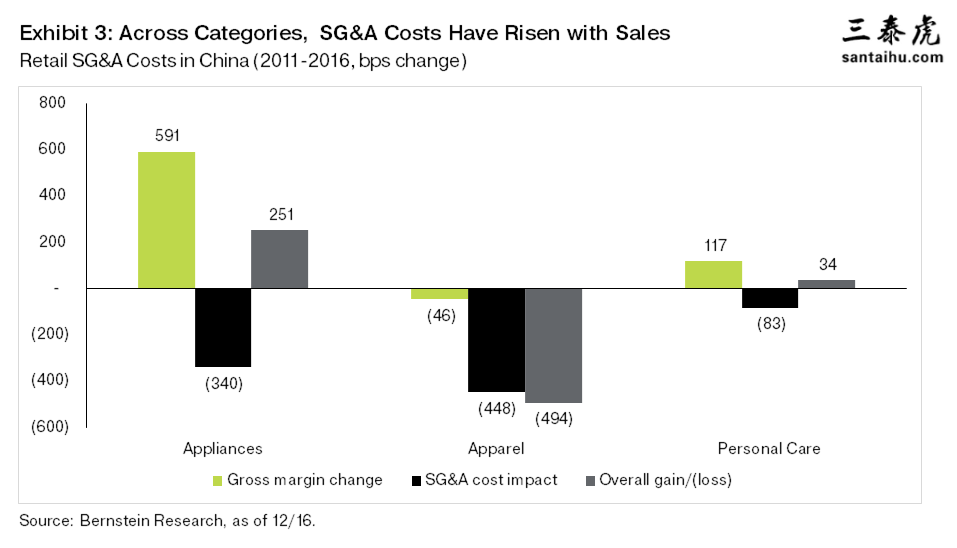 The true promise of omnichannel retail, or new retail, is a more profitable merchant. The future economics of giant e-commerce platforms will likely emerge from this promise, and the hope that these platforms will not simply maintain their share of a shrinking pie, but maintain or increase their share of an expanding one. Not content to be appropriators or gatekeepers of consumer demand, these platforms increasingly aim to help fundamentally change the way consumers shop.
全渠道零售或新零售的真正前景是让卖家更有利可图,电商平台巨头的未来经济可能会从中产生,这些平台不仅能在不断缩小的市场份额中维持自己的份额,还能在不断扩大的市场份额中维持或增加自己的份额。这些平台并不满足于充当消费者需求的"分享者"或"守门人",它们日益致力于从根本上改变消费者的购物方式。
Points of Friction Are Likely
可能会出现摩擦点
Not all will be smooth, of course. The real world possesses far more points of friction than online businesses traditionally encounter. Offline or omnichannel initiatives address a target market that is five times larger than online retail, but one-fifth as profitable, or even less so in the initial years.4 Even as the strategic rationale for ongoing initiatives is inescapable, reported profitability is likely to head downward and stay volatile. Indeed, fundamental questions linger. What shall we consider GMV in an omnichannel world? Will walking into a Hema store be considered "offline," while ordering the same food via the app be considered "online"?
当然,并非所有事情都会一帆风顺。现实世界的摩擦比在线业务要多得多。线下或全渠道的举措针对的是一个目标市场,其规模是线上零售的5倍,但盈利能力是后者的五分之一,在最初几年甚至更低。事实上,基本问题依然存在,在全渠道领域里,我们应该如何看待商品交易总额 ?走进盒马商店视为"线下",而通过APP订购同样的食物则视为"线上"吗?
Elsewhere, the expectations of consumers and merchants will remain fluid, exposing new threats and opportunities. Consider Pinduoduo(PDD). Founded in 2015, PDD has grown quickly to become China's third largest e-commerce platform and has attracted 344 million annual active buyers to its unique model of social commerce, a group-buying model that weaponizes social networks such as Tencent's WeChat to propagate offers. PDD's rise offers inescapable proof that there are still unmet consumer needs, despite everything we have already seen in China. And merchants need more too – more analytics, higher returns on their ad spends, and more handholding with their supply chain and IT systems. There are companies seeking to address these needs: Meituan, for example, is not just China's largest food delivery and restaurant booking platform, it also provides restaurant management software that is helping to cement its lead.
在其他领域,消费者和商家的预期仍将保持不稳定,暴露出新的威胁和机遇。以拼多多为例,成立于2015年的拼多多迅速成长为中国第三大电商平台,凭借其独特的社交商务模式吸引了3.44亿的年度活跃买家,这种团购模式利用腾讯微信等社交网络传播优惠信息。拼多多的崛起证明,尽管我们在中国已经看到了一切,但仍有消费者的需求未得到满足。而商家也需要更多的数据分析、更高的广告支出回报、更多的供应链和IT系统的支持。一些公司正试图解决这些需求:例如,美团不仅是中国最大的外卖和餐厅预订平台,它还提供有助于巩固领先地位的餐厅管理软件。
And thus, to the future of retail. What drives shopping? Needs, of course, but also habits, impulses and, increasingly, fun. Shoppers seek convenience, price, and experience, but also identity and social connection. In the future, will it really matter where we notice a product, where we try it, pay for it, or how it is delivered to us? These ideas are not new, but as e-commerce platforms and offline retail move into each other's turf, they have acquired an immediacy not seen before. Theory is moving into financial forecasts, and extant silos of thought are beginning to be challenged – just earlier, and faster, in China.
因此,对于未来零售而言,驱动购物的是什么?当然是需求,但也有购物习惯、冲动和乐趣。购物者寻求便利、低价和体验,但也追求身份和社会关联。在未来,
我们在哪里看到产品,在哪里试用,付款,或者它是如何交付给我们的,这些真的重要吗?这些想法并不新奇,但随着电商平台和线下零售进入彼此的领域,它们已经显示了前所未有的紧迫性。理论正在转向财务预测,而现存的思想孤岛正开始受到挑战——在中国,这些会来得更早、更快!
美国雅虎读者评论:
译文来源:三泰虎 http://www.santaihu.com/46538.html 译者:Jessica.Wu
外文:https://finance.yahoo.com
Chrisx8 hours ago
When I visit China, I enjoy good food there most. You can order fruit plate, coffee, salad, snack, Peking duck, sea foods, baozi, jiaozi,spicy foods etc and it will deliver to your hotel room in 30 minutes. That delivery system is unbelievable. I usually order 5 KG fruit plate after exercise, it is always delivered within 30 minutes. They even guaranteed the plate will be free if delivered later then 30 minutes. This things is impossible in US.
我去过中国,我最喜欢那里的美食,有水果拼盘、咖啡、沙拉、小吃、北京烤鸭、海鲜、包子、饺子、辛辣美食等等,下单后30分钟就能送到下榻的酒店,这配送系统简直不可思议。我通常会在运动后点5公斤的果盘,通常30分钟内就会送到。他们甚至保证,如果晚30分钟送到,果盘免费白送。这在美国是不可能发生的。
Kurtz3 hours ago
you are clearly Chinese. .and your country is a toilet haha. all fake food and terrible
@Chrisx 你明显是个中国人,你们国家就是个厕所,哈哈,所有食物都是假冒伪劣的,太可怕了。
John3 hours ago
@Kurtz exactly, can spot their chinglish a mile away. As for hotel service and food quality, I suggest Bangkok ( or heck, any major Asian city apart from the prc) COMPLETELY blows anything Mainland can offer out of the water.
@Kurtz 没错,一英里外都能听出他们的中式英语。至于酒店和食物,我推荐曼谷(或者除了中国以外的任何一个亚洲主要城市),完败中国大陆的任何东西。
DESMOND4 hours ago
The future of tariff-commerce will be written in US. The world's most advance tariff eco-system will be in US and no country could come near, not even China. But no country would be interested either.
关税的未来将由美国书写。美国将拥有世界上最先进的关税生态系统,任何国家都望尘莫及,包括中国,但没有一个国家对此感兴趣。
I have Bigly words that I know.4 hours ago
Considering we had paypal for years, how did they miss the mobile payment sector to be so far behind.
我们用paypal已经很多年了,他们怎么就错失了移动支付领域呢?
Treeeee3 hours ago
In China, they don't even need to bring wallet any more, just a cellphone can pay everything and do everything online, much much advanced than the junk paypal.
在中国,他们都不用再带钱包了,手机可以支付一切费用,一切都能在网上完成,比paypal先进多了。
Simon10 hours ago
Amazing!
不可思议!
Kevin4 hours ago
The US just seat & watch doesn't know which direction to turn.
美国就干坐着观望,不知道该往哪个方向走。
Kurtz3 hours ago
hahaha China is a toilet
哈哈,中国就是个厕所
Q3 hours ago
No it won't
不,不是中国。
Moises3 hours ago
Liberals keep on sending our manufacturing to China! You will realize the huge issue once it's too late
自由派继续把我们的制造业送到中国!一旦为时已晚,你们才会会意识到这个大问题。
John2 hours ago
@Treeeee I can't even disparage Mainland because it feels like insulting a fat kid. Just feels wrong
@Treeeee我都不忍心贬低大陆,感觉就像是在侮辱一个胖孩子,觉得不妥。