What is the most Korean thing ever?
什么是最具韩国特色的事?
QUORA网站读者评论:
Sena Im
You know your Korean when:
1.You use toilet paper on the dining table! It's smaller and cheaper then using kitchen towels.
2.When you start using Kakaotalk as your go to text messaging app.
3.You prefer to drink Americano which happens to be the most popular coffee drink in Korea.
4.Matching family or couple cups, plates, t-shirts, slippers, etc.
5.You love the outdoors! Going camping or going on a mountain hiking trail like a true Korean in a colorful getup.
6.When you hold on to your back even though your back isn't hurting.
7.When driving you need to watch out for jaywalking grannies and grandpas.
8.Your bathroom is built with a gap below the floor level of your house so water won't seep into your hallway.
9.You don't have a drying machine and you prefer to air-dry your clothes.
10.During the heat of summer your only friend is a electric fan because you refuse to pay for ridiculously high A/C electricity bill.
当发生如下情况时,你就已经是韩国人了:
1、在餐桌上用厕纸!这比厨房用纸小,也更便宜。
2、当你开始使用KaKaoTalk作为短信应用程序时。
3、更喜欢喝美式咖啡,这是韩国最流行的咖啡饮料。
4、使用家庭或情侣杯、盘子、T恤衫、拖鞋等。
5、喜欢户外运动!去野营或者去山里徒步旅行。
6、就算背部不痛不痒,也要扶着背。
7、开车的时候,要小心乱穿马路的奶奶和爷爷。
8、浴室修在房子楼层下面的夹层里,所以水不会渗入你的走廊。
9、没有烘衣机,喜欢晾衣服。
10、在炎热的夏天,你唯一的朋友是台电扇,因为你不愿意支付高得离谱的空调电费。
译文来源:三泰虎 http://www.santaihu.com/46537.html 译者:Joyceliu
Anonymous
For woman:
#1. spend most of her earnings, or her parents' earnings on plastic surgery or designer brand bags
#2. watch Korean drama thinking it's a documentary film.
#3. spend most of her day on FB or instagram, posting pics that seemingly portray her life, but yet only portray the life she dreams of.
#4. get depressed because of void within, so in an effort to fill it up, start again from #1., which of course, will put her right back to #4 not long after.
女性:
1。把自己或父母的大部分收入投资在整形手术或设计师品牌手袋上
2。看韩剧,觉得这是生活纪录片。
3。把大部分时间花在FB或instagram上,贴满似乎反映了她的生活的照片,但实际却只是她梦寐以求的生活。
4。因为内心空虚而沮丧,为了填满这种空虚,会从1开始,当然不久之后她会再次回到4。
For man:
#1. care way too much about his appearances, makeup is a must.
#2. despite #1., expresss extreme hostility towards actual gay man.
#3. express deepest hate towards the types of woman above, but uphold extremely superficial expectations towards women.
#4. gets lonely easily, and thus repeats the cycle from #1, which will put him right back to #4.
男人:
1。过于注重外表,化妆是必需品。
2。尽管第一点,但却对同性恋者表示出极端的敌意。
3。对上述几种女性无比憎恶,但却对女性抱有极为肤浅的期望。
4。很容易变得孤独,因此会不断重复从第一到第四的循环。
Young Koreans these days are broken.
Just look at Korean Dramas, they reflect everything that is wrong about Korean woman.
Then look at Korean 'girl groups'/pop idols, they reflect everything that is wrong about Korean man.
现在的韩国年轻人已经破产了。
看看韩剧就知道了,韩剧反映了韩国女人的所有不正常之处。
然后看看韩国的"女团"/流行偶像,它们反映了韩国男人的所有不正常之处。
Hanhwe Kim, Born and raised in Korea for the most part
There are several most Korean things.
Work overtime at least 3 days of the week doing mostly meaningless stuff. Make sure you never get any recognition for the effort. Silently endure getting chewed out on Friday because your boss had given you the wrong instructions. Come to work on Saturday to correct the mess caused by your boss.
On Sunday, wonder why you work so hard for the company even though you are a temporary worker so they will let you go at the end of the year.
Instead of resting on Sunday, when you hear in the news that a oil tanker owned by the richest company in Korea has caused an oil spill, go down to the oil spill at your own expense and help with the clean up. Never ask why you and hundreds of other under-paid people should work for free while the richest company in Korea is not paying for the clean up.
有不少最具韩国特色的东西。
1。每周至少加班3天,做的却是毫无意义的事。你的努力从来不会得到任何认可。因为老板下达的错误指示,你得在周五默默忍受老板的责骂抱怨。周六还得继续来上班,摆平老板造成的混乱局面。
2。星期日,思考自己为什么只是一个临时工,年底就会被打发,还要那么拼命工作。
3。周日不休息,当你听到那个韩国最富有的人拥有的公司的油轮造成石油泄漏的消息时,自费去帮助清理。永远也别问为什么你和不计报酬的几百号人为啥应该免费为富有的公司干活,为啥韩国最富有的企业不出钱清理泄露的石油?
Get a job as a waitress on a really cheap cruise ship. When the captain, first officer and engineer have all abandoned a sinking ship without evacuating the passengers and other crew, stay with the ship and try to rescue the other passengers even though you have no training. Bonus points if you drown while trying to save the passengers and wonder why the officers aren't helping you.
Work at a job that underpays you for years but still manage to save up a little bit and invest some of your savings in gold. When your country defaults because bankers and government officials make really bad decisions that you can't understand make sure you lose your job.
A week after you lose your job, sell your gold you to the bank and get paid in Korean currency that is rapidly losing its value because the government asks you to do so. Don't ask why you are bailing out the banker who is much richer than you are and still has his job.
4。在廉价邮轮上找到一份服务员的工作。当船长、大副和工程师在没有疏散乘客和其他船员的情况下丢下正在下沉的船逃生时,尽管你没有受过训练,也要留在船上尽力营救其他乘客。就算你在救乘客时淹死,也不知道为什么警察不帮你。
5。多年来拿着微薄的薪水工作,但仍能省出一点钱,投资一部分钱购买黄金。当你的国家因为银行家和政府官员做出你不能理解的非常糟糕的决定而违约时,你肯定要失业了。
失业一周后,把金子卖给银行,换回正在快速贬值的韩元,因为政府要求你这样做。不要问你为什么要救助比你富有的银行家,让他保住工作。
Roy Yu, Businessman (2008-present)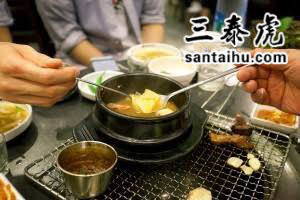 Korean food is inherently designed to be a communal activity. With the exception of individual rice bowls, Korean food is traditionally put out in the middle of the table for everyone to dig in at the same time. This goes for both banchan (side dishes) as well as main dishes. Most people don't have any problems with banchan as chopsticks are great for picking up individual pieces of food. But where many people new to Korea feel a bit of culture shock is with the main dishes (mostly stews). Main dishes are traditionally ordered for the entire table. So the 4 other people you're sharing your kimchijjigae with will stick their spoons in the same pot, take a sip, and dip again for another mouthful.
韩国餐饮本质上是一种公共进餐。除了每个人都有的饭碗,韩国菜传统上放在桌子中间,让大家一起进食。小菜和主菜都一样。大多数人对小菜没有任何问题,因为筷子很适合夹取单块食物。但很多刚来韩国的人对主菜(大多是炖菜)感到有点接受无能。传统的主菜是给整桌人吃的。所以,你要和另外4个人一起分享泡菜锅,所有人会把汤勺放进同一个锅里,舀一口,嘬一口,再舀一口。
Touching the same sex
触碰同性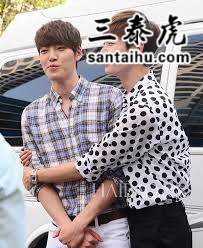 If you come from a culture where touching among the same sex is not common, you might feel a bit of culture shock in Korea. Younger Korean women like to hold hands or at the least link arms with their bffs to show some affection.
As for the males, it's more common among older Korean men to hold hands with their homeboys. But even younger Korean men don't feel that there's anything wrong with putting an arm around a buddy's shoulder. It's about showing affection like kids do.
如果你来自一个同性之间不常相互触碰身体的文化背景,你可能会在韩国感受到一点文化冲击。年轻的韩国女性喜欢握手或手挽手来表达她们的感情。
至于男性,在韩国,老年男性中更常见的是与他们朋友握手。但即使是年轻的韩国男人也不会觉得用胳膊搂着朋友的肩膀有什么不对。就像孩子一样表达感情。
Ajoomas in men's toilet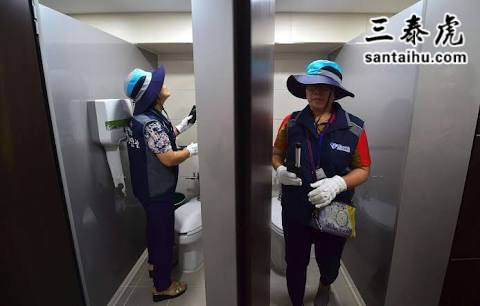 Most public bathrooms in Korea have designated janitors. The reason this is a Korean culture shock for some men is when an ajooma (older woman) comes in with a mop in hand while you're doing your business.
韩国大多数公共卫生间都有门卫。原因就是对一些人来说会出现韩国文化冲击的就是会有老女人会在你忙着办正事时拿着墩布突然出现在厕所里。
Jon Powelson, lives in South Korea (2000-present)
The most Korean things ever….
Hmmm. I can come up with the usual suspects like Kimchi, Hangul, and Soju.
Hmmm. Ahh yes.
Metal Chopsticks!
最具韩国特色的东西…
嗯,我可以想出像泡菜、韩文和烧酒这样的常见东西。
嗯,是的。
金属筷子!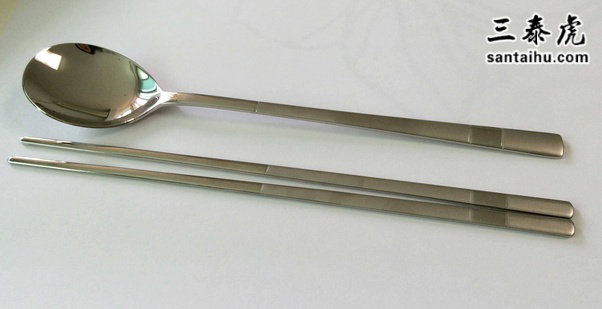 Only in Korea are most chopsticks made of metal. Almost forget the requisite long handle metal spoon to eat rice with. The two items go together to make Sujeo (수저).
Now put those chopsticks next to a bunch of Korean sides dishes like kimchi. That food is on table with Samgyeopsal (삼겹살) cooking on a Korean style grill. Of course copious amounts of soju. All served by a lovely adjumma who fusses over your choices.
只有韩国的大多数筷子是用金属做的。哦,我差点忘了用来吃米饭的长柄金属勺子。这两种就是韩国的餐具。
现在把筷子放在如韩式泡菜那样的许多小菜碟旁。这些食物放在桌子上,用来烹调烤肉。当然还有大量的烧酒。这一切都是可爱的大妈制作的,他们对你的选择非常关心。
Regita Hikmatuz Zakia, studies Statistics & Computational Statistics at Jakarta Institute of Statistics (2019)
I'm not Korean and I never lived there (I hope soon!). This answer based on my knowledge from watching Korean reality shows, Korean drama, and anything about Korea.
1.Speaking English in a weird way. I mean, they add every word which ends with consonant with "eu" accent. Example : bank (pronounced bankeu) and Harvard (pronounced Harpardeu). It may sounds weird but I like that anyway.
2.Eating kimchi everytime, everywhere. This might be wrong, but that's what I saw on TV.
3.Addressing someone else with their status. Example: a girl calls a boy who is older than her with 오빠 (oppa). A boy calls another boy who is older with 형 (hyeong). Those are just two of hundreds way to address people, older or younger.
4.Eating 라면 (ramyun) or noodle straight from the pot. Yes, pot.
5.Joining girlband or boyband
我不是韩国人,我从来没在那儿生活过(我希望很快就能去!)下面这个答案是基于我对韩国真人秀、韩剧和韩国的了解而写的。
1、用奇怪的方式说英语。我的意思是,每一个单词都加上"EU"重音结尾。例子:银行(发成Bunku)和哈佛(发音Harpardeu)。听起来很奇怪,但我还挺喜欢的。
2、无论何时何地,都要吃泡菜。这么说可能不对,但在电视上看到的就是这样。
3、用别人的身份称呼别人。例如:女孩称呼比她大的男孩哥哥(欧巴)。男孩称呼另一个比他大的男孩哥哥(兄)。这还只是数百种人称中的两种而已。
4、直接从锅里吃拉面或面条。没错,就是锅。
5、加入女团或男团。
Umi Kim, College Lecturer in Ethnic and Gender Studies
Couple clothes.
It's a phenomenon in which Korean couples wear matching outfits. Imagine being twinsies with the person you're having sex with.
You see it a lot on flights from Korea to popular honeymoon destinations in southeast Asia. I don't mean to criticize a couple's love for each other, but c'mon now. Koreans don't all look so much alike that one has to wear the same clothes to be identified by their loved one.
I won't post a picture here. Instead, just google image "couple clothes." You'll find nothing but images of Korean twinsie couples. That's how Korean it is.
情侣装。
韩国夫妇穿情侣服装是一种社会现象了。想象一下,你和你嘿咻的人穿得像双胞胎一样。
从韩国到东南亚蜜月旅游目的地的航班上,你可以看到许许多多。我无意批判夫妇之间的爱,但是拜托了。韩国人看起来也没有那么相像,必须得穿同一件衣服才能认出他们的爱人吧。
我不想在这里张贴照片。相反,你可以谷歌搜索一下"情侣装"看看图片,你只会看到韩国夫妇的照片。韩国就是这样。
Crystal Tai
For me, it's everything from…
Rows of older ladies with short curly perms seated on the subway, to clean-cut young men with cooler clothes and better hair than me, and the sound of people sighing over that first sip of stew or soju at a busy barbecue restaurant in the middle of Seoul.
对我来说,一切都来自于…
地铁上,一排排留着烫短发的老妇人,挨着衣着比我酷、发型比我好的年轻男人坐;还有人们在首尔繁忙的烧烤店里啜饮第一口炖汤或烧酒时发出的叹息声。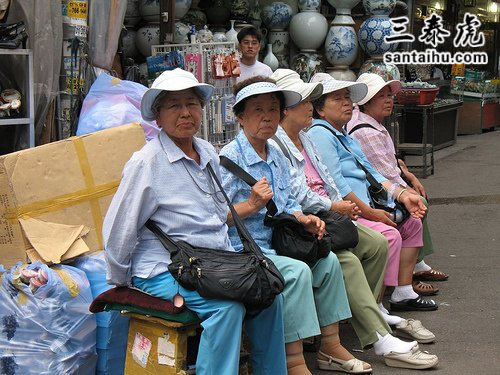 Kayla Hong, lives in South Korea
The language, I guess. You can express so many things, sounds and such, with so few alphabets.
It is a simple language perfect for technology (keyboards/phone pads), and was created in a very scientific way.
我觉得是语言吧。可以用这么少的字母表达那么多事情、发音等。
这是非常适合科技(键盘/手机平板)的简单语言,这门语言设置得非常科学。
Mirza Shafi, lived in South Korea (2012-2016)
Either of the three
1.To generalize and be stereotypical about foreigners
2.After listening sth from someone say, wow I wanna do that too!
3.To pretend overwhelmed by subtle things or express more than necessary.
绝对是下面三个之中的:
1、会对外国人以一概全,会有刻板印象
2、听了某人说的话后会说,哇,我也想这么做!
3、为小事情装出不知所措的样子,或者过于大惊小怪。
Chris Ban, I am a fan of the Star Wars franchise
When it comes to eating, the only one I could think of is eating Kimchi in most of our meals. I mean, Kimchi is very ingrained in our diet for many centuries. It is not only eaten as a side dish, but it also eaten as a main dish, such as Kimchi Jjigae.
说到吃,我唯一能想到的就是在我们大部分时间都会吃泡菜。我的意思是,泡菜在我们的饮食中根深蒂固了好几个世纪。它不仅是小菜,还是主菜,比如泡菜锅。
Godhuli Biswas Season, studied at Holy Cross College
Singing in Karaoke & having boiled eggs in sauna.
在卡拉OK唱歌,在桑拿房煮鸡蛋吃
Byeonguk Yook, Korean American
When eating don't call it a meal unless you have rice and kimchi.
If you are a Chaebols heir act like you are above the law.
除非吃米饭和泡菜,否则算不上一顿饭。
如果你是个财阀继承人,你就好像凌驾于法律之上。
MtS
Ramen. I am a k-drama addicted person. Believe me , in every drama, ramen is must. so when someone asks me the most korean thing i can think of , it's definitely going to be ramen..lol
拉面。我是一个沉迷于韩剧的人。相信我,每部韩剧拉面都是肯定会出现的。所以当有人问我想到的最具韩国特色的事情时,我肯定说拉面…哈哈!