Huawei exec: We'll dethrone Samsung to be the global smartphone leader by 2020
华为CEO:到2020年,我们将取代三星成为全球智能手机领导者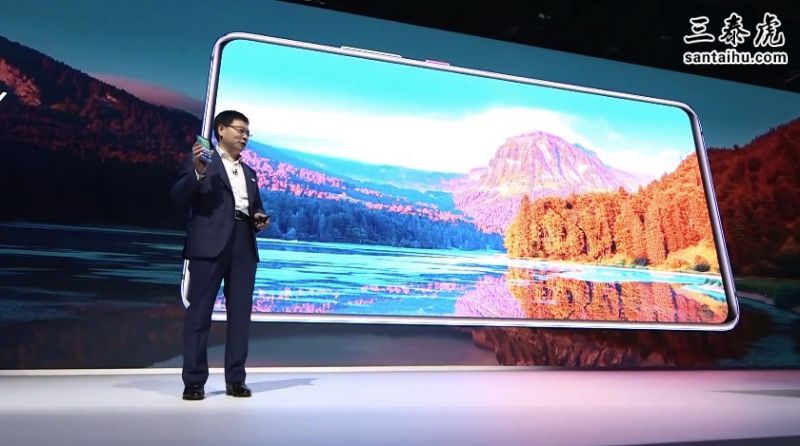 The smartphone handset device business has of course been dominated by two names for years now, but a Chinese device maker most American consumers probably haven't heard of is nevertheless suiting up to eventually topple Samsung on its way to becoming the number 1 global smartphone player. That's the plan, at any rate, which Huawei has set out for itself, after already overtaking Apple earlier this year to become the second-largest smartphone player as ranked by global market share. And now, the CEO of Huawei's consumer division Richard Yu has told CNBC in a new interview that the company's timetable is to get almost even next year with Samsung, which has been suffering a decline in handset shipments, and then to overtake Samsung in 2020.
多年来,智能手机行业一直由两个品牌主导,不过,一家大多数美国消费者可能从未听说过的中国设备制造商,正在逐步超越三星成为全球第一大智能手机制造商。无论如何,这是华为为自己制定的计划。今年初,华为已经超越苹果,成为全球市场份额排名第二的智能手机制造商。华为消费者业务CEO余承东在接受CNBC采访时表示,三星的手机出货量一直在下滑,华为计划在明年与三星持平,然后在2020年超越三星。
"Maybe we have a chance (to be number one in) the year 2020," Yu said during the interview, which also touched on the company's history in recent years, dating back to it not evening having a smartphone of its own until 2010.
That, of course, was three years after Apple's debut of the iPhone. Per CNBC, Huawei "became one of China's biggest technology firms thanks to the growth of mobile networking equipment, and is now one of the largest suppliers in the world for that market. It was also an original design manufacturer (ODM), which meant it designed and made devices for other firms.
余承东在采访中表示:"也许我们有机会在2020年成为第一。"采访也提及了该公司近年来的发展史,在2010年之前该公司甚至没有自己的智能手机。当然,这是在苹果推出iPhone三年之后。根据CNBC的报道,由于移动网络设备的发展,华为"成为了中国最大的科技公司之一,现在是这个市场的全球最大供应商之一。"华为也是一家原始设计制造商(ODM),也为其他公司设计和制造设备。
"In 2010, Huawei launched its first own-brand smartphone called IDEOS running Google's Android mobile operating system and costing around 60 euros ($67.50). Fast forward to 2018 and the company is releasing handsets that have original artificial intelligence chips and world-first features, costing over $1,000."
2010年,华为推出了首款自主品牌智能手机IDEOS,搭载了谷歌安卓操作系统,售价约为60欧元(合67.50美元)。到2018年,该公司推出拥有原创人工智能芯片和一流功能的手机,售价超过1000美元。
The guy who helped move Huawei into being a global smartphone powerhouse? None other than Yu, who told CNBC he very much encourages bold bets and taking risks: "I encourage the team to have this innovation capability, to make bold innovations, to do something which some guy feels is a little bit crazy, to challenge ourselves and the industry."
是谁帮助华为成为全球智能手机巨头的?正是余承东,他对CNBC表示,他非常鼓励大胆的押注和冒险:"我鼓励团队拥有这种创新能力,进行大胆的创新,做一些让人觉得有点疯狂的事情,挑战自我和整个行业。"
We told you back in August that Huawei estimated it would ship more than 200 million smartphones globally this year, which would be a 31 percent increase over last year.
在8月份我们就报道过,华为预测今年其智能手机全球出货量将超过2亿部,比去年增长31%。
Meanwhile, Huawei is also plenty busy beyond smartphones. During his CNBC interview, Yu talked about the company's ambitions regarding foldable phones — its attempt at one will debut next year (as will a version from its competitor, Samsung), along with Huawei's first 5G-enabled smartphone. Yu also talked about the company having AR glasses in the works. And, according to the business news network, "Huawei sees its future beyond hardware, too.
与此同时,除了智能手机外,华为还有大量业务要忙。在接受CNBC采访时,余承东谈到了华为在可折叠手机方面的雄心——该公司计划明年推出一款可折叠手机(其竞争对手三星也将推出一款这种手机),同时推出首款支持5G的智能手机。余承东还谈到公司正在研制AR眼镜。据商业新闻网报道,"华为也看到了硬件以外的前景。
"The company has services such as cloud storage, music streaming and video content, which are little known outside of China. It's something the company doesn't talk much about but it claims Huawei Music, its music streaming platform, has 100 million monthly active users. For comparison, Spotify has 191 million." It would seem to be a smart play, to double down on services like that, especially when you recall that even Apple sees its way forward as investing more heavily in the services side of its business.
华为拥有云存储、音乐流媒体和视频内容等服务,这些在中国以外鲜为人知。这是该公司没有过多谈论的业务,但它声称其音乐流媒体平台华为音乐每月拥有1亿活跃用户。相比之下,Spotify拥有1.91亿用户。在此类服务上加倍投入似乎是明智之举,就连苹果也认为,其前进之路是在其业务的服务领域加大投资。
美国雅虎读者评论:
译文来源:三泰虎 http://www.santaihu.com/46524.html 译者:Jessica.Wu
外文:https://www.yahoo.com
D P9 hours ago
It's going tale telling how insignificant the US market is when Huawei becomes global smartphone leader in 2020 without entry into the US market.
当华为在2020年成为全球智能手机市场领军企业,却未能进入美国市场时,美国市场的重要性不言而喻。
Angie←10 hours ago
bought the mate 20 pro this year and i gotta say it has been the phone i have ever had. zero regrets here under the glasss fingerprint ready and face unlock that's faster than my iphone x. plus battery life that last 2 times longer is a total win for me.
我今年买了部mate 20 pro,不得不说我从没用过这么好的手机,买过决不后悔,拥有指纹识别和面部解锁功能,比我的iphone X要快,电池续航时间是iPhone的2倍,买到就是赚了。
Steve S12 hours ago
Huawei is no stranger to lying about its smartphones, but you'd think the company would have stopped after getting caught the last time. Sadly, Huawei returned to its old habits and got caught lying again.
Huawei, like every other carrier, waste no time in hyping up the DSLR-like photos its smartphone cameras are capable of taking. However, when you use an actual DSLR to take phones and say they are from a smartphone, that's blatant lying—and it's exactly what Huawei did with its latest Nova 3 ad.
在其智能手机方面,华为撒谎已经习以为常的。你可能会认为,自从上次被抓到之后,华为就不会再撒谎了。不幸的是,华为又犯老毛病了,再次被发现撒谎。与其他所有运营商一样,华为也在不遗余力地宣传其智能手机摄像头能够拍出单反相机效果的照片。明明是单反相机拍的照片偏说是智能手机拍的,这是公然撒谎——然而,这正是华为在其最新的Nova 3广告中所做的。
Chagatai12 hours ago
Huawei has the home field advantage of about 1.3 billion people so yeah
华为拥有13亿人口的本土优势。
Kevin12 hours ago
I don't buy over price rotten Apple phone. I can get one from other brand with the same function just a fraction of the cost.
我不会买贵得离谱的烂苹果手机。其他牌子的手机也具备同样的功能,而且价格便宜得多。
Jeffrey12 hours ago
Huawei makes some pretty impressive devices. The P20 is currently the flagship of flagship devices. Regardless of what the US go nment says, there are real concerns with regard to what China (a co unist regime) with far reaching power into the private sector may be embedding into these devices. I think Huawei is going to need to go a long way to prove their devices are clean and contain no hardware that could allow the Chinese to spy on Americans before these devices become mainstream in the West.
华为造了一些非常不错的手机,P20是目前的旗舰机型。不管美国政府是怎么说的,人们真正担心的是,中国可能会在这些设备中嵌入什么东西。在其手机在西方成为主流品牌之前,我认为华为需要证明他们的设备是干净的,并且不包含任何可以让中国人监视美国人的硬件。
David12 hours ago
If they don't keep copying Samsung or apple innovation than they may have chance in next 20 years.
如果他们不继续抄袭三星或苹果的创新,未来20年他们可能都没机会成为第一。
hector m12 hours ago
All I know is that my GF bought me a Huawei P20, and it absolutely is beyond anything that Apple or Samsung has at the moment. I've had the iPhone'' 1-4 and Samsung's Galaxy series 5- 8, but my Huawei P20 is so much better than the current phones both Apple and samsuSa have. Don't believe what the go nment feeds you.
我女朋友给我买了一台华为P20,绝对超过了苹果和三星目前的任何产品。我用过iPhone 1-4和三星Galaxy系列5- 8,但我的华为P20比苹果和三星现有的手机要好得多。不要相信政府说的话。
DonTheCon15 hours ago
No China, you will not dethrone Samsung. Firstly, South Korea has a long history of manufacturing reputable and good quality products. You don't. Secondly, Samsung is well known, you're not. Thirdly, they don't steal technology, they invent their own. You don't. Fourthly, South Korea is trusted by the World, you're not.
不,你不能取代三星的。首先,韩国产品素来质量好,知名度高,而中国产品不具备这点。其次,三星是家喻户晓的品牌,而华为不是。第三,三星不窃取别人的技术,自主研发,而华为却不是。第四,韩国是获得世界信任的国家,而中国不是。
GoBlueGrad13 hours ago
I would NEVER buy a Chinese-built phone. I am sure they have place malware in their OS so that they can track everything that the owner does.
我绝不会买中国制造的手机。我确信他们在操作系统中安插了恶意软件,这样他们就可以跟踪你的一举一动。
c13 hours ago
Worked inside of Huawei... do not buy their products.
我在华为工作过,不要买他们的产品。
Michael7 hours ago
Xiaomi also took over Apple, nobody wants sour Apple anymore
小米也超过苹果了,没人要苹果了。
Homer5 hours ago
If I can't pronounce it, I ain't eating it or talking on it. Sticking with Samsung, thanks.
我会继续用三星手机,谢谢。
Jose30 minutes ago
Even the Mate 20X is better than the Iphone X Max and the Note 9..Amoled screen, 40 meg pix rear camera (3 rear cameras) can record in 4k, 5000mah battery! 7.2 inch screen and it can be a gaming phone..what cant the iPhone Max claim over it?? The US says Huawei can be used to spy but the US spies o. the whole world so why are they crying about it?
即使是Mate 20X也比Iphone X Max和Note 9好。拥有Amoled屏幕,40meg pix后置摄像头(3个后置摄像头),可4k录影, 5000毫安电池,7.2英寸屏幕,可以作为一款游戏手机。iPhone Max有哪点更强?美国说华为手机会被用来进行间谍活动,但美国也干这事,甚至全世界都这样,他们为什么要揪住这点不放呢?
Republican(USA) Democrat(China)10 hours ago
Nope! It will take centuries for you to be able to do that but, I doubt that day will come. Btw, I'm buying another Samsung this weekend.
不可能!你要花几个世纪才能做到这一点,但我怀疑这一天是否会到来。顺便说一下,这个周末我要再买一个三星。
Ron6 hours ago
Best Android Phone,I have a Huawei Honor right now(great phone), but the Huawei Mate 20 could be my next phone will be able to by it thru amazon
最好的安卓手机,我现在有一台华为荣耀(很棒的手机),华为Mate 20可能是我的下一部手机,在亚马逊上能买到。
Tq11 hours ago
Good luck for that. Better get off the banned list first in US.
祝你们好运。最好先设法从美国的黑名单上除名。
Galaktik Truth12 hours ago
Correction, you hope Americans are unfamiliar with them because it will be hard to do this if Americans remember the US intelligence community has recommended against using Huawei for years. Pre-Trump administration too. I first heard the talk the phones were compromised in 2012。
多年来,美国情报界一直建议不要使用华为,你以为这样美国人就不知道有华为了吗?我第一次听说华为是在2012年。
Sven5 hours ago
That's a tall order to fill. Good luck with that.
这是一个艰巨的任务,祝你好运。
Democracy Exporter11 hours ago
Apple will smile to hear it to happen. The IPhone was taken over by Huawei for the world's #2 smartphone maker, even with the American go nment's help to block Huawei phones in US market. How embarrass it is. If the #1 Samsung is dethroned, it will make the ex-#2 does not look too bad.
苹果公司听到这一消息会一笑置之。尽管美国政府帮助阻止华为手机进入美国市场,但华为还是超越了iPhone,成为全球第二大智能手机制造商,这多尴尬啊。如果位列第一的三星被取代了,那能稍稍缓解苹果的尴尬。
joe g10 hours ago
so uh...what they plan on buying samsung and closing it down.....
他们计划收购三星,让它关门。
DESMOND2 hours ago
Surprising Samsung and Apple don't go around pointing figures at Huawei for IP theft and espionage of trade secrets. They pay royalties and licensing fees amongst themselves to share the big cake in the market.
令人惊讶的是,三星和苹果没有四处指证华为窃取知识产权和从事商业秘密间谍活动的数据,他们互相支付版税和许可费来分享市场份额。
U.S Made12 hours ago
It's all look good but not fully functional as it supposed to
华为手机看起来很不错,但功能不完善。
Baba Booey2 minutes ago
Nope. Never going to happen.
不,这种情况永远不会发生。
Frank11 hours ago
So tired of the misinformation here. Huawei is an employee owned company.
听烦了这些误导信息。华为是一家员工持股公司
yorky4 hours ago
IT is the USA who fabricated the security concern about Huawei
是美国捏造了有关华为的安全问题。
Wheelycpop13 hours ago
The Chinese smart phones have built-in spyware. That's why the US go nment strictly bans the use of the smart phones made by this and other Chinese smart phone makers. Anyone in the US buying these phones should think twice before putting down his/her hard earned dollars on a compromised handset.
中国智能手机内置间谍软件,所以美国政府严格禁止使用华为手机和其他中国智能手机制造商生产的智能手机。在美国,任何购买这些手机的人都应该三思而后行,不要把自己辛苦赚来的钱花在一台廉价手机上。
Stephen13 hours ago
They just want to be injected into the US so they can steal more of our ideas and make copies of them.
他们就想打入美国,这样他们就能从我们这窃取和抄袭更多创意。
Harry Kneecaps53 minutes ago
I have no doubt Huawei will succeed. Apple and Samsung are getting too expensive for the global market.
我相信华为一定会成功。对于全球市场来说,苹果和三星的价格太高了。
Peter8 hours ago
The only people buying/hyping chinese phonese are the chinese.
唯一购买中国手机的只有中国人。
Joseph12 hours ago
Huawei = malware
华为=恶意软件
Said13 hours ago
The Chinese Huawei will be infused with spyware.
华为手机将被安插间谍软件。
Wendell4 hours ago
When u are selling phones in the 100-1000 range, its easy to ship many phones, their margins are no where near apples
当手机售价在100-1000美元时,很容易出货,但他们的利润远不及苹果。
Jim4 hours ago
Huawei dominates in 5G patent application.
华为在5G专利申请中占主导地位。
Rom13 hours ago
Andy how much per phone do they make? No phone company in the world makes as much money per phone profit wise as Apple and that's all that matters they can sell their knock off a junk all they want
他们每卖一部手机能赚多少钱?世界上没有哪家手机公司能像苹果公司那样从每台手机上赚取那么多的利润。
CZ1 hour ago
I wanted one but it wasn't available in the US?
我想买一台华为,但美国没有卖。
Howard10 hours ago
If the USA and Australia could play fair and allow Huawei in to compete fairly and squarely, then Huawei will level Apple and Samsung in 2 seconds. Thanks to both countries' protective policy, Apple and Samsung are still alive. You talk about the world is fair?! huh?! Wimp = USA and Australia
如果美国和澳大利亚能够公平竞争,允许华为公平参与竞争,那么华为将在2秒钟内击败苹果和三星。由于两国的保护政策,苹果和三星仍然幸存。你们还在那谈论世界公平?!美国和澳大利亚=懦弱。
Terry8 hours ago
Yeah in poorer Southeast Asia maybe
也许在贫穷的东南亚能成为第一。
Regis9 hours ago
They may have spy chip build in
他们可能安装了间谍芯片
Siann23 minutes ago
Lol, either Huawei is dreaming, drinking or doping ! Who in the world with right mind will use Chinese hack phone? Oh except Chinese in the forbidden land will use their country's brand name spyware phone .
哈哈,华为要么在做梦,要么是喝高了,要么是服了兴奋剂!有谁会用中国的黑客手机?中国人除外。
Jes5 hours ago
Most Americans will not buy Huawei. Simply cannot be trusted.
大多数美国人都不会买华为,不值得信任。
Anonymous3 hours ago
So they stole all of Samsung's technology? Figures... That's all the mainland dung do.
他们偷了三星所有技术,他们就会干这些