Tesla has opened up Model 3 orders to customers in China
特斯拉已向中国客户开放Model 3订单
Tesla is now taking orders for the Model 3 from customers in China, according to its website.
特斯拉网站显示,该公司目前正在接受中国客户的Model 3订单。
Reuters was the first to report that Tesla is taking orders in China.
路透社率先报道称,特斯拉正在接受中国订单。
Tesla won't confirm or comment on the information published on its own China-focused website. Tesla CEO Elon Musk did say in a tweet Thursday that some deliveries to customers in China will probably begin in March, but "April is more certain."
周四,特斯拉首席执行官伊隆·马斯克在推特上表示,可能会从3月份开始交付部分中国客户的订单,但"更加确定是从四月份开始"。
Customers must place a deposit of 8,000 yuan, or about $1,153, to begin their booking, according to materials on Tesla's China website. They are eventually invited to configure the car to their liking (items such as paint color and other features). Once they complete the car purchase agreement, the remaining amount is due.
根据特斯拉中国网站上的资料显示,顾客必须交8000元定金(约合1,153美元)才能开始预订。最后顾客会受到选配邀请(如选择自己喜欢的油漆颜色和其他功能)。一旦他们完成购车协议,需支付尾款。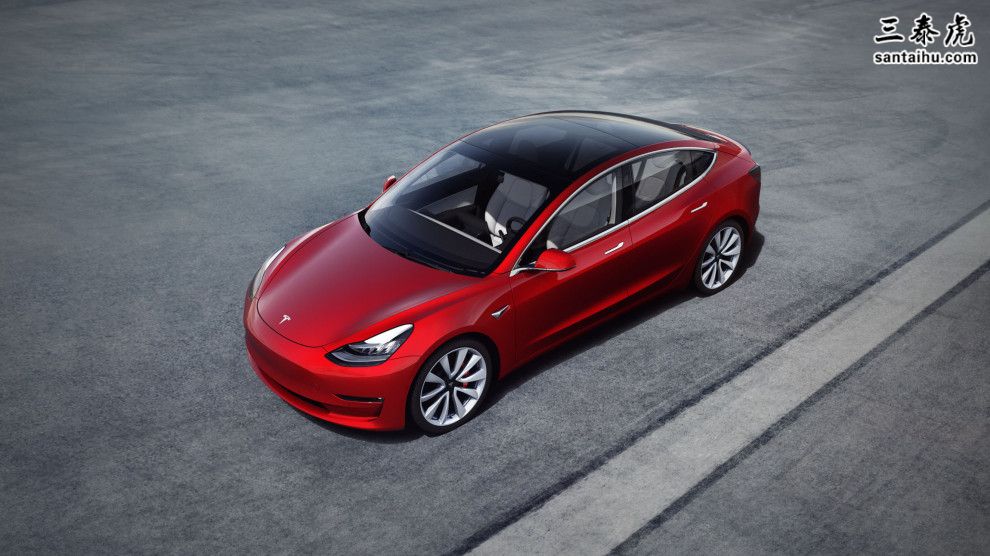 It appears, based on the FAQs section, that Tesla will make most of the options (including the Performance variant) that are available in the U.S. accessible to Chinese customers, as well. It's unclear if the cheaper mid-range version of the Model 3 will be sold in China.
从预定常见问题来看,特斯拉似乎也将为中国客户提供美国市场上的大多数选项。目前尚不清楚,较便宜的中等续航邦Model 3是否会在中国出售。
Tesla has had mixed success in China, home of the world's largest EV market. When Tesla first began delivering Model S vehicles to China in 2014, the company went on a hiring spree and eventually amassed a staff of 600 people. Tesla opened stores and service centers and erected fast-charging stations known as superchargers.
中国是全球最大的电动汽车市场,特斯拉在中国取得了喜忧参半的成功。2014年,特斯拉首次开始向中国交付Model S时,该公司开始大举招聘,最终聚集了600名员工。特斯拉开设了商店和服务中心,并建立了被称为"超级充电站"的快速充电站。
Tesla sold an estimated 3,500 cars in 2014, below its sales goal and behind electric and plug-in hybrid vehicles produced by Chinese rivals BYD and BAIC. Those sales continued to lag in the beginning of 2015. Tesla pulled off a turnaround in China by 2016, tripling its sales over the previous year, and extended gains into 2017.
2014年,特斯拉估计售出3500辆汽车,低于其销售目标,落后于中国竞争对手比亚迪和北汽生产的电动和插电式混合动力汽车。在2015年初,销售额继续落后。到2016年,特斯拉在中国实现了扭亏为盈,销售额同比增长两倍,并将增涨势延续到2017年。
Now, it's facing new headwinds thanks to pressure from new tariffs.
现在,由于新关税的压力,特斯拉正面临着新的阻碍。
Last month, Tesla announced plans to speed up construction of a factory in Shanghai as tariffs, shipping costs and missed incentives continue to drive up the price of the company's electric vehicles and dampen demand.
由于关税、运输成本和未兑现的激励措施继续推高该公司电动汽车的价格,抑制需求,上月特斯拉宣布计划加速在上海建厂。
Trade tensions between the U.S. and China have led to 40 percent tariffs on Tesla vehicles compared to 15 percent duties placed on imported autos from other countries. The tariffs, combined with the cost of shipping its vehicles via ocean carrier and the lack of access to cash incentives that are available to locally produced electric vehicles, has put the company at a disadvantage, the company warned at the time.
美国和中国之间的贸易紧张趋势已导致对特斯拉汽车征收40%的关税,而对从其他国家进口的汽车只征收15%的关税。该公司当时警告称,这些关税,再加上海运公司运输汽车的成本,以及无法获得当地生产的电动汽车可以获得的现金奖励,使该公司处于不利地位。
As a result, Tesla said it's now operating at a 55 percent to 60 percent cost disadvantage compared to the exact same car locally produced in China.
特斯拉表示,与在中国本土生产的同款汽车相比,目前其运营成本处于55%至60%的劣势。
美国雅虎读者评论:
译文来源:三泰虎 http://www.santaihu.com/46522.html 译者:Jessica.Wu
外文:https://finance.yahoo.com
UPPERCUT9 hours ago
a month after the first sale, a new company called 'Tes-lau' will intro their strangely similar electric vehicles for a 1/10 of the price!
一个月后,一家名为"Tes-lau"的新公司将以十分之一的价格推出他们的电动汽车。
Patrick9 hours ago
You mean to engineers who want to copy the model 3
卖给那些想要抄袭Model 3的工程师吗?
LIBERAL NUTCASE9 hours ago
Is that really a good IDEA? China is known for reverse engineering stuff that the US makes and sells it for cheaper.... Tesla might have screwed their company....
这真是个好点子吗? 中国搞逆向工程是出了名的,仿制出来后以更低的价格出售。特斯拉这么干,可能会搬起石头砸自己的脚...
JJ30309 hours ago
Lol.... we'll see them for half the cost in about a year... which will be sooner than customers will see an actual base model 3... Lol...
哈哈,大约一年后就会降价50%,客户估计都还没收到货。
Robert9 hours ago
Thats a mistake they will dismantle it and start selling there own Cusula electric car and it will be a complete copy but no quality.
这是一个错误。他们会把它拆了,然后仿制出Cusula电动汽车,质量肯定不行。
Justin Case9 hours ago
China, where there is a 24% surcharge on vehicle registrations.
Great car market over there.
在中国,车辆登记要加收24%的附加费。不过,那里的汽车市场很大。
tat6 hours ago
Selling to China is a bad move, but they have already reverse engineered it soon as it came out.
向中国出售是一个愚蠢之举,一出来他们就会立即进行仿制。
Infidel9 hours ago
I just don't get who Tesla's customers are. Is it a status symbol or something - like Range Rover? Is it a statement that I can buy an overpriced hunk of junk garage queen because I have lots of money to waste on junk vehicles?
我不知道特斯拉的客户都是哪些人,它是地位的象征还是像路虎揽胜一样牛?难道都是钱太多了。
--8 hours ago
You should not be building cars for any other country until you have completed all of the pending orders from customers in the USA.
An American company should be putting Americans first.
There are still plenty of people that are still waiting for the $35K version of the Model 3, which you have not even started yet. These need to be included in the pending orders before you start selling more expensive vehicles to other people in other countries.
在完成美国客户的订单之前,你不应该卖给其他国家。
美国公司应该把美国人放在第一位。仍有很多人在等待售价3.5万美元的Model 3
L6 hours ago
Haha " Tesla 4 made in China " will release in 2019
哈哈,"中国制造的特斯拉Model 4"将于2019年上市。
Anonymous9 hours ago
I'm interested in what this does for their stock.
我感兴趣的是这对他们的股票有什么作用。
AnnieMouse7 hours ago
Will Chinese customers receive their cars before American customers who have been waiting months?
中国消费者会比等待了几个月的美国消费者先提到车吗?
grapermelon3 hours ago
What I don't understand is, what if you can't find a place to charge the batteries or have to drive very far to do so?
我不明白的是,如果你找不到地方充电,或者充电站离得很远,那要怎么办?
moder7 hours ago
A car with 250 miles of driving range and needs hours to refuel.
跑250英里,得冲电好几个小时。
Republican(USA) Democrat(China)9 hours ago
Very soon the chinese version called 'Tasla' will be available at less than quarter of the price..
很快,一款名为"Tasla"的中国版将以不到四分之一的价格上市。
Mr. Mango To You9 hours ago
Musk is purchasing more trucks to deliver the Teslas to China.
马斯克正在购进更多卡车,将特斯拉汽车运往中国。
Fake Indian Warren9 hours ago
Desparate Tesla trying to get funds from a new source since Americans have caught on to their scam.
美国人发现了特斯拉的骗局,绝望的特斯拉现在想从中国赚钱
Matthew7 hours ago
They can't deliver the ones here, so how are they going to ship them to China? Will Elon buy a shipping company? On the return trip China will deliver the copies they made!
那他们怎么把车运到中国呢?埃隆会收购一家航运公司吗?返程时,中国会把他们的复制品寄给我们!
Larry9 hours ago
Tesla Modle 3 now sells for $9999.00 on Alibaba
特斯拉Model 3目前在阿里巴巴上的售价为9999.00美元
alex6 hours ago
yahoo socialists love TESLA, news flash its too late...China EV market is already saturated, and also Chinese wont throw subsidies for buying one:):)
中国电动汽车市场已经饱和,而且中国人不会买特斯拉,没有补贴。
na5 hours ago
Order now. Receive it in 5 years.
现在预订,5年后提车。
Milinko8 hours ago
Cant even keep up productions for Americans , what makes them think they can keep up with orders from China?
美国客户的订单都没赶出来,他们凭什么接中国订单?
Gary9 hours ago
Let's see trumpty dumpty stop Tesla from doing business with China. LOL !!!
看看特朗普怎么阻止特斯拉和中国做生意,哈哈!
Roman9 hours ago
Coming soon to China: The Tessla Model 4.
Tessla Model 4很快就会在中国上市。
Gary9 hours ago
I am waiting on the Chinesla. The will be nice.
我等着"中斯拉"(Chinesla)的上市,应该会不错。
moder7 hours ago
Tesla's demand for the Model 3 is drying up in the U.S.
在美国,对特斯拉Model 3的需求正在枯竭
Tank8 hours ago
The Chinese will have their version out within the year--for 1/3 the price.
中国将在年内推出自己的版本,价格只要三分之一。
michael reese9 hours ago
Trump is doing everything he can to destroy the economy.
特朗普正在竭尽全力摧毁美国经济。