Lion Air jet smashes into a lamp post, a week after one of the carrier's planes crashed into the sea off of Indonesia
狮航在印尼附近海域坠毁一周后,又一航班撞上灯柱
A Lion Air plane has smashed into an lamp post before take-off just a week after one of the airline's jets crashed in Indonesia killing 189 people.
一架狮航航班在起飞前撞上一根灯柱,就在一周前,该公司的另一架航班在印尼海域坠毁,导致189人死亡。
The Boeing 737-900 plane was on its way to the runway at Fatmawati airport in Bengkulu, Indonesia, when its left wing collided with a metal post.
当时这架波音737-900飞机滑行在印尼明古鲁法特马瓦蒂机场跑道上,左翼与一根金属灯柱相撞。
The collision on Wednesday evening damaged the wing, leaving a fragment dangling in the air, forcing those on board back to the airport.
碰撞事故发生在周三晚上,损坏了机翼,在空中留下一块碎片,迫使机上人员返回机场。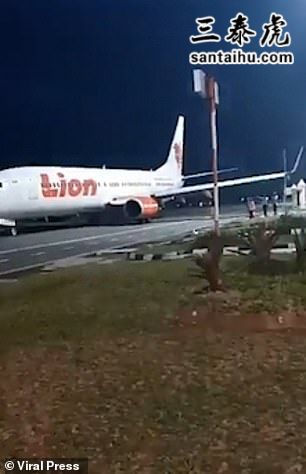 The passengers on the JT-633 flight to Jakarta were moved to a second plane and arrived four hours late at 11.50pm.
该航班为飞往雅加达的JT-633,机上乘客被转移到另一架飞机上,抵达雅加达时已经是晚上11点50分,旅客行程因此晚点4个小时。
An Indonesian official said the plane and pilots have been grounded while the crash is investigated.
一名印尼官称,事故调查期间,飞机和飞行员都将停飞。
'The aircraft nudged the pole while travelling to the runway,' said Pramintohadi Sukarno of the Ministry of Transportation.
'We have instructed Kabandara to ensure that airlines fulfil their obligations in accordance with the provisions by providing compensation for late flights to passengers.'
交通部官苏加诺称称:"飞机在跑道上滑行时轻微碰到了灯柱。我们已经指示卡班达拉确保航空公司按照规定履行其义务,为乘客提供航班延误赔偿。"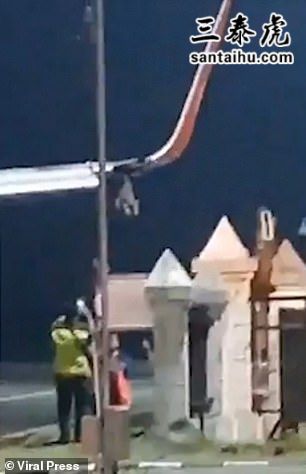 Lion Air has apologised to customers, saying: 'The Boeing 737-900ER registered PK-LGY which was due to take off at 18.20 from Bengkulu, the departure was cancelled.
'When the plane was moving towards the runway, the wingtips knocked over the airport's parking lot pole, which broke.
狮航已向客户道歉,称:"这架波音737-900航班原定于18:20从明古鲁法特马瓦蒂机场起飞,已被取消。当飞机在跑道滑行时,翼尖撞上了机场的灯柱,柱子被撞断。"
'The aircraft was controlled by a pilot with guidance and instructions as well as signs given by Aircraft Movement Control (AMC) officers.
'The AMC officer is a person from the airport management and is being examined by the relevant party.
"航班由飞行员控制,而飞行员根据地面交通管制的引导和指示进行操作。目前地面交通管制人员正在接受调查"
'JT-633 flights carry seven flight crew and 143 passengers. They have departed using a different aircraft registration PK-LHM.
'The aircraft took off at 22.48 West Indonesia Time from Bengkulu and landed at Soekarno–Hatta International Airport at 23:50.'
JT-633航班上有7名机组人员和143名乘客。他们已经改乘另外一架航班,于印尼西部时间22时48分从孟加拉库鲁起飞,于23时50分在苏加诺-哈塔国际机场降落。"
The Lion Air jet in the fatal crash crashed just minutes after take-off from Jakarta on Monday, October 29, killing all 189 people on board.
10月29日星期一,狮航公司一航班发生致命坠机事件,飞机在从雅加达起飞几分钟后坠毁,机上189人全部遇难。
Indonesia's search and rescue agency on Wednesday extended the search effort for a second time, saying it will continue until Sunday.
周三,印尼搜救机构再次延长搜救时间,称搜救工作将持续到周日。
Body parts are still being recovered and searchers continue to hunt for the cockpit voice recorder.
机身部分仍在搜寻中,搜寻人员仍在继续寻找驾驶舱语音记录仪。
英国每日邮报读者评论:
译文来源:三泰虎 http://www.santaihu.com/46466.html 译者:Jessica.Wu
外文:https://www.dailymail.co.uk/news/article-6366461/Lion-Air-jet-smashes-lamp-post-week-Indonesia-crash.html
eeian, Macau, Hong Kong, 1 hour ago
Need a lion's heart to go on this airline.
乘坐这家航空公司的航班需要极大的勇气。
EL James, Austin, United States, 1 hour ago
Note.... cancel Lion Air ticket tomorrow morning.
明天早上退掉狮航的机票。
mia, florida, 4 hours ago
Maybe they are not able to learn and fly safely 100%.
或许他们就是学不会100%安全飞行。
Gman1510, Essington , United Kingdom, 9 hours ago
Did they obtain their licence from LegoLand Windsor ?
他们的执照难道是从温莎乐高乐园考的?
Airscotia, York, United Kingdom, 9 hours ago
Boeing 737-900ER DM.
又是波音的飞机
Paul, MWVNH, United States, 10 hours ago
Maybe they should try using pilots....
或许他们应该换飞行员。
Wild Bill, Wodonga, Australia, 11 hours ago
Don't ever fly these cheap airlines. I flew Air Asia once from Bangkok to Singapore......never again. Old ladies that paid extra sitting near the emergency exit (they would never been able to get the door out) and despite numerous calls to shut down phones people were happily using phones and tablets in take off. Once but never ever again
不要乘坐这些廉价航空公司的航班。我曾经坐过一次,从曼谷飞到新加坡,以后再也不会坐了。那些坐在紧急出口附近的老太太们在起飞时从不关机,仍在那不亦乐乎地使用手机和平板电脑。
von Rooties, Vancouver, United States, 12 hours ago
Have these Lion Air guys ever taken any flight training?
狮航的飞行员接受过飞行训练吗?
seeUS1984, On the edge of forever, United States, 12 hours ago
Wouldn't the solution be to paint a line on the runway to line up with, so not to hit objects with the wings?
在跑道上画好线,机翼不就不会撞上其他物体了?
Your Grandfather, Portland, United States, 13 hours ago
Not an airline I would travel with...
我不会坐这种航空公司的航班……
JT123, Chicago, United States, 14 hours ago
All the comments here might be true regarding pilots with little experience, but i have been to many many airports and while taxiing around to and from runways, there are NO lightpoles anywhere close to taxiways. All the lights are on the ground or if there is a pole, its far away so that this doesnt happen. My thoughts are that pole will be gone tomorrow.
这里的评论都说飞行员经验不足,也许是这样,我去过很多很多机场,飞机在跑道上滑行时,附近根本没有任何灯柱。所有的灯都安装在地面上,如果有灯柱,那也是在很远的地方,所以根本不会发生这样的事情。我想那根灯柱明天就会消失。
LandRover628, Manila, Philippines, 15 hours ago
I'm afraid this new airline with a fleet of brand new airplanes are being flown by newly minted with zero-hour experience pilots.
恐怕这家航空公司是新开的,飞机是全新的,飞行员也是没有一点经验的新手。
Bigskyguy76, Bozeman, United States, 16 hours ago
This airline will soon be for sale
这家航空公司很快就要出售了
sucaaa, USA, Italy, 16 hours ago
I took lion air once...the seats are small af
我坐过一次狮航,座位窄得很。
YoureWrongImRight, Truthville, United States, 16 hours ago
Who let the first timer sit in the pilot's seat?
是谁让一个新手去开飞机?
Tom B, Springfield Ohio, United States, 16 hours ago
Think I would stick with Singapore Airlines.
我想我会一如既往的选择新加坡航空。
ImeanwhatIsay, Shangri-la, United States, 17 hours ago
Looks like they need more trained and experienced personnel to fly modern aircrafts
看起来他们需要更多训练有素和经验丰富的飞行员来驾驶现代飞机。
Cairene1, London, 18 hours ago
You get what you pay for. Low cost airline, low cost pilot training, low cost maintenance.....
一分钱一分货。廉价航空,低成本飞行员培训,低成本维护…
nile, Sydney, Australia, 18 hours ago
Just another day in indonesia with lion air
又是印尼狮航。
Sarcouf, St Lo, France, 18 hours ago
Clearly it's an aircraft design flaw. Nothing to do with the 1-eyed pilot or krappy maintenance.
显然这是飞机设计上的缺陷,跟睁一只眼闭一只眼的飞行员没啥关系。
gray wolf, Midwest, United States, 18 hours ago
Many commenters on another site are saying Lion Air's pilots are poorly trained. To save money, they are not trained on a simulator but simply observe a pilot flying, as a 'trainee' co-pilot.. Numerous commenters stated the earlier crash was not due to the instrument failure but to pilot error. I suspect the same is true here. Thought for the day: before you decide to fly with one of these airlines, you might like to check out how well their pilots are trained.
另一个网站上的很多评论都说,狮航的飞行员缺乏训练。为了省钱,他们不是在模拟器上训练,而是作为"见习"副驾驶在一旁观看飞行员飞行。很多评论都说,之前的坠机事故不是由于仪器故障,而是由于飞行员的失误导致的。我想这次也是一样的。在你决定乘坐这些航班前,你最好看看他们的飞行员训练得如何。
Cooper, Cambridge, 18 hours ago
Very unfair to make such a link between the two. One was a fatal accident, the cause of which is as yet unknown and the other is pilot/groundstaff error. After all the post didn't suddenly change position.
把两次事故联系起来是很不公平的。上一次是致命的事故,其原因尚不清楚,这次是飞行员或地勤人员的错。毕竟,灯柱是不会突然移动的。
Dave, London, United Kingdom, 19 hours ago
I rekon Boeing really regret selling them planes now
把飞机卖给他们,估计波音公司现在肠子都悔青了。
Dale Boy, York, United Kingdom, 19 hours ago
My wife is Indonesian and when we travel back to Indonesia she will never allow us to travel with Lion Air.
我的妻子是印尼人,我们回印尼旅行时,她绝不允许我们乘坐狮航公司的航班。
simbolon, jakarta, Indonesia, 19 hours ago
Might be woman driver
估计是女飞行员。
Bugsy, Malaga, United Kingdom, 19 hours ago
Whoops! Let's turn the plane around and smash the other wing so that they match.
现在让飞机掉个头,把另一边的机翼撞碎,这样比较对称。
Grumpyoldtrout, Bristol, United Kingdom, 19 hours ago
They put lampposts in daft places don't they.
他们就不该把灯柱装在那个位置。