Will India qualify for the 2022 FIFA World Cup?
印度能入选2022年世界杯吗?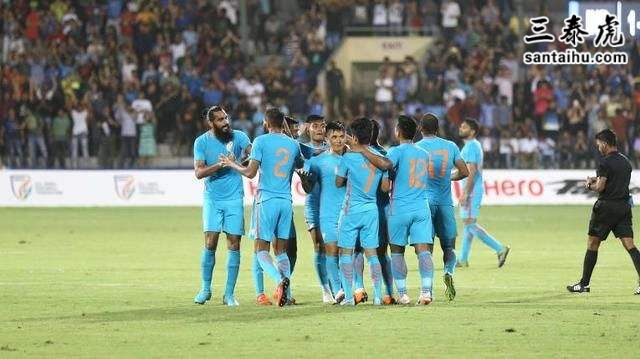 QUORA网站读者评论:
Akshay Jyotishi
Not by a long shot.
Right now we're definitely improving and a solid middle tier Asian team but the World Cup is just too far away.
绝无可能。
现在我们确实在进步,我们是一支稳固的亚洲中游球队,但世界杯离我们太遥远了。
Rishi Sengupta, Been following the sport since a decade, intensive knowledge
In my oion, no. They're a good group of players but they still have a long way to go. We have talent and a good coach in Stephen Constantine. First we need to become a dominant team in Asia, then only can we aim for the World Cup
在我看来,不可能。他们是一群优秀的球员,但他们还有很长的路要走。我们有人才,也有很棒的教练斯蒂芬·康斯坦丁。首先,我们需要成为亚洲一流球队,再来考虑世界杯
Dinesh S, Bachelor of Technology Information Technology, Anna University, Tamil Nadu, India (2011)
I would say No straight away. But, the realistic chance of getting closer to qualification should be FIFA 2026 WC. AIFF must do better to prepare for that standard of games.
Fingers crossed.
我会马上就说不可能。但是,距离资格赛上更近一步的现实机会应该是2026世界杯。AIFF必须做好更充分的准备。
祈祷。
Chitrartha, Writer and fanatic
Currently, The Indian Football team is ranked 96th in FIFA rankings. in 8 years' time, I see it getting better. Let us not be overly optimistic and say our nation would be ranked 85th by the time the Qatar World Cup starts.
Russia was the lowest ranked team in this edition of the world cup and they had automatic qualification because they were the hosts.
The qualifiers for the next World Cup will be played in 2020–21, and by then, sadly, I do not see the pential in our team to reach the the grandest stage of 'em all.
2026 and onward though, FIFA has decided to have a World Cup with 48 teams rather than the current tradition of 32. Each continent gets to have more teams in the tournament and surely the Indian team, if supported by it's people and the Sports Authority of India, can proudly stand with their heads up high when the Indian National Anthem is played on the American soil.
目前,印度足球队在国际足联排名中排名第96。8年内,我们的球队确实在进步。但我们不要过于乐观,认为卡塔尔世界杯开幕时我们的国家能排到第85位。
俄罗斯队是本届世界杯排名榜上排名最低的球队,由于是东道主,俄罗斯队自动晋级。
下一届世界杯的预选赛将在2020-21年举行,遗憾的是,我还没有看到我们的球队能达到巅峰。
2026年,国际足联决定举办一届48支球队的世界杯,而不是目前的32支球队。每个大洲都有更多的球队可以参加比赛,当然,如果印度人民和体育局支持,印度队也可以昂首挺胸地站在美国土地上,让印度国歌高声奏响。
译文来源:三泰虎 http://www.santaihu.com/46462.html 译者:Joyceliu
Varun Gupta, BTech Mechanical Engineering, Shri Ramswaroop Memorial College of Engineering and Management Lucknow (2017)
Depending on how they perform in the Asian Qualifiers. But there is a huge chance of India being a part of World Cup 2026 considering their performances recently ass their will be 48 teams in 2026.
这取决于他们在亚洲资格赛中的表现。考虑到他们最近的表现,印度很有可能进入2026年世界杯。
Paul William Dixon, lives in Jundiaí, Brazil
I would say India has a good chance of qualifying for the World Cup, but in 2026.
Firstly, the World Cup will be 48 teams rather than 32.
The 16 remaining vacancies would be: one each for additional hosts + 3 for each Confederation (the last Asian berth and the last African berth out of these could be decided in a play-off or minitournament with 2 teams from Oceania).
Asia would have 7 teams: 4 teams as at present + 3 new allocated teams (assuming they beat the Oceania representatives)
My bet: Iran, Saudi Arabia, Japan, , South Korea, Uzbekistan, India
我想说印度有很好的机会进入世界杯,但是要等到2026年。
首先,届时世界杯将有48支球队,而不是现在的32支。
剩下的16个空缺将是:每个额外的东道主加3个同盟队(亚洲和非洲的最后一个席位可以在附加赛中决定,或者与来自大洋洲的2支球队一起决定)。
亚洲将有7支球队:目前4支球队+ 3支新分配的球队(假设他们击败了大洋洲的代表)
我打赌会是:伊朗,沙特阿拉伯,日本,,韩国,乌兹别克斯坦,印度
KArthik Ph
Answer is No , cause we do have a good team but hardly not a good team .It's good to see that we are 107 th in ranking and 13 th in Asia ,but that's not enough . But there are chances in future as we all have witnessed by now how well our U 17 have played ag inst those teams and how well they were as a team.
答案是否定的,因为虽然我们确实有一支好球队,但也不算是一支多好的球队。很高兴看到我们世界排名第107位,亚洲排名第13位,但这还不够。但在未来,我们有机会看到我们的球队在与其他球队的比赛中表现如何。
Harry Kriewaldt, Historian in training (PhD candidate), inveterate traveller
If the Indian team were to do sufficiently well in qualification, why not?
There is, I would submit, a considerable gulf between India's current performance and the standard required to qualify. Whether that can be bridged in time for the 2022 tournament - qualifying for which will get underway in the coming year or so - is anyone's guess. I'd suggest not, for the simple reason that these things take time
如果印度队在资格赛中表现足够好,为什么不能呢?
我认为,印度目前的表现与标准之间存在相当大的差距。能否在2022年世界杯之前实现跨越,谁也说不准。我猜不行,原因很简单,这些事情需要时间
Anonymous
No chances of qualifying if there are 32 teams. Minimum chances if 40 teams are allowed. But that by no means should dampen the spirit of AIFF.
India should be eyeing for the 2026 World Cup instead. WC will be extended to 48 teams. Also, recent victories of younger teams are heartening. So, India should train its U-14, U-17 and U-20 teams really well if it wants to race for the World Cup of 26, North America.
如果只有32支球队,那就没有资格晋级。如果有40支球队可以参赛,那就有一线机会。但这绝不能挫伤AIFF的精神。
印度应该着眼于2026年世界杯。届时世界杯将扩大到48支球队。此外,最近少年球队的胜利也令人振奋。所以,如果印度想要参加2026年北美世界杯,就应该好好训练U-14、U-17和U-20。
Aditya Rathour, Student Officer at Reading
NO ,
Because India increasing rating is fast and you saw improvements in last 2 year(2015 ranking 178 jump to 97 in 2018).But there are some points which show that we have to improve more.
1)popularity - football is most popular game in world followed by cricket but in india they are not popular as much as cricket.
2)Weak structure- In our country the structure of cricket is very strong from junior to senior level but we have to improve a lot in football.We need some more thing like these more coaching centeres e. t. c.
3) support from go nment- yes yes I am if you follow Indian Football regularly then you know that Indian Football qualify for the Asian Games 2018 but Indian go nment don't send them because they do not qualify on their basics they are not in top 8 in Asia but I think that's not your work that they qualify or not that's Asian Federation work .you have to do only that you have to spend money on them and support them.
there are more points which need to improve but they are main and need a lot of improvement and if they improve they can qualify
不可能,
因为虽然印度的进步速度很快,在过去两年内我们看到了他们的进步(2015年排名178位,2018年上升到97位)。但也有一些迹象表明我们需要更大的进步。
1)足球是世界上最受欢迎的运动,其次是板球,但在印度,足球没有板球那么受欢迎。
2)结构薄弱——在我们国家,板球的结构从初级到高级都很强,但我们在足球方面还需多努力。我们需要更多这样的辅导中心。
3)政府的支持——是的是的我如果你是印度足球的粉丝,那么你知道印度球队有资格参加2018年世界杯,但印度政府不让他们参加,因为他们不是亚洲八强。但我认为这不是政府该管的,他们有没有资格,是亚洲足联的事儿。政府该做的只是为他们出资,支持他们。
还有很多方面需要改进,但以上几点是主要的,需要很多改进,如果他们改进了,他们就有资格。
Kaustav Ray, former Sportswriter at Infootball.co
India first has to be part of Asian Football's Elite before dreaming of World Cup .
在梦想世界杯之前,印度首先必须先跻身亚洲足球强队。
Logan, Football lover
Can't say about this.
First we have just qualified for Asian Cup 2019
after 2011.
Inorder to qualify for the world cup we need to be on par with some of the Asian elites like Japan, South Korea, Saudi Arabia, Iran, Jordan, Australia etc.
We don't even play friendly with these countries. If we start playing these countries and start beating them , then we can say we are one of the asian elites. Then and only then we can think of qualifying for World cup.
Fingers crossed as anything can happen in football.
这可不好说。
首先,我们继2011年之后,刚刚获得了2019年亚洲杯的参赛资格
为了获得世界杯的参赛资格,我们需要与日本、韩国、沙特阿拉伯、伊朗、约旦、澳大利亚等亚洲强队站在同一线上。
我们现在都还没办法和这些国家队愉快地比赛呢。如果我们能够跟这些国家队好好对决,甚至打败他们,那么我们可以自豪地说我们是亚洲强队之一。只有到那时,我们才敢肖想世界杯预选赛。
在足球界任何事情都能发生,祈祷吧。
Ayush Srivastava
The chances are very less but yes there are chances. 22 is very difficult to be honest. We're are seeing this Indian team with in form Chhetri who's leading us. By 2022 he may not be present in team.
Also we first try to reach semifinals of AFC next year.
Ray of hope - our current U16/U17 squad will be playing in 2026.
机会很渺茫,但确实有一线希望。2022年的世界杯就别想太多了。现在印度球队由切特里带队。到2022年,他可能不会出现在球队中。
同时,我们也在努力争取明年进入亚足联半决赛。
希望之光-我们现在的U16/U17阵容将在2026年参加比赛。