Who was more advanced technologically around 1 AD: China, Roman Empire or India?
在公元元年左右,谁在技术上更先进:中国、罗马帝国还是印度?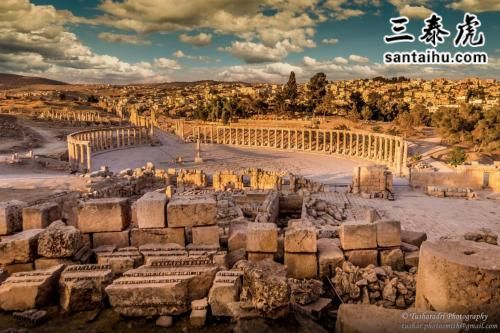 Quora评论翻译:
Andrew Roberts
Of the 3 only Rome existed, so I'll have to go for Rome, before you consider what Roman technology there was, or the relative state of Roman metallurgy - Wikipedia.
在这3个国家中,当时只有罗马帝国存在,所以我只能选罗马。
If you want a comparison between Rome and the Han dynasty, which occupied much of today's China, then I'd still go with Rome, as though their nominal GDP's have been estimated as nearly identical, the Han dynasty had 60 to Rome's 44 million bodies, indicating Rome was applying its technology more effectively, to maximise what it could extract out of its Citizens / Subjects, as the estimated relative iron production figures appear to support. Though the likes of the Chinese Counting rods numeral system was obviously superior to the Roman and Greek Numerals, in common use at the time, as was the weaving of silk vs linen, while the Romans clearly excelled in hydraulic engineering, ship building, and glass production, but in many areas they were comparable. Trade between the regions compensated for some of the inequalities, see: Roman commerce.
就算拿罗马和汉朝相比(当时的汉朝跨越今天中国的大部分地区),我仍选择罗马,尽管他们当时的GDP几乎相当。汉代人口大约为6000万,罗马帝国人口为4400万,这表明罗马技术更先进,当时的铁产量数据似乎可以支持这一点。虽然当时中国的算筹计数明显优于罗马和希腊数字,还有丝绸和麻布的织法也更先进,但是罗马人明显更擅长水利工程、造船和玻璃生产。许多领域具有可比性,各地区之间的贸易弥补了一些不平衡,可以研究一下当时的罗马商业。
India just didn't exist in the period, with dozens of minor empires and kingdoms all claiming bits of South Asia: Kushan Empire, Suren Kingdom, Chera dynasty, Ay, Chola dynasty, Mushika Kingdom, Satavahana dynasty, Dasarna Kingdom, Kongu Nadu , Kalinga, Suhma Kingdom, Vanga Kingdom , Davaka, Indo-Greek Kingdom, … with no single writing system, no lingua franca, no central administration, no maintained road networks, no civil service, no Pax Romana / Han enforcing rule of law in the region, no public fountains, almost no written history, almost no stone construction, … For a comparison with a South Asian empire, that controlled most of the territory of the current Republic, you'd have to push the timeframe forward, for the South Asian entry, to the mid 14th century, and the Delhi Sultanate of the Tughlaq dynasty. Which despite resolving the lack of a central administration, fairly uniform taxation, stone construction, and a professional military, with a few forts, they didn't really contribute much to mankind.
在当时,印度根本不存在,几十个小帝国和王国都声称拥有南亚的部分领土:贵霜帝国、苏伦王国、哲罗王国、奥伊王国、朱罗王国、穆希卡王国、萨塔瓦哈那王朝、达萨尔纳王国、羯陵伽国、苏玛王国、文伽王国、达瓦卡王国、印度-希腊等等,没有统一的文字、没有共同的语言、没有中央政府、没有道路网络、没有行政部门、没有罗马帝国统治下的和平或者汉朝实施的法治、几乎没有文字记载的历史、几乎没有石头建筑。真要有一个南亚帝国拿出来比,你必须将时间推后到14世纪中期,到图格鲁克王朝的德里苏丹国。尽管解决了缺乏中央管理的问题、执行统一税收、修建石头建筑,建立军队以及一些堡垒,但他们对人类的贡献并不大。
译文来源:三泰虎 http://www.santaihu.com/46236.html 译者:Jessica.Wu
Hammad Shakil, works at NED University of Engineering and Technology
Andrew Roberts's views are typical eurocentric biased views which his colonial ancestors have propagated since they ruled and left india.
Andrew Roberts的观点是典型的以欧洲中心的观点,带有偏见。
if you pick up faxien's account of gupta empire alone which depicts a welfare, peaceful, liberal government, it would dispel any notions of bad indian administration compared to cruel, barbaric, rules of the romans, indian kings never throw innocent people infront of wild animals to serve an entertainment purpose for the general public. the very first concept of a civic hospital was born from indian civilization and faxien rightly points out many charitable hospital which functioned during gupta period through the donations of wealthy people, killing animals was banned and the society was vegetarian, the tax were very lenient and the capital punishment was not carried out. the first time criminals were forgiven and only punished if they repeated the offence. there was no concept of imprisonment. despite such liberalism, there was peace and a crime free society
与罗马人残忍、野蛮的统治相比,印度国王从不把无辜的人拿去喂野生动物,以供民众娱乐。医院的概念诞生于印度文明。在笈多王朝时期,许多慈善医院依靠富人的捐款维持,禁止猎杀动物、倡导素食、税务宽松而且没有死刑。首次罪犯可被原谅,只有当重复犯罪时才会受到惩罚,也没有监禁这一说法。如此自由了,社会依旧和平、没有犯罪。
now compare this rule to chinese or the romans, who enforced their rules with absolute barbarity.
中国人或罗马人,他们以绝对野蛮的方式进行统治
when it comes to civilization advancement, let me just state a very naked fact that in abbasid count in the 9th century, there were only two schools of thought which existed there, 1) hellenistic 2) indian. indian and hellenistic medicine, astronomy, maths, science etc rule the roost, indians were called from india to translate sanskrit texts into arabic or persian, indian astronomers were called to construct observatories in persia and the islamic world, indian medical doctors competed with greek or hellenistist doctors in the court, this is not told by indians, no indian documents speak about such indian achievemenets but the arab/ persian and islamic scholars themselves. there were no chinese medicine, roman science which were given importance in the islamic world.
说到文明的进步,我想说一个非常明显的事实:在公元9世纪的阿巴斯时期,只有两种思想流派,一种是希腊流派,另一种是印度流派。印度和希腊医学、天文学、数学、科学等占主导地位。梵文文献也被翻译成阿拉伯语或波斯语,印度天文学家受邀在波斯和伊斯兰国家修建天文台,印度医生与希腊医生在宫廷里分庭抗礼,这些不是印度人自己说的,并没有印度文件提到印度成就,而是阿拉伯/波斯和伊斯兰学者说的。在伊斯兰世界中,没有中医,也没有罗马科学。
lastly about architecture, you can still see the model of amaravathi stupa from 2nd century which was unfortunately destroyed by earthquake or by hindus or it collapsed itself which is not known, but it was one of the largest free standing architecture in the ancient period, Kushan kings constructed the biggest free standing architecture in the 1st centry AD which is called Kanishka stupa (you can read about its chinese accounts and the gigantic construction it was at that time) if you want to compare their grandiose, you can see go to cylon and observe some 3nd century constructed srilankan stupa Jetavanaramaya and imagine it plastered with carved marbles which you can still see at the british museum. Indians were known for constructing multi story buildings, just read the xuanxang accounts of nalanda university who's walls were so high that the rain would fall from the top due to condensed vapours, this is not stated by indians by by foreign visitors to india. all these gigantic constructions didn't survive because of 1) war, 2) climatic conditions of india 3) they used bricks, they didn't use slaves like romans to tow gigantic rocks to construct roman temples.
Regards
最后关于建筑方面,你仍然可以看到2世纪的阿玛拉瓦蒂佛塔模型,不幸的是,它们或被地震摧毁,或被印度教徒摧毁,或者自己倒塌了,但它是古代最大的独立建筑之一。在公元元年左右,贵霜王朝建造了最大的独立建筑迦腻色迦佛塔,如果你想瞻仰他们的宏伟,你可以去看看3世纪建造的祗陀林佛塔。印度人以建造多层建筑而闻名,可以去看看玄奘有关那烂陀大学的叙述,那烂陀大学的围墙很高,以至于水蒸汽会在屋顶凝结成雨水滴落下来。所有这些建筑不是被战争破坏,就是被印度的气候锁侵蚀而不复存在。这些建筑使用砖块,而不像罗马人那样用奴隶拖着巨石建造罗马庙宇。