Which was the world's richest empire in ancient times (1 AD to 1600 AD)?
公元元年至公元1600年期间,世界上最富有的帝国是哪个?
Quora评论翻译:
Andrew Roberts
It all depends when in the period, what you define as China, India, Rome.... (see note below) and which metric you use, but on a GDP per capita basis (output per person), as borders moved and names changed, you get:
·1 - 600 AD - Rome (Italy)
·600 - 1200 AD - Islamic Caliphate(s) (Iraq, Turkey, Iran, ...)
·1200 - 1550 AD - Italy (But not an empire, at best an Italic League)
·1550 - 1850 AD - Netherlands (But not an empire, but largely the Dutch Republic)
Note: between 1AD and 1870 AD South Asia's, GDP per capita has never been greater than that of China, though between 1870 and 1977 it was, and largely unified as a constituent part of the British Empire, or as a Union of nations in the current Republic.
这取决于具体在哪个时期,你如何定义中国、印度、罗马等帝国(见下面的注释),以及你采用的衡量标准。以人均GDP(人均产出)为基础,你会得到以下答案:
公元元年 - 600 :罗马(意大利)
公元600 - 1200 :伊斯兰王国(伊拉克、土耳其、伊朗、…)
公元1200 - 1550:意大利(不是一个帝国,充其量是一个意大利联盟)
公元1550 - 1850:荷兰(不是一个帝国,跨越荷兰共和国的大部分地区)
注:在公元元年至1870年之间,南亚的人均GDP从未超过中国。
Also have a read or the original source for the debate: World history by per capita GDP along with:
·How would the Roman empire and India's GDP compare in 1 AD?
·How did the Roman and Chinese Empires' GDP compare between 1 and 1000 AD?
Then have a play with the raw data on: Historical Statistics of the World Economy: 1-2008 AD - knoema.com
Or just grab it in Excel format here: Home Maddison
A few GDP Per Capita charts in different formats:
Note: The nation states of India and China are post WWII inventions, for a list of the numerous empires that have controlled part of the territory they now occupy, see: List of empires.
你也可以看看原始资料:
·公元元年罗马帝国和印度的GDP比较
·公元元年至1000年期间,罗马帝国和中国的GDP比较
以下是一些人均GDP图表: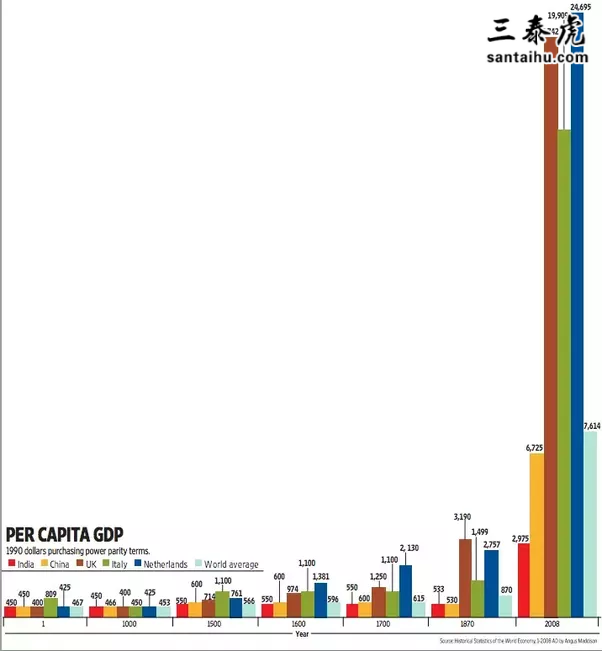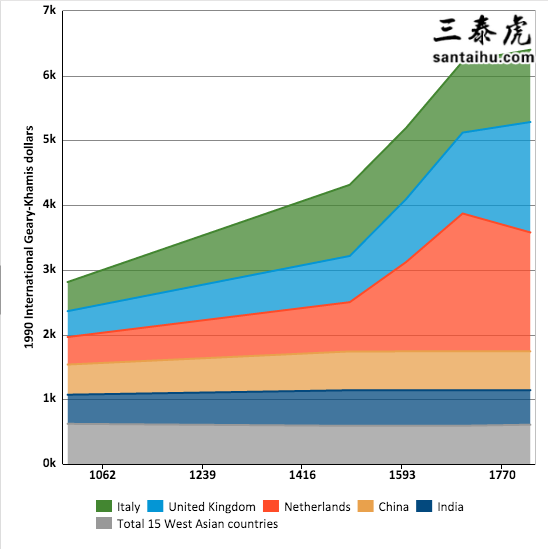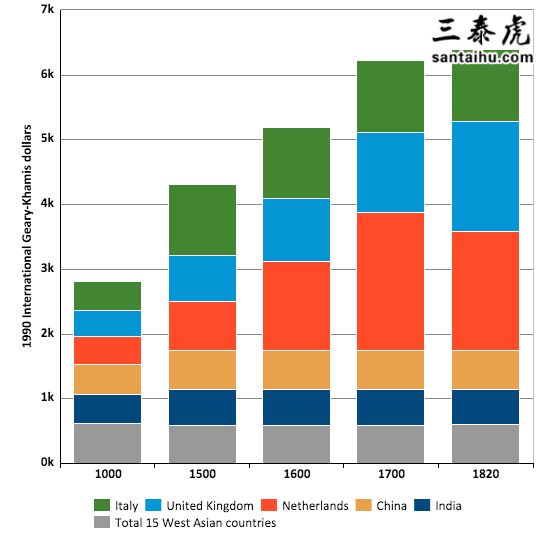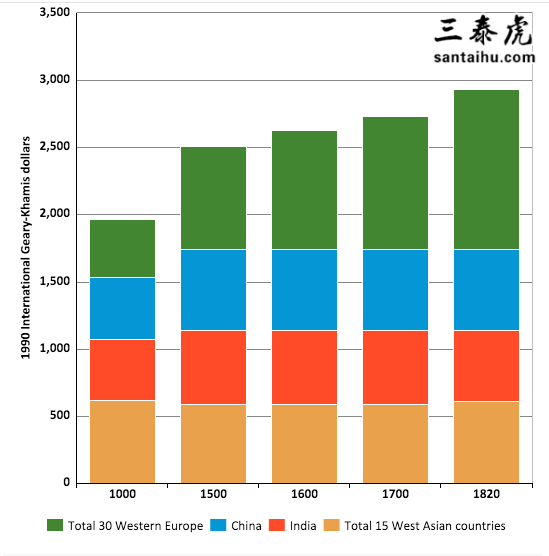 注:印度和中国是二战后成立的国家,部分领土被列强控制着。
译文来源:三泰虎 http://www.santaihu.com/46235.html 译者:Jessica.Wu
Joseph Boyle
By current boundaries, the areas now known as India and China alternated for largest economy. China was larger in the 1500s, then sustained damage in the 1600s during the Qing takeover with India pulling ahead, then had a very strong 1700s becoming the largest economy in history.
Before that, I haven't seen a detailed analysis. One could guess that other periods of war like the Mongol conquest or the disintegration of the Han and Tang dynasties were low points for China. For India, I don't think census records survived as well as for China.
印度和中国曾先后成为最大经济体。在16世纪,中国的经济规模比印度更大,之后在17世纪清朝接管后,经济下滑,被印度反超,之后在18世纪中国又成为最大经济体。
有人可能会猜测,战争时期,如被蒙古人征服和汉唐王朝时期,中国处于低谷
Sunny Mewati, Studied Economic History
Larger estimated population
India's GDP was indeed bigger than China's (surprising) and the Roman Empire (almost impossible to believe) according to just one economist, Angus Maddison who quantified historical GDP's dating back to 1 AD in his famous book Contours of the World Economy 1-2030 AD. It is easy to see the many flaws in his claim once you read his research and its criticism by other leading economists.
根据经济学家安格斯•麦迪森的数据,印度的GDP确实超过了中国和罗马帝国。麦迪森在其著作《公元1-2030年世界经济轮廓图》中对历史GDP的量化可追溯到公元1年。只要读过他的研究以及其他主流经济学家对它的批判,你就很容易看出他的说法有诸多问题。
Comparing national incomes across time is overtly simplistic on Quora and elsewhere while it is not that simple among academics studying economic history. A little before the advent of the industrial revolution, most economics lived as subsistence farmers. This is true for all societies before the mid of 18th century. Because everyone lived at subsistence and subsistence across countries is very constant (everyone has the same minimal needs), the country with the larger population had the higher GDP.
在Quora和其他网站上,比较不同时期国民收入的方法过于简单。工业革命到来之前,大多数经济都是自给自足型的。18世纪中期之前,各国都是自给自足的。人人生活在温饱线上,人口越多的国家GDP就越高。
Historical GDP = Population * Per-Capita income (almost same for every country)
历史GDP =人口*人均收入(几乎每个国家都一样)
Because of a poor record at written history and lack of a tradition of census, it is hard to determine what India's population was historically before the British came and instituted a census department. Maddison says in the book, "India does not have statistical records of the same sort as Western Europe, China or Japan, and there is consequently a wide range of views". Estimates of India's population vary a lot and every period of observation. For example, Clark(1967)'s estimate for 1 AD is 70 million while Birraben (1979) is 46 million.
由于印度的历史记录不全,也缺乏人口普查的传统,在英国人到来并设立人口普查部门之前,很难确定印度人口是多少。麦迪森在书中说,"印度没有西欧、中国或日本那样的统计记录"。对印度人口的估计在不同时期相差很大。例如Clark估计公元元年印度人口为7000万,而Birraben的估计则是4600万。

*A table of alternative estimates of India's population from Statistical Appendix B of Maddison's book.
麦迪森著作附录B的统计数据,列出了印度人口的估算数据。
For China on the other hand, we have excellent statistical records of census dating back as far as the Qin dynasty. We know with a very small margin of error what China's population was all across history.
而中国保存着完整的统计记录,可追溯到秦朝。中国史上人口数量统计的误差很小。
Maddison used the upper estimates of each period of observation to conclude that India's GDP is was the highest in the world. This is disputed a lot in academia because some of those estimates are too large to be considered true given technological development of that time and many of them are just 'conjectures'. If you use McEvedy and Jones (1978)'s estimates of Indian population, then Indian GDP is lower than both Roman Empire and China.
麦迪森用每个时期的最高估值做出的结论显示,印度GDP是世界上最高的。这在学术界引起了很多争议,考虑到当时的技术发展,其中一些估值太高了,不切实际,而且很多都只是"推测"。如果你采用1978年McEvedy和Jones对印度人口的估算值,那么印度GDP比罗马帝国和中国都低。
Pranav Telang, Student
At the close of the sixteenth century, India's wealth sustained more than a hundred million people. There was an abundance of arable land and the state of Indian agriculture compared favourably with any of the western European countries. Right down to the subsistence-oriented peasant, everyone saw a good return on land and labour. There was a large and vigorous skilled workforce turning out not just cotton but luxury items for the barons, courts and ruling classes. Consequently, the economy produced a fabulous financial surplus. For example, the annual revenues of the Mughal emperor Aurangzeb are said to have amounted to $450 million or more than ten times those of his contemporary Louis XIV of France. According to an estimate of 1638, the Mughal court of India had accumulated a treasure equivalent to $1.5 billion.
在16世纪末,印度供养了1亿多人。印度有大量的可耕地,其农业状况比任何西欧国家都好。所有人都看到了土地和劳动力的丰厚回报。当时有一大批工人,他们不仅生产棉花,而且还为贵族、法院和统治阶层生产奢侈品。经济带来了惊人的财政盈余。例如,据说莫卧儿王朝的皇帝奥朗则布的年收入达到4.5亿美元,是他同时代的法国国王路易十四的十倍多。根据对1638年的估算,印度莫卧儿王朝积累了大约15亿美元的财富。
By the early eighteenth century, India was the leading manufacturing country in the world. Of course, manufacturing then meant handloom textiles and handicrafts. There was a large commercialized sector with a highly sophisticated market and credit structure, manned by a skilful and in many instances very waelthy commercial class. Methods of production and of industrial and commercial organization could stand in comparison with those in vogue in any other part of the world. India had developed an indigenous bankingsystem. Merchant capital had emerged with an elaborate network of agentss, brokers and middlemen. Its bills of exchange were honoured in all the major cities of Asia.
到18世纪初,印度已成为世界上领先的制造大国。当然,当时的制造业也就是手工纺织品和手工艺品。当时庞大的市场和信贷结构,由一技术娴熟而富有的商业阶层操纵。生产方法和工商业组织可以和世界上其他地方相媲美。印度发展了本土银行体系。印度的汇票在亚洲主要城市都能承兑。
So definitely, India back then was one of the richest country.
所以,当时的印度无疑是最富有的国家之一。
Supreeth Dev M
This is because of what was considered as wealth centuries ago.
这取决于在几个世纪前什么东西被视为财富。
Today, the world's richest resources is energy and power(power as in, ability to dominate over others). If you have an oil deposit, every country will be fighting to become your friends. And of course, the country with the best military power gets to be your friend. Those days, they used to consider the fertility of lands, precious metals and precious gems as the wealth. And India had abundant of them. Until 18th century, India was the only source of diamonds in the world.
今天,世界上最值钱的是能源和权力(权力即支配他人的能力)。如果你有石油储备,每个国家都会想成为你的朋友。当然,拥有最强军事实力的国家也会成为你的朋友。在那段时期,人们把土地、贵金属和宝石视为财富,而印度恰恰有很多。直到18世纪,印度还是世界上唯一的钻石产地。
Lokesh Giri, Spiritual, Seeker, Indian
Western Europe was slightly Richer in GDP Per Capita. But India and China because of their huge populations had bigger GDP than any other country/empire.
China and India were each 5-10 times bigger than the third biggest economy until 17th century revolution in Europe.
It is hard to predict which one of China and India were the biggest, both seem pretty close.
西欧的人均GDP略高一些。印度和中国由于人口众多,GDP比其他国家或帝国都高。
在17世纪欧洲革命之前,中国和印度的经济规模都是第三大经济体的5-10倍。
很难推算中国和印度的经济规模哪个更大,二者似乎很接近。
Sachin Sharma, Computer Engineer and history lover.
Being rich is not a title which remains forever.
No, i wouldn't say that India was the richest country in the world.
But yes India was one of the rich countries. Till 1700 India contributed about 22%-23% GDP of world economy.
India was a country which had raw materials in abundance, this is one of the main reasons why foreigners invaded India.
India was called 'the golden bird' as people used to get paid by either gold ornamentals or by golden coins very often.
It was the scenario that kings and their families were extremely extremely rich, and average people were satisfied with their lives as they didn't have as much requirements as we do have now.
And those people who were poor were also able to live their lives as surrounding people would help them.
Population was very less.
Let me tell you all an interesting fact.
When the population of India was very less, then the government declared a reward of offering a large peice of land for the family who have 12 or more children, to increase the population. I hope that the government must impose a rule to decrease the population now.
富有不是一个永远的头衔。
我不会说印度是世界上最富有的国家。但印度的确是富国之一。截至1700年,印度对世界GDP的贡献约为22%-23%。
印度是一个原材料丰富的国家,这是外国人入侵印度的主要原因之一。
印度被称为"金鸟",人们过去常常只收黄金饰品或金币。
国王及其家族非常非常富有,普通人过着满意的生活
Sunil Kumar
For 1850 years out of 2000 years, India was the richest country in the world and had the biggest economy in the world.
India was the leading economic power of the world from the 1st year of the first millennium till 1700 - with 32 per cent share of world's GDP in the first 1000 years and 28 per cent to 24 per cent in the second millennium till 1700. India lost its economic might due to colonial conquests only.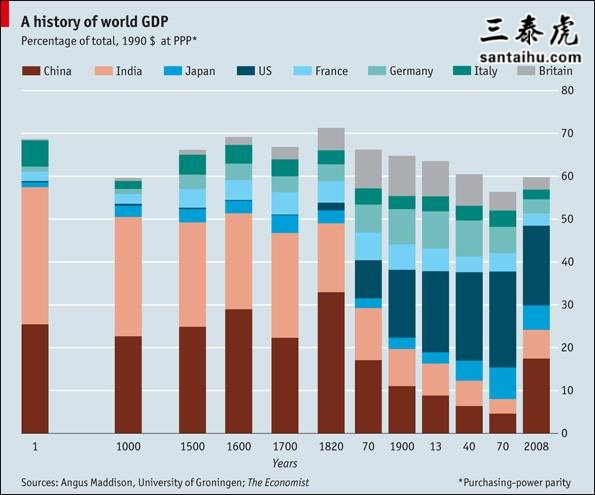 Referred from - Nikhil Sharma
在2000年里,其中有1850年,印度都是世界上最富有的国家,也是世界上最大的经济体。
从公元元年到1700年,印度一直是处于领先地位的经济大国,在从公元元年-1000年印度占世界GDP的32%,从公元1000-1700年印度GDP占世界GDP的28%到24%。印度的经济实力因为被殖民而丧失殆尽。