How advanced is high speed rail in China?
中国高铁有多先进?
quora读者评论:
来源:三泰虎 http://www.santaihu.com/45875.html 译者:Joyceliu
外文链接:https://www.quora.com/How-advanced-is-high-speed-rail-in-China
Mark Lennonh
I live in China since five years and used high-speed trains many times and still do not understand what's so special about them. Their speed is basically the same of the high-speed trains in Italy, same comfort too. They are like all high-speed trains in developed countries.
我在中国住了五年,坐过很多次高铁,但仍然不明白它们有什么特别之处。它们的速度基本上和意大利的高速列车一样,舒适程度也一样。它们就像所有发达国家的高速列车一样。
Sumit Mullick, A Quora Enthusiast
They have the only passenger-carrying maglev in the entire world. You cannot go higher in tech than that (till these capsule-in-pipe dream trains become a reality outside test labs).
他们拥有世界上唯一的商用磁悬浮列车。你不可能在技术上比这更先进(除非这些管道列车从实验转变成现实)。
Norm Matloff
In my limited experience, I've found the Chinese high-speed trains to be excellent — smooth, quiet and operated in a well-organized manner. To me they are not quite as comfortable as the ones in Japan, but I would highly recommend them.
在我有限的经历中,我发现中国的高速列车是极好的——平稳、安静,运行得井然有序。对我来说,它们虽然没有日本的高铁那么舒服,但我仍然强烈推荐它们。
Amy Z, Support staffer at Organization for Transformative Works
There really is no comparison. Chinese bullet trains are the most advanced in the world. I went to China for the first time last year, and rode on the bullet trains twice. The seats were comfortable, the ride was unbelievably smooth, and the view (I got a window seat) was spectacular. Particularly since the track went up onto what basically would be freeway overpasses at times, so I got to see Shanghai from high up.
真的没有可比性。中国的动车是世界上最先进的。去年我第一次去了中国,坐了两次动车。座位很舒服,坐着非常平稳,沿途的景色(我坐在靠窗的座位)非常壮观。更特别的是因为铁轨有时会出现高速公路立交桥,所以我从高处看到了上海。
Roger Gilmartin, Traveling the world and learning wherever I go
I have been and continue to be a huge proponent of rail transport, from the light rail systems (including subways) within cities, to the high speed trains between cities.
我一直并将继续大力支持铁路运输,从城市内的轻轨系统(包括地铁)到城市间的高速列车。
The last time I was in China, I took the high speed train from Beijing to Xi'an, the experience exceeded my expectations:
上次来中国的时候,我乘坐了从北京到西安的高铁,这次经历超出了我的预期:
it was very fast (max speed was 315 km/hr)
速度很快(最高时速达到315公里/小时)
Very smooth (little sensation of movement except to see the scenery flash by)
非常平稳(除了看到窗外的风景一闪而过,几乎没有任何移动的感觉)
The seats and leg room were more than adequate (my wife and I sat on the side with two seats)
座位和腿部空间都足够大(我和妻子坐在靠边的两个座位)
Couldn't wait to repeat the experience!
迫不及待地想要再坐一次!
Contrast that with the standard airport experience, which even in China, is more like other airports in other cities.
相比之下,同样是在中国,机场就与其他城市的机场相似没有特别之处。
Left me wondering why the US can't get its act together and put in rapid rail up and down the East Coast (if nowhere else).
让我纳闷的是,为什么美国不能团结一致,在东海岸(如果其他地方不行)修建快速铁路。
Stephen Thompson, Lived in China for 10 years, speak and write Chinese
China knows has two thirds of the world's high speed trains. I have ridden on them and they are great - fast, clean, comfortable and convenient, except that the stations are mostly in suburban areas so transiting is inconvenient.
中国拥有世界上三分之二的高速列车。我乘坐过中国的动车,它们很棒——速度快、干净、舒适、方便,只是车站大多在郊区,所以中转不方便。
But they aren't particularly advanced. The technology was copied from Germany, and go about the same speed as German, French and Japanese trains. The safety record is poor compared to Japan, which has never had a major high speed train accident.
但它们并不是特别先进。这种技术是从德国引进的,速度与德国、法国和日本的列车差不多。与从未发生过重大高速列车事故的日本相比,中国的安全记录很差。
Anyway, China has come a long way since the 19th century when the emperor purchased and tore up China's first railway - because it damaged the Fengshui.
无论如何,自从19世纪皇帝购买并拆毁中国第一条铁路以来——因为它破坏了风水,中国已经走过了很长的路。
Anonymous
I have taken the high-speed trains in the mainland China so many times. It has been quite nice experience so far. The trains are punctual, clean, safe, and affordable. The food is not included in your ticket until you are travelling in the business class. Smoking is absolutely prohibited in the compartments. The train often crosses the speed of 300Km/hrs. If you are coming to China, I'd recommend you to try a fast bullet train ride.
我在中国大陆坐过很多次高铁。到目前为止,这是相当不错的经历。火车准时、干净、安全、实惠。票价不包括食物,除非你乘坐的是商务舱。车厢内绝对禁止吸烟。火车经常以每小时300公里的速度行驶。如果你要来中国,我建议你试试高铁。
However, most of the stretch of the train lies in the northeast, east, and southeast part of China. If you are wandering in the western part of the mainland, you may have to rely on the slow speed train or the Chinese buses.
然而,列车的大部分路段位于中国的东北部、东部和东南部。如果你在大陆的西部旅游,你只能乘坐低速列车或中国大巴。
But if you have to travel from east to west (or the other way round), the flights could be opted upon as the journey by a slow speed train may consume a hell lot of time.
但如果你必须从东到西(或者反过来)旅行,那么你可以选择乘坐航班,因为低速列车可能会耗费大量时间。
Aji Pramudya, Madiun-Hangzhou-Ningbo
subjectively I believe it is now the most advanced HSR in the world, the interior is very nice and they are literally "HIGH SPEED" train, the train station is very good as well(图)
从主观上讲,我认为它是目前世界上最先进的高铁,车厢内部很好,是名副其实的"高速"列车,火车站也很好。
Anna Bomby, Master Mechanical Engineering & Automation, Nanjing University of Aeronautics and Astronautics (2015)
The most advanced you can find. It's currently better than any other train as China bought the best technologies from 5 other countries (Japan, France, Germany, South Korea and another one I forgot) to create this train.
这是你能找到的最先进的列车,比其他列车都要好。中国从其他5个国家(日本、法国、德国、韩国和另一个我忘记了的国家)购买了最先进的技术
They are planning to make an even better one, again in China, but also in Japan. The next train is supposed to link Guangzhou (extreme south) to Beijing (extreme north) in less than 4 hours for 2000km (currently taking 8h).
他们正计划在中国,也在日本制造一种更好的产品。下一代火车将在不到4小时的时间内,将广州(极南)与北京(极北)连接起来,行程2000公里(目前需要8小时)。
Greg Spolar, lived in China (2008-2017)
While I can't compare my exeriences with Chinese high-speed rail with any other country, I can compare them to my experiences on older Chinese trains and air travel.
虽然我无法将我乘坐中国高铁的经历和其他任何国家高铁的经历相比,但我可以将它们与我在中国乘坐老式火车和飞机的经历进行比较。
Although some of the HS trains are starting to show their age, they are more comfortable and generally less crowded than the old trains. Tickets are about 3x the cost, but there is no comparison on travel time. Journeys that used to take days now pass in minutes. Like anything in China, even travel can be a chore at holidays. But most of the time you just go to the train station, buy a ticket, board a train and leave. You can enjoy the scenery too.
虽然一些高速列车已运行了一定年限了,但它们比旧列车更舒适,也更不拥挤。票价大约是旧列车的三倍,但在旅行时间上两者根本没有可比性。过去需要几天时间的旅行现在只需要几分钟就到了。就像中国的任何事情一样,在假期旅行也是一件苦差事。但大多数时候你只需要去火车站,买张票,乘上火车然后离开就可以了。你也可以欣赏风景。
Flying, escecially the security screening is far more stressful. Arrive 2 hours early, check in, check bags (maybe), clear security, wait to board, board, wat to take off… and do it all after landing. You will probably walk much farther at the airport than the train station.
坐飞机时,安全检查的压力要大得多。必须提前2个小时到达机场,办理登机手续,检查行李(可能),过安检,等待登机,登机,起飞。你在机场里走的路可能比在火车站里要更远。
China's HS rail system is a gem: fast, convenient, and not too expensive, it has changed the face of travel in China
中国的高速铁路系统是一块宝石:快速,便捷,而且也不太贵,它改变了中国旅行的模式
Diana Tevlon, Chief at Risks Assessment Group
I've travelled across the globe and had the opportunity to ride on Shinkansen, Japanese fast train, and French TGV.
我曾周游世界,有机会乘坐过新干线、日本快车和法国高速列车。
Honestly, Chinese fast train is in a slightly different league as compared to the two.
老实说,中国的高速列车与这两家公司相比,有一点不同。
Chinese is smoother and its first class is as good as business class cabins of Singapore Airline (SQ).
中国列车更平稳,头等舱服务和新加坡航空的商务舱一样好。
No wonder, recently people opt to ride this fast train from Beijing to Shanghai and vice versa instead of flying. Flying is no fun these days with its stringent security measures and worse, delays.
难怪,最近人们会选择乘坐这种从北京到上海的快车而非飞机。如今,由于严格的安检措施以及更为糟糕的晚点,乘飞机出行并不是一件令人愉快的事情。
Please don't compare it to Amtrak. It will be an insult if you do. Amtrak is now a thing of the past if we compare it to Chinese fast train.
请不要拿它和美铁相比。如果你这样做,那将是一种侮辱。如果我们把美铁与中国的快速铁路相比,美铁已经沦为历史。
If in doubt, please go and check it for yourself.
如果有疑问,请亲自去确认一下。
Edward Elric, Pharma industry
As stable as the following pic, is just one of the accptance criteria of this rail.
就像下面的图片一样稳定,这只是验收标准之一。
No other country can achieve this.
没有其他国家可以做到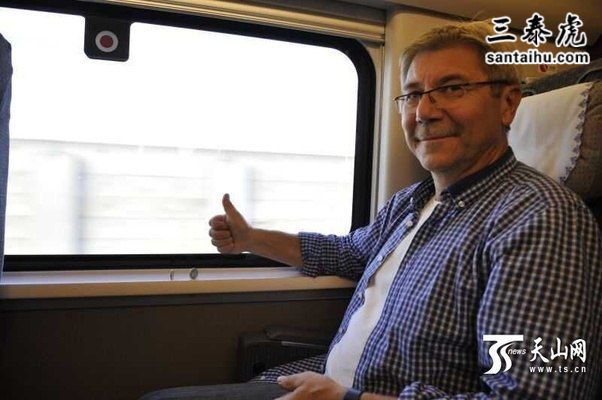 Enno Hyttrek, lives in Shanghai (2008-present)
It was interesting to read through the few answers here which are based on deep technical understanding and I could not possibly contribute an answer like that, not being a technical expert in train systems and train technology at all.
我很感兴趣地阅读了这里的一些答案,这些答案都是基于深刻的技术理解,我不可能做出这样的回答,因为我根本不是火车系统和火车技术方面的专家。
However, let me answer the question from a customer experience point of view.
但是,让我从客户体验的角度来回答这个问题。
As a regular passenger on Chinese G-trains (I live in Shanghai and commute to Suzhou on a regular basis and like many I also prefer the bullet train over a flight when traveling to Beijing), I can say one thing for sure: I prefer the allover experience of using the ICE system in my native Germany (to give an example I have enough experience with to compare) and I think in terms of seat comfort, build quality of the interior, seat space/leg space, well basically the environment that defines a big part of the travel experience the Chinese G-trains are a quite some way behind even such a relatively old system.
作为中国高铁的常客(我住在上海,定期往返于苏州,和很多人一样,去北京时我也更喜欢搭乘高铁而不是航班),我可以肯定地说:我更喜欢我的祖国德国使用的ICE系统(我有足够的经验来比较),我认为在座位舒适度、车厢内部建造质量、座位空间/腿部空间、环境等在旅行经历中占据重大部分的方面,中国高铁较相对来说比德国陈旧的系统更为落后。
Of course I'm aware that a country like China has other requirements in terms of passenger numbers and so forth, and it is obvious that Chinese trains must be built cheaper to meet the numbers. I also must admit that the system is awesome in it's punctuality (something the German train system ironically is hopelessly random in nowadays).
当然,我知道像中国这样的国家在乘客数量等方面有其他要求,很明显,中国的火车必须以更低的价格制造才能满足这些要求。我也必须承认,这个系统在守时方面非常棒(讽刺的是,德国的火车系统在今天是完全随意的)。
Still, if I look at the German ICE (and considering how long it's been in service) and then at the Chinese trains, then my personal impression is that the Chinese ones in comparison are not particularly advanced. More like 'nice try, you're on the right way' really. In my humble opinion …
不过,如果我看看德国的ICE(考虑到它已经服役了多长时间),再看看中国的火车,我个人的印象是,相比之下,中国的火车并不是特别先进。更像是"做得不错,你们上道了"。这是我的个人拙见……
In most 2nd class cars the seats are close to falling apart (most cars are equipped with seats that can be turned 180 degrees — I have still not found out what need/benefits is behind that feature but it's obvious that it makes the seat structure less solid), and I booked 1st class only once, because the improvement of the seat quality doesn't justify the added ticket costs at all (again: in comparison a 2nd class seat in a German ICE—even older stock—offers better seat comfort than the Chinese 1st class seats).
在大多数二等车厢,座位已经快散架了(大多数车厢都配备了座椅,可以旋转180度,我还没有发现这种功能有什么必要/好处,但很明显,这使得座椅结构不那么牢固),我只订了一次一等车厢,因为座椅质量的提高与票价的加价并不相称(相比之下,德国ICE的二等座位比中国的一等座位更为舒适。
The absolutely ridiculous ticket booking system for those who do not have a Chinese ID card (you need to pick up your pre-ordered and prepaid ticket with your passport at a counter, usually waiting long in endless lines), the over-paranoid (yet inefficient) security procedure at check-in (up to three time your ticket will be checked—but from my observations I doubt the 'bad people' can really be kept out if they really want get in), the random seating system (no way to choose a preference for a window or aisle seat even when booking early, at least not when booking online) and the mostly rude and grumpy train personnel are some more aspects worth mentioning.
荒谬的订票系统对于那些没有中国身份证(你需要凭护照在柜台领取你预订和预付的车票,通常在望不到头的等候队列中等很久),进站时严苛多疑(然而低效)的安检(你的车票会被检查3次,但根据我ode观察,我非常怀疑"坏人"如果真的想要混入,他们是否真的能被排查出来),随机座位安排系统(即使提前订票也无法选择靠窗或靠过道的座位,至少在网上订票时无法选择),另外,大多数态度粗鲁、脾气暴躁的列车工作人员是更值得一提的方面。
(Note: I've been living in China for 9 years, my wife is Chinese, and I really quite like it here — so my fellow Chinese hosts who may read this, please don't misunderstand my answer as some foreigner's rant against you and your country. It is not meant like that at all. But from a passenger/customer point of view your government—which someone in an earlier answer pointed out is apparently the reason for the glory of the Harmony trains—still needs to work a bit on the bullet train system until it truly can be called 'advanced')
(注:我已经在中国生活了9年,我的妻子是中国人,我非常喜欢这里——所以可能会读到这篇文章的中国同胞们,请不要把我的回答误解为外国人对你和你的国家的污蔑。我根本不是那样的意思。但是从乘客/顾客的角度来看,你们的政府——有人在之前的回答中指出这显然是和谐号列车辉煌的原因——高铁系统仍需努力,直到它真正达到"先进"水平)
Minsberg, interested in science,engineering,economy and politics
I think it depends on the definition of "advanced". As far as I understand, I will talk about it in two aspects: speed and convenient .
我认为这取决于你如何定义"先进"。据我所知,我将从两个方面来谈论它:速度和便捷。
For some readers that not experience the high speed railway, I want to briefly introduce my experience. In the past few years, when someone want to go to beijing city from guangzhou city(Beijing and Guangzhou are the most developed city in China),normally, it takes about 40 hours by regular train. But now it only takes about 8–10 hours depends on the speed by present high speed railway.
对于一些没有经历过高铁的读者,我想简单介绍一下我的经历。在过去的几年里,如果有人想从广州(北京和广州是中国最发达的城市)去北京,通常坐普通火车需要40个小时。但现在,它只需要8-10小时,取决于目前高铁的速度。
So let us talk about the specific speed for high speed railway: around 250–400km/h for "G" train and 200km/h for "D" train. Of course, it can be faster, but now the specific speed is more proper for the situations. But if "advanced" means how fast in experiment or still under research or next generation products. I don't know. What I can say is that i ever read a newspaper that during experiments, the high speed railway can reach around 1000km/h. I am not a expertise in this field. Perhaps the aerodynamics problems such as friction, vibration or some problems are still difficult.
因此,让我们谈谈高速铁路的具体速度:"G"号列车约250 - 400公里/小时,"D"号列车约200公里/小时。当然,它可以更快,但现在特定的速度更适合这种情况。但如果"先进"意味着在实验中或仍在研究中或下一代列车能达到的速度。我不知道。我能说的是,我曾经读过一份报纸,在实验中,高速铁路可以达到1000公里/小时。我不是这方面的专家。也许空气动力学方面的问题,如摩擦,振动或一些问题目前仍然是困难的。
Second is about convenient. You can't imagine how convenient it is! Let us consider some situations: if you want to go to shanghai from beijing. It's around 1300km in total. If you choose to drive, it takes more than 15 hours. If you choose to fly, we all know airport is away from the downtown, It always located in rural places, so perhaps you need to take 1 or 2 hours to the local airport ans 1 or 2 hours to the destination when you landing on. What's more , you need to get one or two hours earlier to the airport for security check or others things. The whole trip is around 2 hours. The whole time is 1+1+1+2=5~2+2+2+2=8hours. However, train stations are always located in downtown, and it takes around 5 hours. The advantage for high speed are: 1. fast and flexible( if you are late for a train , you can take the next ,perhaps about several minites later for free).2. not too troublesome like plane. 3.cheaper. 4. never late.5. more comfortable compared to the most kinds of plane types. and so on.
第二个是便捷度。你根本无法想象它有多方便!让我们考虑一些情况:如果你想从北京去上海。路程总共大约1300公里。如果你选择开车,需要超过15个小时。如果你选择坐飞机,我们都知道机场总是位于远离市中心的郊区,所以也许你需要花上1到2个小时才能到达当地机场,下飞机后还需要花上1到2个小时才能到达目的地。更重要的是,你需要提前1到2个小时到机场进行安检或其他事情。整个旅程大约需要2个小时。所以全部时间是1+1+1+2=5~2+2+2+2=8小时。然而,火车站总是位于市中心,路程大约需要5个小时。高铁的优点是:1. 又快又灵活(如果你坐火车迟到了,你可以乘下一班火车,大概等几分钟就可以,免费改乘)。2. 不像飞机那么麻烦。3. 更便宜。4. 从不晚点。5. 与大多数飞机相比更舒适,等等。
High speed railway gives people a possible who works in big cities that can commute to small cities(their home) every day. For example: Shenzhen to Humen takes only 17 minutes. It combines the whole country into a new type: satellite cites around big cities. It makes the education, work, medical or others things more fair and everyone can enjoy the developed resources. Furthermore, it make all cities perfect connect no matter from east to west or north to south.
高速铁路给人们提供了一个在大城市工作的机会,他们可以每天通勤到小城市(他们的家)。例如:从深圳到虎门只需17分钟。它把整个国家合并成一种新的类型:大城市周围的卫星城市。它使教育、工作、医疗或其他事情更加公平,每个人都可以享受到发达的资源。此外,它使所有的城市从东到西,从北到南都完美的连接起来。
If there is a chance, i suggest you can enjoy taking a high speed railway. Experience is always more colorful than words.Thanks!
如果有机会,我建议你可以享受乘坐高速铁路。个人体验永远比语言更丰富多彩。谢谢!
Sthitapragnya Deshpande, worked at China
Very advanced. I first travelled by high speed trains in China a few years back, from Tianjin to Beijing. Recently, I travelled a few times by the high speed train between Guangzhou, Shenzhen and Xiamen. It was as amazing and comfortable as the first time.
非常先进。几年前,我第一次在中国乘坐从天津到北京的高速列车。最近,我乘过几次广州、深圳和厦门之间的高铁。和第一次一样,还是很棒很舒适。
Booking these trains is smooth - online on an English language website.
在英语网站上预订这些火车也很顺利。
Once I reached the station (which has been designed to accommodate at least double the current number of people), I scanned my passport onto an automatic machine and it gave me the paper tickets, which I fed into the entry gates.
当我到达车站(车站被设计成至少能容纳目前乘客人数的两倍)时,我在一台自动机器上扫描我的护照,机器打印出了纸质机票,我把这些机票放进了入闸口。
There are about 20 such machines for Chinese people (since they have an Id card), while foreigners have 2 such machines available(for our passports). There was a police / security person around to help us.
中国人可以使用大约20台这样的机器(因为他们有身份证),而外国人有2台这样的机器(读取我们的护照)。有一个警察/保安在附近帮助我们。
Railway stations In China - especially the newer ones like Shenzhen Bei Rlwy Stn - 深圳北 - are always extremely comfortable to sit in, just like airports, with large indicators, and surprisingly good queue culture. Like in most stations, you sit in a large central waiting hall with shops and fast food restaurants all around, and line up at your high speed train platform about 20 minutes prior departure time.
中国的火车站——尤其是像深圳北——全都非常舒服,就像机场,有着大大的显示屏和令人惊讶的良好的排队文化。和大多数车站一样,你坐在中央的大型等候大厅里,周围都是商店和快餐店,在发车前20分钟可以在你的高速列车站台前排队等候。
The coaches are air conditioned and comfortable, an indicator at each end of the compartment reminded us after the prompt departure that we were travelling at 200 km/hr. I would have uploaded my photos of the ride, but something in the manner in which Quora appears on my comp in China prevents this!
车厢里有空调,很舒服,在准时发车后,车厢两头的指示灯提醒我们,我们是以每小时200公里的速度向前行驶。我本来可以把我的照片上传到网上的,但是我的电脑在中国登陆Quora时,显示的页面让我没办法这么操作!
Just like another observer here, I never even felt the high speed that the train was zooming at. The ride was smooth - I could easily write with my pen and paper. It was smoother than my earlier ride in the Eurostar from London to Paris and as smooth as my Bullet train ride in Osaka. We passed small villages, lots of fields, lots of untouched greenery as well as a few cities and stations.
就像这里出现的另一个观察者一样,我压根没有感觉到火车在飞速行驶。旅途很顺利——我可以很容易地用我的纸和笔写字。这比我早些时候乘坐欧洲之星从伦敦到巴黎的旅程还要顺利,就像我在大阪乘坐高铁一样顺利。我们经过了许多小村庄,许多田地,许多未被破坏的绿色植物,还有一些城市和车站。
The train had a canteen, plus the attendants kept bringing food in their trolleys every about 20 minutes. The windows are huge so you don't feel claustrophobic at all.
火车上有一个食堂,而且服务员每隔20分钟就会推着手推车兜售食物。窗户很大,所以你根本不会觉得有幽闭恐惧症。
The first class coaches have 2 x 2 seating configuration while the second class coaches have 3x2 seating (a tad less comfortable though also air conditioned). Each seat has a plug point to charge laptops and mobiles, and this is almost always used by every passenger.
一等车厢的座位是2*2,二等车厢的座位是3*2(虽然也有空调,但不太舒服)。每个座位都有一个插头,可以给笔记本电脑和手机充电,几乎每个乘客都用这个插座。
There was only one irritant (for me - though other passengers seem uniquely unaffected by this). Almost everyone had videos playing on their mobile or tablet, yet no one here uses ear phones! I find this odd as ear phones give far better sound quality, and hey - they are all made in China anyway. Not to mention the fact that when 40 people play their different movies loudly, the resulting cacophony can be disturbing for everyone.
只有一件事让我不爽(对我来说如此——尽管其他乘客似乎并不受影响)。几乎每个人都在他们的手机或平板电脑上播放视频,但没有人使用耳机!我觉得这很奇怪,因为耳机的音质要好得多,而且嘿——反正它们都是中国制造的。更不用说,当40个人大声播放不同的电影时,产生的刺耳声音会让每个人都感到不安。
Somehow, this noise does not seem to affect anyone other than me! Still, it is not as noisy, compared to train travel in other countries.
不知怎的,这种噪音似乎除了我以外,对其他人没有任何影响!不过,与其他国家的火车旅行相比,这里的噪音并没有那么大。
I find travelling by Chinese high speed trains far more comfortable than travelling by flight, and continue to use them as much as possible.
我发现乘坐中国高铁比坐飞机旅行舒服得多,我会继续尽可能多地搭乘高铁。
Costs:
成本:
They are far cheaper than flights (188 RMB for the 3 hrs 45 mins / 607 kilometres journey from Shenzhen to Xiamen - as opposed to nearly 1200 RMB for a flight)
这比乘飞机便宜多了(从深圳到厦门3小时45分钟607公里,188元人民币)。
And yes - each train has a few boiling hot water dispensers - for your cup noodles / coffee (if you are a non Chinese Lao Wai) and for your 茶 tea (if you are Chinese). The wash rooms are rather clean, and are cleaned every 30 minutes. They are as clean as the wash rooms in the Southern rail coaches that I used often in UK.
对了,每列火车都有一些热水饮水机——可以冲泡你的面条/咖啡(如果你是一个非中国人的老外)和茶(如果你是中国人)。盥洗室相当干净,每30分钟就会打扫一次。它们和我在英国经常搭乘的南方铁路车厢里的洗手间一样干净。
Kåre Skak Pedersen, China since 2010. Still love it, still learning.
I'm a daily user of the G-trains, as their technical names are.
我每天都在使用高铁,因为它们的技术名称说明了一切。
I haven't much to add about the massive cattle drive we see on the National Holidays. It IS a little overwhelming. My contribution is more about convenience and the user experience.
关于我们在全国公共假期看到的大规模人口迁徙,我没什么可补充的。有点让人喘不过气来。我想说的更多的是关于便利性和用户体验。
I'm danish, coming from a tiny country and comparing to the quality trains we have back home, the Chinese G-train is out of this world.
我是丹麦人,来自一个小国,和我们国内的高质量火车相比,中国的高铁真是太棒了。
But "How advanced" are they?
但它们"有多先进"呢?
I will share two observations from my commutes on these trains:
我将分享我搭乘这些火车通勤时的两个观察结果:
Accelerations- and decelerations are incredibly smooth. If I stick my nose into the mobile phone and don't pay attention to the view from my window, I can't tell if we're going 300km/h (186mph) or if we have stopped at a station.
加速度-和减速难以置信的平稳。如果我低头专心看手机,不去注意窗外的景色,我根本无法判断我们是在以300公里/小时(186英里/小时)的速度行驶,还是在车站停了下来。
"Smooth ride" is what comes to mind.
我想到的是"平稳行驶"。
When the trains back home in Denmark, on a rare occasion, reaches their near-maximum speed - half the speed of the Chinese G-train, you don't need to look out the window to determine that we're roaring the tracks at aprox. 150–160km/h. Everything is rattling and shaking, not bad, but you have no doubt when the danish train is going 'all in'.
当丹麦的火车难得接近最高速度——只有中国高铁一半的速度,你不需要看窗外就知道我们大约以150 - 160公里/小时的时速在铁轨上奔驰了。所有的一切都在嘎嘎作响地摇晃着,还不错,但当丹麦火车"全速前进"的时候,你肯定能发现。
The other cute detail I experienced one day, was an announcement over the speakers on the train:
有一天,我体验到的另一个可爱的细节,是火车上扬声器里的一个通告:
"For safety reasons, we are currently driving with reduced speed. We apologize for any delays on your continued travel."
"出于安全考虑,我们目前正在减速驾驶。我们对您后续旅行的任何延误表示歉意。"
A quick glance at the cabin info-system told me that we actually did run on reduced speed. 275km/h (170mph) !
我快速瞥了一眼车厢内的信息系统,我们确实是在减速行驶。275公里/小时(170英里/小时)!
Samit Basu, former Unemployed
Chinese don't have high speed trains of their own.
中国人没有自己的高速列车。
What they have is a Frankentrain called CRH380A that combines body shell of Japanese Shinkansen E2 with Siemens Velaro power bogie.
他们拥有的是一辆名为CRH380A的Frankentrain列车,结合了日本新干线E2的车身外壳与西门子Velaro电力转向架。
The fastest train of China's own design runs at 250 km/hr
中国自己设计的列车最快时速为250公里/小时