Made in China: Does it matter?
中国制造:有关系吗?
The phrase "made in China" is rarely a selling point in America. It's even more rare to apply it to vehicles from American automakers. Until now.
"中国制造"这个词在美国很少作为卖点。应用在美国汽车制造商生产的汽车方面更是罕见。一直到现在都是如此。
Venture into a Buick, Cadillac or a Ford showroom (by 2019), and uncover Chinese-built vehicles such as Buick Envision, Cadillac CT-6 plug-in hybrid or the next Ford Focus. After more than a decade of stalled starts, the Chinese brands are coming, too. Does anybody care? Should they?
走入别克、凯迪拉克或福特的展示厅(到2019年),揭开中国制造汽车的面纱,比如别克昂科威、凯迪拉克CT-6插电式混合动力车或下一代福特福克斯。在经历了10多年的停滞不前之后,中国品牌也开始涌现。有人关心吗?他们应该关心吗?
In 2009, China became the largest auto market in the world, capturing over 20 percent global market share and almost 34 percent of total passenger car production, according to Statista.com. It influences what automakers do and how they do it.
据Statista.com的数据,2009年,中国成为全球最大的汽车市场,占据全球20%以上的市场份额,占乘用车总产量的近34%。它影响着汽车制造商的行动和行事方式。
Volvo, the venerable Swedish brand owned by the Chinese multinational automotive company Geely, was the first automaker to export from China to the U.S. with the S60 Inscription in 2015. Except for an assembly plate in the door jam, you never would know. It worked so well Volvo opened an assembly plant in Charleston, South Carolina on June 20. The plant will produce the sleek new S60 sedan initially, and according to Automotive News, the XC90 crossover by 2021. This marks the first time a Chinese-owned automaker assembled cars in the U.S.
沃尔沃是中国跨国汽车公司吉利旗下备受尊敬的瑞典品牌,是首个于2015年从中国向美国出口S60车型的汽车制造商。除了门卡上的组装板,你永远不会知道。因为销量火爆,6月20日,沃尔沃在南卡罗来纳的查尔斯顿开设了一家组装厂。这家工厂最初将生产时髦的新款S60轿车,据《汽车新闻》报道,还将于2021年投产XC90跨界车。这是中国汽车制造商首次在美国组装汽车。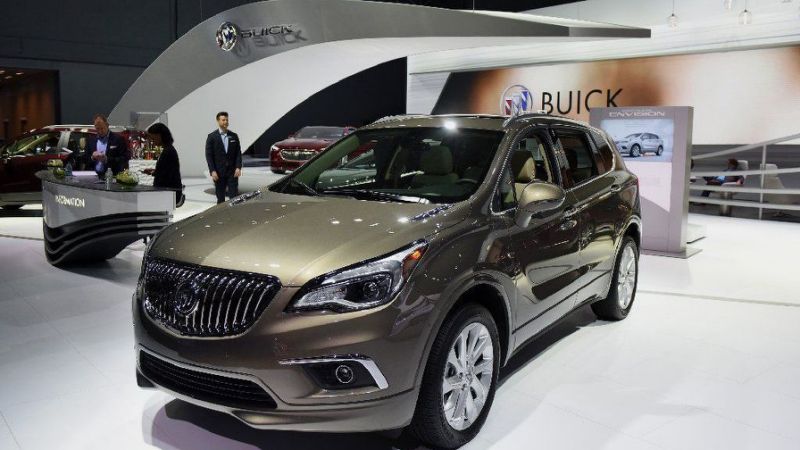 Geely itself was the first Chinese automaker to announce plans to sell vehicles in the U.S. during the 2006 Detroit auto show, but nobody imagined Volvo being its spearhead. Volvo was owned by Ford until 2010. Geely has been strategic in leveraging Volvo as an engineering center to improve its own models. Geely and Volvo are even co-developing a new line of vehicles branded "Lynk & Co", launching here with the "01" crossover in 2020.
在2006年底特律汽车展期间,吉利本身是首家宣布计划在美国销售汽车的中国汽车制造商,但没人想象过沃尔沃会成为其先锋。2010年之前,沃尔沃一直为福特所有。吉利一直在战略上利用沃尔沃作为一个工程中心来改进自己的车型。吉利和沃尔沃甚至联合开发了一款名为"Lynk & Co"的新车型,将于2020年与"01"跨界车一起推出。
Buick's path from Detroit to Shanghai and back is more circuitous. According to official GM history, Buicks were prestige cars in the early 20th Century and driven by Sun Yat-sen, the founding father of the Republic of China and its first provisional president, Zhou Enlai, who became China's premier, and Pu Yi, the last emperor of China. According to legend, two of Pu Yi's Buicks were the first cars to enter the Forbidden City in Beijing.
别克从底特律到上海再回到底特律的道路更加曲折。根据通用汽车的官方历史记载,别克是20世纪初的名车,成为中华民国国父孙中山,首任临时总统、后来成为总理的周恩来和中国末代皇帝溥仪的座驾。据传说,溥仪的两辆别克是最早进入北京紫禁城的汽车。
It was a status symbol, so GM's partner, SAIC, the state-owned automaker based in Shanghai, wanted to consummate their relationship with Buick. In 1995, they agreed to build a new factory to assemble the Century and GL8 minivan that's only for the Chinese market. Today, about five times as many Buicks are sold in China as the U.S. Some, like the popular Envision crossover, return home. And for good reason. Buick imported 40,040 Envisions in 2017 plus 16,814 in the first half of 2018, making it the brand's third-most-popular model.
这是一种身份象征,因此通用汽车的合作伙伴、总部位于上海的国有汽车制造商上汽希望与别克实现关系的完美结合。1995年,他们同意新建一家工厂,组装只面向中国市场的Century和GL8微型面包车。如今,别克在中国的销量大约是美国销量的五倍。别克在2017年进口了40,040辆昂科威,2018年上半年进口了16,814辆,成为该品牌第三畅销的车型。
"The vehicle was originally developed for the Chinese market, but it was a nice fit for the U.S.," said one of the Buick representatives onhand at its unveiling at the 2016 Detroit Auto Show. "We weren't going to tool an additional factory, so it was from China or not at all. We believe most owners won't care where it is built as long as it fits their needs."
"这款车最初是为中国市场开发的,但它也非常适合美国。"在2016年底特律汽车展上,别克的一名代表说。"我们不会再增加工厂,所以这个车型的车要么来自中国,要么没有。我们相信只要车子符合需求,大多数车主不会在意车子是哪里产的。"
Surveys seem to support that statement.
调查似乎支持了这一说法。
According to a study by Autolist.com, under a third of U.S. consumers say a vehicle being built in China would affect their purchasing decision while 49 percent say it would have no impact. Those concerned cite build quality, U.S. jobs, and reliability as reasons. Of course, this is complicated by tariffs that could raise from the current 2.5 percent to 25 percent if President Trump carries through on threats.
根据Autolist.com的一项研究,不到三分之一的美国消费者表示,中国生产的汽车会影响他们的购买决定,49%的人表示不会有影响。那些人的理由是建造质量、美国就业岗位和可靠性。当然,如果特朗普总统继续实施威胁,关税可能会从目前的2.5%提高到25%,这会让情况变得复杂。
"If, in the event of higher tariffs, the Chinese cannot export directly from their factories at home, they may decide to assemble vehicles in the U.S., just as the Japanese and Koreans and Germans have done with transplants," said Michael J. Dunne, automotive consultant and author of "American Wheels, Chinese Roads."
"如果关税提高,中国不能直接从国内工厂出口,他们可能会决定在美国组装汽车。"汽车咨询师、《美国车轮,中国道路》一书的作者迈克尔j邓恩说。
They may do that, but the Chinese won't just accept tariffs without a reaction.
他们可能会这么做,但中国不会毫无反应地接受关税。
"The problem is the retaliatory effect," said Dr. Roberto Garcia, professor of international business at Indiana University. "Toyota and Honda could increase investment, but they also do this to export. If automakers see a trade war looming, it will impact U.S. investment and employment. Long-term decisions are being impacted. Volvo...has production in the U.S., but that doesn't all stay in the U.S. Some goes back to China."
"问题在于报复性效应,"印第安纳大学国际商业教授罗伯特·加西亚博士说。"丰田和本田可能会增加投资,但它们也会增加出口。如果汽车制造商看到贸易战迫在眉睫,这将影响美国的投资和就业。长期决策也会受到影响。沃尔沃……在美国有生产,但并不会全部留在美国。有些会回到中国。"
That should matter to car buyers.
这对汽车买家来说应该很重要。
"The investments, suppliers, jobs, and tax revenue all flow to and remain in China," Dunne said.
邓恩表示:"投资、供应商、就业和税收都流入并留在中国。"
The tariff issue also complicates free market capitalism and consumer choice. In early August, GM asked the Trump administration for a tariff exemption on the Envision, otherwise it may pull it from the U.S. market.
关税问题也使紫游市场资本主义和消费者选择复杂化。8月初,通用汽车向特朗普政府申请昂科威的关税豁免,否则它可能会将昂科威撤出美国市场。
China has ceded some ground. It requires auto assemblers to be at least 50 percent domestically owned, but has agreed to phase out the requirement by 2020.
中国已经做出了一些让步。它要求汽车组装企业至少有50%的股权为国内所有,但已同意在2020年前逐步取消这一要求。
We'll soon lean how consumers feel about buying Chinese-branded imports. GAC, with global sales of 510,000 vehicles in 2017, will begin selling a 7-passenger crossover called the G8 in late 2019. FAW Group, one of China's largest automakers, plans to debut the Guyon electric vehicle, with a 310- to 434-mile range, in 2019. BYD, which builds electric busses in California and is backed by Warren Buffet's Berkshire Hathaway, will likely follow.
我们很快就会了解消费者购买中国品牌进口商品的感受。广汽2017年全球销量为51万辆,将于2019年底开始销售一款名为G8的七人跨界车。中国最大的汽车制造商之一一汽集团计划于2019年推出吉利恩电动汽车,续航里程从310英里到434英里不等。比亚迪将紧随其后,该公司在加州生产电动巴士,并得到沃伦•巴菲特的伯克希尔•哈撒韦公司的支持。
Beyond tariffs, the big question is if Chinese automakers are ready to play on the big American stage.
除了关税,最大的问题是中国汽车制造商是否准备在美国的大舞台上大展拳脚。
"Chinese quality is quickly closing in on that of global automakers," Dunne said. "They still need to work on details."
邓恩表示:"中国汽车的质量正迅速赶上全球汽车制造商。他们仍然需要在细节上努力"
"Let's say there is a backing down of tariffs and this all becomes bluster," Garcia said. "Then, the Chinese would have to do what the Koreans and Japanese did before them. They have to introduce vehicles with unique features or lower prices. They would have to methodically build up dealer networks."
加西亚说:"假如关税有所降低,这一切就会变得更加激烈。然后,中国人将不得不像韩国和日本人之前那样行事。他们必须引进有特色或价格更低的汽车。他们必须有条不紊地建立4S店网络。"
None of this will be easy. Chinese vehicles must meet federal safety and fuel economy regulations. It took Asian automakers decades to become competitive, but partnering with Western automakers like Geely with Volvo should expedite success.
这一切都不容易。中国汽车必须符合联邦安全和燃油经济性法规。亚洲汽车制造商花了数十年时间才变得有竞争力,但与吉利和沃尔沃等西方汽车制造商合作,应该会加速成功。
"In twenty years, if unusual barriers go away, we can expect a slow long-term introduction to the U.S. market," Garcia said. "I remember in the 1980s, in an attempt to repel Japan, when 'Made In America' was put on cars, consumers still made decisions with the most economic benefit to them."
加西亚说:"20年后,如果异常的贸易壁垒消失,我们预计美国市场将长期进入缓慢发展阶段。我记得上世纪80年代,为了击退日本,当汽车领域开始推崇美国制造时,消费者依然会做对他们自己来说最为经济的决策。"
美国雅虎网站读者评论:
来源:三泰虎 译者:Joyceliu
外文链接:https://finance.yahoo.com/m/aadd3169-72ce-346a-b9d4-d1f2f19c5cb3/ss_made-in-china%3a-does-it-matter%3f.html
JoelJoel
Does it matter? If they have to ask this question their already is a huge problem
这有关系吗?如果他们不得不问这个问题,他们本身就已经是一个大问题了
LM
Stop by Harbor Freight, and see why Chinese manufacturing quality is questionable.
去Harbo Freight商店转转,看看为什么中国的制造质量是可疑的。
Ronfellow
Yes it does matter. I would not buy one even if it got an American brand name on it. There are so many (better) alternatives out there.
是的,有关系。就算中国制造的商品贴上美国品牌,我也不会买。我们有很多更好的选择。
btc909
A product design to race to an auto recycler faster than you can imagine, yes it does "matter".
一辆车奔向汽车回收站的速度要比你想象的快得多,是的,当然有关系。
VQG
It absolutely does. I avoid made-in China products, especially under the Chinese brands, whenever possible.
绝对有关系。我尽量避免在中国制造的产品,特别是中国品牌。
Robert
It only matters if you care about the American economy and YOUR job. Production of goods and jobs have a multiplier effect. Even if your job is not directly effected, your job security is reduced by china. Who knows, perhaps journalism jobs can be shifted to china. That should get media's attention.
只要你关心美国经济和你的工作,就有关系。商品生产和就业具有乘数效应。即使你的工作没有直接受到影响,你的工作保障也会因为中国而减少。谁知道呢,也许新闻业的工作可以转移到中国。这应该引起媒体的注意。
Angry voter,
Made in China? I would not buy Ford again.
中国制造?我不会再买福特汽车了。
D P
It does matter, "made in China" more choices & competitive pricing & it enabled US economic expansion in last 35 year. Did we really think our growth was attributed from graduating record number of lawyers & communications degrees?
这很重要,"中国制造"提供了更多的选择和有竞争力的定价,使美国在过去35年实现了经济阔张。我们该不会真的认为,我们的增长是由于律师和传播学学位的毕业生人数创下了历史新高而造就的吧?
ACTIONMAN
We Do Not need or want vehicles built in China.
我们不需要、不想要中国制造的汽车。
kokopelli
While Americans wait for Trump's next tweet, Chinese flags are being raised all over the world, especially here in America. The goal is obvious. It's a lot easier to quietly take over a country economically than it is to invade with the military.
当美国人在等待特朗普的下一条推特时,中国国旗正在世界各地升起,尤其是在美国。他们的目标是显而易见的。在经济上悄悄接管一个国家要比军事入侵容易得多。
ted
Great value and quality - sure I go for it.
价值和质量都很好,我肯定会买单。
craig s
our landfills are full of china stuff ...
我们的垃圾填埋场都是中国垃圾。
Ock
Yes it matters a lot
是的,这关系大了去了
Peter
People buy things not based on where it's made but based on what they want. I don't think any vehicle made in Mexico sells any less due to it being made there. Lots of American branded cars are made in Mexico. Likewise I don't think there is any negative impact of iPhones being produced in China. Decades ago it meant something.
人们买东西不是基于产地,而是基于他们想要什么样的东西。我不认为墨西哥制造的汽车会因为产地是墨西哥而出现销量下降。许多美国品牌汽车都是在墨西哥制造的。同样,我也不认为iphone在中国生产会有任何负面影响。几十年前,它可能意味着些什么。
DON
Yes it does! Remember Chinese dry wall. baby toys loaded with lead paint, dog food etc. Has anybody ever been reimbursed by the Chines for their lousy dry wall? China has no quality control and workers rights.
是的,有关系!还记得中国预制墙板么。婴儿玩具上涂满了含铅油漆。有人因为糟糕的预制墙板得到过中国的赔偿?中国根本没有质量控制和工人全利。
E Kangas
Who in the heck did they survey? Not one of my friends or acquaintances
would buy a car made in China. I looked at the Buick Envision before I
bought a car in March of this year, but when I found out it was made in
China, the deal was off. I bought an American car made in the USA by
American workers.
他们到底调查了谁?我的朋友和熟人都不会购买中国造的汽车。我今年3月买车前看了别克昂科威,但当我发现它是中国造的时候,我取消了订单。我买了一辆美国工人在美国制造的汽车。
Frank Bausola
Hey, maybe China can bail out GM next time. That's what's wrong with "Made in China".
嘿,也许下次中国可以拯救通用汽车。这就是"中国制造"的问题所在。
Right thing to do
It may not matter to some but is should, how Americans forget about the days when you could buy a stove or range, it was in your grandmas house more than 25 years or longer. I still have my great grandmas furniture in a cottage plus kitchen ware from over a hundred years ago and still used today. Now saying that a vase from China made 1000 years ago would be well made.
对一些人来说,这可能并不重要,但美国人怎么能忘记使用炉子或炉灶的时候,祖母家的炉灶可能都用了25年甚至更长时间了。我的一个乡村小别墅里仍然有我的曾祖母的家具,还有一百多年前的厨房用具,今天还能使用。话说中国1000年前造的花瓶也是制作精良的。
Namemy
We can not find it at either Walgreens nor Walmart !
我们在沃尔格林和沃尔玛都找不到!
Chuck L
I don't really have a problem with a China made Buick, but I do have a problem paying the price they charge for an American made Buick for one made in China. If it is made in China, I want to pay the made in China price. That Buick made in China should only list at $11,000.00 MAX.
我对中国制造的别克没有什么意见,但我确实对中国制造的别克和美国制造的别克的价格有意见。如果是中国制造的,我只想支付中国制造的价格。中国产的别克最多只能标价11000.00美元。
Anonymous
In the '60's "made in Japan" had the same stigma. Everybody thought the honda civic was a clown car!
在60年代,"日本制造"名声也一样臭。人人都认为本田思域是小丑车!
Jane
Trump's MAGA gear made in China, along with Trump branded merchandise.
特朗普的'让美国再次伟大'的装备是中国制造的,还有特朗普品牌的商品也是中国制造的。
paul
Most consumers do compare shoping. The most important factor is the Quality and Price ratio. Chinese manufacturing may not have the highest quality in the world, but its quality and price ratio is probably is near the top.
大多数消费者确实会货比三家。性价比是最重要的。中国制造业可能不是世界上质量最高的,但性价比可能接近世界最高水平。
D P
"Made in China" is rarely a selling point, ironically "made in China" has most volume, most turn over, most profitable & lifted the US economy to its current GDP.
"中国制造"很少是卖点,讽刺的是,"中国制造"拥有最多的销量、最高的营业额、最多的利润,并将美国经济推升至目前的GDP水平。
Rodney
And of course Buick is requesting the U.S. go nment to exempt Buick from the new tariffs on cars made in China and sold in the U.S. Too bad they didn't think of that when they laid off or didn't hire workers for a plant in the U.S. Screw Buick, Ford, and Cadillac.
当然别克请求美国政府为别克在中国制造、在美国销售的汽车豁免新关税,太糟糕了,他们压根不考虑,当他们美国的工厂解雇或不再雇佣工人的时候,别克、福特和卡迪拉克就惨了。
tiong
I love Chinese made!
我爱中国制造!
jim
China is not playing fair when it comes to trade. Does it matter ? you betcha , to the thousands of autoworkers and their families in the country it matters !! To writers and CEO, s it doesn't matter. The Envision sales are very slow , so it matters to many buyers.
中国在贸易上不公平。这有关系吗?当然,对全国成千上万的汽车工人和他们的家人来说,这很重要!!对于作家和首席执行官来说,这并不重要。昂科威的销售非常缓慢,因此对许多买家来说这也很重要。
Tuan
My girl 8 yrs old then bought a Disney on ice light up toy for $10 of her own money; after usage for about 1/2 an hour, it broke.. since then whatever made from China she refuses to buy or use ... even the chair she sit on.
我的女儿8岁了,她花了10美元自己买了一个迪士尼冰灯玩具;玩了大约一个半小时后,它就坏了。从那以后,她拒绝购买或使用中国制造的任何东西……甚至是她坐的椅子都如此。
grunt
Matters to me. All of the vehicles listed would never be on my shopping list.
对我来说很有关系。文中所有列出的车辆都不会出现在我的购物清单上。
Chinese-made products are substandard. The only thing they have going for them is very low prices, so when vehicles are brought over and do not share the bargain-bin pricing, they are not worth anything.
中国制造的产品都是不合格的。他们唯一的优势是价格非常低,所以当车辆被调运过来,并且不按折扣定价时,他们就一文不值了。