The US's nuclear commander says the only way to defend the US from new Russian and Chinese missiles lies in space
美国核指挥官表示:保卫美国免受中俄新型导弹的唯一途径在于太空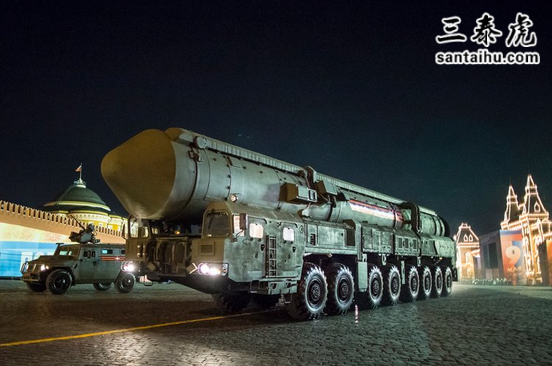 Both Russia and China are enhancing their offensive missile capabilities through the development of new systems, including hypersonic strike platforms.
The key to a robust defense, according to the head of US Strategic Command, is space-based sensors.
"We have to be able to see that threat," STRATCOM Commander General John Hyten explained at the Space and Missile Defense Symposium.
要点:
俄罗斯和中国都在通过开发包括高超声速打击平台在内的新系统来增强其进攻性导弹能力。
美国战略司令部司令表示,强大防御的关键是天基传感器。
战略司令部司令约翰·海滕将军在太空和导弹防御研讨会上解释称:"我们必须能够察觉这种威胁。"
The key to defending the US homeland against Russian and Chinese missile threats, as well as emerging and potential threats from countries like North Korea and Iran, lies in space, according to the head of US Strategic Command.
美国战略司令部司令表示,防御美国本土免受中俄导弹威胁、以及朝鲜和伊朗等国出现的潜在威胁的关键在于太空。
"The most important thing to do in the missile defense business is make sure you can see and characterize the threat," Gen. John Hyten said Tuesday at the Space and Missile Defense Symposium in Huntsville, Alabama, "If you can't see and characterize the threat, I don't care what kind of shooter you have, there is nothing you can do about it. We have to be able to see that threat."
周二,在阿拉巴马州亨茨维尔举行的空间和导弹防御研讨会上约翰·海滕将军表示:"导弹防御中最重要的是确保你能察觉和识别威胁,如果你无法做到这一点,不管你有什么枪炮都无计可施。我们必须能够察觉这种威胁。"
While the US has theater ballistic missile defense systems — such as the Terminal High Altitude Area Defense (THAAD) system, Aegis and Aegis Ashore, and Patriot batteries— set up in various locations around the world, the US mainland is guarded by the Ground-based Midcourse Defense system. Compared to some of the other US ballistic missile defense systems, the GMD system, which has never been activated in a real-life combat scenario, has a much lower success rate in tests.
美国在世界各地部署了战区弹道导弹防御系统,比如末段高空区域防御系统(萨德)、宙斯盾和岸基宙斯盾,以及爱国者等。和美国其他一些弹道导弹防御系统相比,陆基中段防御系统在真实战斗场景中从未被激活,其测试成功率要低得多。
The US is investing billions of dollars in missile defense projects, including increasing the total number of interceptors in the GMD system. GMD interceptors are operational at Fort Greely in Alaska and Vandenberg Air Force Base in California.
美国正在导弹防御项目上投资数十亿美元,包括增加陆基中段防御系统的拦截机总数。在阿拉斯加的格里利堡和加利福尼亚的范登堡空军基地,陆基中段防御系统拦截机已投入使用。
Hyten told his audience Tuesday that the interceptor system is essentially a "catcher's mitt," according to Defense News. To achieve boost-phase intercepts or successfully eliminate missiles through "left-of-launch" tactics, methods the general says could send a missile falling back down on the heads of the unit that fired it, the US needs an effective sensor layer to spot projectile threats early — but it can't be built on Earth.
据《防务新闻》报道,周二海滕将军告诉听众们,拦截系统本质上相当于"接球手的手套"。通过"主动抑制发射"策略实现助推段拦截或成功消除导弹,可以使导弹回落到发射导弹者的头上,我们需要一个有效的传感器层来识别导弹威胁——但它不能建在地球上。
"There are not enough islands in the world to build radars on to see all the threats and be able to characterize the threats," the general said. "You just can't get there from here, so the only place to go and do that is a place where the U.S. is actually strongest and technology is there to do it and that is into space. We have to go into space."
海滕将军表示:"地球上没有足够的岛屿来建造雷达以观测所有威胁,并识别这些威胁的特征。所以美国唯一可去的地方就是进入太空,实际上也是美国最强大的地方,那里的技术可以做到这一点。我们必须进入太空。"
Hyten's call comes just days after China successfully tested a hypersonic aircraft, a potential hypersonic strike platform that Chinese military experts claim could carry both conventional and nuclear payloads, as well as skirt any existing missile or air defense system.
就在海滕将军发出这一呼吁的几天前,中国刚刚成功测试了一架高超音速飞机。中国军事专家称,这是一种潜在的高超音速打击平台,可携带常规核导弹,也可以绕过任何现有的导弹或防空系统。
Russia reportedly plans to have MiG-31K fighter jets armed with Kinzhal hypersonic missiles participate in an upcoming demonstration, and the country is expected to deploy its Avangard hypersonic boost-glide vehicle on the country's Sarmat intercontinental ballistic missile within the next couple of years.
据报道,俄罗斯计划让米格- 31k战斗机装备"匕首"高超声速导弹参加即将举行的演示,预计俄罗斯将在未来几年内在该国的"萨尔马特"洲际弹道导弹上部署"先锋"高超声速助推滑翔飞行器。
The growing threat posed by hypersonic missiles, weapons that can travel at speeds in excess of five times the speed of sound, is one that concerns missile defense planners. Hyten has repeatedly warned that the US currently does not possess the ability to defeat weapons with such capabilities.
高超音速导弹构成的威胁越来越大,这种武器的飞行速度超过音速的五倍,这令导弹防御计划人员感到担忧。海滕将军多次警告称,美国目前没有能力击败拥有这种性能的武器。
Unlike traditional ballistic missiles, hypersonic missiles are dangerously unpredictable. Coupled with the high speeds, the unpredictability makes it almost impossible for existing missile defense systems to track.
与传统的弹道导弹不同,高超音速导弹具有不可预测的危险性。加上超高速,其不可预测性使得现有导弹防御系统几乎不可能追踪。
"If you can't see it, you can't shoot it," Missile Defense Agency director Lt. Gen. Samuel Greaves said in March. "We have globally deployed sensors today, but — just look at the globe — there are gaps. What we are looking towards is to move the sensor architecture to space and use that advantage of space, in coordination with our ground assets, to remove the gaps."
今年3月,导弹防御局局长塞缪尔·格里夫斯表示:"如果你看不见它,就无法击中它。如今我们在全球范围内部署了传感器,但我们发现了一些漏洞。我们期待的是将传感器架构移至太空,并利用太空的优势和地面资源相协调,以消除差距。
"Why is that important?" he asked rhetorically, "The hypersonic threat."
"为什么这很重要?"他反问道,"因为高超音速的威胁。"
During his talk Tuesday, Hyten reminded his listeners that the US is once again locked in great power competition with rivals that are developing weapons that threaten US security.
在周二的讲话中,海滕提醒听众,美国再次陷入大国竞争,对手正在开发威胁美国安全的武器。
"You can't call them [Russia and China] our friends if they're building weapons that can destroy the United States of America," he explained, "Therefore, we have to develop the capability to respond."
他表示:"如果俄罗斯和中国正在制造可以摧毁美国的武器,你就不能把他们称为我们的朋友。因此,我们必须提升应对能力。"
美国雅虎读者评论:
来源:三泰虎 http://www.santaihu.com/45782.html 译者:Jessica.Wu
外文:https://www.yahoo.com/news/m/61ee392d-edb4-387d-b7f7-1794b5986289/ss_the-us%27s-nuclear-commander.html
MadVlad-4 hours ago

Let me paint you a picture: a 50BMG bullet travels at about 3000 ft/s which is around 900 m/s (meters/second), ok? Ok, now, a hypersonic warhead travels at speeds between 1700 and 3400 m/s, generally over 2000m/s, so at least twice as fast as a 50BMG bullet and possibly up to 3.5 times faster, and, unlike a bullet, this thing can maneuver and has no set trajectory. Now what the hell do you think you are going to be using to shoot that down? Seriously, how do you imagine this happening?

让我给你捋一捋:一颗50BMG子弹以3000英尺/秒的速度飞行,也就是900米/秒,对吧?现在,高超声速弹头的速度在1700到3400米/秒之间,通常超过2000米/秒,所以至少是50BMG子弹速度的两倍,可能快3.5倍,而且,与子弹不同的是,这种弹头可以是机动的,没有固定轨迹。你以为你能用什么来击落它?说真的,你是怎么想的?
Reggie-1 hour ago

Reagan had the right idea.

里根的想法还是对的。
Steve-5 hours ago

But the cute socialist in New York says that the defense budget could be cut in half to support health care for poor people !

但是纽约可爱的社会主义者说,国防预算可以削减一半,以支持穷人的医疗保健!
Jes-5 hours ago

This is not rocket science, no pun intended. It can be done, however it will cost significant $$$$$$$$$$$$, as we all know. One only has to think about orbital rotation, sensors, and comm links that integrate with ground/sea based systems providing a holistic system of systems that could provide the coverage needed.

这不是火箭科学,没有双关的意思。这是可以做到的,但我们都知道这将花费大量的美元。我们只需要考虑轨道旋转、传感器和通信链路,它们与基于地面/海洋的系统相结合,提供一个整体的系统,能够提供所需的覆盖范围。
Gerry-4 hours ago

The only way to defend our country from war is to be a peaceful nation.

保卫我们国家不受战争伤害的唯一途径是做一个爱好和平的国家。
Kalin-40 minutes ago

All this will simply take the war up in space. And shooting a satellite is probably much easier than downing a hypersonic missile.

Oh, and some people will make a lot of money :) Which is kinda the whole point.

所有这些都将使太空战升级。发射卫星可能比击落超音速导弹容易得多。

而且有些人能赚很多钱,这就是问题的关键。
John-4 hours ago

YES THAT IS ONE WAY, BUT SUBMARINES CAN DO THE JOB HERE ON EARTH. WHY DO YOU THINK ALL THESE OTHER COUNTRIES ARE BUILDING SUBMARINES ? COMPARE THE COST AND SUBMARINES ARE THE BEST BUY FOR THE TAXPAYER'S BUCK !

是的,这是一种途径,但是潜艇可以在地球上完成这项工作。你知道为什么其他国家都在建造潜艇吗?比较一下成本,潜艇才是纳税人美元的最佳选择!
Speakeasy-6 hours ago

When did they start thinking there is a defense. There is no way to protect all of the US from nuclear attack. Even if we intercepted some, the incoming warheads would overwhelm any defense. One missile carrying 10-12 warheads(MRVS) each that technology is not here yet. All we can do is build up our offensive capability, put teeth in the motto mutual assured destruction.

I don't believe anyone in their right minds want to go there. But here again we have some idiots in this world calling themselves leaders.

他们什么时候开始考虑防御的。根本没有办法保护美国免受核攻击。即使我们拦截了一些,来犯的弹头也会穿过任何防御。一颗携带10-12枚弹头的导弹(多弹头导弹),目前还没有这种技术。我们所能做的就是增强进攻能力。我不相信任何头脑正常的人想去太空。但在这个世界上,又有一些白痴自称是领袖。
Gregory-6 hours ago

Get THOR operational …..

让雷神托尔上吧
Jon-3 hours ago

But But But...the Liberals say everything is OK we don't need to spend a penny on defense.

Wonder what the Liberals do when they will need to learn to speak Russian?

但是…自由党人说一切都好,我们不需要在国防上花一分钱。

想知道当需要学习讲俄语时,自由党他们会做些什么?
Mel-5 hours ago

It looks like Business Insider has a candidate who should be running for President of the United States. They seem to know more about the world's military forces than the countries do themselves. As long as they don't advise the major powers to start pushing buttons, we will be alright.

看来《商业内幕》有一位候选人要参加美国总统竞选。他们对世界军事力量的了解似乎比这些国家还要多。只要他们不建议大国开始启动按钮,我们就会没事。
Thomas edison-2 hours ago

well...well...wasn't trump talking about a space force.

好吧,不是特朗普在谈论太空部队。
Heinz-10 minutes ago

Meaning, we need a lot more of your tax payers money for the Military Industrial Complex. Guys, work harder and give us your money.

也就是说,我们需要更多纳税人的钱用于军事工业。伙计们,努力工作,把钱交出来给我们。
Boba-17 minutes ago

"He who laughs last.. laughs best"

谁笑到最后,谁笑得最好。
MAGAMAN-4 hours ago

No problem for US Technology Anti-Matter Weapons !

对美国技术反物质武器来说不是问题!
Zapata-1 hour ago

More like not having Euro Global bankers connive US politicians to fight their wars since the Civil War.

像是自内战以来,欧洲的全球银行家就不再纵容美国政界人士打仗。
Bigpoppa-6 hours ago

WELL THEN, HURRY THE HELL UP AND BUILD STAR WARS!!!

好吧,赶紧闭嘴准备进入星球大战吧!!!
Tony-4 hours ago

Well, duh. This has been said since Reagan but Liberals seem to think Space Force is all about Starship Troopers and mocks Trump for it.

好吧。这句话从里根时代起就有了,但是自由主义者似乎认为太空部队完全是关于《星河战队》的,并以此来嘲笑特朗普。